Meet our beautiful bride, Alison, and her husband, Rafael. These two lovebirds met in college, and were in love for 10 years before they decided to make it official. They are Disney fans all the way! We knew that from the moment we met her, we were going to love her. While she ended up with a sequin destination wedding gown, her simple wedding turned into so much more!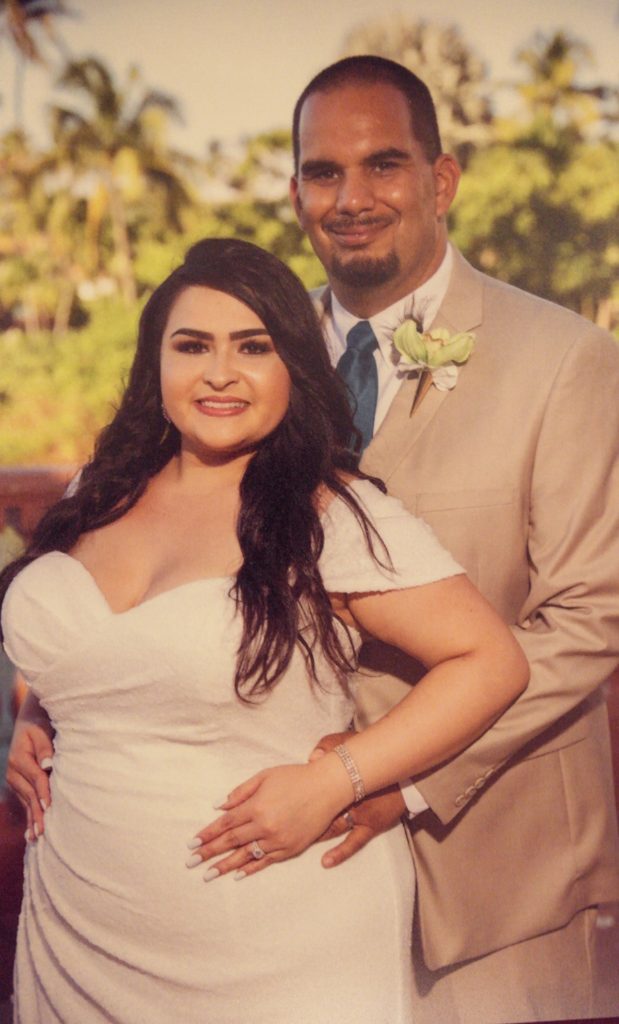 When Alison came to us, her destination wedding plans had just begun. We had to find her the perfect destination wedding dress to meet the heat with some glamour. Her mom and sister were here to help her decide which look she should rock at her destination wedding. Oh yeah… Did we mention? A wanderlust-stricken couple, her and her fiancé Rafael shared the same dream for the wedding, which took them straight to Atlantis, BAHAMAS!!!
At first, they thought they were going to be able to elope. But once their friends and family got wind, the guest list just kept growing. The happy couple decided to elope with 28 members of their family and friends. It was important to them to be surrounded by their nearest and dearest. As you can see, Alison ended up going with a gorgeous, easy to wear, all sequin strapless ruched gown from our informal bridal gown collection. Adding those custom cap sleeves was the perfect touch.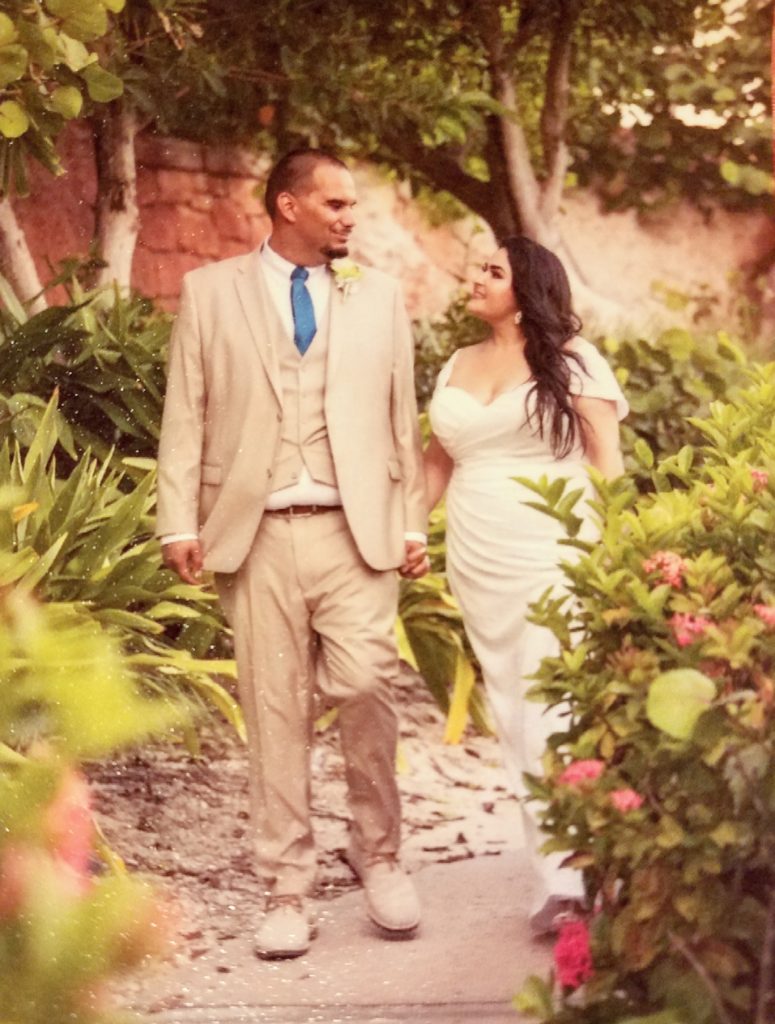 Alison wrote, "I have included a few more pictures from my wedding at Atlantis Bahamas on October 21st, 2018 to show the different locations at the resort and also one with our steel drum player to go along with our funny moment. Our photographer was included in our Love Atlantis package we purchased for our wedding ceremony and was part of the Bahamas Wedding Productions team. I also included a cake cutting shot from our wedding dinner at the Green Parrot Bar and Grill in Nassau which I mentioned to Winifred.
Lastly I included two other pictures from our local reception we had on November 3, 2018 in Downey, CA. These three pictures were candid shots taken by family members. I told Winifred that I was able to wear my wedding dress twice and I was happy that it was so versatile and comfortable for both of my wedding events and I got many compliments! 🙂 Thank you for all of your help in making my wedding so special."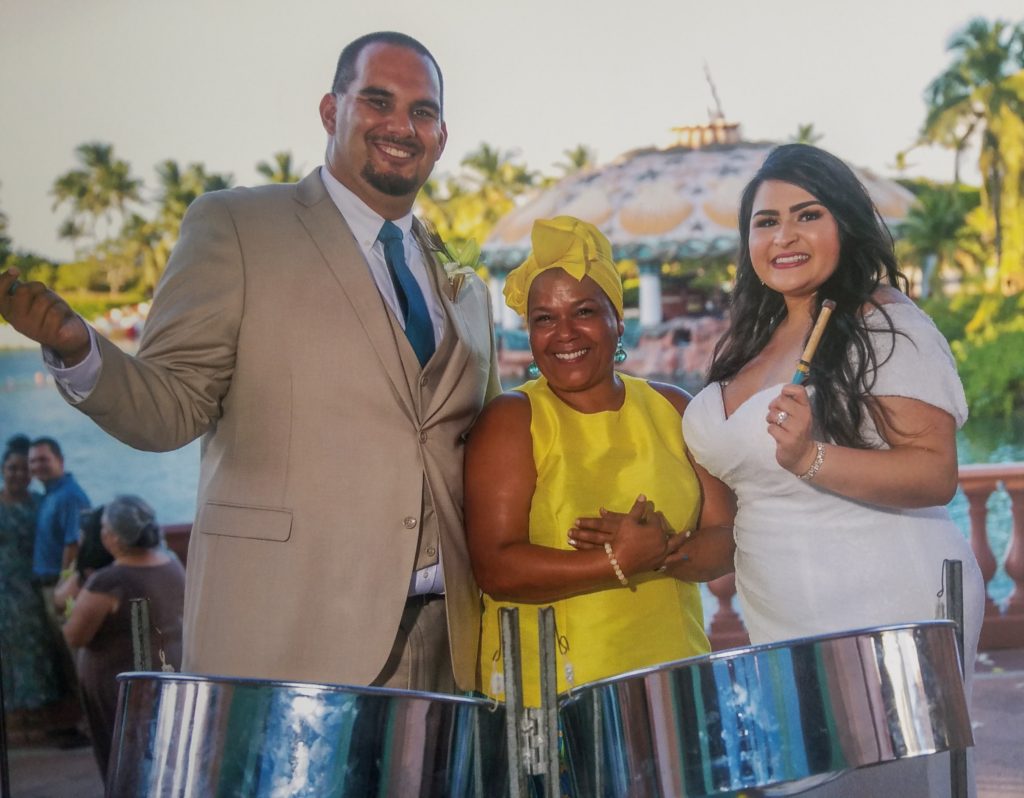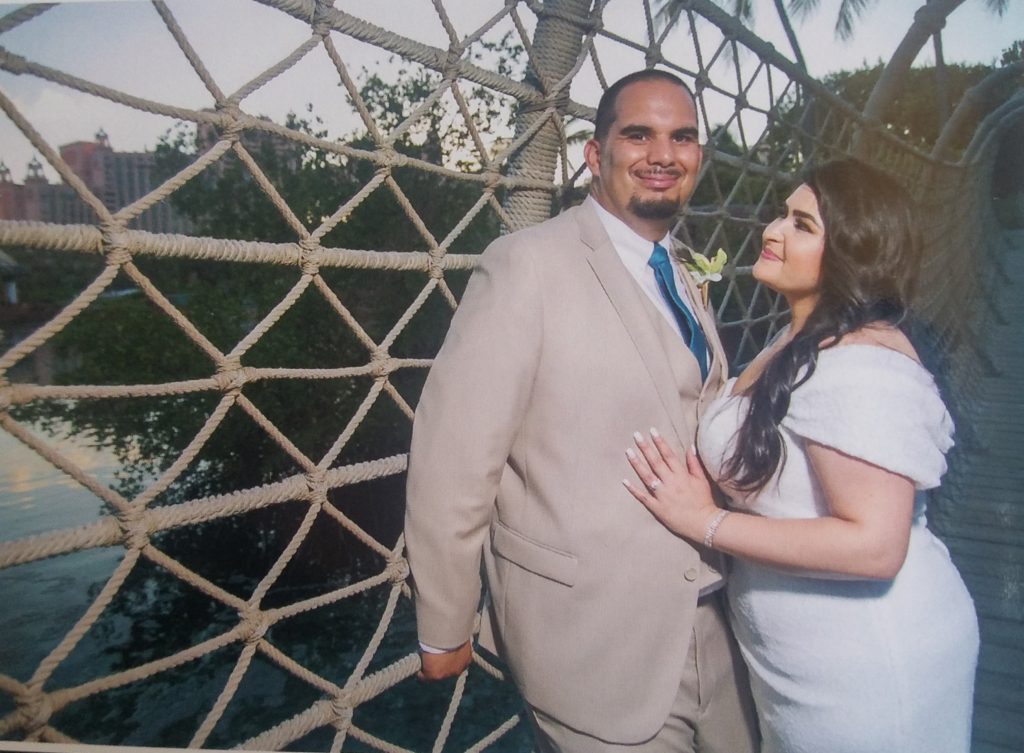 The ceremony was held at an exceptionally breathtaking patio overlooking a lagoon, dubbed the Dragon's Patio, on October 21st, 2018. Alison exclaimed, "It was so important to me that my guests were able to enjoy the experience without having to travel from point A to point B. The all inclusiveness of the resort made our event as easygoing and enjoyable as possible. It was perfect!" After the grand ceremony, the crew hopped on to a wedding dinner charter bus. Just to make it even more magical, the bus took them to an amazing dinner under the Bahama's evening stars. Allison stated, "With everyone on vacation mode, we turned our wedding into an unforgettable experience of a lifetime for all of us."
The newlyweds weren't finished celebrating, so they held a second reception locally for whoever missed out on the wedding vacation. Who wouldn't want to wear their wedding dress again?! Way to go, Alison! We are so happy for the couple, from all of us here at Strut Bridal Salon. Keep the love alive, Alison and Rafael!
For more information on the wedding dress styles we carry in our store, check us out online.