Ashley and her newly pronounced husband, Todd, got married on October 20th, 2018 with a five day Las Vegas wedding extravaganza. Viva, Las Vegas! Ashley knew she wanted to look beautiful and glamorous for her wedding day. She came into Strut Long Beach informing us she had a dream she got married in a different dress than she initially picked out with us. Ashley knew this was her wedding dress and listened to her heart. Dreams really do say it all, and we were able to order her dream wedding dress instead! She wore a glamorous wedding gown with cape!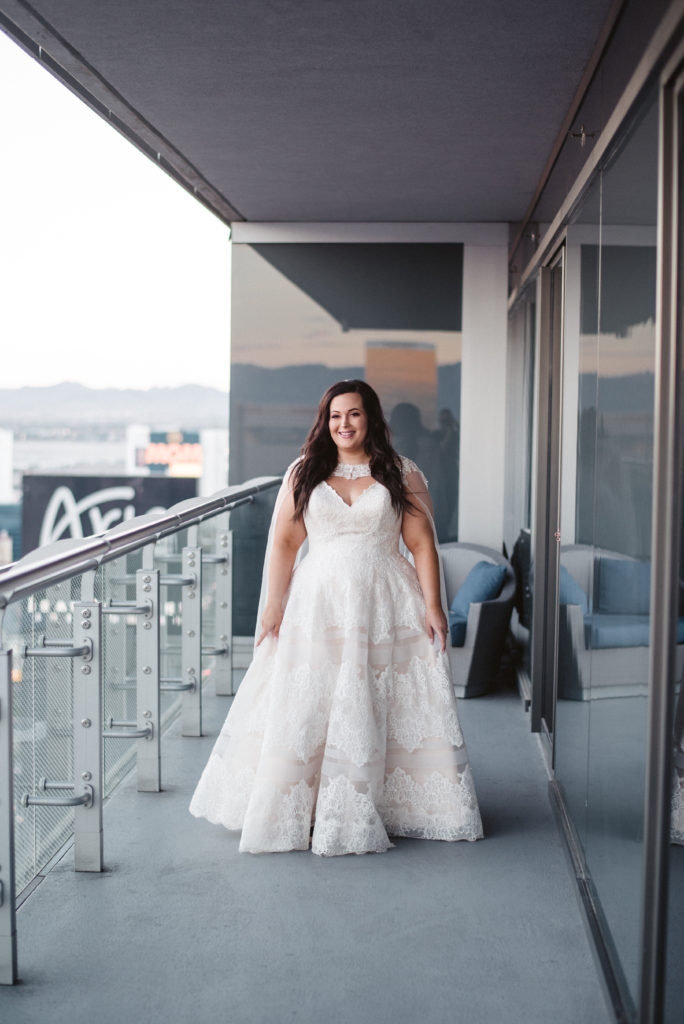 Ashley rented out the wedding suite in the Cosmopolitan. Both the ceremony and reception were in the wedding suite. Her guests all had a five day much needed Vegas vacation, and stayed at the Cosmopolitan Hotel with them. All of Ashley's friends flew in from Denver, Detroit, and Florida. Ashley also purchased one of our lovely social occasions for her rehearsal dinner, to make the event even more special.
They dined at Scarrpeta, an earthy-yet-sophisticated approach to Italian cuisine featuring a soulful menu of seasonally-inspired fare. The newlywed couple had a fancy cocktail reception overlooking the magic of the Las Vegas strip. Gourmet orders were passed, champagne glasses were clinked, and love was shared between each and every guest supporting the vows spoken between Ashley and Todd. The crew had a super fun brunch the day after at Wicked Spoon in the hotel and shared their favorite moments from the wedding.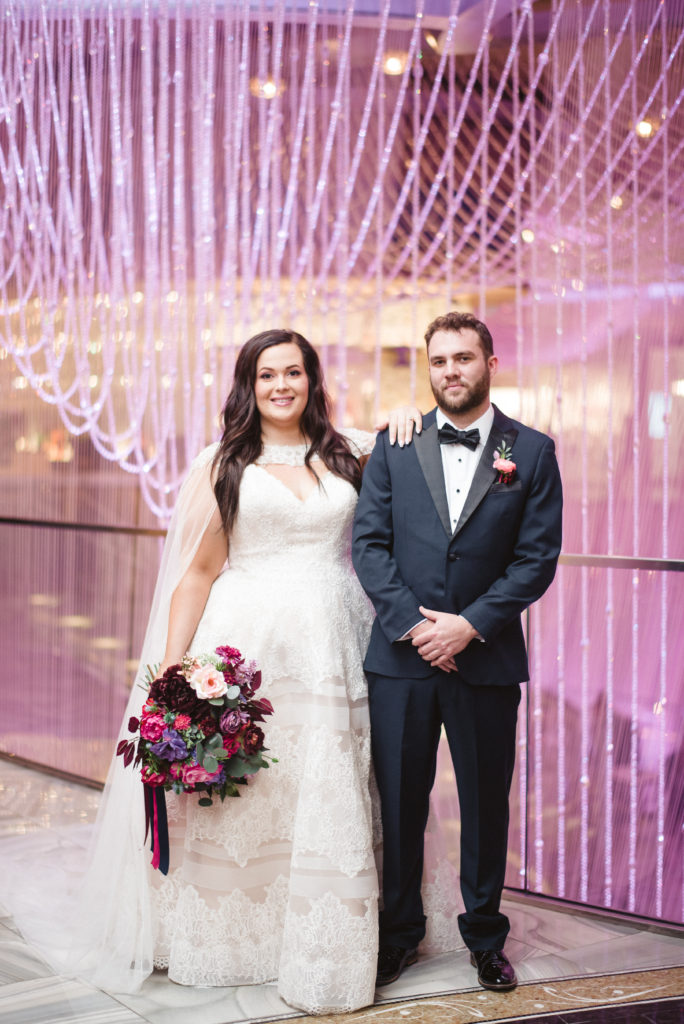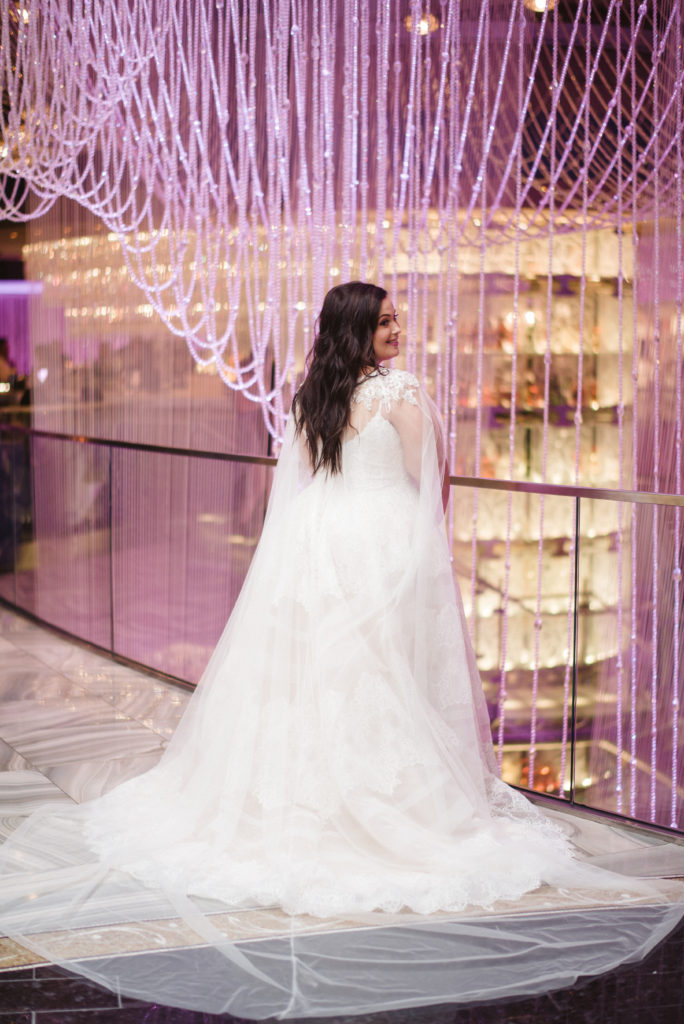 Her gown is a stunning spaghetti strap with a V-neckline. The dress features ivory lace, horizontal horsehair throughout the gown, and a beautiful champagne lining. This dress is so ornate in its design, and Ashley was the perfect soul for it. Ashely fell in love with the idea of wearing a cape to bring everything together. This bridal cape, featuring timeless lace appliques and a whole lot of sparkle, made her feel like the princess she truly is. Just look how remarkable she looks!! A bridal cape is one of our favorite bridal accessories right now!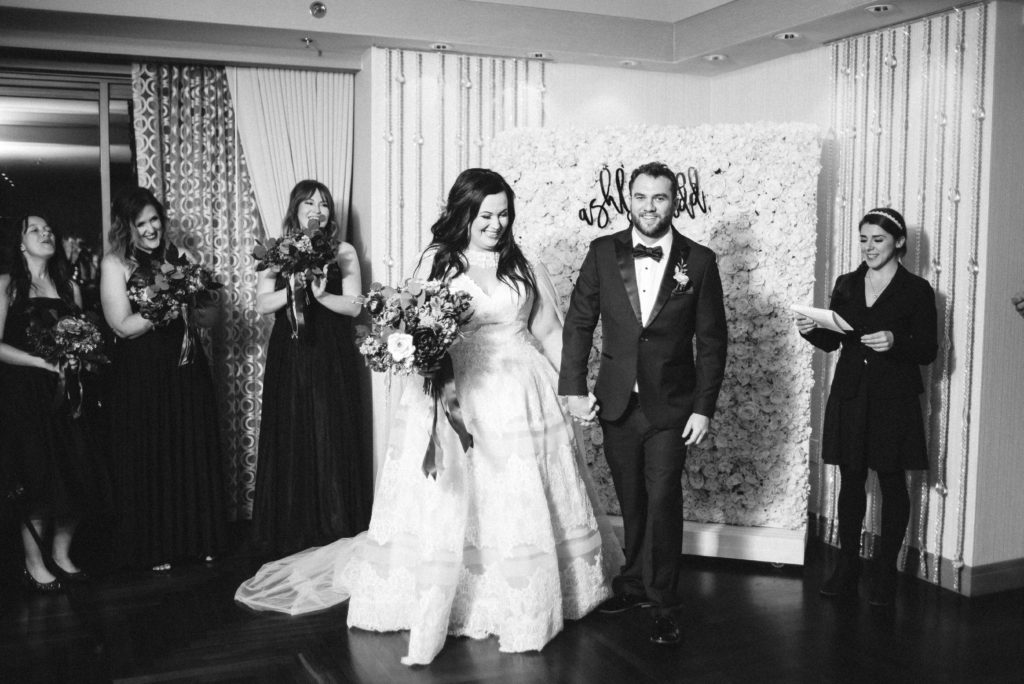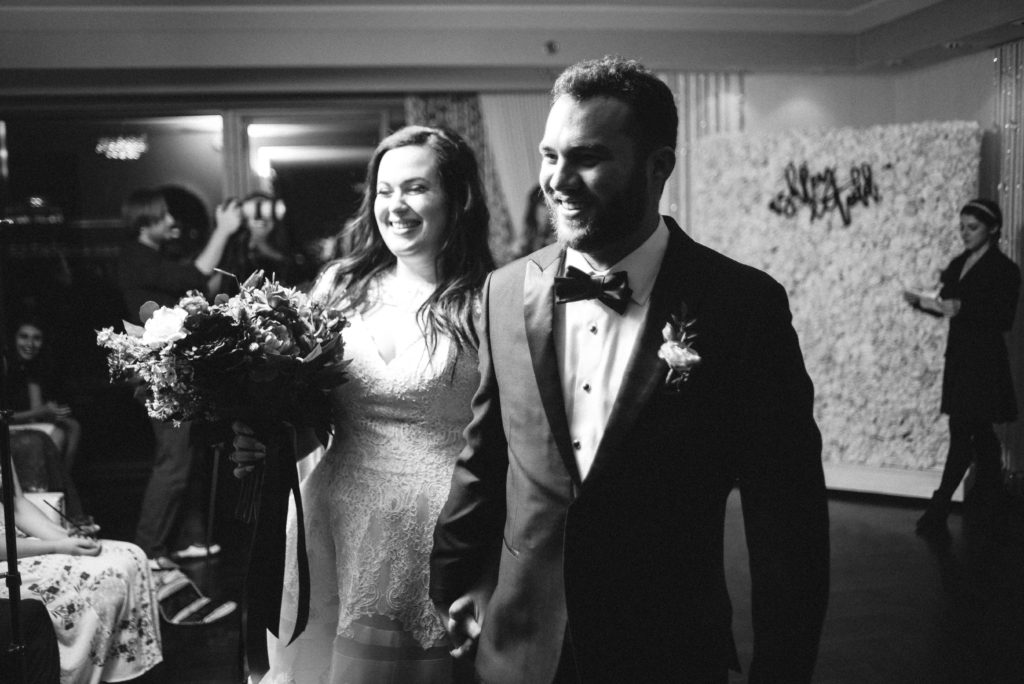 Ashley wrote, "Hi ladies, I just wanted to say thank you for making my dress shopping experience so easy and low stress 🙂 I had picked [my gown] and wasn't sure how I felt about it for my wedding at the Cosmopolitan in Vegas. I kept seeing my dress looking so beautiful on others, but it was at garden/outdoor weddings. When I came to pick my dress up, you all had the cape in store. I fell in love and Yulina helped me try to buy a new one from Allure. She was worried about the delivery timeline so I ended up buying the one on the floor. I am so glad I did! It really changed the entire look and feel of my dress." She's so right – what a glamorous wedding gown with cape! Their stunning photos are by Gin & Sake Productions.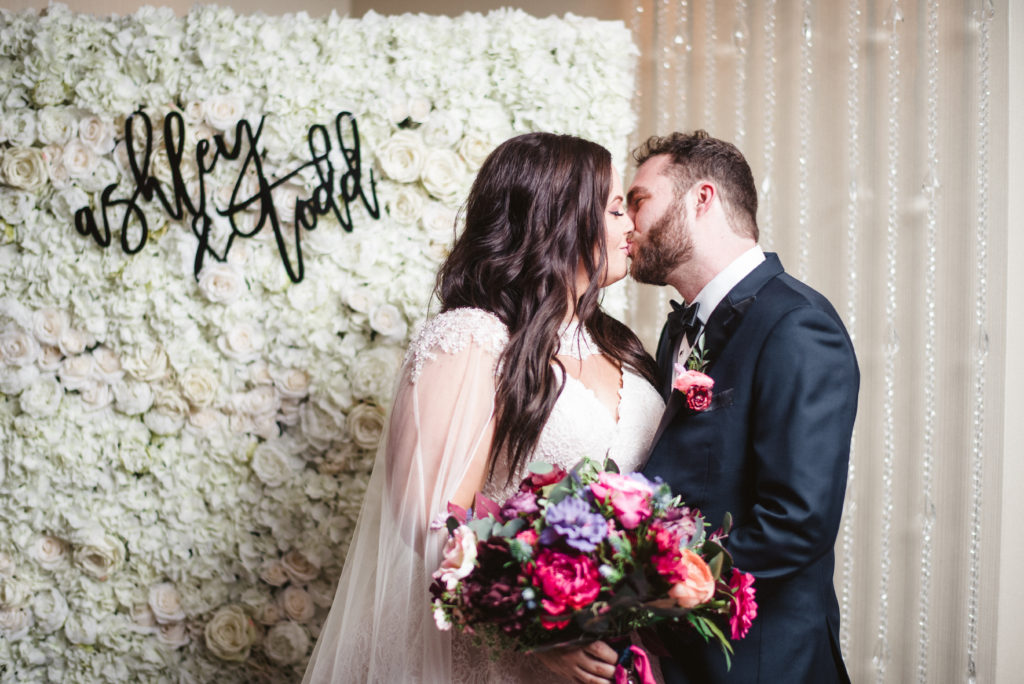 We are so glad that Ashley is a Strut Bride. From all of us at Strut, we wish this newlywed couple the absolute best as they journey together into their next adventures. Congratulations, Ashley and Todd, keep the love alive!
if you love Ashley's wedding dress, you can find it in our Long Beach, CA and Tempe, AZ bridal stores. Strut has the largest selection of plus size wedding dresses for curvy brides. Learn more about our plus size bridal gowns, plus size bridesmaids dresses, and plus size prom dresses.