Carla came in with a very specific style for her wedding and she made it look amazing. Carla came in to our Long Beach bridal store in the spring of 2016 and she was set on having a black lace wedding dress. Carla and Henry were married in January 2017 at the Women's Civic Center in Garden Grove,CA. The theme was a vintage gothic wedding, and we love everything about it! Carla was looking for a bridal gown that made her feel like her and went well with her theme. So of course our mission was clear!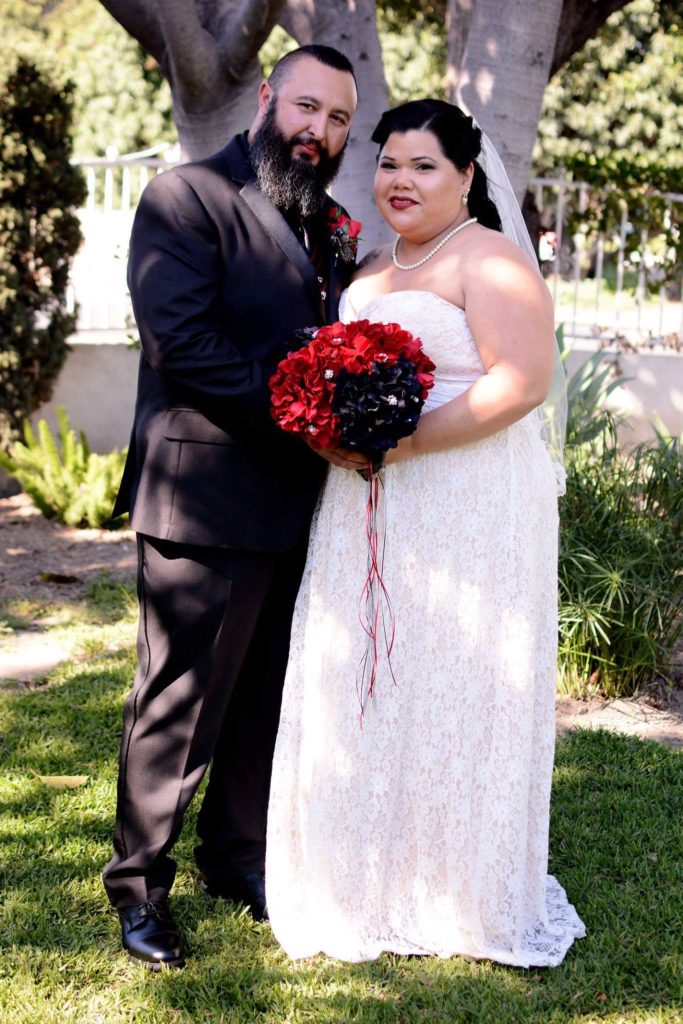 So we decided to pull any of our wedding dresses that we customize with black lace. She brought her best girlfriends with her for added support.We tried a few wedding dresses but Carla fell in love with one of our informal wedding dresses which work perfect for her. She chose a strapless ruched sweetheart bodice with lace and a contrasting lining that made the dress two toned. That's right — Carla changed her mind on wanting a black wedding dress! She felt so beautiful and was an easy choice for her.
"I'm so glad Tamiko had me try that dress on. My heart was set on black or black lace but I fell in love with it. She did say that it was a looker on the rack but people fall in love when they try it on. I very much did. It was absolutely perfect. I loved my garter and veil too. I did embellish the veil with a filagree piece and a skull. Just to add a piece of me. You ladies made picking out a dress so easy and stress free. I told my husband I wanted to get married again so I can go buy another dress from you! "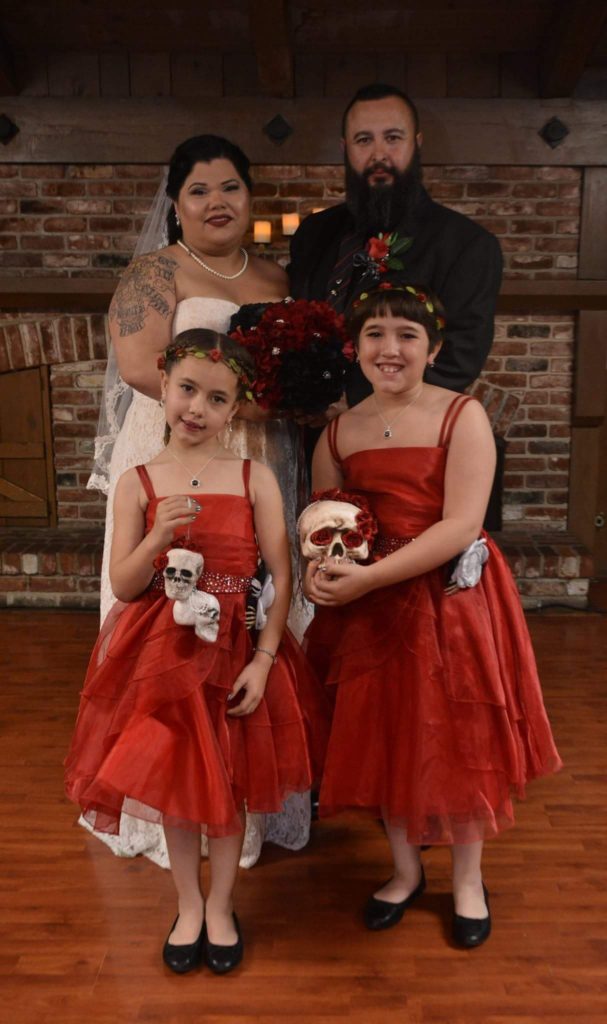 Carla and Henry's wedding was decorated in red and black colors which are true gothic style, complete with skulls and flower for the flower girls to hold.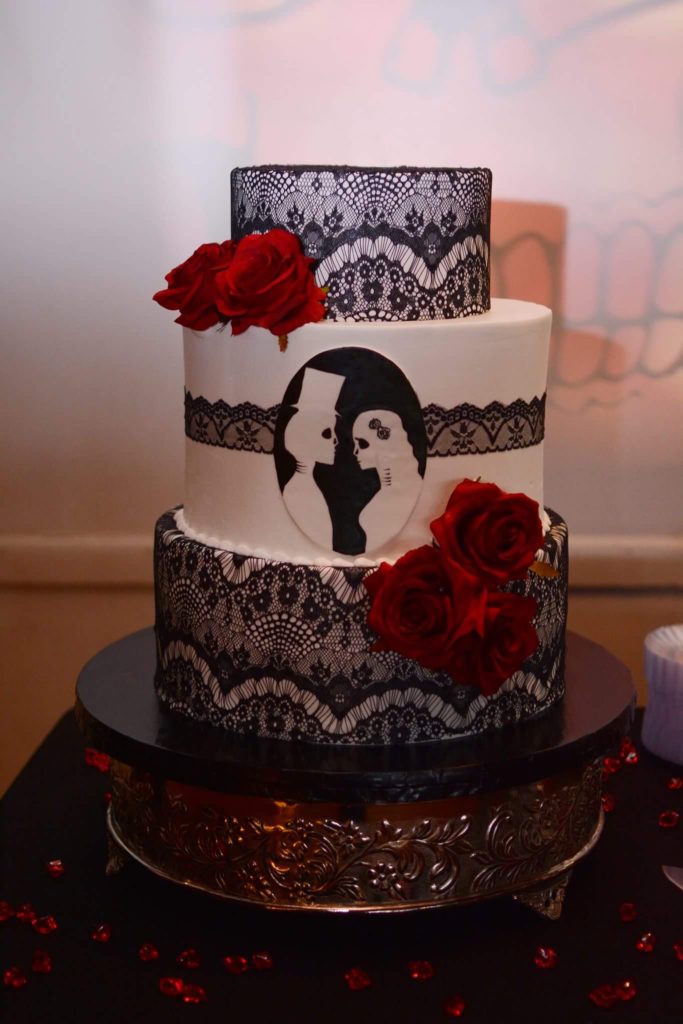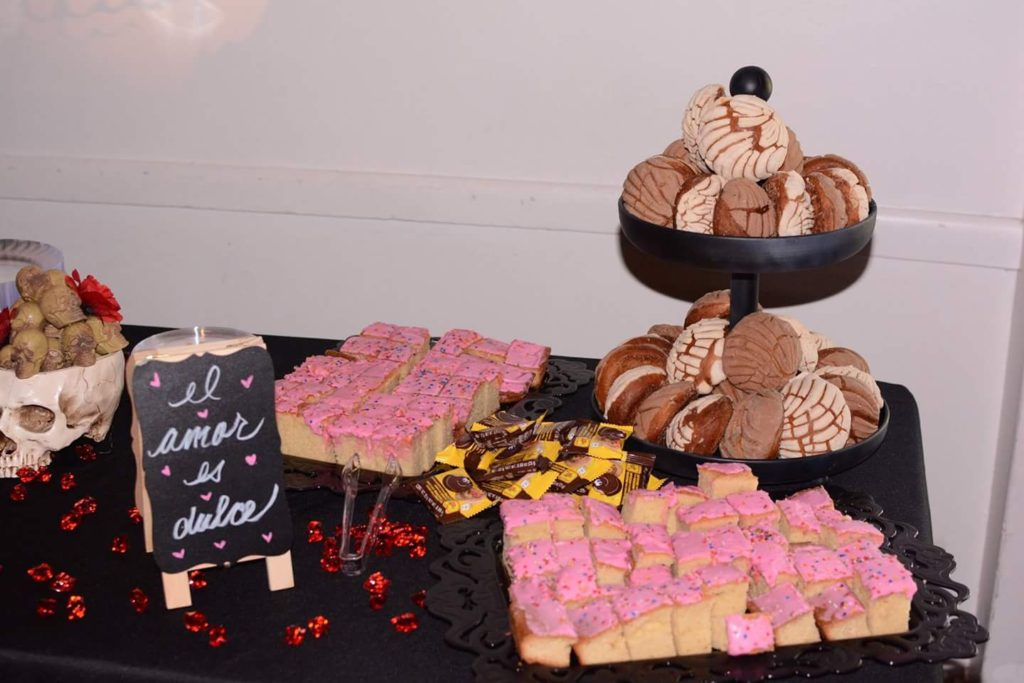 Even though she didn't get black lace on her wedding dress…she found somewhere to have it. Look how amazing this cake by Great Dane Baking Company in Los Alamitos, CA is, which she won. We love the lace and the skull silhouette piece to add to the theme.She also added a skull and filagree piece to her veil.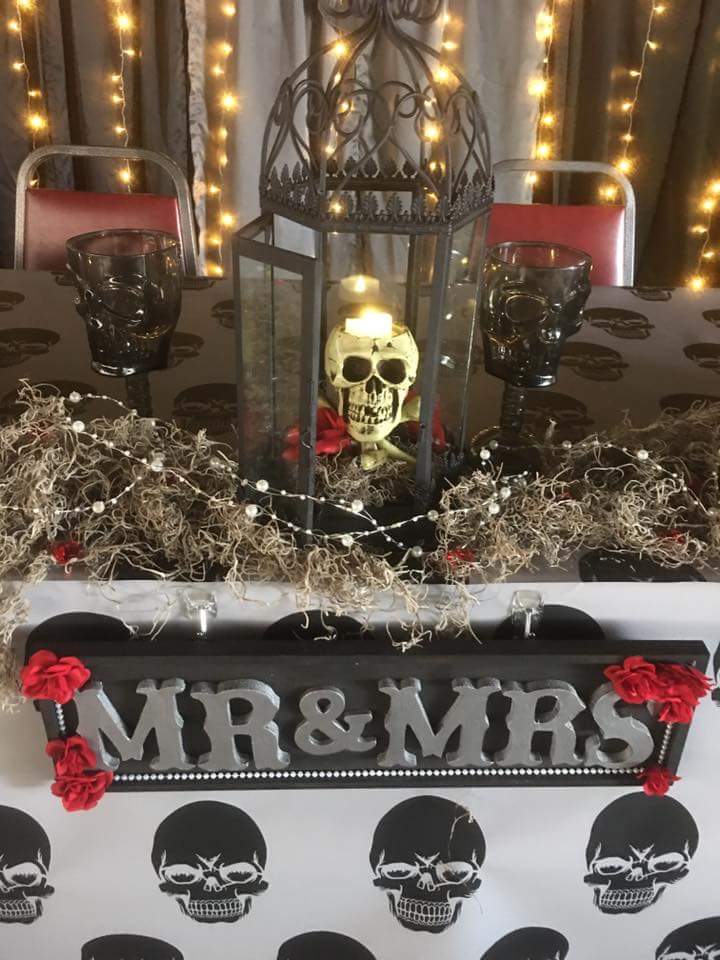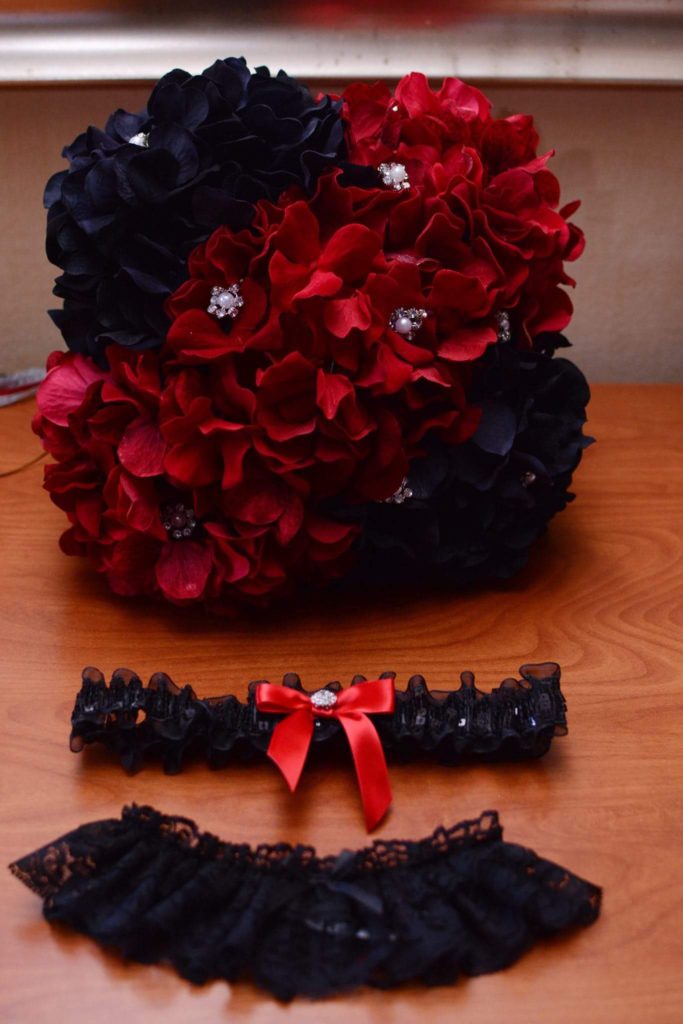 Carla also decided to purchase her garter from Strut and she knew she had to have it as soon as it caught her eyes. It was so perfect.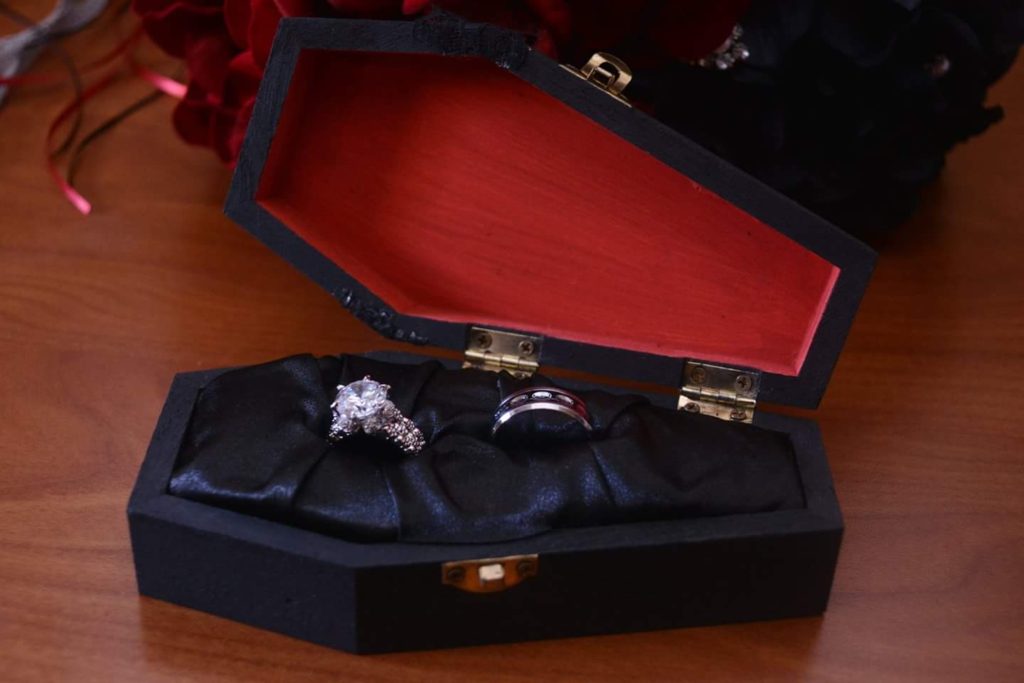 How much do you love this little tiny coffin ring holder. We think this is a first from any of our brides and it makes it such a unique special thing for Carla and Henry.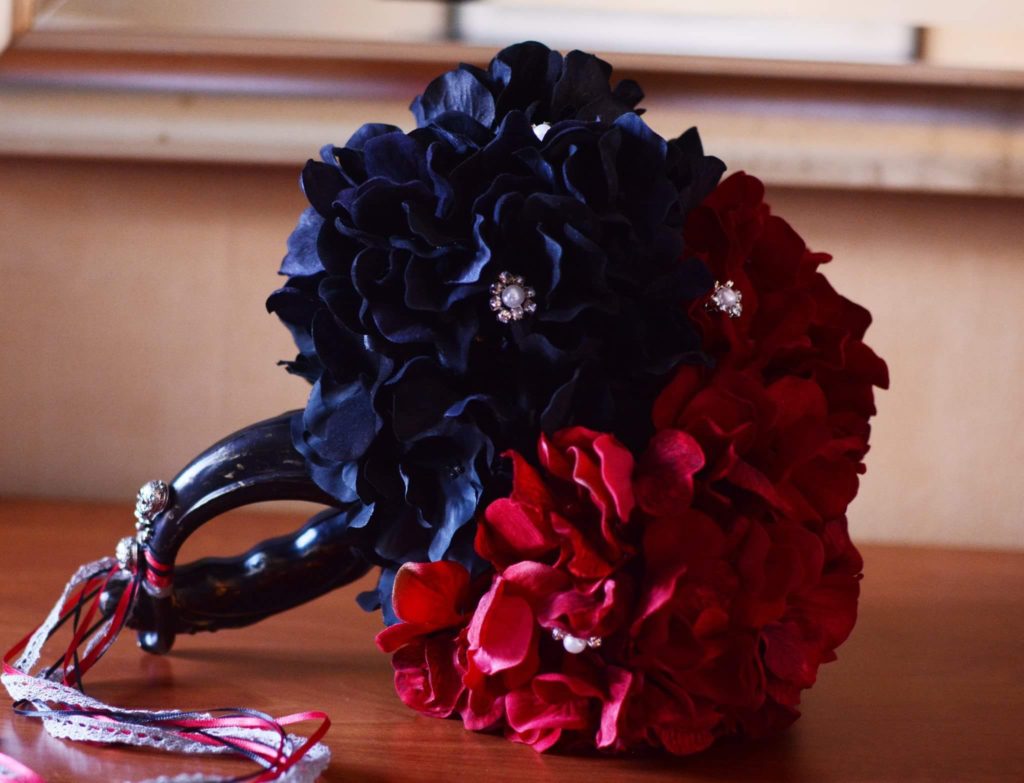 They celebrated their their vows with a Taquero. Who doesn't love Taquero. They also served traditional Mexican Pan Dulce (Sweet Bread)! Yum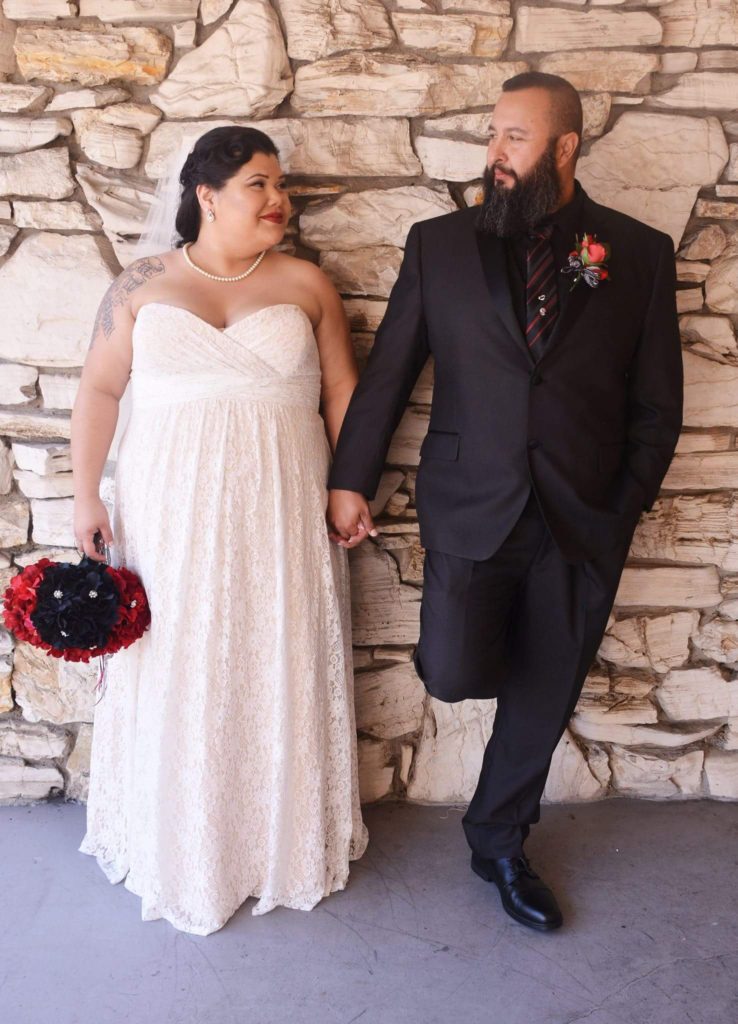 Thank you Carla for sharing your special day with us. You looked amazing!!!! We wish you many happy years of marriage to come.If you are looking for a unique wedding dress, let us help you find the perfect bridal gown to complement whatever wedding theme you're going to rock! We are located in Long Beach, CA and Tempe, AZ. We have a wedding dress for every bride. Give us a call or book your appointment online.
Photography by: Beyond Artistic (Iris Mendoza)