This is our super glamorous bride, Mrs. Desiree. Desiree got married to the man of her dreams, Matthew, on September 29th, 2018 in a stunning long sleeve lace ballgown wedding dress. Long sleeve wedding dress are still one of 2019's hottest wedding dress trends. Desiree's wedding was so unique she was featured on the RockNRoll Bride blog! Her stunning photos are by Dear Honey Photography.
This excited and colorful couple had both their ceremony and reception at the Hacienda in Santa Ana. The Hacienda is a wonderful all-inclusive venue featuring a remarkable outdoor chapel patio for the ceremony. The Hacienda is a historical sight, designed like a mission style adobe, and detailed with rustic and warm vibes. The venue's magic speaks for itself and encompasses the beautiful love that was officially bonded. We are taken away by all the greenery and flowers, the decorations of handmade rugs and tapestries. When we asked Desiree what her favorite part about the venue was, she relayed that the warm, homey vibe of the venue makes it feel like you are walking into a loved-one's home.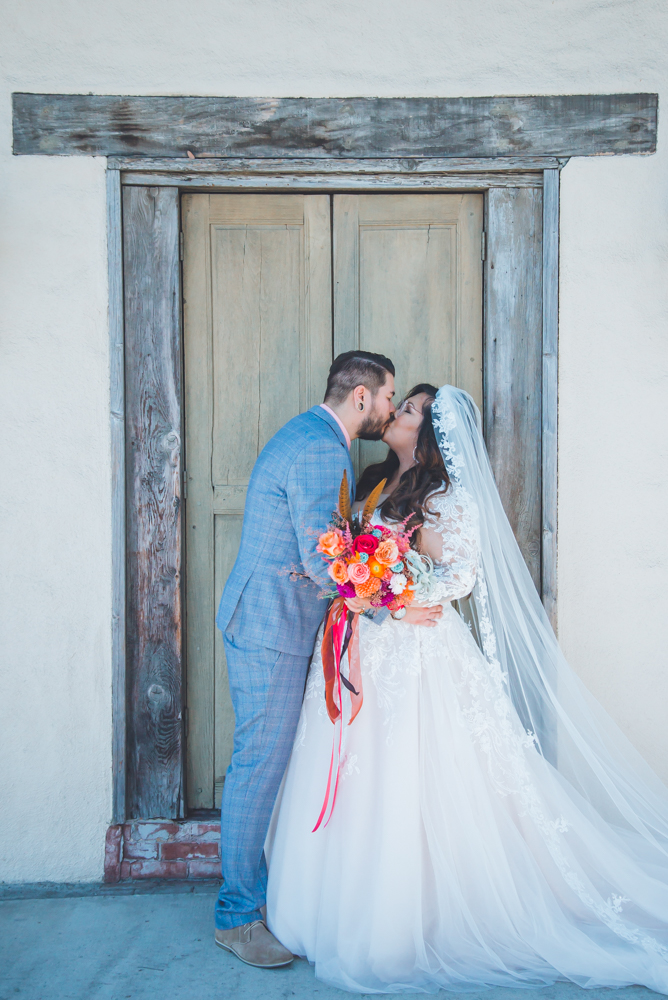 Desiree desired the entire experience of her wedding to be and feel unique, and she got exactly that and more! Her and her husband are quite the artistic couple, and she shared with us how important it was to her to include homemade art into her wedding. Desiree, being the creative and beautiful individual that she is, handmade almost all the decorations in her wedding. She created all the invitations, save the dates, table decorations, seating chart, and even made handmade soaps as favors to all her guests. What a heartfelt way to make their day even more special.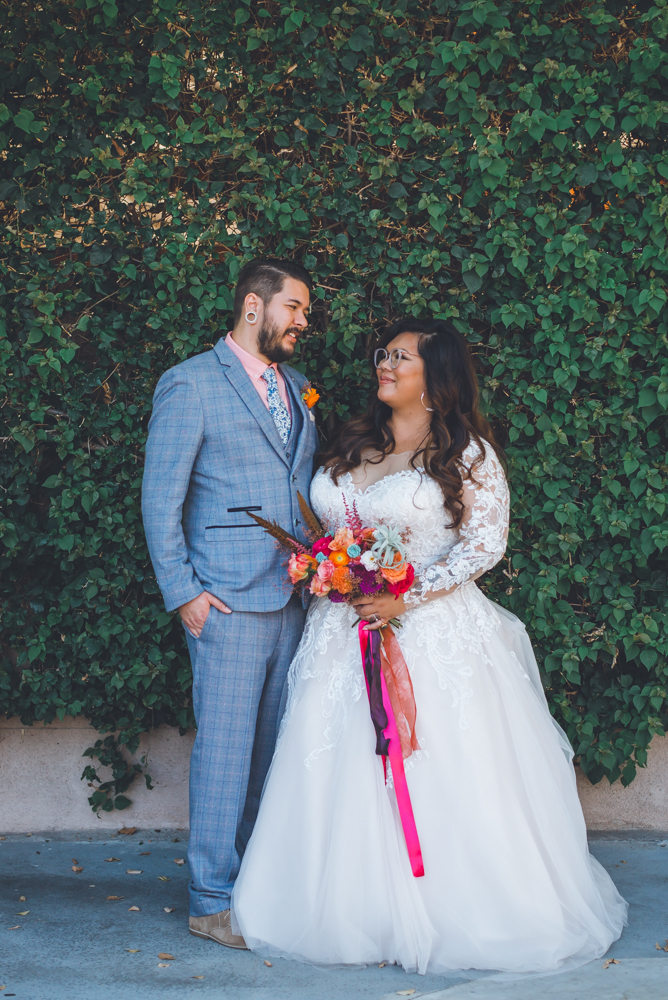 Desiree initially came into Strut with her mother and best friend, who were both very supportive of her. The dress she fell in love with showcased her personality and complimented her perfectly. The bodice of this stunning gown features an illusion sweetheart neckline, with elegant lace appliques and banging sparkle. She rocked the illusion sleeves, and we absolutely love how the lace from both the sleeves and the bodice trickle down into the super fun ballgown tulle skirt. Desiree completed the look by wearing a timeless cathedral beaded veil lined with lace. We are so wowed by her beauty!! Her bouquet is to die for, and it was as if her florist read her mind on exactly what she wanted. The colors are so exuberant and vibrant, and we couldn't imagine anything better than that!
When we got a chance to chat with the now Mrs. Guajardo about the wedding, she said everything went just wonderfully. Her favorite part of the wedding was vowing her love with Matthew in front of her family and close friends. She loved feeling glamorous all day, and I know her guests loved seeing her so glamorous just as much! What a delightful wedding for a marvelous Strut Bride. Congratulations to the newlyweds, Matthew and Desiree! Your Strut family wishes you both only happiness and joy now and forever. She added, "Thank you so much to Maggie and Yulina at Strut Bridal Salon in Long Beach for the outstanding service. I love(d) my dress and veil so much! Sharing some pictures from our big day. 🙂  "
If you love Desiree's plus size long sleeve lace ballgown wedding dress you can find it in our Long Beach, CA and Tempe, AZ bridal stores. It's available to size 30 in two tone, as shown or all ivory. Strut has the largest selection of long sleeve plus size wedding dresses in the area. We can also custom build a sleeve onto nearly any wedding dress – ask your stylist for details! For photos of more real plus size brides, check out our blog!