Dolores came into our Los Angeles area bridal store and brought her lovely mother, Lisa, with her to support her while she searched for the dream wedding dress. Sometimes brides come in, and well, just completely crawl into your heart. Dolores is an angel, with a heart set on serving others. She is a nurse, and we are confident that anyone who gets the pleasure to be around her is positively benefited. Every time sweet Dolores came in, the place was filled with all love, laughter, and smiles. We are so grateful we got to work with her and her family.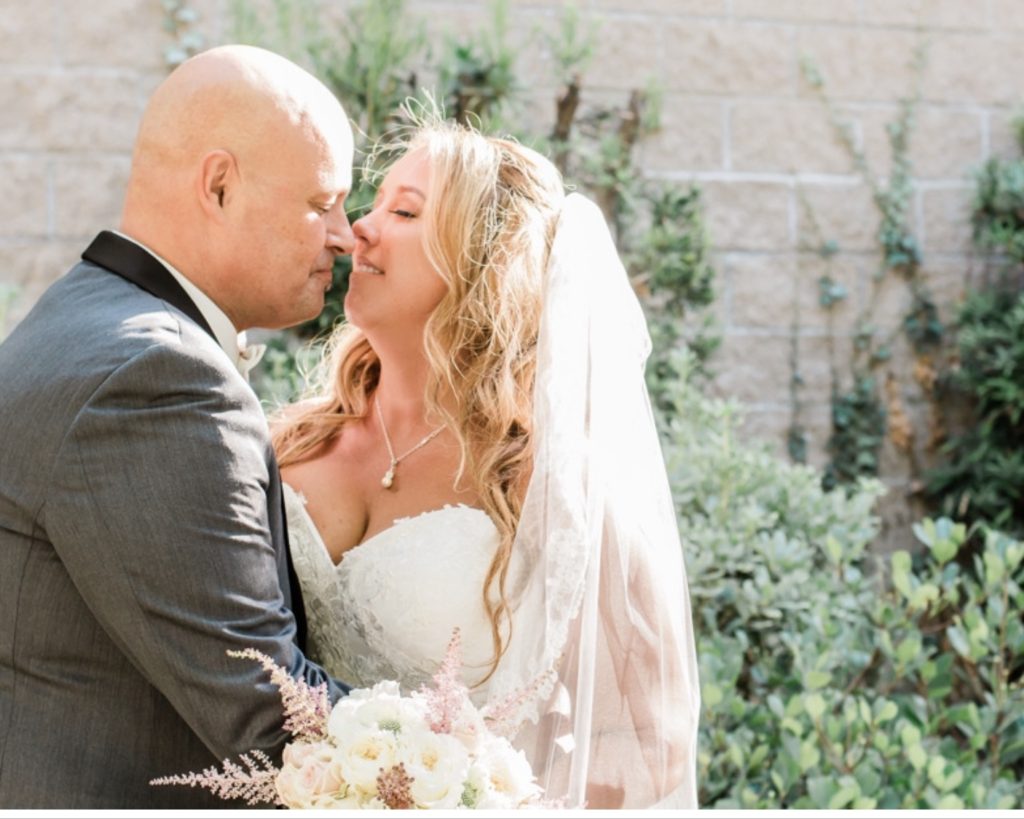 Dolores fell in love with the perfect mermaid wedding gown, with a strapless sweetheart neckline and sparkle lace appliques throughout the gown. (Sometimes we name our wedding dresses so, between the stylists we can get them quickly if needed, and Dolores's wedding dress is really named The Perfect Mermaid Wedding Dress.) Being able to dance in the gown was important to her, and dance she did! She wanted to be in ivory, and her gals in a remarkable blush pink. The groomsmen even had matching blush ties to pull everything together. The color combination was to die for!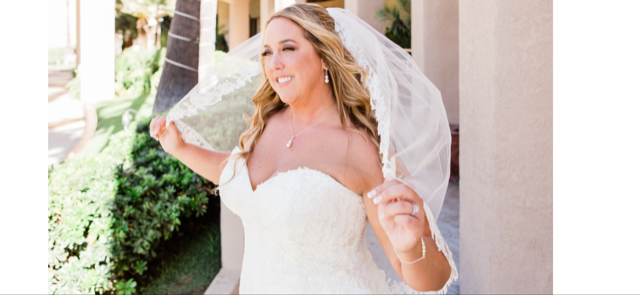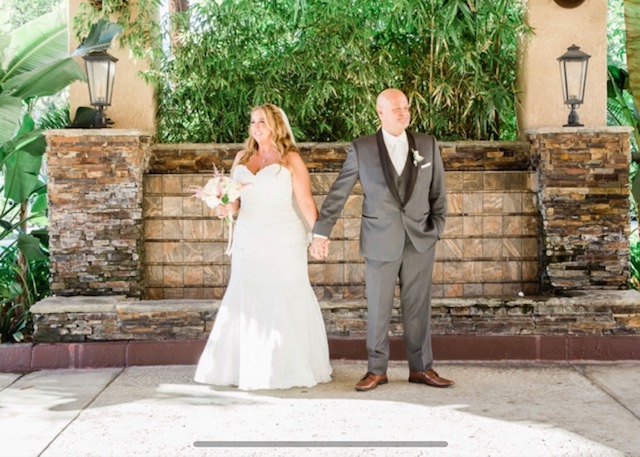 The awesome couple got married in the evening at The Grand Long Beach events center. Which was, well, if the name of the venue doesn't already say it all… GRAND!! The whole vibe of the wedding was fun and romantic. The venue is extraordinary, with terraces with enchanting greenery, patios, and an even grander ballroom for the reception! Her wedding photos are by Jess Young Images.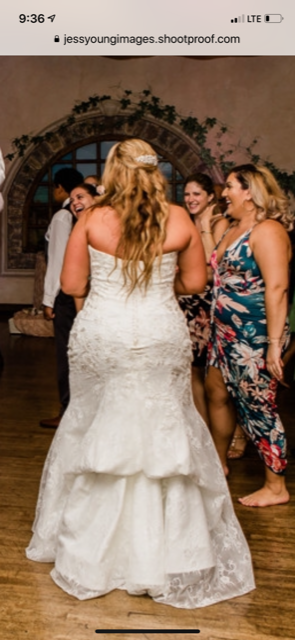 We love this shot of her French underbustle for her wedding dress train.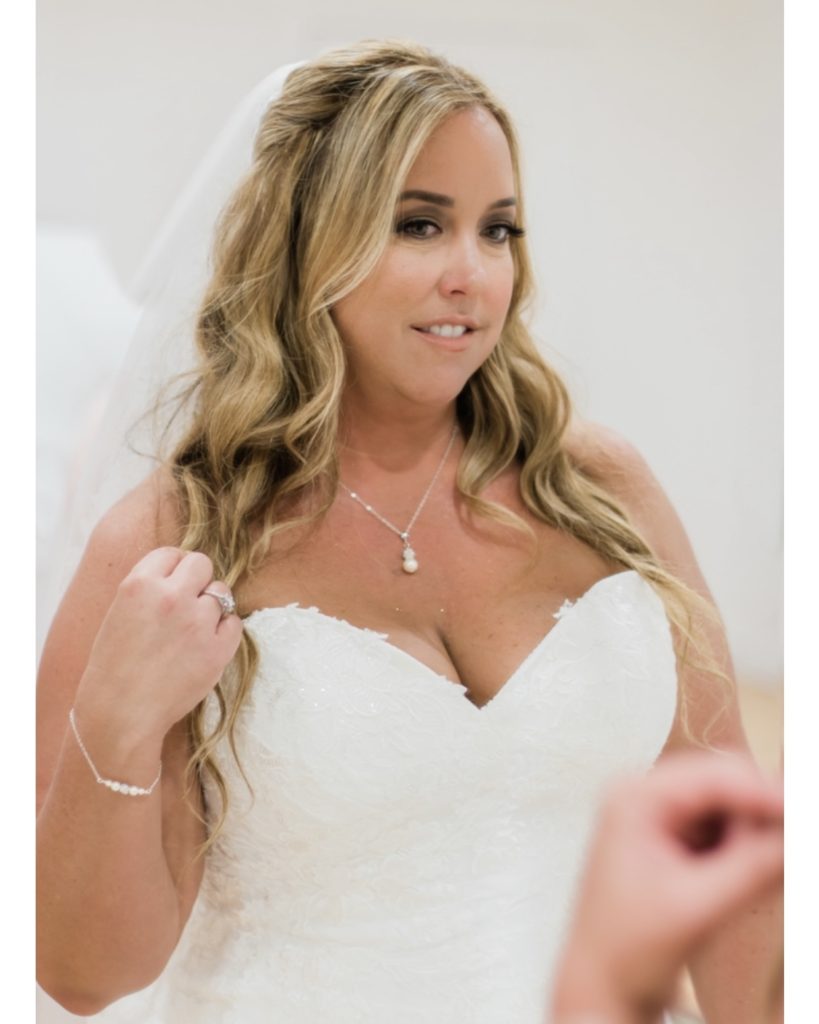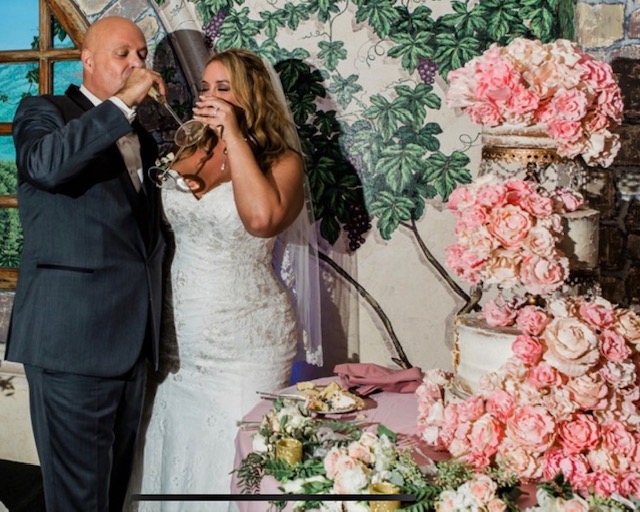 All our hearts are so warmed by dear Dolores. We are in love with their pictures, and so delighted for this couple. Congratulations Dolores, and happy new year to this wonderful couple!
If you love Dolores's perfect mermaid wedding gown, you can find it at our Long Beach bridal boutique and our Arizona plus size bridal store. It's available in all ivory, and ivory/cafe to size 32. Learn more about our collection of plus size wedding dresses then book your appointment today!