We recently had the pleasure of meeting the current owner of the Wedding Gown Preservation Company. It has been a family owned business for several generations, and they now offer a 100 year guarantee! We took advantage of our opportunity to get our brides' most pressing wedding dress preservation questions answered.
First, if you want to be able to give your wedding gown to another member of your family, wear it again in twenty years for a vow renewal, or just pull it out of your closet and admire it again, you will need to get it cleaned. We recommend bringing in your gown to Strut for cleaning within 30 days of your wedding. It's not the dirt and food stains that really damage your gown, it's your body oils.
So when we spoke to the experts at the WGPC about cleaning your wedding dresses, we asked them, "If our brides have their gowns cleaned and preserved, does that mean they can't open the box?" Happily, we learned that answer is NO! In fact, they WANT you to open your dress and inspect it when it arrives back at your house. They even provide a pair of white gloves so that you don't transfer body oils to your gown.
So that was great news to us! We also learned that you can personalize your wedding gown preservation box with your name, wedding date, and even your wedding photo. There are so many great options now!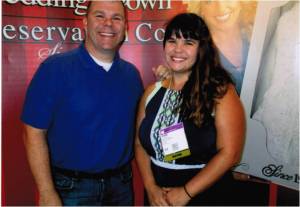 As always, if you'd like to have your wedding dress cleaned and preserved, just bring it to Strut. You'll simply pay for the service when you drop it off, but we'll pack up your gown (and up to three accesosries, like your veil and gartner) and send it off for you. It's just part of the services we provide to our Strut Brides!