Our wonderful Strut Bride Keri is from the beautiful Pacific Northwest! She is an elementary teacher with a huge heart for serving and helping others. Adorably enough, her mother is an elementary teacher as well. The passion runs in the family! While visiting her family in Long Beach, CA, Keri brought her sister to her bridal appointment at Strut. Keri fell in LOVE with the very first wedding gown she tried on; it was truly meant to be and just what she dreamed of.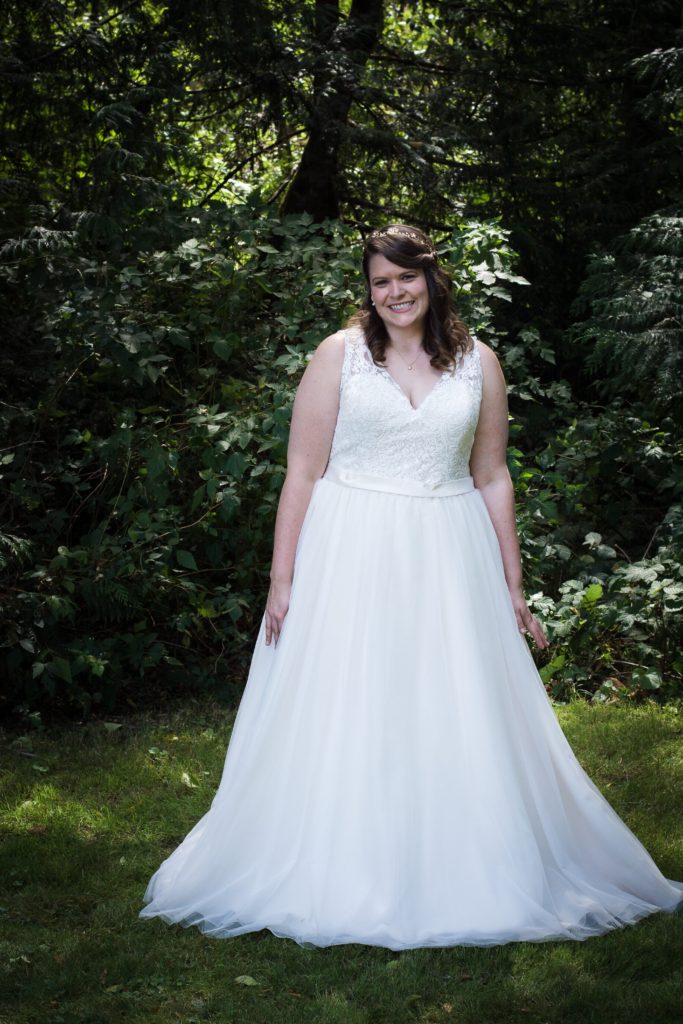 As the newlyweds are both from the Seattle, WA area, they decided to tie the knot in their hometown with a Gig Harbor lakeside wedding. Keri and Travis wanted to have a very intimate wedding experience, supported by their family and close friends. Keri planned the entire wedding herself and channeled her inner creativity and magic to bring everything together. Keri is naturally an extremely organized and efficient planner, so it was a very exciting experience for her to bring to life.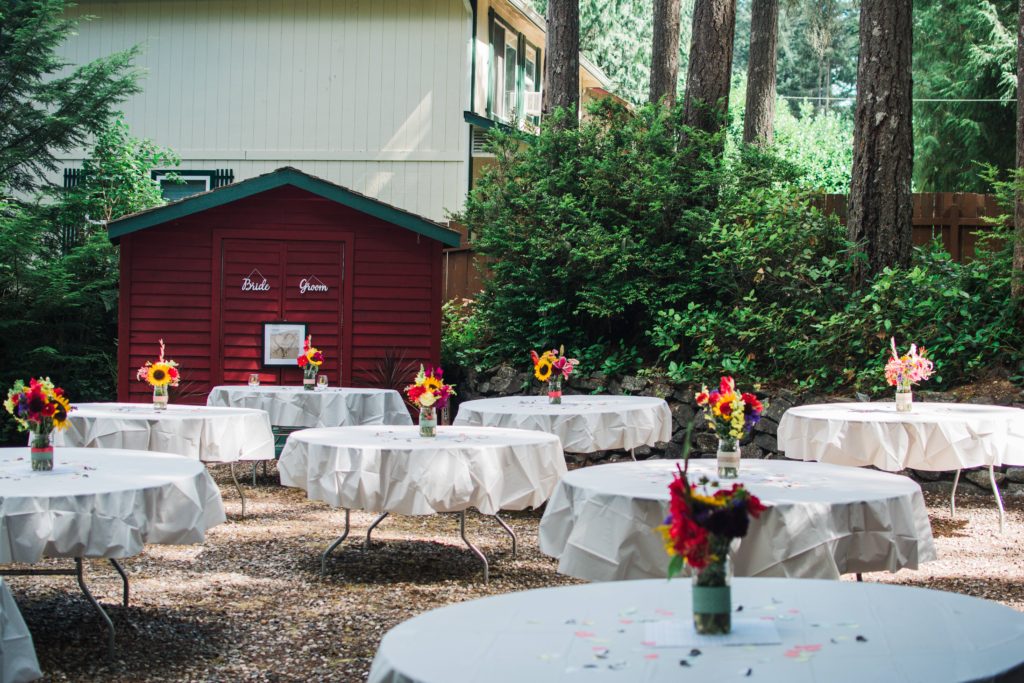 They got married on August 4th, 2018, at Travis' parents beautiful house on a lake in Gig Harbor, Washington. They decided to have the ceremony overlooking the water and celebrated the reception in a gravel area outside the house. During the ceremony, all of Keri and Travis' guests surrounded the couple and sat on the beach. The food was located inside the car port, where lots of dancing and laughing took place. Keri had a wonderful idea in mind for her dinner. She had Puerto Vallarta Mexican cater the event with a TACO BAR!! Keri hand-picked all her decorations, including picking out all the floral arrangements at the Pike Place Market. One of our favorite touches were the beautiful and irresistible donuts Keri included. When we asked her where she got them, she informed us of the best local spot called Happy Donuts.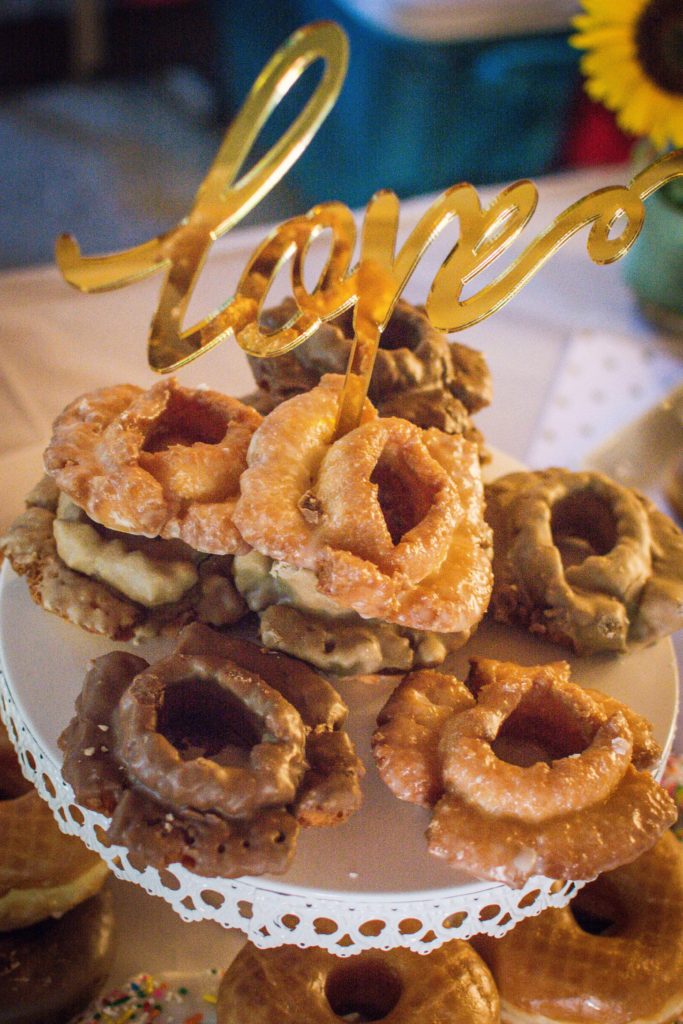 Keri and her bridesmaids all decided to do their hair and makeup by themselves, as she shared it was very important to her that she truly felt like herself on her big day. How darling it that!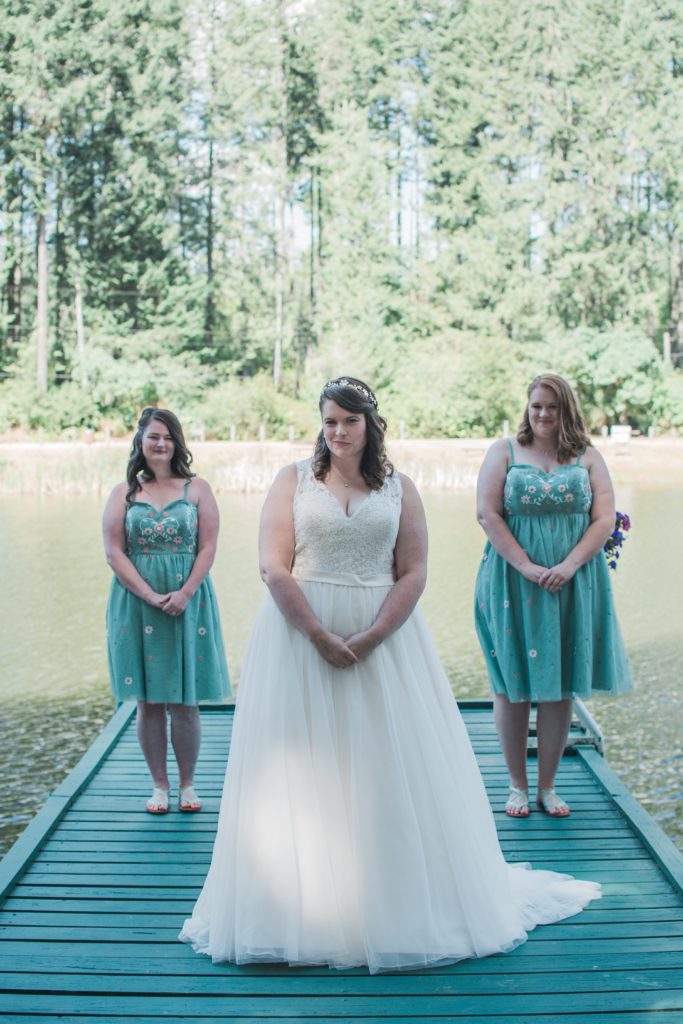 We found it exceptionally special when Keri informed us that both her and her now husband wrote their vows together before the wedding. Their wedding day photos are by Amanda Joy Photography.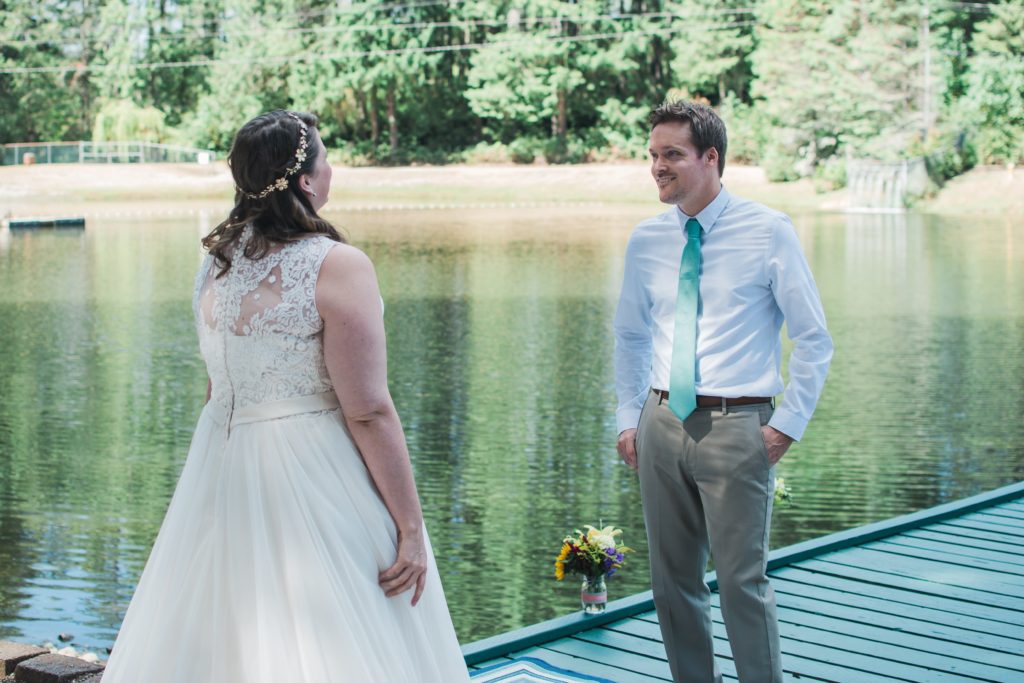 Keri had an idea in mind of exactly what she desired in her own wedding gown. Once relaying this idea to her Strut Stylist, she fell in love with the very first wedding dress she tried on. She tried on a couple others to see if they could top it, but nothing even came close. The very wedding dress she dreamed of ended up coming to life for her, and it was perfect. Her gown has a striking tulle skirt featuring a remarkably lacey bodice with a v neck line and a beautiful butterfly effect on the back. Her dress provided to be a great match for her venue, as it was lightweight and flowy. She had her girls in dazzling floral sage green gowns to compliment the wondrous vibe of their wedding. We are beyond excited that everything turned out so wonderfully for this couple. Strut Long Beach wishes you both all the very best! Thank you for making such a beautiful bride.
While Amanda's plus size aline wedding dress with illusion back is no longer available in our plus size bridal boutiques, Strut has the largest selection of bridal gowns in mermaid, aline and ballgown styles. See more plus size wedding gowns online, then book your visit today!