Krishunda was another amazing Strut Bride who visited our Long Beach bridal store. She shopped in March 2014 and thought she wanted a wedding dress with a sweetheart neckline and empire waist. But as she sat and talked with Stylist Ann, her amazing personality came out and we decided on "fun and funky with a rustic twist" for her dress, and she loved an amazing ruffle ballgown wedding dress.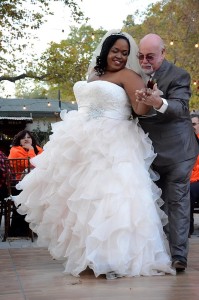 Krush wore a strapless sweetheart neckline ballgown from Allure Bridals #8955. The bodice featured ivory lace and a sparkly applique at the waist. The soft ruffle skirt was organza.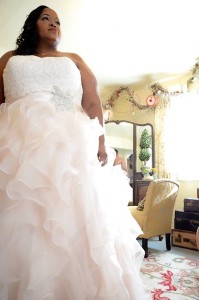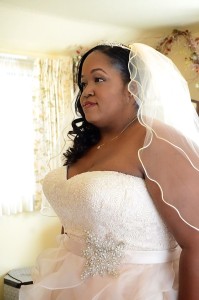 Krishunda and Leroy were married November 19th, 2014 at a rustic ranch in Wilshire. They were married in a gazebo, and their entire event was outside.
She wrote, "I wanted to share our wedding pics with you. The "fun and funky" gown you showed me was one of the best investment I made for my wedding. Thank you Thank you THANK YOU!!!"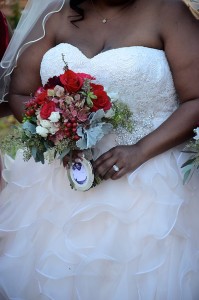 We thought she was probably carrying someone close to her heart on her wedding bouquet, so Krush said, "That is daddy in the locket. We lost him in 2012. My sister made the locket so he could walk with me down the aisle. I am uploading the highlight video to share with u. Please share your beautiful gown. It is so beautiful. When I show the video everyone comments on how beautiful it is. Thank you so much!!!!!" And speaking of that wedding day video, get your hanky out because we got a little teary at Leroy's reaction. Keep watching until you see the amazing way they used old door to frame her entrance–it's so cool!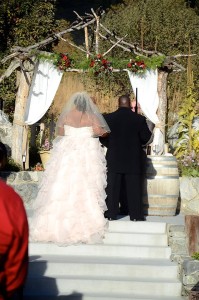 Congratulations to Krishundra and Leroy. We could see the love between these two and wish them all the best!
If you're looking for an amazing wedding dress, visit one of our plus size bridal stores. Our expert stylists will help find the perfect gown for your big day–one that expresses your amazing personality too!