We're excited to be once again supporting Wish Upon a Wedding with our wedding dress donation drive at our Long Beach bridal store. The once-loved gowns are collected and sold to fund weddings for couples facing a series illness.
Recently they have supported the following Southern California weddings:
Ana & Mark's San Diego wedding:  http://wishuponawedding.org/blog/ana-mark-a-love-story/
Tammy & Christopher's Santa Barbara wedding: http://wishuponawedding.org/gallery/tammy-christopher/
Iran & Daymond's Pacific Palisades wedding: http://wishuponawedding.org/gallery/iran-daymond/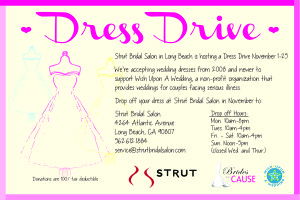 The wedding gowns should be from 2008 or newer, and they do not have to be cleaned. Your donation is 100% tax deductible, and we'll provide you with a receipt. Please call us at 562.612.1884 if you have any questions. Although Strut specializes in plus size wedding dresses, we're accepting donations of any size.
We thank you in advance for your support!