Mayra and Jeremy were married on November 7, 2014.  If Mayra looks familiar, it's because she has modeled for us!  Her wedding photographer was The R2 Studio; and we were thrilled to get these photos of Mayra in her wedding dress with sleeves!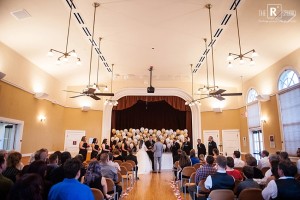 We love the balloon backdrop! you can customize a balloon backdrop with any wedding colors you want–perfect for DIY brides!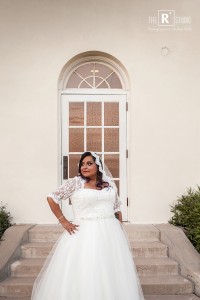 When Mayra came wedding dress shopping last January in our Phoenix bridal store, her only request was a trumpet or fit and flare gown.  As you can see, she ended up with a ballgown!  That's why it's good to keep your options open.  When she tried on fit and flares and trumpets, she didn't really like them.  But when Angel put her in a ballgown, she knew it was the one.  She chose an ivory dress with a tulle skirt and a fully beaded lace bodice.  She personalized it with a matching sparkly lace keyhole jacket, a blingy belt, and a lace trimmed veil. Jackets are perfect for brides who want a bit of coverage for their shoulders or arms.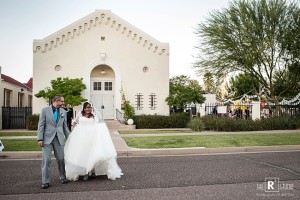 Mayra's bridesmaids also got their dresses here.  They all wore black, but each girl picked out her own dress.  They picked short satin bridesmaids dresses to show off amazing teal shoes. It's easy to pull off a coordinated look with bridesmaid dresses when they all pick the same fabric and color. We love that some had halter straps, strapless, and even one illusion neckline!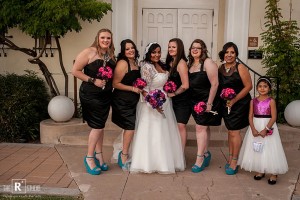 For more information about Mayra's photographer, check them out:
The R2 Studio
Photographers with Mad Skills
Office: 602.492.5856 | Cell/Text: 928.699.5520
Hours: Monday – Thursday: 9am – 5pm. Weekends by Appointment Only
E-mail: [email protected] | Website: http://www.ther2studio.com
If you're looking for a plus size wedding dress, this gown is currently available in our Long Beach and Tempe, AZ bridal stores in long and tea length. Best of all–it's under $1000! Both stores carry a huge selection of plus size bridesmaid dresses as well. As always Strut Brides get 15% off their bridesmaid dress purchases!