This is our beautiful Long Beach Strut Bride, Melissa. Melissa came in wedding dress shopping with her mother, step-mother, MIL, and sister. Her focus was on finding that perfect wedding gown to elegantly compliment her rustic winery with a fun party vibe wedding. She wanted to feel confident and stunning with a nice balance between elegant and sexy, and be able to dance freely all night at her romantic winery wedding in Temecula, CA.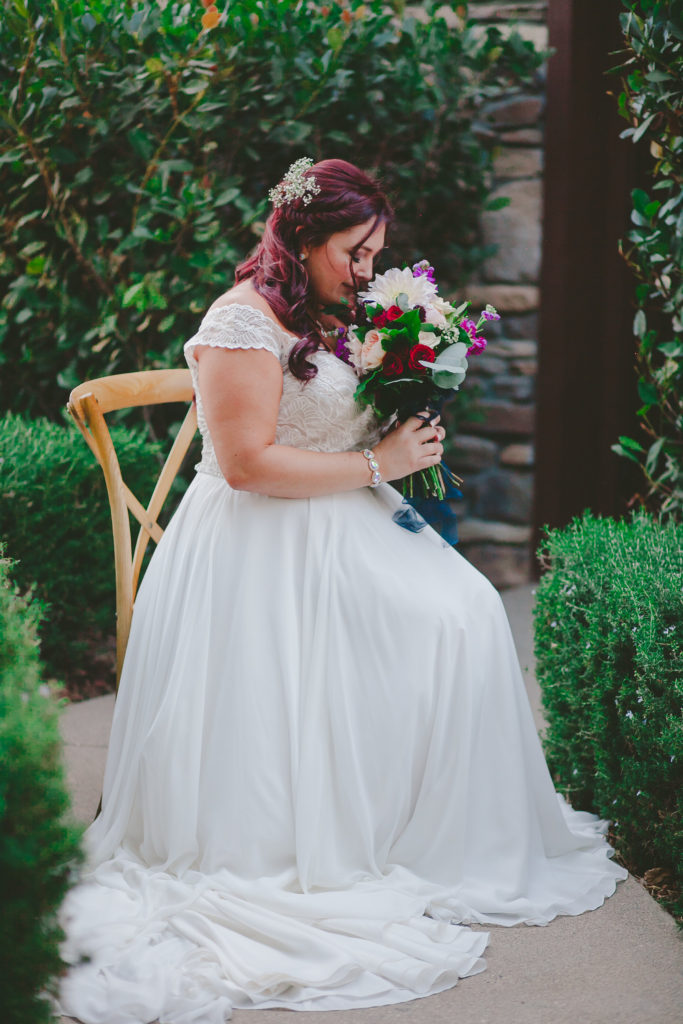 She fell head over heels in love with this stunning bridal gown. It features luxurious sparkle and lace appliques on the bodice, off the shoulder cap sleeves, and a wonderfully exquisite and ornate chiffon aline skirt. Her dream dress also has a rhinestone belt. The bridal gown gave her that rustic glam feel, and she was able to dance the night away with her flowy chiffon skirt.
She had her wedding at an enchanting winery in Temecula, CA, called the Lorimar Vineyards and Winery. "A fusion of wine, art, music, and food", a recipe for the best wedding ever! The lovely couple tied the knot during an evening ceremony, to capture that magical feeling at dusk. Melissa looked like an absolute dream, with her soft curls in her bold and gorgeous red hair. The contrast of all the greenery at the vineyard against her ivory gown. She chose such a striking combination of flowers to include in her bouquet, giving her the perfect pop of color to tie everything together. We are so wowed by the couple's pictures. Together, they truly captured the essence of their fascinating venue, by combining rustic charm and classic elegance.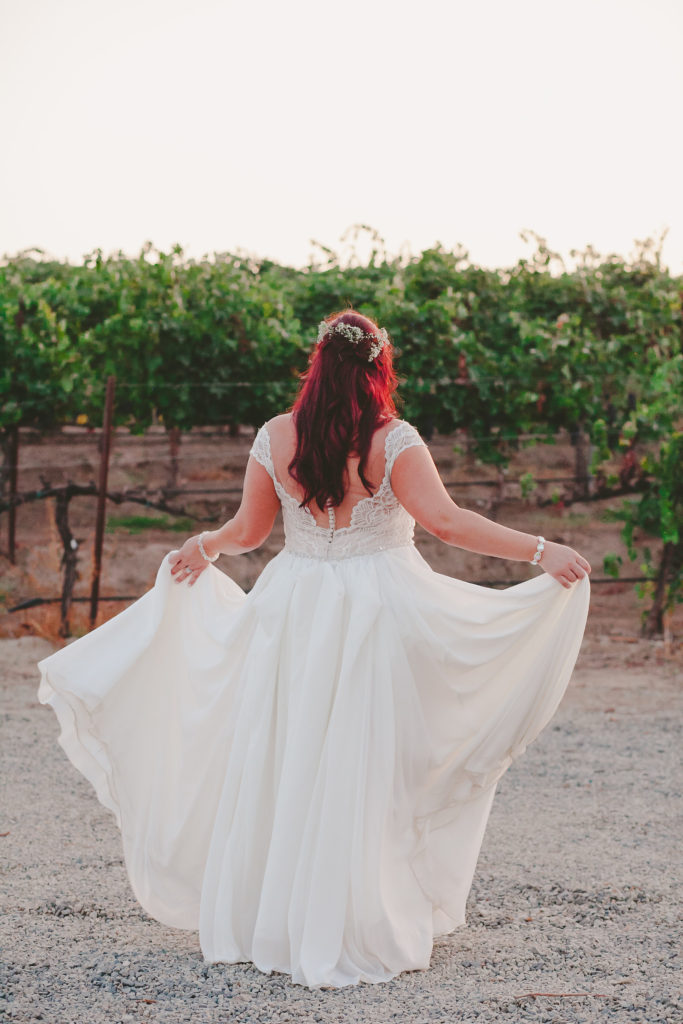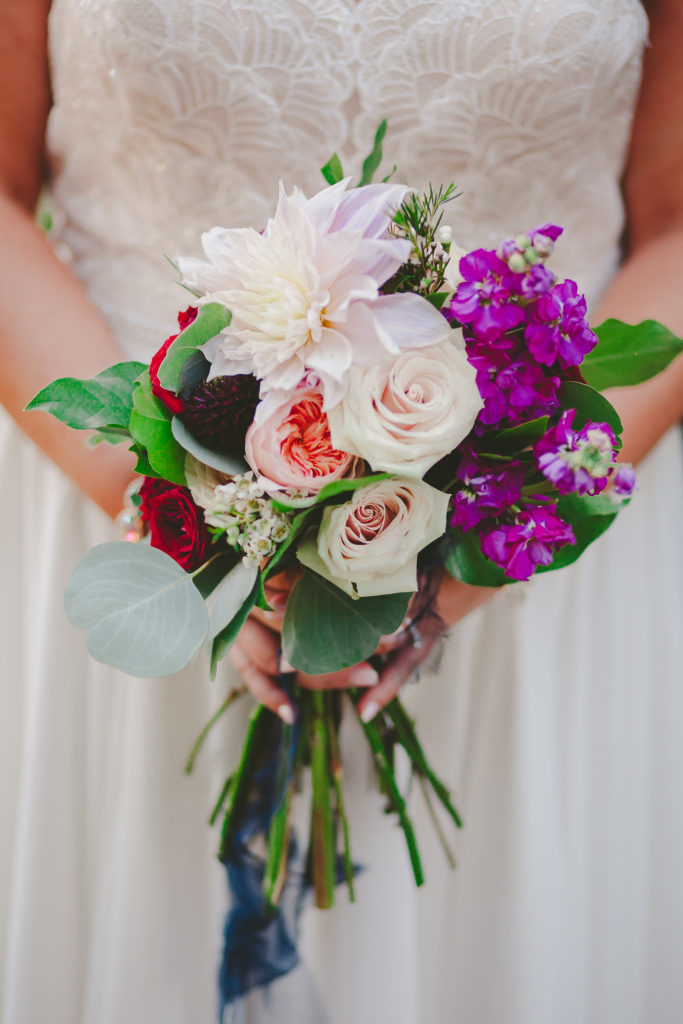 How cute is this bride?! She wrote, "Here are a few of my favorite photos from my most favorite day ever! Thanks to Strut Bridal, I felt like the princess I dreamed of when I was a little girl. Thank you so much
xoxoxo" Awwww, Melissa! Yay! They were married September 2nd, 2018.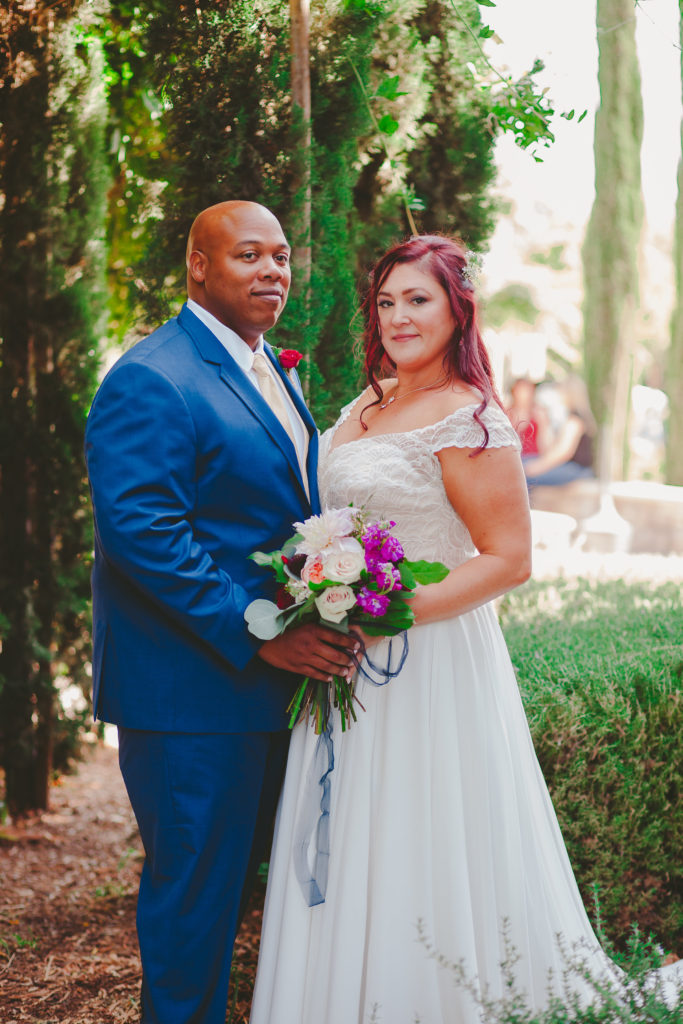 The Strut Long Beach family is so grateful we got to work with such a wonderful person like Melissa. We wish you both the absolute best as you journey together in this exciting phase in your lives. Congrats, Melissa!
If you love Melissa's chiffon aline wedding dress with straps, it's currently available in our Long Beach, CA and Tempe, AZ bridal stores. While Melissa's bridal gown is two tone, with an antique tone under the ivory lace, it's available in all ivory as well, to size 32. Strut is the area's largest bridal store for curvy and plus size brides. Book an appointment today!