We love lightweight, informal, flowy wedding gowns that are perfect for Vegas, the beach, backyards and more. We just got in two brand new plus size chiffon wedding dresses that we think you'll love! What's even better is that they're both under $700!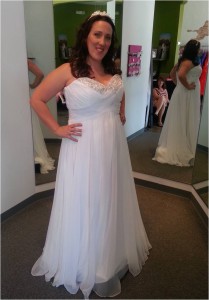 This almost-empire style wedding dress has ruching that defines the waist and the draping in the front flatters tummies. Plus we love the super blingy bodice–it's more sparkle than most informal gowns have. It even has some on the back of the dress!
This dress needs a curvy body to make it look great, but our Strut Brides that have tried it on love the modest neckline, halter stra
Give us a call if you'd like to try on either of these plus size informal wedding dresses. They go up to size 30!