Strut Bridal Salon just received our newest Fall 2015 collections of plus size bridesmaid and social occasion dresses. To celebrate, we're having a great sale September 7th – 20th in our Tempe, AZ and Long Beach, CA locations. For two weeks only you can save:
$20 off any bridesmaid or social occasion gown
$30 off dresses when 3 or more are purchased together and paid in full
$30 off dresses and 20% off one bridal accessory when 5 or more dresses are purchased together and paid in full.
So gather your bestie, mom, cousin and more to come bridesmaid dress shopping, because this offer is good on any dress (it doesn't have to be the same style or color) for anyone, not just bridesmaids!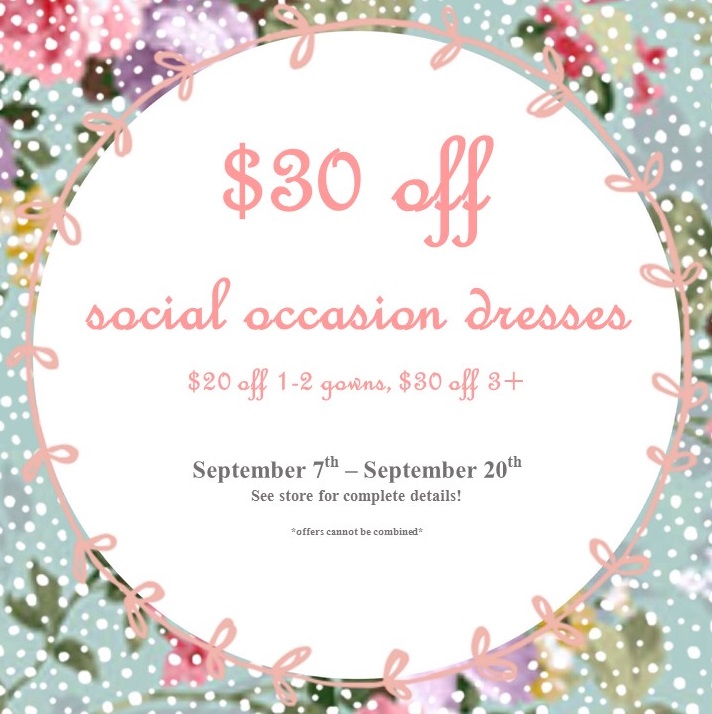 Moms, aunts and grandmothers of the bride and groom love our extensive selection of gowns. While we carry sizes 12+ in the store, we can order starting at size 0 or 2 to accommodate any member of your bridal party or family. Our social occasion gowns also go to size 36, and we have the ability to make custom size dresses as well.
We love the new styles, many of which feature a soft English net fabric. It's much like tulle, only a bit softer. It's lightweight and flowy like chiffon, but some ladies like how it's a bit less clingy. We also received some pretty sequin top bridesmaid dresses, if you like a little more sparkle.
Remember, social occasion and bridesmaid dresses can take three to four months to order (although we can get some on a rush in a month), and you want time for alterations, so this sale is perfect for late fall 2015 and spring 2016 brides.
This bridesmaid dress sale is by appointment only from September 7th – 20th in both stores. Please call for an appointment.