We recently received the greatest pictures of Randi's DIY nautical wedding in Juneau. She came in to Strut in Tempe, AZ in April of this year all the way from Juneau, Alaska. She told us that her wedding was just a few months away in August. So, we were on a mission to find her a perfect wedding dress. Randi wanted to look stunning in an ivory bridal gown with a complimenting coat overlay, since her wedding was taking place in Alaska.
In Randi's words, "Juneau is a rain forest, and when we picked our date we knew that it would most likely be raining. Our 2017 summer was one of the wettest on record. Mark and I had resolved ourselves to an outdoor, rain filled day." Challenge accepted! We helped her find a gorgeous plus size ivory a-line wedding dress with pleated bodice. She also got a veil, a jacket, and a sash. She looked absolutely fabulous!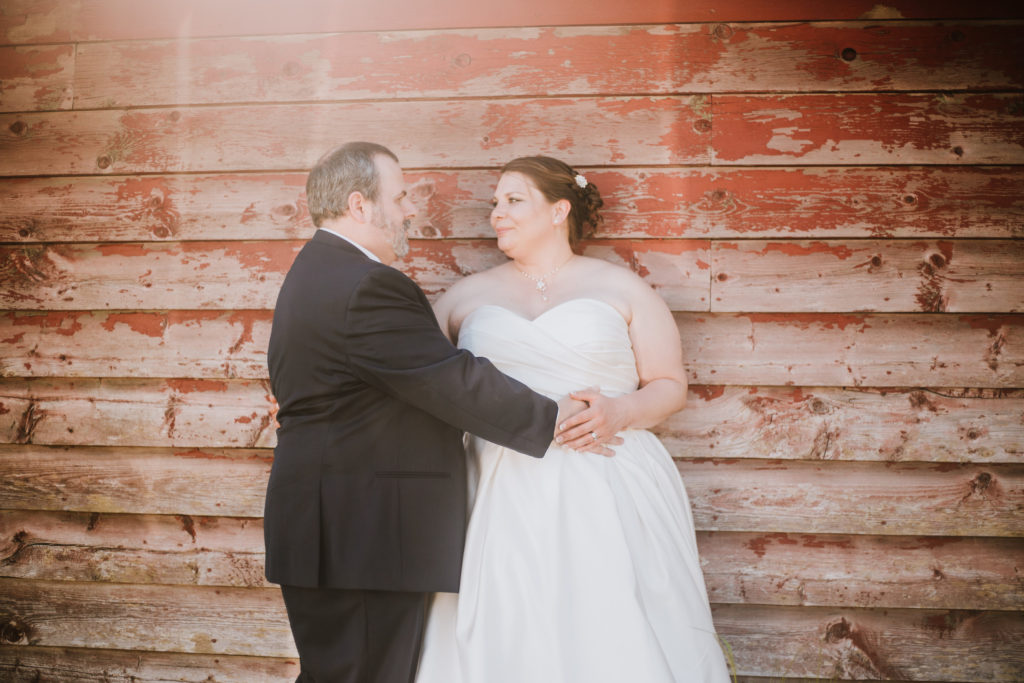 Luckily, the jacket wasn't really needed. Randi told us, "A few days before our big day, something amazing happened.  The clouds parted, the sun came out, and the 55 degree, blowing, wet summer turned to sunny warm days.  Our actual wedding day was a record setting 82 degrees."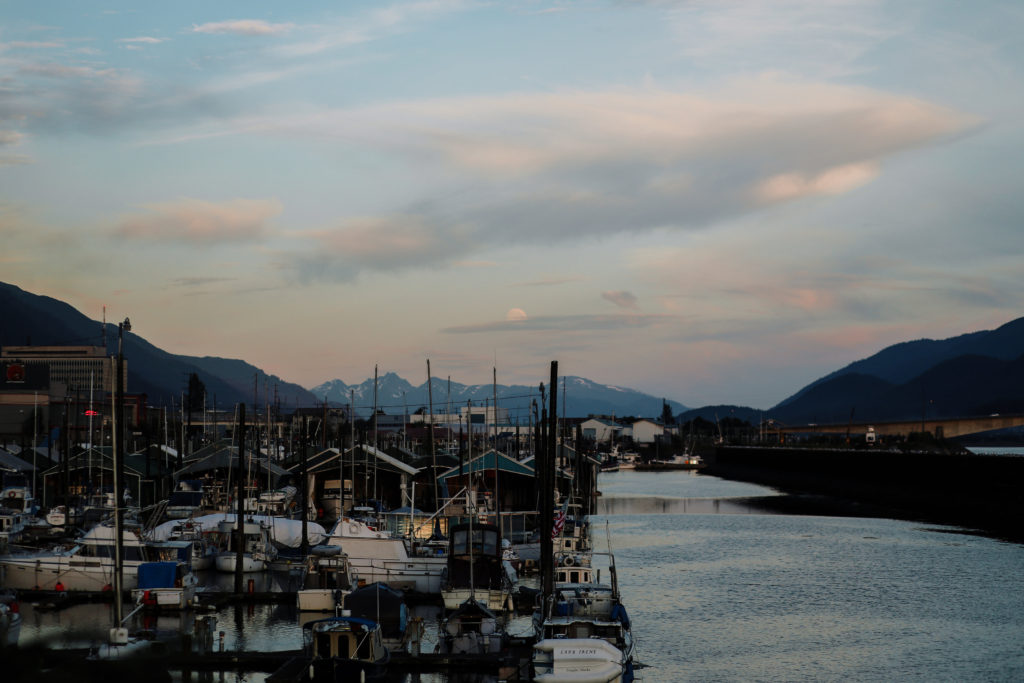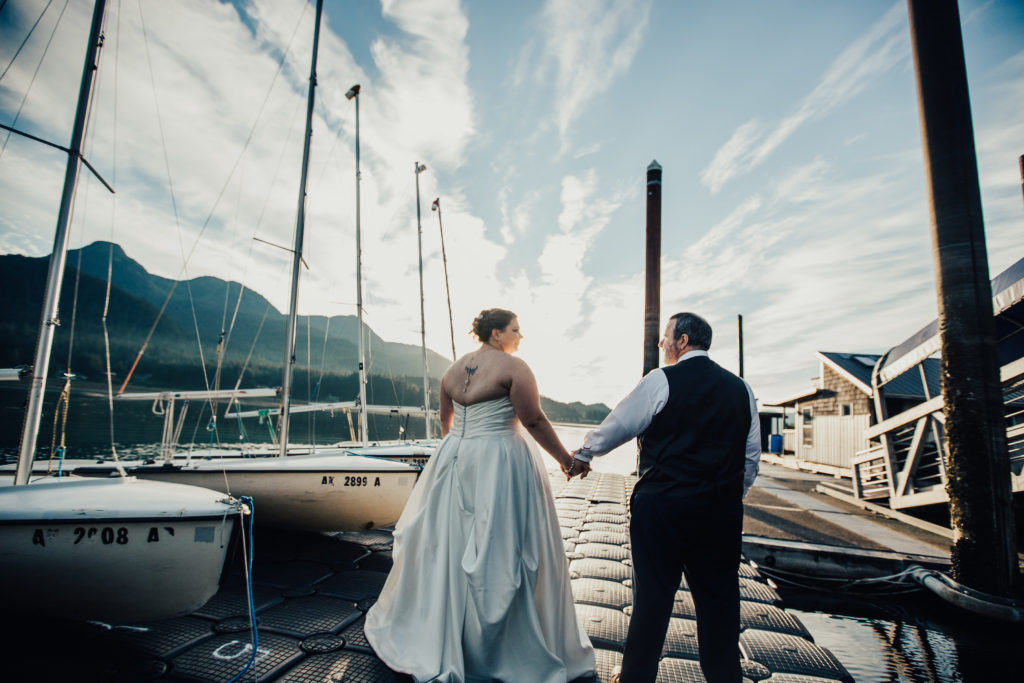 The back of her gorgeous plus size a-line wedding dress features a zipper back covered with adorable buttons. It was truly the perfect for Randi's DIY nautical wedding in Juneau. Her reception took place at the
Juneau Yacht Club
. There were a ton of amazing details that were all hand-made by Randi herself!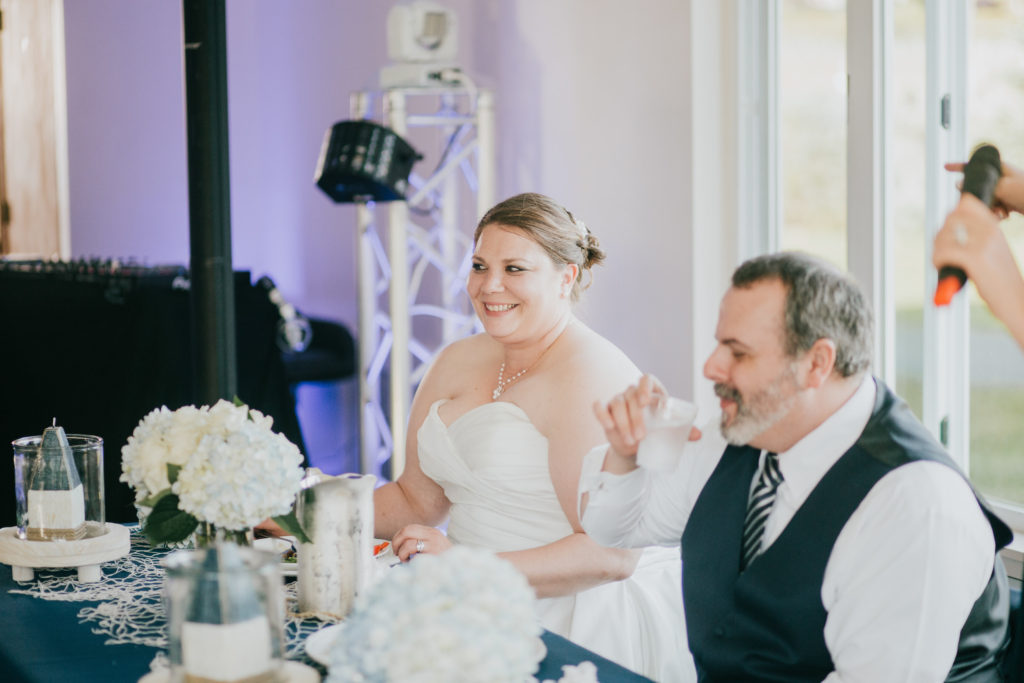 She explains, "We don't have party supply stores, or tons of DJs to choose from, not to mention that everything is very expensive. I traveled to Arizona to buy my wedding dress (my favorite memory of planning my wedding) and came home with 200 pounds of supplies to create the wedding of our dreams. All of the decorations were done by myself and my family and friends. We did everything from the flower arrangements to wrapping the silverware and tying them with a ribbon. We also handmade 32 driftwood sailboats made with driftwood we collected from our beaches."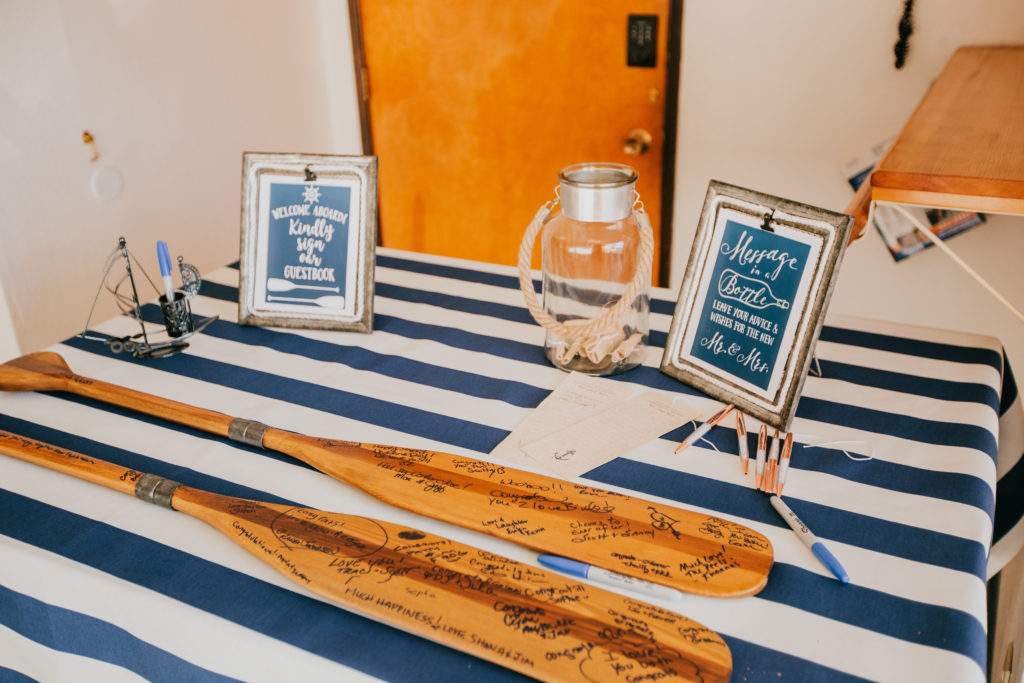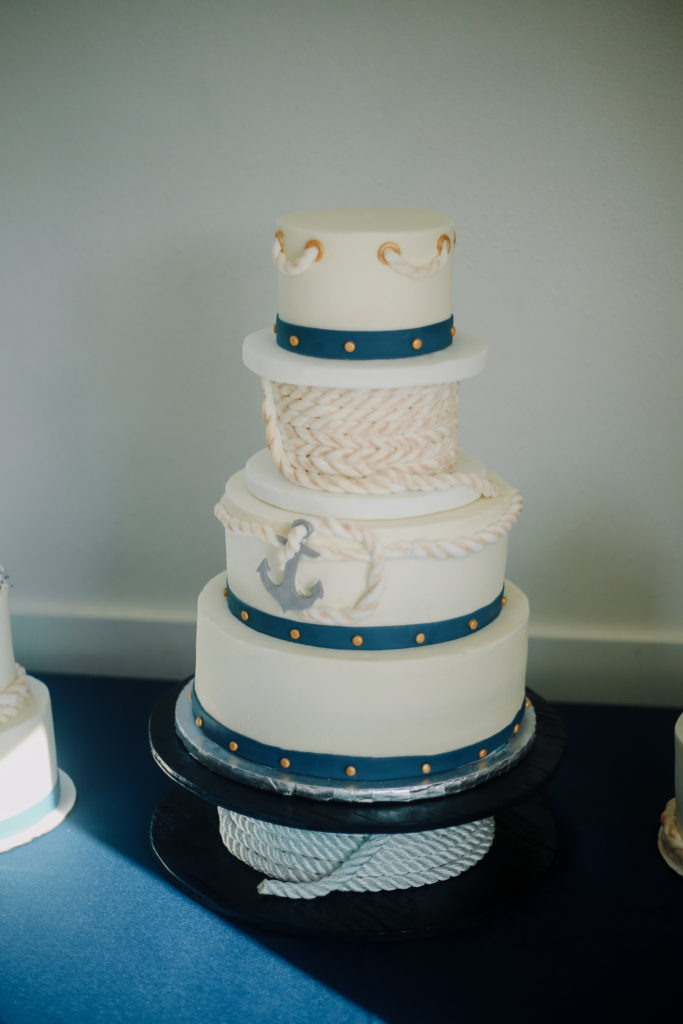 Just look at that gorgeous cake!!! We think that Randi's DIY nautical wedding in Juneau was a complete success. And we love that she let us be a part of her very special day.
She also let us know, "We took the picture in front of the Douglas Cafe to commemorate our first date.  I remember that day like it was yesterday.  I can remember what I wore, what we ordered, and the feeling of 'this is forever.'" How adorable is that?!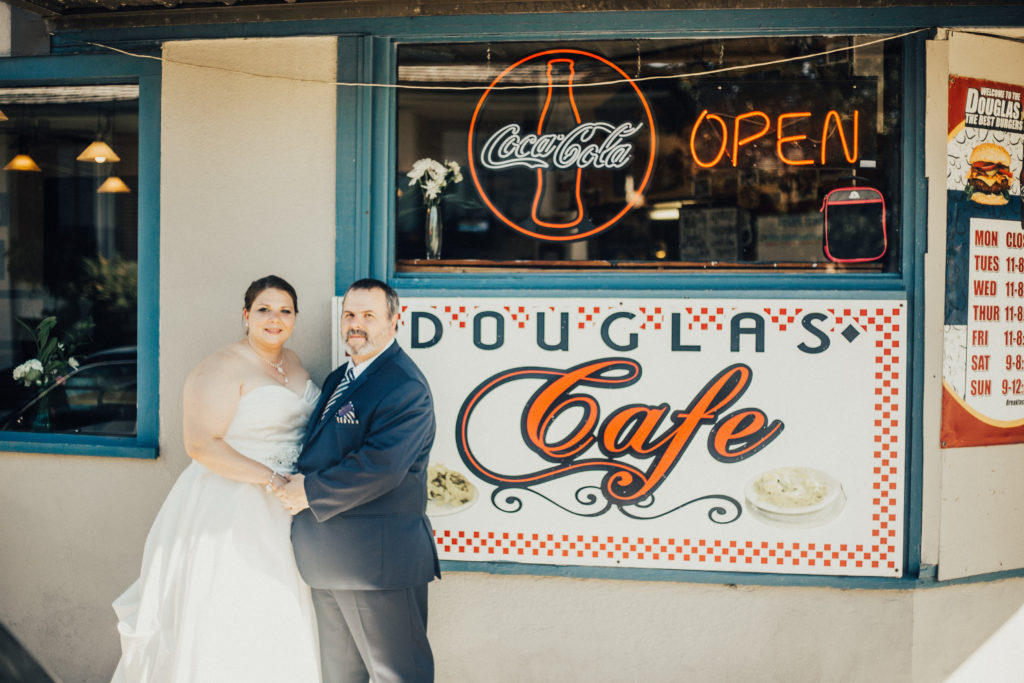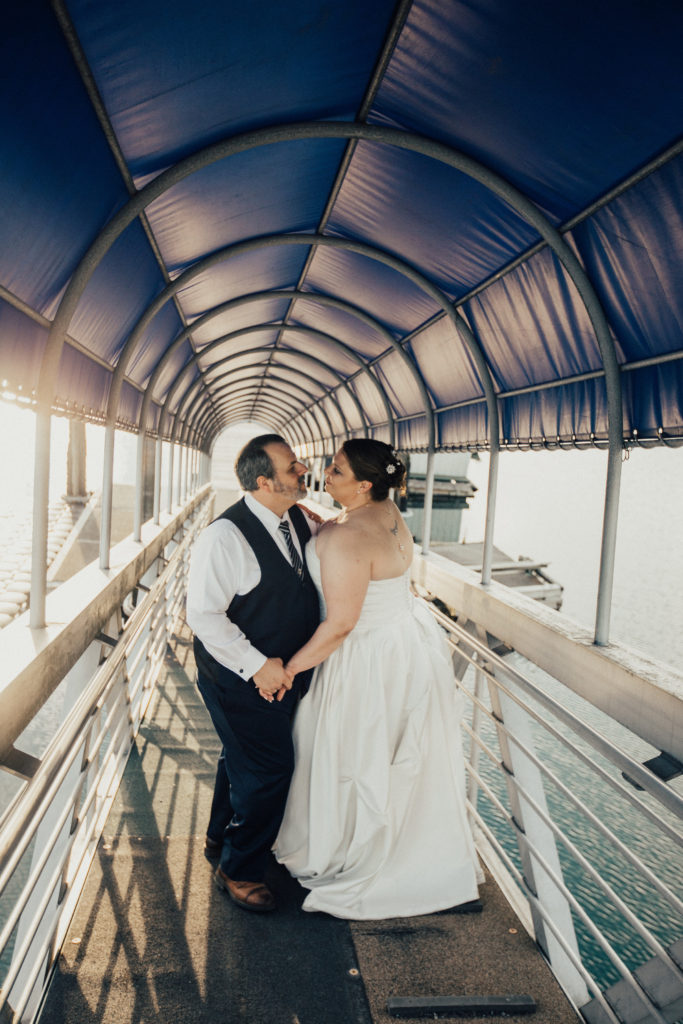 Finally, we would like to congratulate the happy couple, Randi and Mark. May the years ahead be filled with lasting joy!
If you're planning a DIY wedding and are in need of the perfect plus size wedding dress, come visit us at Strut! Strut Bridal Salon has Arizona's largest selection of plus sized a-line wedding gowns. While Randi's satin aline wedding dress is no longer available, we're starting to get our Spring 2018 designer wedding dress collections in now! Just head on over to our 
Tempe Appointments
 page and visit us today! And for the latest news in everything happening at Strut, visit our
Facebook
page!