Drum roll please….. Meet Stephanie, a one of a kind, very special bride. We met the new Mrs. Caley back in April of 2018. When Stephanie initially arrived at Strut Bridal Salon in Long Beach, CA, she and her crew rolled up in a party bus. So cute! Her Mother-in-Law rented out a bus for the day to chaperone the girls around to the appointment. What an exciting way to do it! Stephanie has a heart made for serving and loving others, and it is proven as she has been a labor nurse for over eight years now. Stephanie told us how indecisive she is, and how she was nervous it would be difficult to decide on her gown. She worked with our Senior Stylist Maritza, and the two bonded instantly. When Maritza put her dream wedding gown on her, she instantly fell in love and knew it was the one. Tears were shed, love was spread, and there was happiness all around. It was the perfect start to her magical wedding at Avensole Winery in Temecula.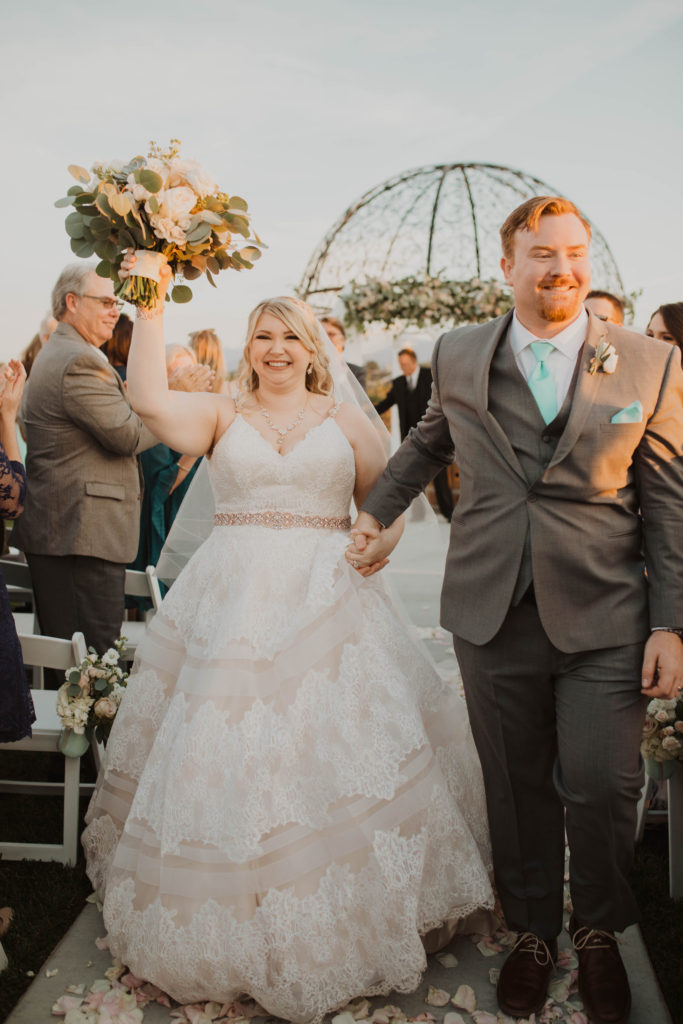 Her wedding gown features horizontal panels of lace and horsehair throughout it. She chose a stunning two-tone look, with champagne lining and ivory lace on top. She completed the look by rocking an elegant champagne cathedral length two-tiered veil. Her wedding dress has a satin bow that ties around her waist, and the back of her gown features buttons that alternate, every fourth button, to rhinestones, allowing the perfect amount of sparkle. A marvelous bridal gown for a remarkable bride. Her wedding photos are by Foolishly Rushing In, based out of Anaheim.
Stephanie and Tristan's magical day was on November 18th, 2018 at the Avensole Winery located in Temecula, California. The couple met at a fancy dive bar, have been inseparable since, and decided to tie the knot on their five year anniversary. When I asked how she came across this venue, Stephanie relayed that she actually hosted her best friend's bachelorette party there back in 2017, and they did a wine tasting tour there. That is when she knew that was where she wanted to have her special day. The location has an insanely beautiful ballroom inside. The venue worked with Stephanie and her budget, and was able to make her dreams come true. They had about 130 guests, all close friends and family, who attended this exceptional gathering. Stephanie informed us how amazing and supportive the wedding department is.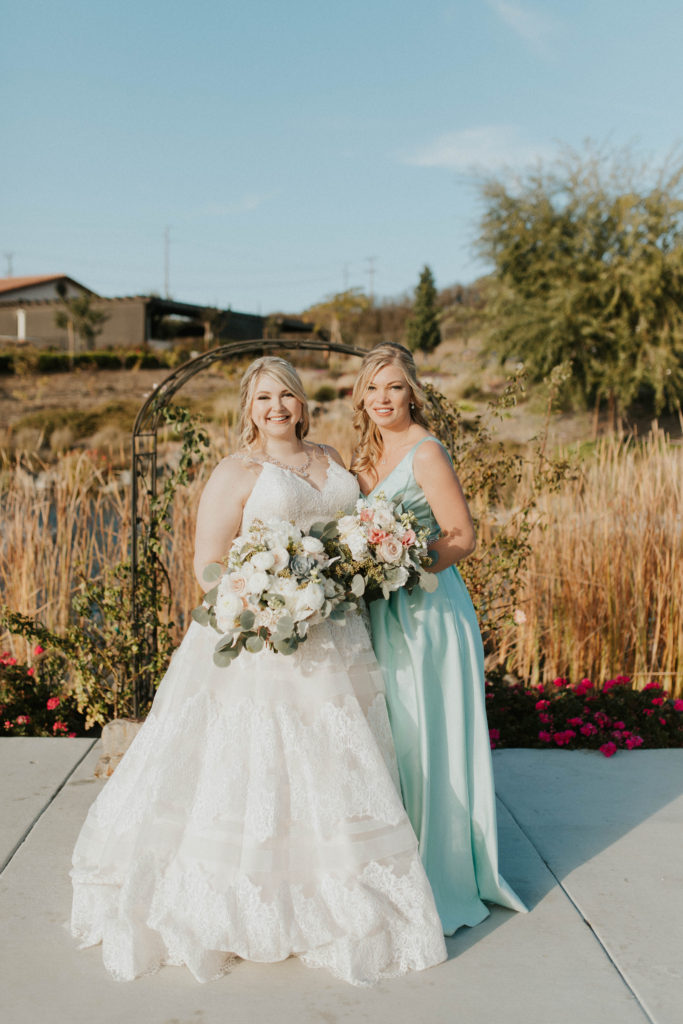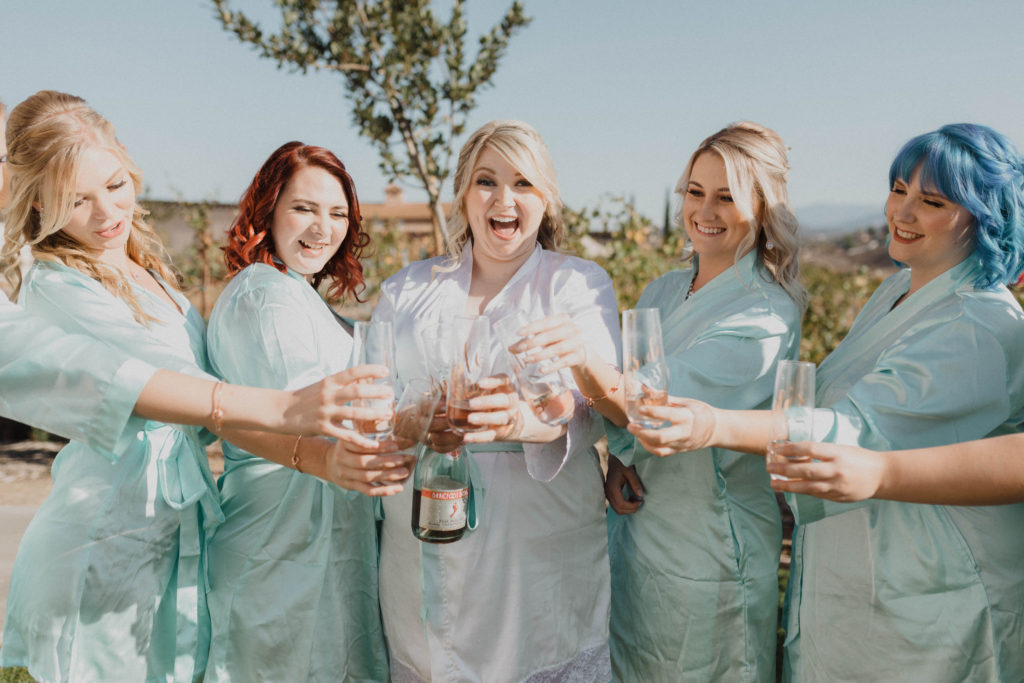 The day carried on to be more than extraordinary. The couple worked hard on ensuring each and every guest felt loved and included, and Stephanie hand painted each guest's name individually and included them on the table setting. Her husband is very crafty himself, as he is a graphic designer, and was able to help out with homemade projects. The Bridal Suite, that Stephanie and her crew spent the night at prior to the wedding, was an adorable cottage. Everything was decked out in tiffany blue, which happens to be our brides favorite color. The couple worked with Madam Palooza to rent out vintage furniture, and scored charming arches and chandeliers for tables. As for the gorgeous flowers, Stephanie teamed with Sweet Pea Floral. Her colors were rose gold and mint, and the florist created a beautiful combination with greenery, blush, and white to tie it all together. She made their vision come to life!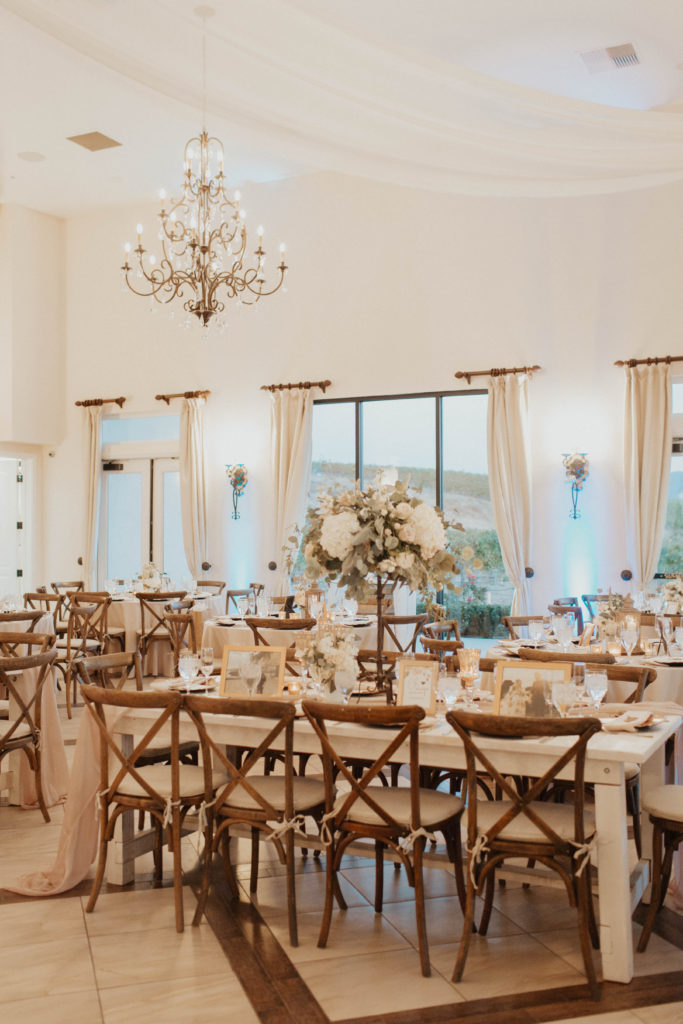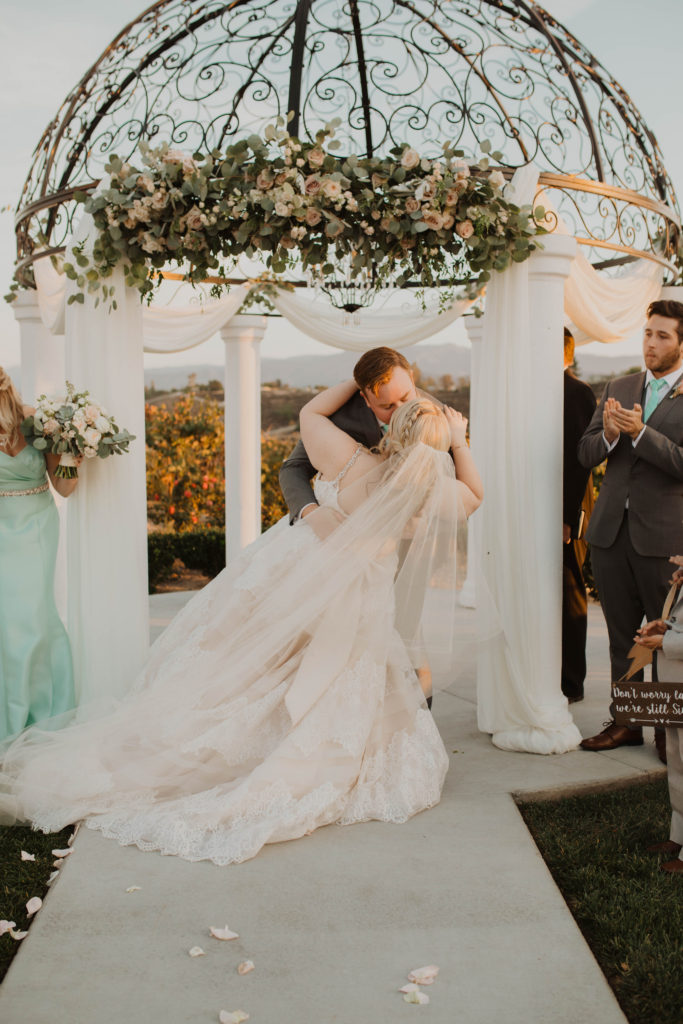 During the ceremony vows, everyone was brought to tears as Stephanie and Tristan expressed their incredible love for each other. When it got time to exchange rings, Stephanie realized that she left Tristan's wedding band back in her cottage when taking photographs! Luckily, everyone laughed it off and her Mother-in-Law ran back to the cottage and saved the day. Hooray, it sure takes a village! The reception was a grand party, and Tristan surprised Stephanie by serenading her, something he had never done before. He passionately sang Thinking Out Loud, by Ed Sheeran, and everyone melted, and it was a total surprise! During the garter removal, Tristan had to dance to her, and if it wasn't sexy enough, all she had to do was snap her fingers and he had to start anew. Naturally, he ended up doing the worm on the floor and everyone was as happy as they could possibly be.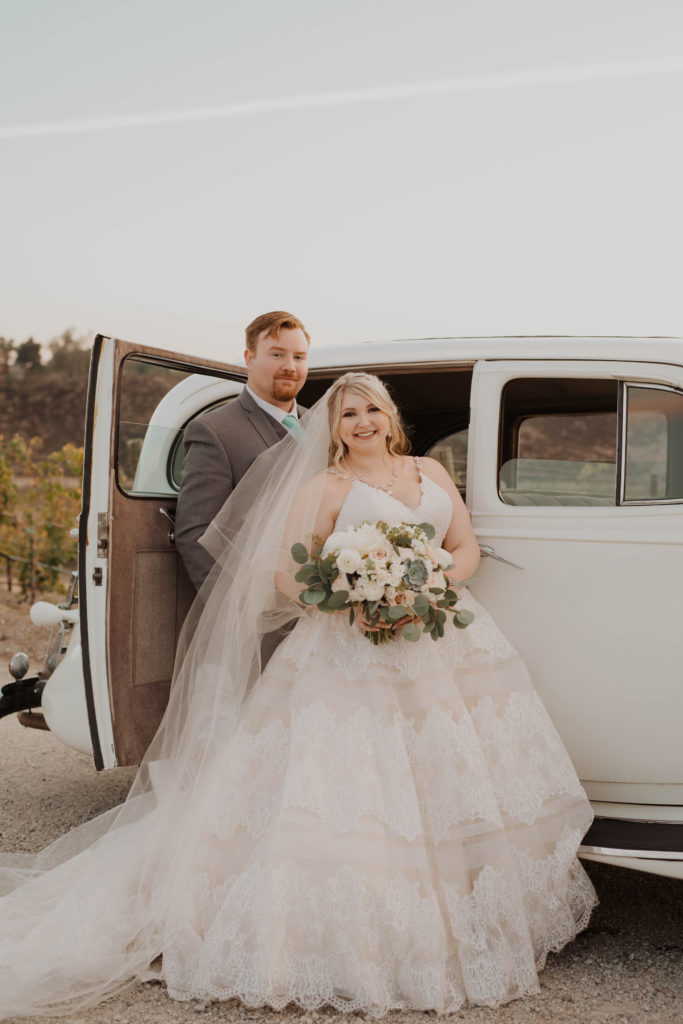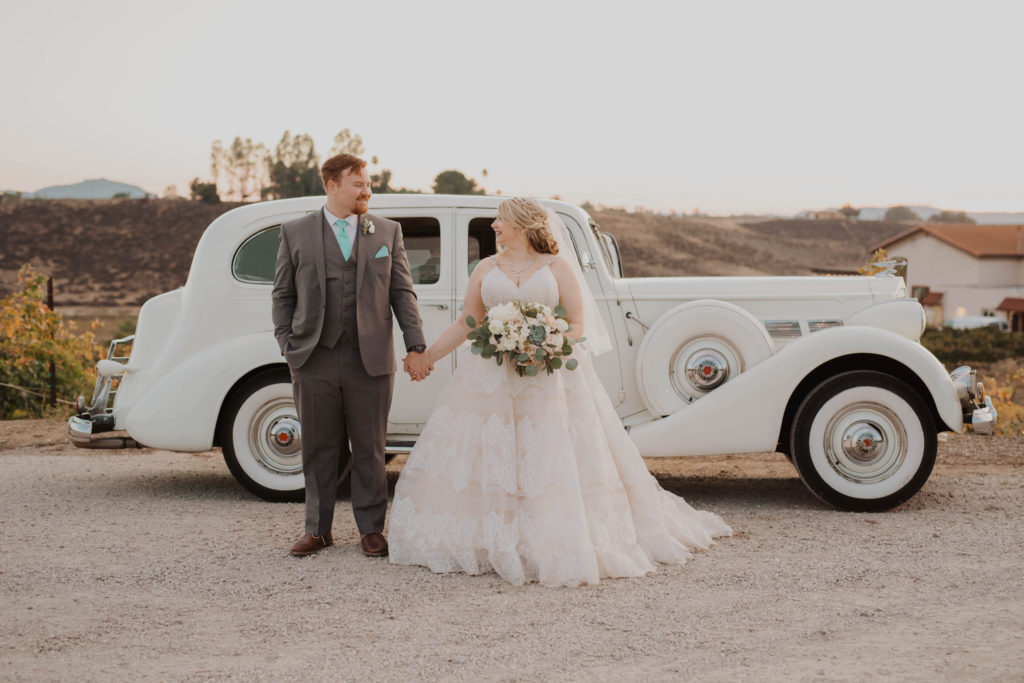 After the festivities, the newlyweds were greeted by a chauffeur, and had their grand exit in a vintage 1937 classic limousine they rented from Laguna Beach. They adventured off to their happily ever after as Mr. and Mrs. Caley. When we spoke with Stephanie post wedding, she had wonderful things to say about her experience with us. "Strut was the best thing that ever happened to me. The experience was insane, absolutely incredible, and my dress was everything." Making our brides dreams come true is what we passionately strive for daily. We are sending all the love we can to these two and are so thankful she chose Strut Bridal Salon. Congratulations to Stephanie and Tristan!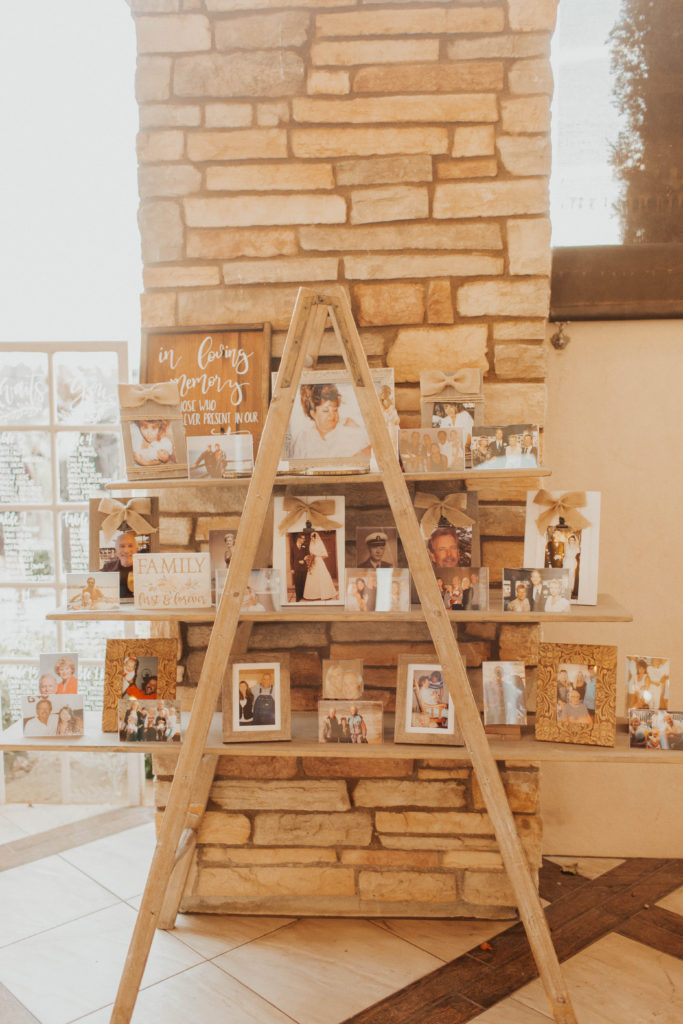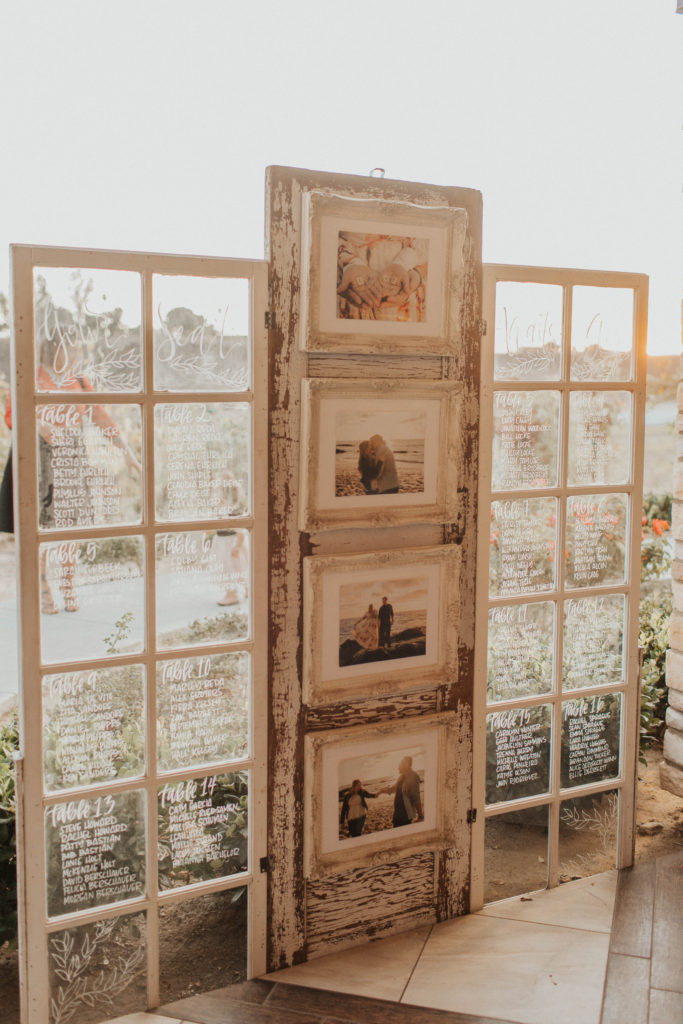 If you love Stephanie's gorgeous two tone wedding gown, it can be found it our Los Angeles plus size bridal store and Phoenix area bridal salon. Strut has the area's largest selection of plus size wedding dresses. Find out more then book online for your own amazing wedding dress shopping experience!