With the month of November, there are certain things that can always be expected: Football season is in full swing, families are gathering around for Thanksgiving dinner, and, of course, Black Friday sales are happening all over the place. Those great money-saving deals usually pertain to home appliances; however, Strut Bridal Salon is also getting in on the action with our designer wedding dresses. Yes, both Strut Bridal Salon locations will be having a HUGE sale this November! A $699 wedding dress sample sale!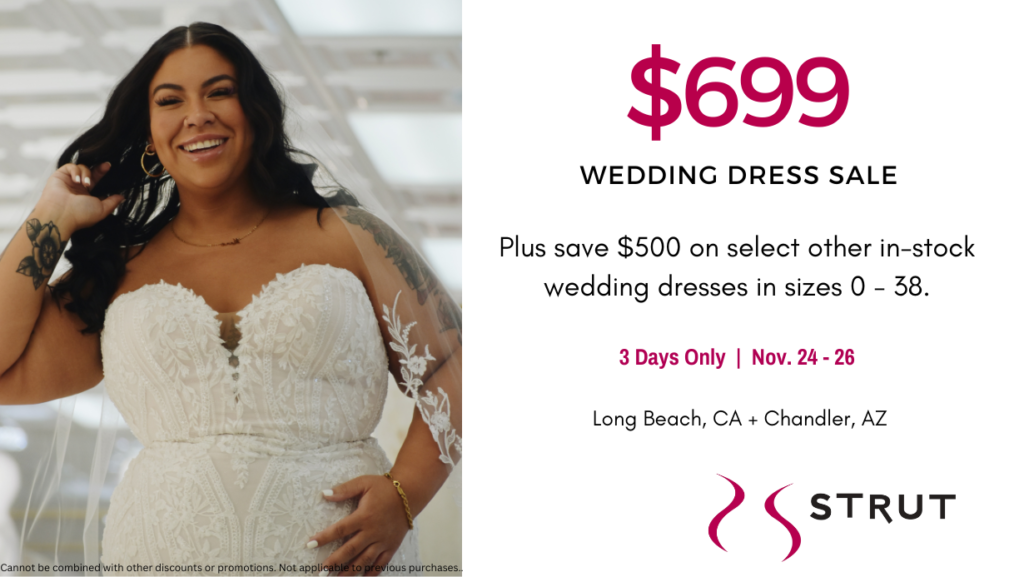 From November 24th (Black Friday) until November 26th, Strut Bridal Salon will be holding our annual Fall Wedding Dress Sample Sale. Brides will be able to shop through our collection of size-inclusive wedding gowns at either our Long Beach, California, or Chandler, Arizona bridal shops and take advantage of our limited-time sale pricing. For that weekend only, select in-store wedding dresses will be marked down to just $699 or $500 off their original ticketed prices. Wedding gowns normally priced at around $2000 will now be significantly less; the same amazing designs, but at even more amazing prices!
These amazing prices will be for in-store wedding gowns only, which means you'll be taking that exact wedding dress home with you that same day! No need to stress or worry about shipping times and ordering.
So… what exactly does it mean to purchase a wedding dress during a sample sale? Does this mean the wedding gown is somehow less important because it's not an order? Is the wedding gown somehow damaged and that's why it's on sale? Can it still be altered?
All of these and more are questions we are presented with during a wedding dress sample sale and the simple answer is… a sample sale wedding gown is just as special and well taken care of as an ordered gown! It's just on sale. Yes, some of the beautiful gowns featured in our sale are discounted styles, which only means that they are no longer orderable. That doesn't make them any less special than an ordered gown. And, of course, alterations can still be made to the gown; no need to fret about it being too long or not having a bustle for your reception.
From classic ivory ballgowns to fit and flared gowns, the wedding gowns featured in our sale range in style and size. We at Strut have always strived to have our bridal shop be a welcoming and stress-free environment for brides to say yes to their dream wedding dress. We are a size-inclusive bridal salon which means we cater to every bride no matter the number! This is what strive to reflect in our current/newer collections and our sample sale will be no different.
Just like any other sale during that post-Thanksgiving weekend, it can get a little crowded in the bridal store. We HIGHLY recommend making an appointment to come in and shop; that way you are guaranteed a dressing room and one of our seasoned bridal stylists there to assist you. There will be two types of appointments offered during our Sample Sale: a standard, free, 1-hour appointment for you and three guests or our special, $75, VIB appointment which is 90 minutes long and we'll provide you with snacks and champagne while you shop our selection of sale gowns.
Why not make your appointment all the more special?
Since a sample sale appointment is only just an hour to shop and find the perfect one, we recommend booking a non-sale appointment before then. Outside of the wedding dress sample sale, we offer a standard 90-minute bridal appointment that is set up for you and your stylist to take your time to try on everything that you have an inkling to try. Brides who have shopped previously have already established what they like and don't like about wedding gowns, so they can jump right into trying on the selection of wedding gowns in the sale that fit their vision. If a sample sale appointment just so happens to be your first appointment, no worries! Just be prepared for the shortened and often fast-paced appointment time.
We also recommend keeping these tips in mind:
Have your inspirations ready to show your stylist.
Know your budget and be honest with it.
Keep the entourage small; only bring 2 of your closest friends or family members.
Whether it's your very first time shopping or you are just ready to yes to the dress for less, Strut Bridal Salon's $699 Wedding Dress Sample Sale just might be the perfect appointment for you!
Appointment slots fill up fast so, book your appointment today!