We want to make wedding dress shopping fun and easy, so here are some quick facts about Strut Bridal Salon:
Our wedding gowns range in price from $899-$3200. The average price is around $1500, which less than the national average price of a wedding dress. In addition to our regular collection, we do have a Value Collection with wedding gowns priced just $499 – $999. Designer wedding dresses under $1000?! Yassssss!
We carry a variety of wedding dress designers, including some nationally known brands as well as some exclusive boutique collections made just for us. We regret that we are unable to give price quotes over the phone.
We carry sizes 12-34 in our stores. Since wedding gowns typically run small, that means we can fit brides size 8+. Yes, we can order all of our bridesmaid and wedding gowns in smaller sizes, and we can also do custom larger sizes.
Our wedding dress styles range from informal beach wedding dresses to amazing, blingy ball gowns, and everything in between. For more information, see our Dresses page, or call us to ask about a wedding dress matching your vision.
We can custom order your wedding dress, and we also sell wedding dresses off the rack so you can take it home that day. Appointments are strongly recommended.
We have fabulous payment plans to help you get the wedding dress of your dreams!
Those are the easy, everyone-wants-to-know type questions. We know some of you brides are super researchers/planners and want more, so we've done our best to list some of the questions we most frequently get asked: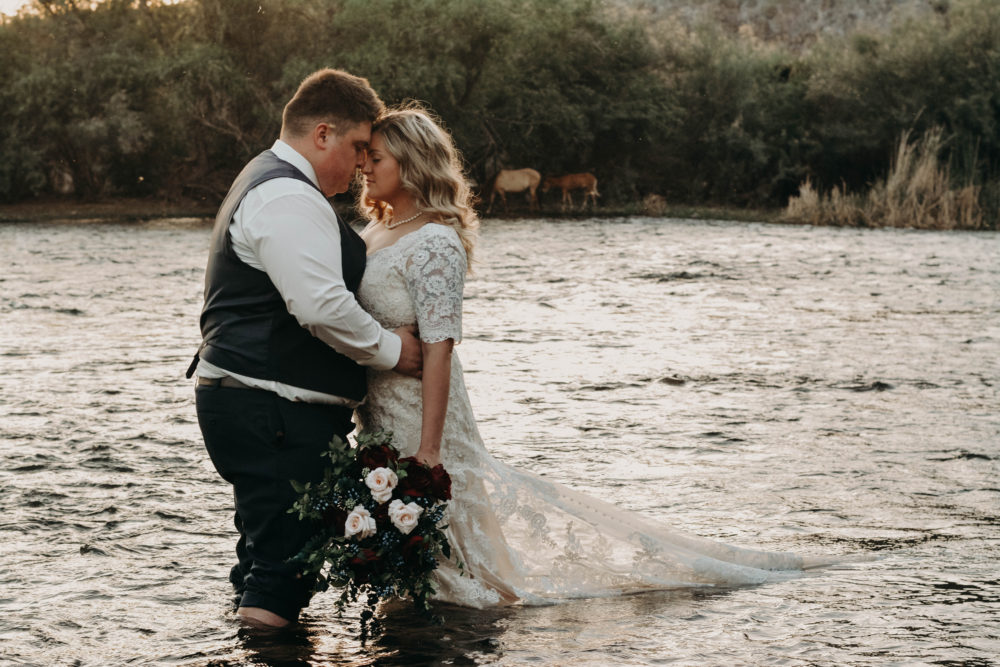 Photo Credit: Ashley Stone Photography
How are you different from other wedding dress stores?
Most wedding dress stores order sample dresses in size 10 or 12 or smaller. Because wedding gowns tend to run small, that means these dresses fit women size 6 or 8. Strut is different because we are size inclusive and carry larger size bridal gowns in our stores so that you can actually try on wedding dresses to see how they would fit your body. We pride ourselves on having the state's largest selection of contemporary styles in larger sizes.
Do you charge for appointments?
There is no charge for two visits to our bridal stores. While all of our Strut Brides receive personalized service and expert help from one of our trained bridal stylists, brides who desire additional pampering may choose to schedule a VIB, Deluxe Bridal Appointment or Private Appointment.
Deluxe Bridal Appointments are two hours in length, so you can linger over the finer details and get your accessories just right! They include an individualized assessment for body type and personal style, a Senior Bridal Stylist for one-on-one assistance, and drinks and appetizers. This special shopping experience is perfect for up to five of your closest friends and family members. The $150 is due at booking and is non-refundable for any reason.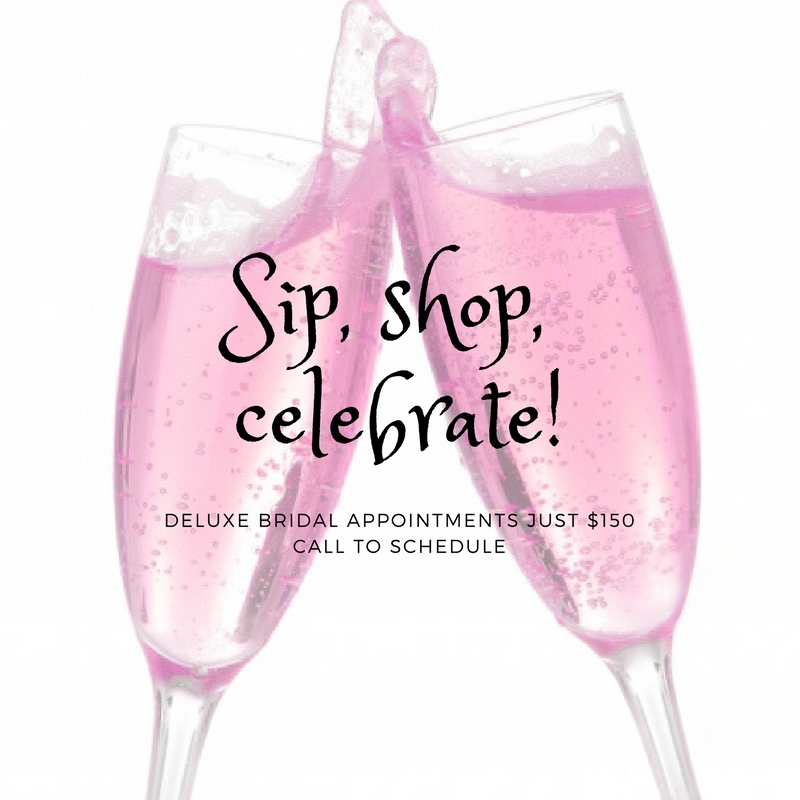 VIB Appointments are just $50. You can bring up to five guests, work with a Senior Stylist and enjoy some bubbly.
Private Bridal Appointments are exclusive appointments and only available one time per week, from 10am to noon on Sundays, because the store will be closed to all other customers. You can bring up to 12 people, work with two Stylists, and really enjoy this leisurely experience with tasty snacks and beverages for you to enjoy for just $500.
Our standard Bridesmaid Appointment is 60 minutes. For a more relaxed appointment, you may wish to book a VIBridesmaid Appointment, which is 90 minutes with a Senior Stylist and includes a special treat and toast for the bride and up to 5 bridesmaids for $50. A Deluxe Bridesmaids Appointment is two hours with a Senior Stylist and includes tasty snacks and beverages for the bride and up to 8 bridesmaids for $150. Both can be booked over the phone.
We require a credit card to hold your appointment with a dedicated stylist. Clients who do not call to cancel or reschedule 48 hours or more before their appointment may be subject to a $50 no show fee. Strut has limited appointments due to social distancing regulations.
Can you dress me on my wedding day?
Yes! We offer a Strut Down the Aisle day-of dressing package, where your favorite stylist will come to your wedding for three hours to help you get dressed and assist during wedding photos. Ask for more details.
Do I need an appointment?
We really like to work with brides one on one. We can't give you our best level of service if we don't have a stylist (or a room!) available for you. We are happy to accommodate walk ins as we can!
How long do appointments last?
We generally book appointments for one and a half hours. But it also depends on whether you're a quick decider or prefer to linger a bit in front of the mirrors. Quick tip: eat before you come dress shopping. It's more work than you think (some dresses are heavy!) and hungry brides can become cranky brides. Eat, please!
How soon should I shop for my gown?
Before wedding dress shopping at Strut, brides should have a firm date, a venue under contract, and a wedding dress budget (and you also want to know who is paying for the gown!). It's a good idea to order your bridal gown a year before your wedding. However, we do sell wedding dresses right off the rack, so we can accommodate everyone.
How long does it take for my dress to come in?
It typically takes six to eight months to order your wedding dress. It can take longer if you customize your dress. Quick tip: We recommend leaving two months for alterations. If you don't have ten months before your wedding date, don't panic: we have options such as rush orders, in-stock availability, and selling gowns off the rack.
Photo Credit: Barkis & Co. Photography
Do you do alterations in house?
We do offer those services in both locations by quality, independent seamstresses. In addition, we can give you some options that our brides have used before and recommend. These experts have been tested (and we do mean tested!) by our brides and consistently meet the quality demands that we, and more importantly, our brides, expect. Alterations are not included in the price of the bridal gown; we recommend budgeting at least $300 – $500, though that will differ depending on the amount of work done.
Can I bring my family with me as I try on dresses?
Of course! We're able to accommodate 2-3 guests seated for your appointment. We're sometimes able to accommodate more with advanced notice during a week day appointment. We've found that a group of three or fewer is a good number; more than that and the multiple opinions can be difficult to please (and not everyone remembers that the bride's opinion matters most), and we simply can't fit them on a busy weekend.
Are children allowed in the store?
Short answer: yes. Long answer: While children are allowed, please remember that we have cement floors, big mirrors, some expensive dresses and no children's play area. We want everyone to enjoy the wedding dress shopping experience, so we recommend bringing someone whose sole responsibility is to watch the children so that the bride can focus on finding the perfect dress (and so her trusted advisors don't miss a minute of the fun!).
Can we take photos?
Yes–this should be a memorable day, and we love being a part of the wedding scrapbook! We'll even help – we *know* those good camera angles!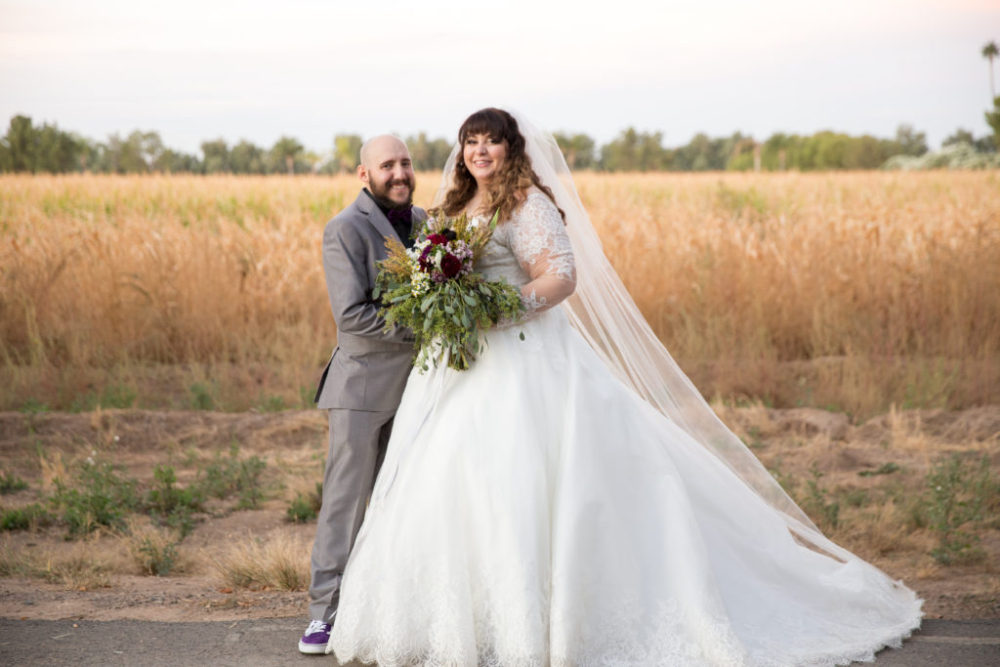 Photo Credit: Shelby Lindholm Photography
What is your refund policy?
We're unable to issue refunds due to the uniqueness of each wedding dress.
Do I need to tip my consultant?
Tips are never required but greatly appreciated. We provide an option to tip through our credit card machine; cash is welcome, too!
What do I need to bring when I come in?
The most important thing to bring is an open mind. We'll try lots of styles and totally ignore sizes (they don't really matter, anyway!)–we're more interested in finding a wedding dress that makes you look and feel beautiful.
You're welcome to bring in photos of wedding dresses that you think you'd like to try on. We may not carry that exact dress, but chances are good we have something very similar.
Some brides prefer to wear their own strapless bra. But we'll put money on the fact that you'll like ours better (and we can fit 38C to 52DD). If you want to try on fitted (mermaid, trumpet) or flowy, beachy, chiffon wedding dress styles, you may want to wear a slimmer/tummy sucker/Spanx-like thing. It can be just the panty kind, or you can go all-out with a shorts-to-under-the-bust kind. Quick tip: our hands may be under your dress and up there so wear undies you're comfortable in!
You don't need to bring special shoes as we have platforms to stand on.
If you have any questions that we haven't already answered, feel free to give us a call, or send us an email.