In March 2009, long before Strut Bridal Salon was open, co-owner Ann embarked upon the typical bridal odyssey—a quest to find the perfect plus size wedding dress. She searched high and low to find a contemporary wedding gown to fit and flatter her curves. She wanted something to make her feel pretty on her wedding day. But nothing fit. Samples were too small. She went from store to store, dragging her sister-in-law behind, trying to stuff herself into too-small wedding gowns.
And at the end of that tiring weekend, she grumbled to her older brother, Bob, "I'm the size of an average US woman. Why doesn't someone open a bridal salon where women like me can actually try on dresses?!" And he replied, probably tired of her whining, "Yes, why don't you?"
He, being the nerdy (he'd call it numbers-oriented but opinions vary) big brother, sent her a start-up budget before she got to work the very next morning. And then he revised it and resent it. Before 8am (see why we say nerdy?!). And thus the partnership began.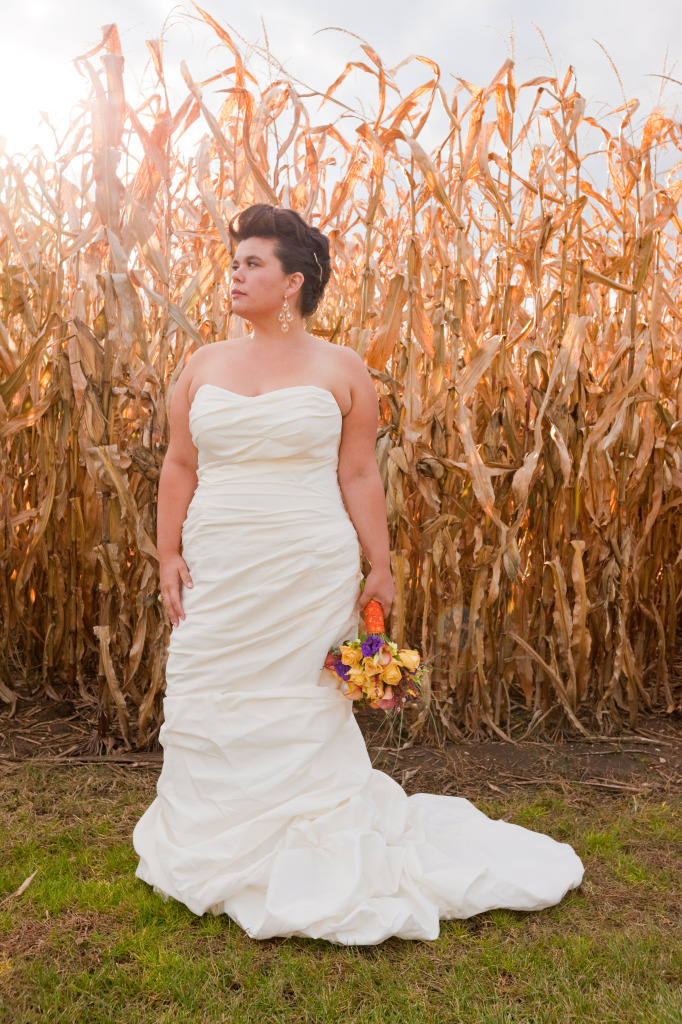 While her own wedding dress search didn't have a Goldilocks "this one is just right" ending (In the end, she ordered her dress online, sight unseen. The dress was too small. As in waaaay too small), this story does end happily after all: Strut Bridal Salon opened just one year later in Phoenix, Arizona. It was tough (you've heard it before—"in this economy"), but day after day, we're rewarded with happy, grateful brides.
We think that wedding dress shopping is an important part of the whole wedding experience, and you shouldn't trust that to just anyone. That's why we want all of our brides to know the story behind Strut–why we opened and why we're so passionate about providing a better experience for curvy brides who travel from all over the country to our bridal shops in Chandler, Arizona, and Long Beach, California.
Most days you'll see Ann behind the counter in one of the two bridal stores or helping brides find their dream wedding dress. Or, true to her years of corporate marketing background, she's looking for ways to spend money. Bob is the not-so-silent partner. He lives in Oakland, California and has the title of "Money Man". They get along, as long as Ann gets her way.
And yes, Strut only sells wedding dresses, bridesmaid dresses, and social occasion gowns. We don't rent tuxes or outfit flower girls. Why? Because we want to be the best at just one thing: helping brides of all sizes look and feel amazing on the biggest day of their lives. We're the experts at helping women find a wedding dress that makes even the most reluctant gown shopper smile. Many people ask us, "Why open a size inclusive bridal salon?" Our answer is simple: "Because women of all sizes deserve to look beautiful on their wedding day."
After three amazing years serving our Arizona brides (and everyone who flew in to come shopping!) we expanded into southern California, opening our Long Beach location in October 2013. We love what we do, and we welcome your visits to our bridal stores! In March we celebrated our 13th anniversary, making us one of the oldest bridal stores under continuous ownership in the Phoenix, Arizona area. That same day we opened a new 6,000 square foot showroom in Chandler, Arizona.
In 2023 we recognized that our petite brides also have a hard time finding wedding dresses in smaller sizes to try on, so we went fully size inclusive with sizes 0 – 38 in stock for brides to try on. We're proud to be the most size inclusive bridal shops in our major metro areas. Hope to see you soon!