Abigail came into our Arizona bridal boutique looking for a wedding gown to go with her 'boho' style. "My dress story is a long one." She told us, "The idea of shopping for my dress was the most exciting, yet anxiety-inducing, part of the wedding planning process for me. I was most excited about finding my dress than anything else about planning. However, as a plus-size human, the thought of actively trying on dresses was not giving me the excitement that wedding dress shopping should have given me. So, when I found out about Strut Bridal and their sample size inclusivity, I knew I had to go there."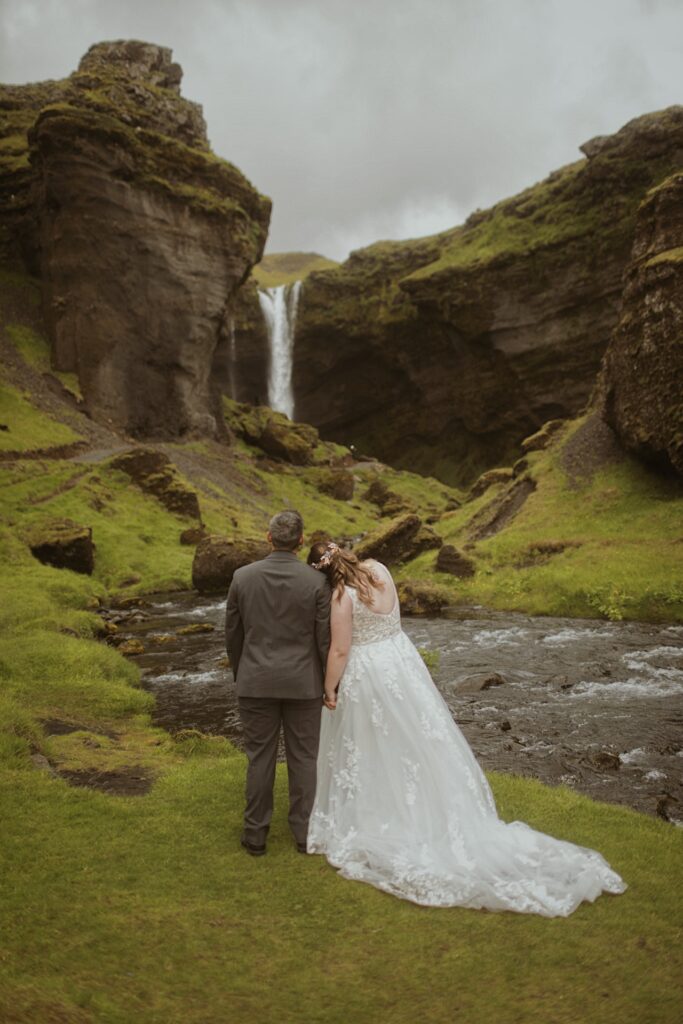 "I first went into Strut in November of 2020 at their Tempe, AZ location only a couple weeks after my engagement." Abigail went on, "I had no wedding planning done, and no details to share, but I made an appointment to go for the Black Friday sale, anyways. Brooke helped me that day and I found an amazing dress. However, since my wedding hadn't yet been planned—I didn't have a date, venue, or anything that was done—so we decided to hold off on ordering the dress."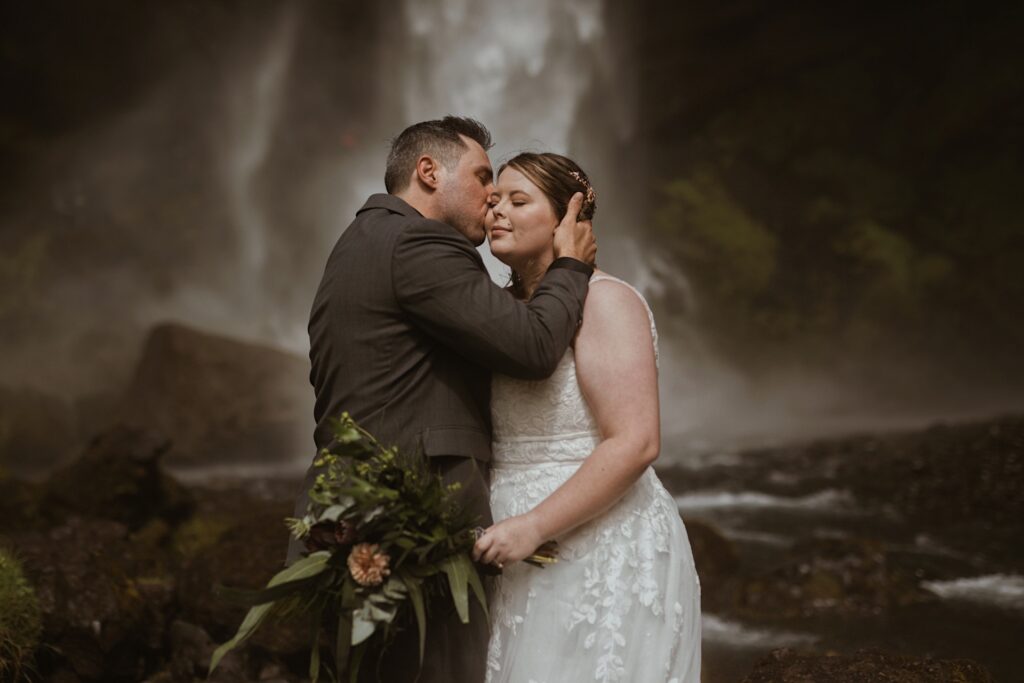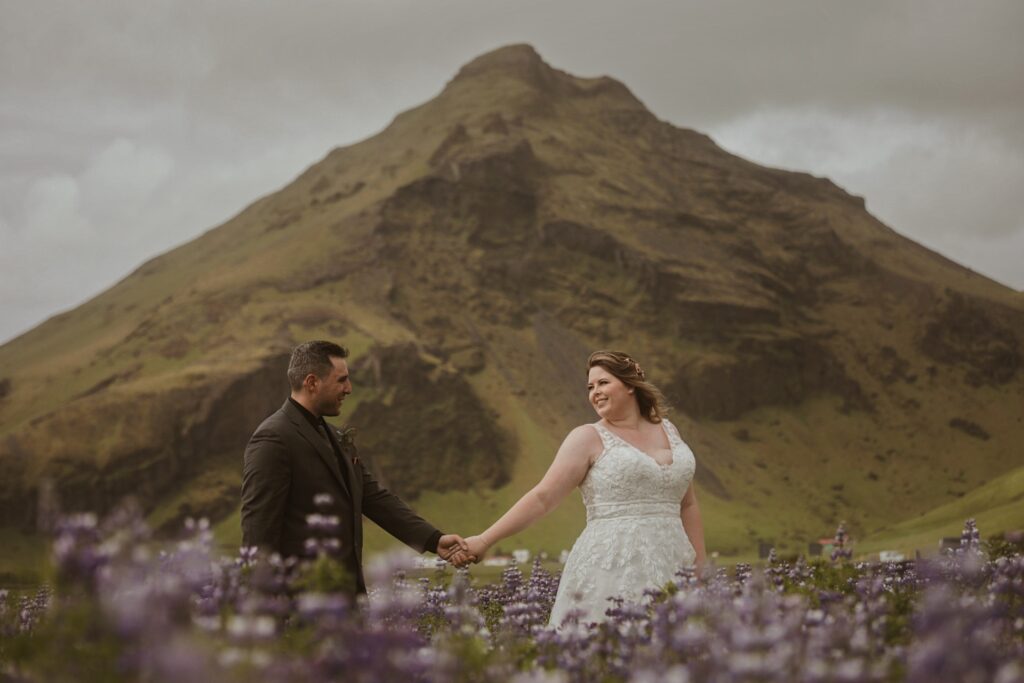 We always want our brides to be 100% certain that their gown is 'the one', so deciding to wait can be the right choice. However, much like in Abigail's case, sometimes the most stressful thing can happen:
"… It turns out it was time to get my measurements and order my dress, but OH NO, my dress was being discontinued by the designer and I needed to pick another!" she said, "This happened to be a blessing in disguise. Since my first appointment, my then-fiancé and I had begun planning our Iceland wedding for June 2022 and I knew the dress I had originally picked did not suit the new vision I had for the wedding."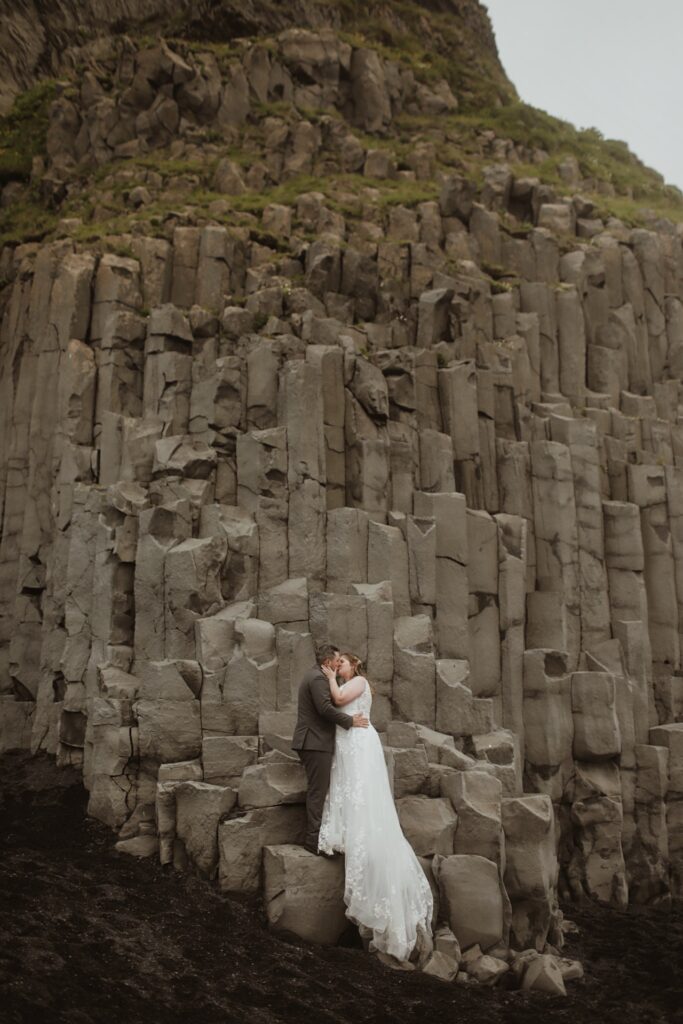 With the help of her bridal stylist Brooke, Abigail was able to find another wedding gown that worked out perfectly for her new wedding vision – a dramatic Iceland wedding.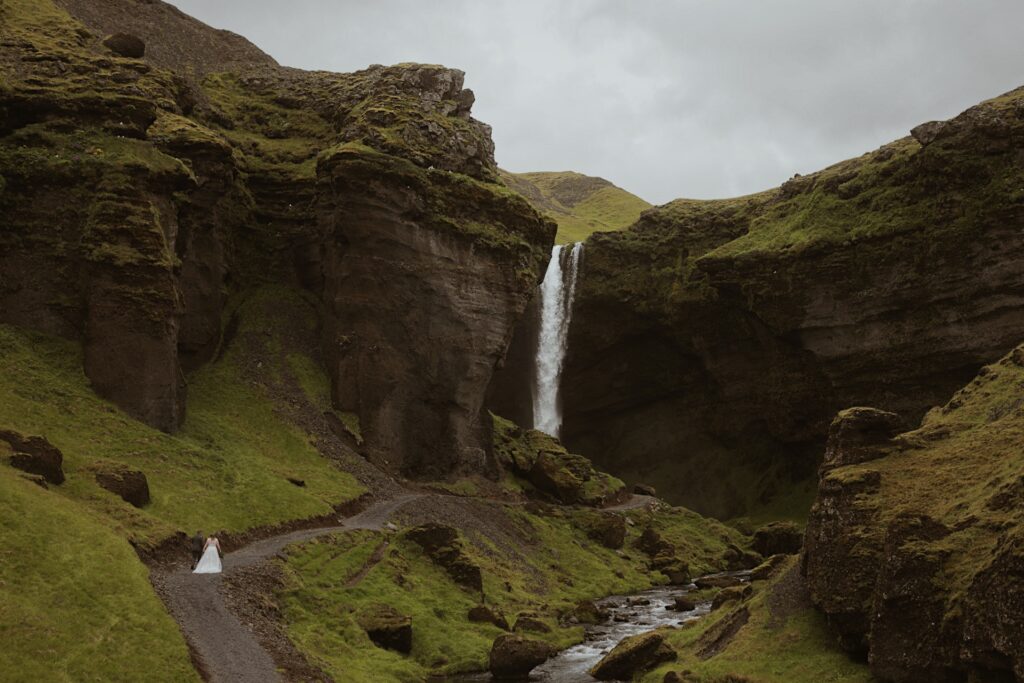 "I didn't have a singular moment where I knew it was the dress I needed to wear," she explained, "it was a combination of feelings that happened when I was wearing it compared to when I was wearing other dresses. In my dress, I felt like myself but an enhanced version. I was able to picture myself saying vows in this dress. That didn't happen with the others I tried on."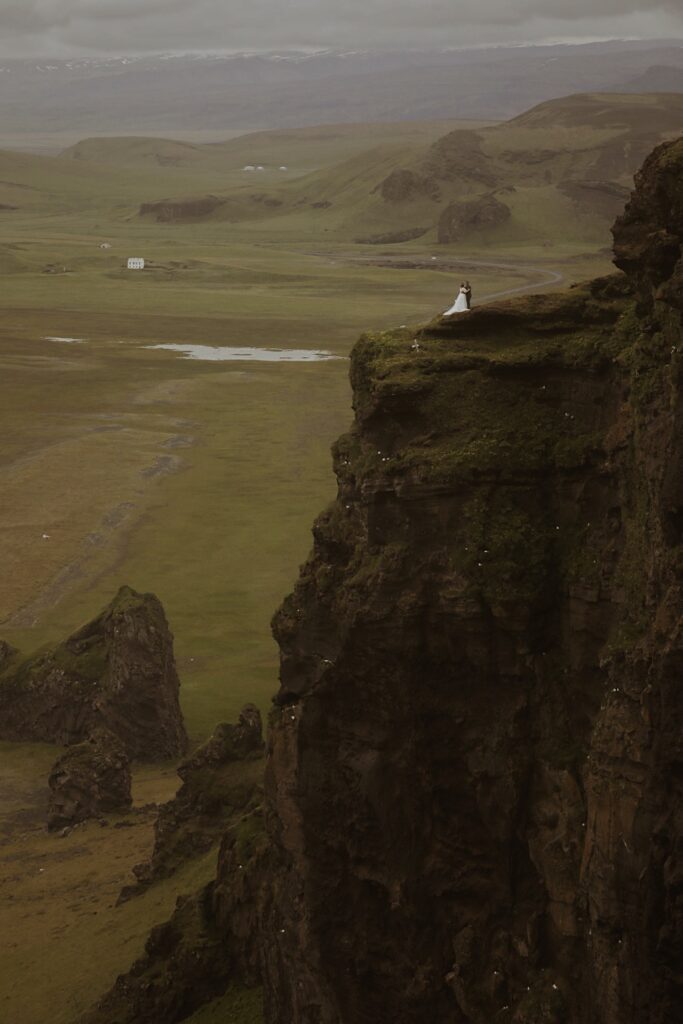 Abigail fell in love with a beautiful flowy Aline wedding dress that featured two simple bands across the waist and delicate lace appliques throughout. It was the perfect bridal gown for her perfect day. She and her fiancé, Justin, were wed in Iceland on June 16, 2022 surrounded by a small group of their loved ones.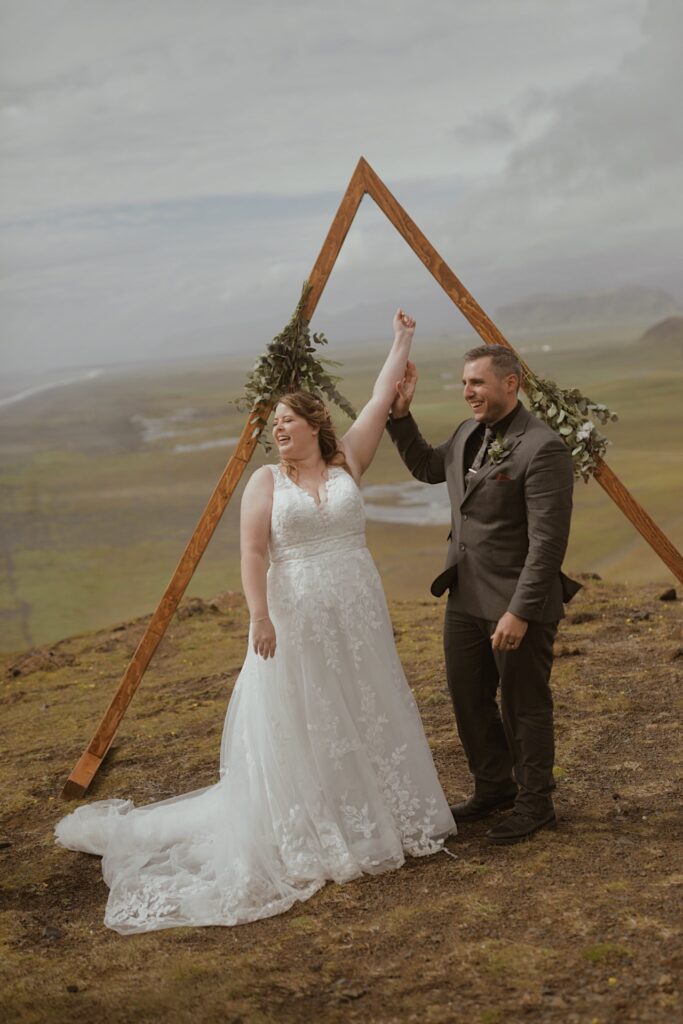 "Our ceremony took place at Dyrhólaey Peninsula on the south shore of Iceland, overlooking a black sand beach that is characteristic of the volcanic landscape." She later wrote to us, "We knew we wanted to get married in Iceland, as the country became so special to us when we adventured to Iceland together back in 2018 for a college graduation trip. That was our first major vacation as a couple, and it was the trip that confirmed to us both that we wanted to spend the rest of our lives together, adventuring and experiencing new places."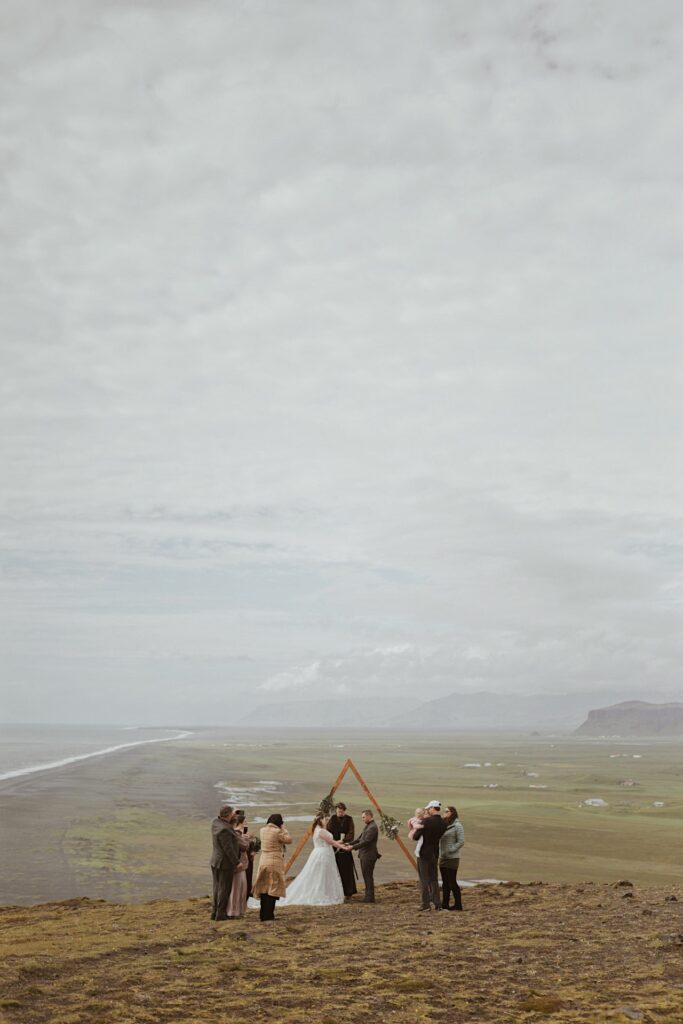 "I wanted our wedding to feel romantic and bohemian yet modern, in order to merge the warm, rich Arizona vibes that we associate with home and bring in dramatic Icelandic accents, like the dark lava rock that we love about the scenery." Abigail explained, "The funniest part of the day was how all Justin and I wanted to do when we got back to our Airbnb after the wedding was put our comfiest clothes on and veg out! We were EXHAUSTED after hiking to various locations in our wedding attire, the long car rides, and lots of standing that we just wanted to relax. So we both put on our pajamas, told our family and friends to do the same, and we all ate our fancy catered dinner in our very not-fancy loungewear!"
"Another moment I won't ever forget was our first dance on top of that cliff. We were married not even 30 minutes before and that was our true first moment to get to talk to one another privately after saying our vows. It was so special just getting to hold one another and talk about how we were finally married!"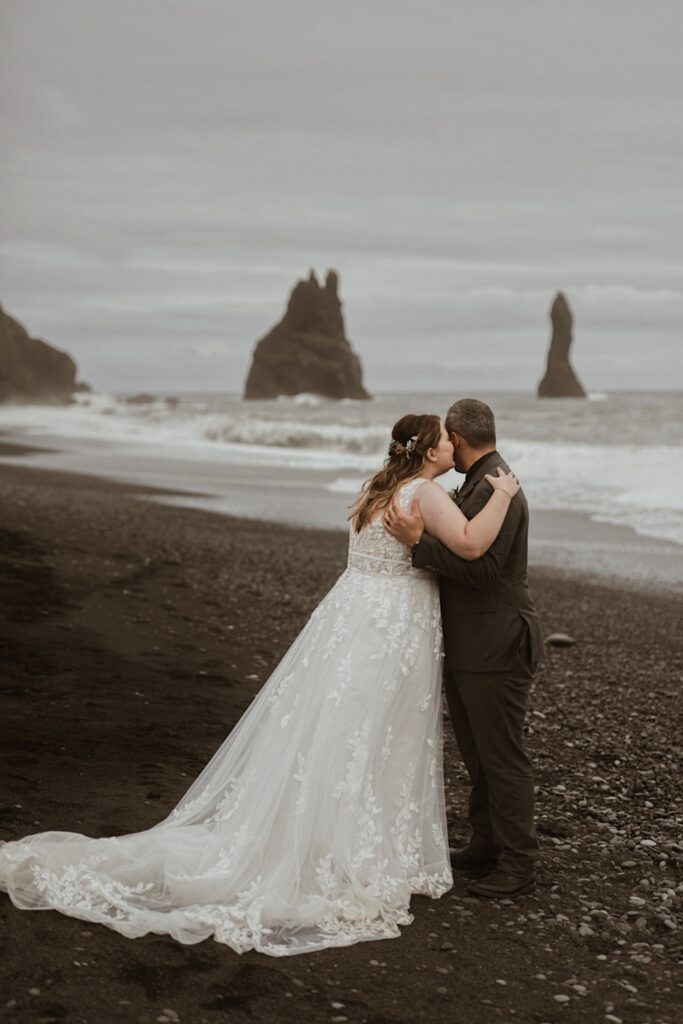 "Another one of my favorite moments was the ice cream picnic with my family while overlooking the black sand at the bottom of the cliff we got married on. Our wedding planner typically offers couples a standard prosecco picnic, but we decided to do a spin on this and have ice cream cones as well. This choice was a bit of a nod to our previous adventure in Iceland back in 2018, where we learned that no matter how cold and wet the weather is, Icelanders LOVE their ice cream. We knew we wanted to incorporate that into our day somehow."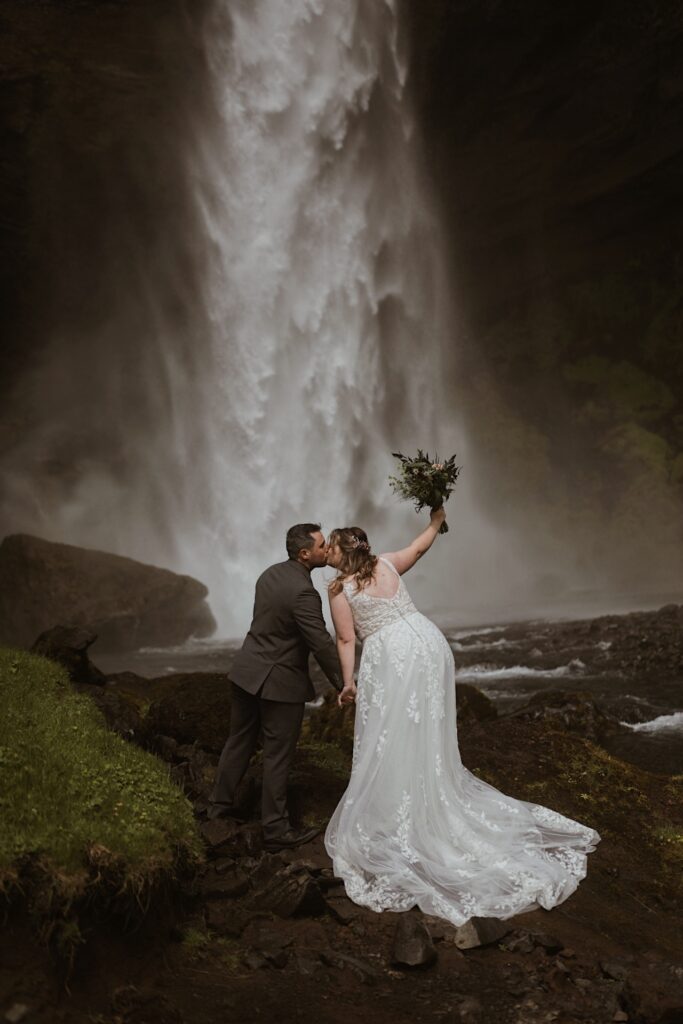 With a day full of so many special memories and so many great moments with one another, Abigail and her husband certainly had a dramatic Iceland wedding they would never forget.
"I can't thank Brooke and the other lovely people at Strut enough for helping me feel my best during the dress-shopping experience and on my actual wedding day." She later thanked us.
Congratulations, Abigail! Thank you for sharing such a special day with us!
Planner was Sara Regal at Pink Iceland (@pinkiceland on IG and TikTok)
Photographer was Iskra Photograpy (@jane_Iskra on IG)
Videographer is Izzy Photo + Film (@izzy.photofilm on IG and TikTok)