At the beginning of 2022, Ashlyn brought her family into our Arizona bridal shop for a Deluxe Bridal Wedding Dress Shopping Appointment. While she and her family enjoyed mimosas, sweets, and a full charcuterie board, the bride started her process of finding the perfect fitted wedding gown for her ranch wedding in the fall.
"I came into the shop obsessed with sleeves." Ashlyn said, "As soon as I tried on sleeves, I knew it wasn't for me. I knew I wanted fit and flare to show off my curves and the person helping me kept showing me exactly that. They made everything about me but also took into consideration what my party was saying. We showed them what they wanted to see on me but helped me get my needs and wants across. They made me feel so beautiful and perfect."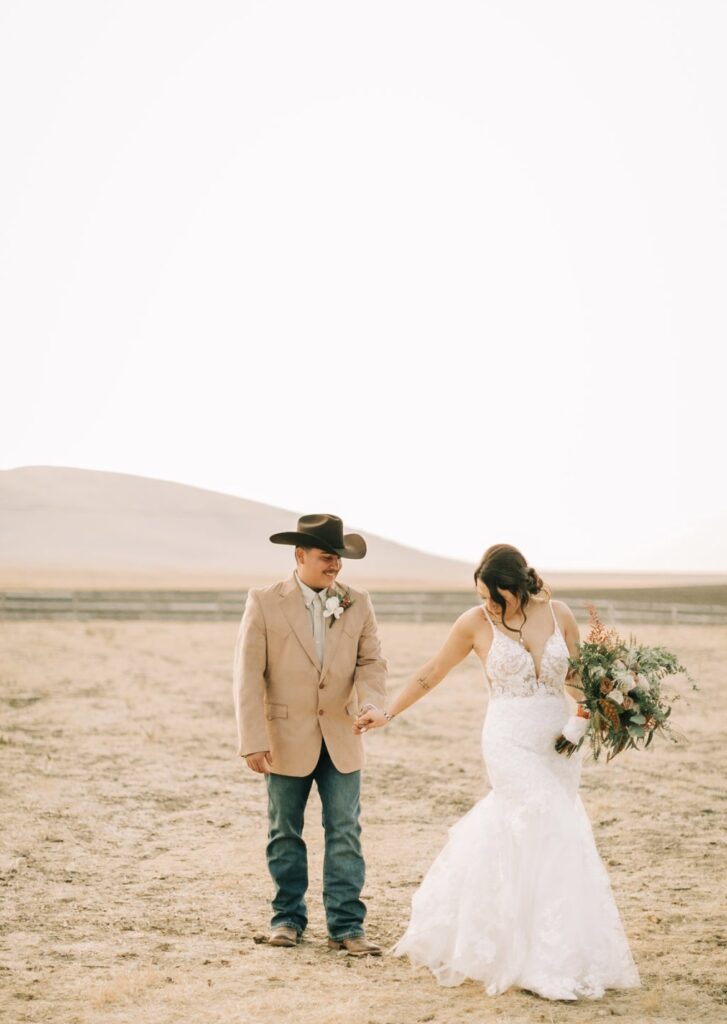 Brides change their vision all the time once they begin to try on wedding gowns; sometimes what they pin on their mood boards or save in their wedding planners isn't always what they end up saying yes to. It happens more often than one would expect and, just like in Ashlynn's case, we always follow the new direction the bride wants to go in.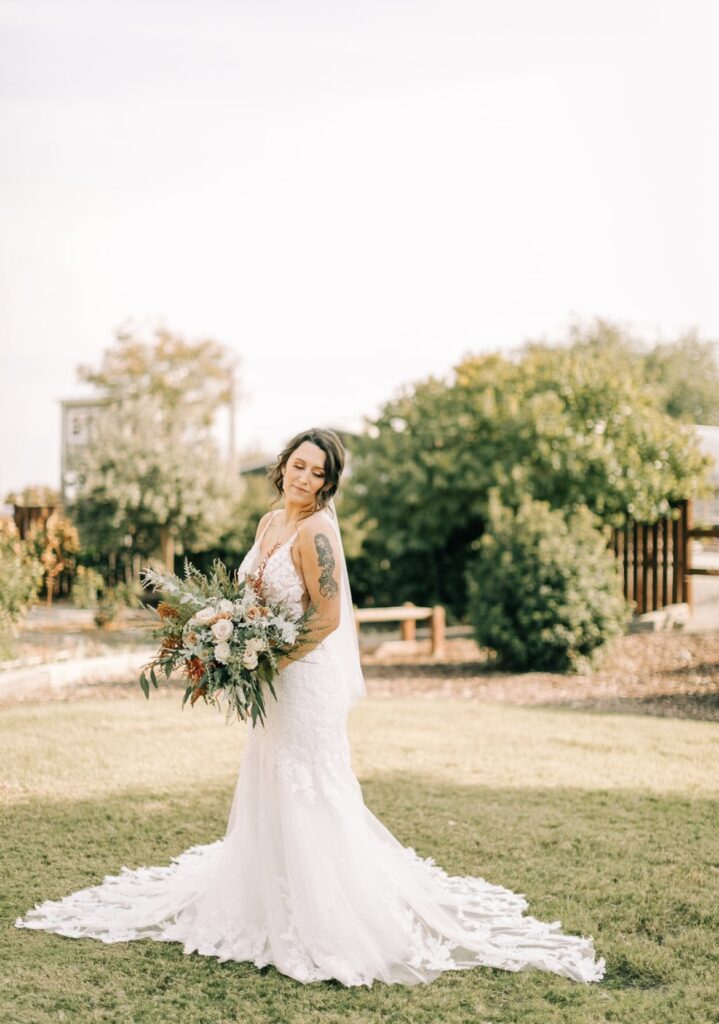 Still keeping her preferred fit and flare silhouette in mind, Ashlyn and her stylist found the perfect sexy lace mermaid wedding gown to say yes to! Her wedding gown was a spaghetti-strapped, fitted gown with lace appliques accenting the entire dress and cuts of sheer material throughout the bodice.
"I fell in love with the small details on my dress from the sparkle tulle underneath to the beaded lace and straps. As soon as I put it on you could see the happiness on my face. I only tried on other dresses to solidify my decision, but I knew it was the one as soon as I put it on my body. I even had the seamstress use the lace applique cut off during the hemming to make me a veil. The entire veil was made out of the extras from the dress. It was so special."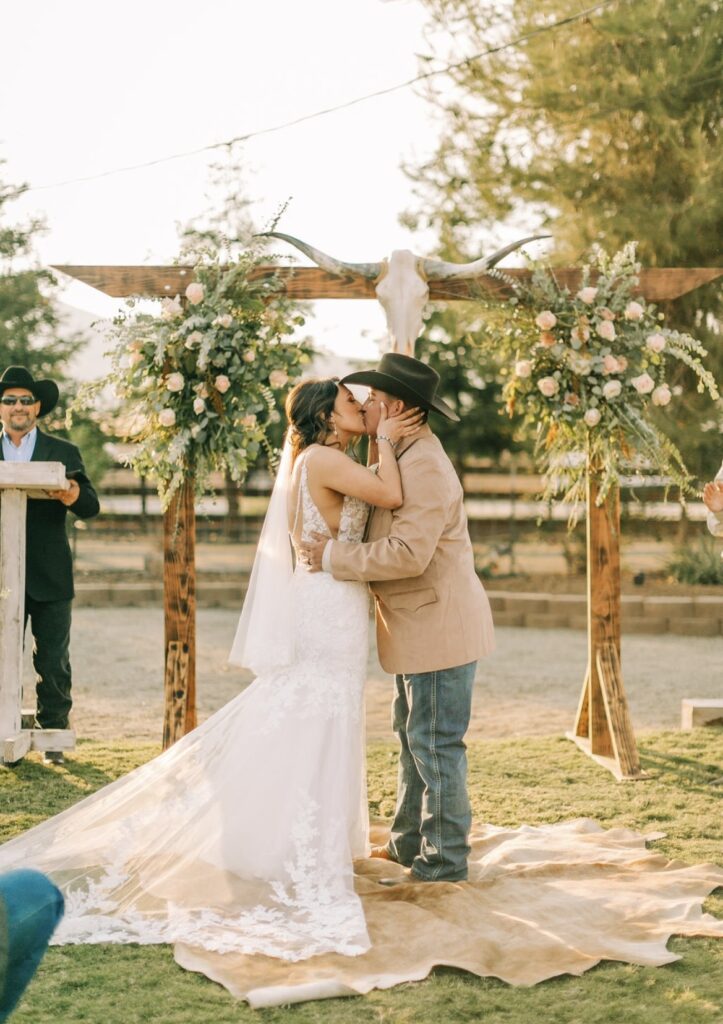 Ashlyn and her fiancé, Matthew, were wed in Strathmore, California in front of 200 guests in an outdoor ceremony.
"It is a new venue so [our wedding] was the first of many weddings there." The bride told us of her venue, "I was going for a western ranch-y theme. I think we nailed the feel, it showcased our personalities so perfectly."
"The favorite part of my day was getting to party and celebrate with all my favorite people!" she went on, "Our bridal party and [us] showed up to the reception in the back of a horse trailer. [We] were introduced and started shooting off flare guns, chugging beer, and doing flips. My 11-year-old cousin took his shirt off and was swinging it in the air to 'It's getting hot in here'."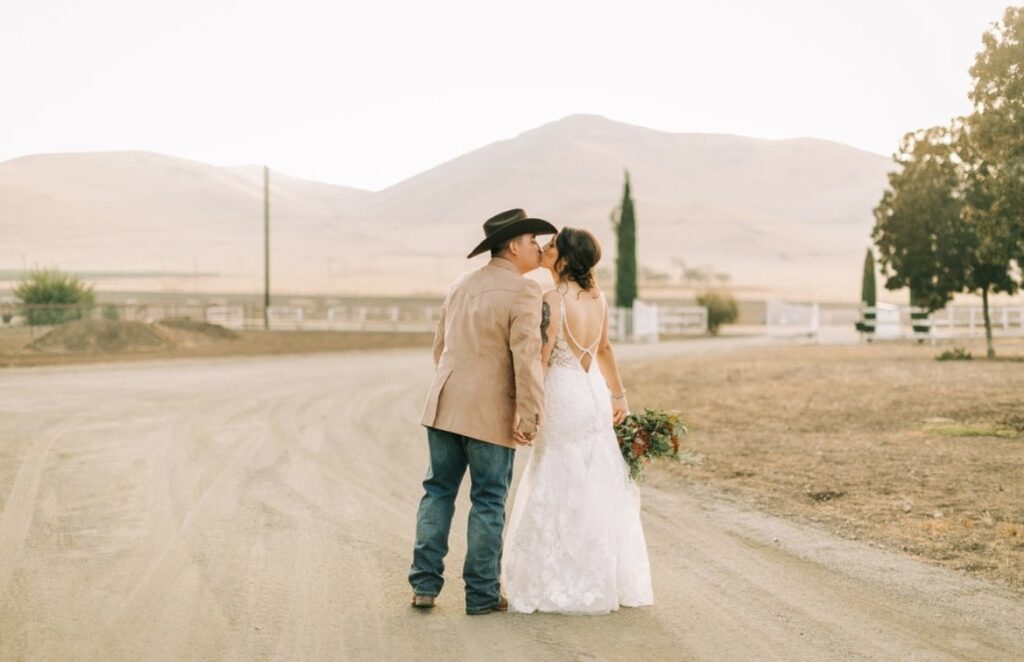 Smiling and sharing an intimate kiss with one another, Ashlyn and her husband truly had a memorable wedding day.
Congratulations beautiful, and thank you for letting Strut Bridal Salon be part of your amazing day! She's the first to be featured in this fitted wedding gown for her ranch wedding!
@moniqueeguzman – photographer
@bohemianrevolution – flowers for arbor, bouquets, corsages
@skullzgonewild – centerpieces
Brianna McHone – Makeup
@chelsea_lupercia – hair
@ciderhousefoods – cake
While the average price of wedding gowns in our bridal shop, and nationwide, is about $2000, we're excited to announce our upcoming Black Friday wedding dress sample sale! For three days only, Nov 24 – 26, we'll have cheap wedding dresses priced just $699! Plus save $500 off select other off the rack bridal gowns. Book your appointment today to save!