So when I was told we were invited to attend an event at the Earl Burns Miller Japanese Gardens at California State University of Long Beach, I immediately volunteered with excitement to attend on behalf of STRUT. Mainly because I love anything Japanese themed and I have actually been meaning to go check this place out. Let me just say this…this place was AMAZING!!! It was everything I expected as far as having the totally traditional look and feel of being in a Japanese garden. It had all the special touches. It's beautiful for a daytime or evening wedding. This place has waterfalls, bridges, and animal life, and it doesn't even feel like you are in the middle of a university. I highly recommend that if you choose this place as your venue to hire a live flutist; it gives this place the complete feel of tranquility.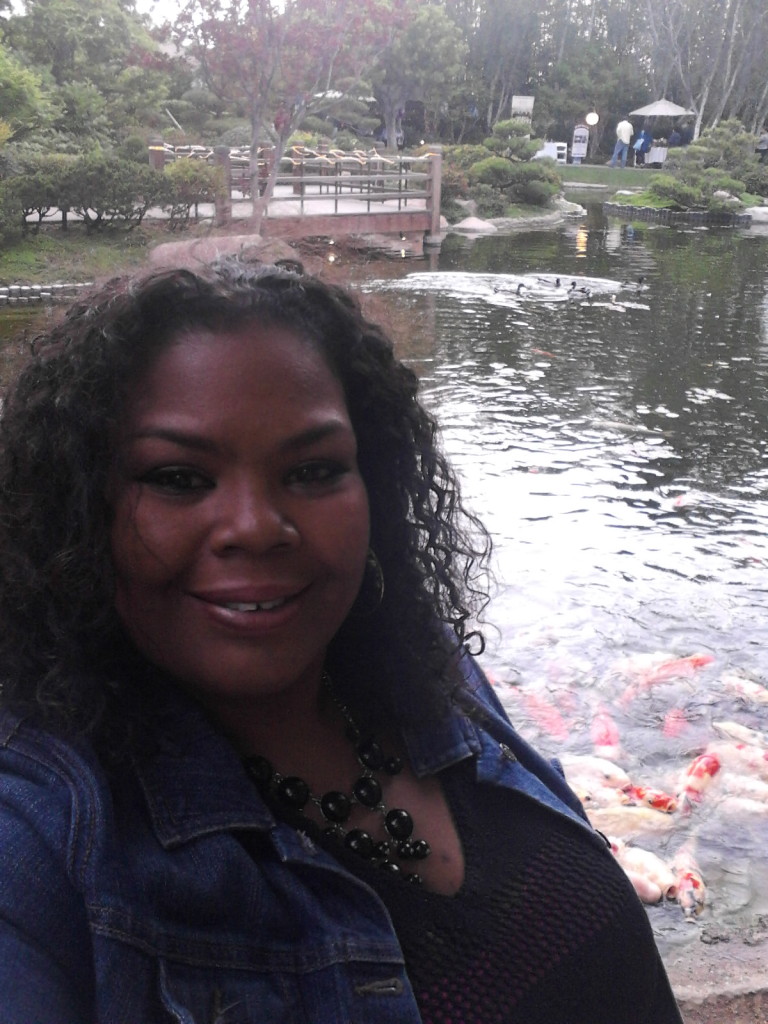 The great thing about choosing this place as your venue is that there are great vendors included in their wedding packages. You can have your food, music, cake, photographs and all sorts of extras taken care with the packages they offer, which makes for easy planning. So here's just a little preview of some of what vendors had to offer for the couples.
The Grand offered a small selection of their appetizers which were crostini's with roast beef and beets, grilled peaches with balsamic vinegar and cream and a refreshing tomato and herb mix.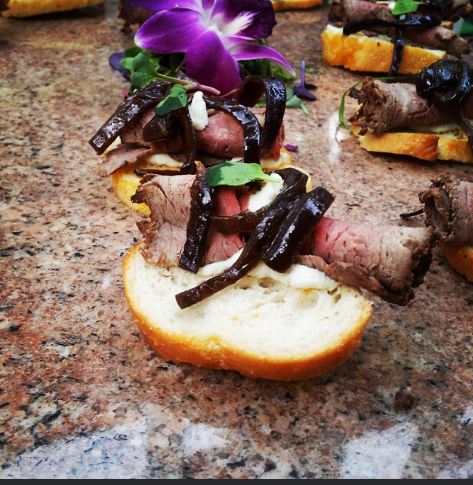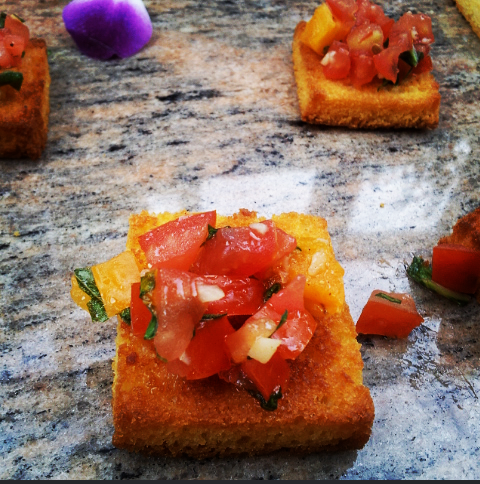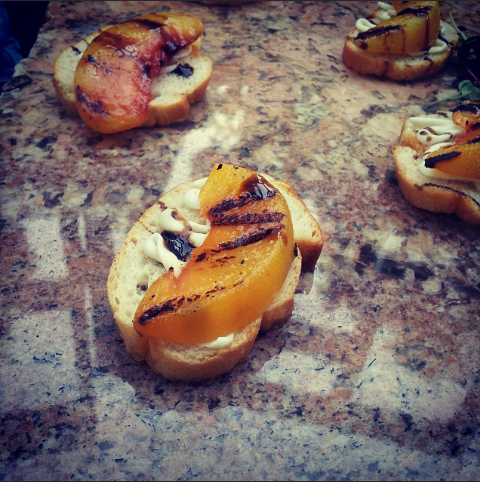 The catering company TGIS (Thank Goodness It's Sofia's catering) also had a few items to taste and let me just say the I was highly impressed. I'm a girl who loves her food and the samples they provided were delicious. my favorite had to be the Sake lobster shooter which was a steamed lobster dumpling in red curry sauce and the pork belly mini tacos and when I say mini I mean this taco was about an inch wide but packed with flavor.
I think my ultimate favorite thing to eat of the night had to come from The Naples Rib Company. I walked by and they asked "Would you like to try our Brisketini?" My curiosity now at full attention. "Of course you didn't have to ask me twice!" He then pulls out a martini glass and scoops mashed potatoes, baked beans and places some shredded brisket on top drizzled with their delicious Barbecue sauce. After I picked my jaw off the floor and regained my composure of my little self doing a happy dance and cartwheels in my head, he handed me something sort of amazing. Actually it was amazing!! I love they took something like barbecue and turned it into something classy.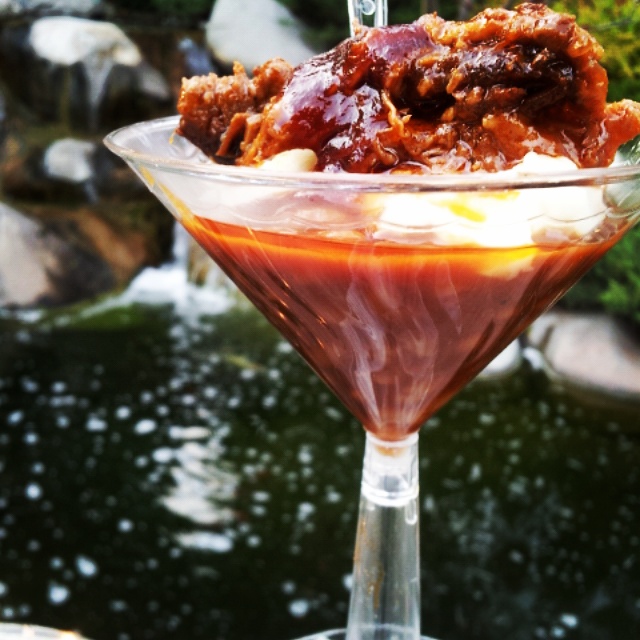 What's a wedding without cake? Rossmoor Pasteries has some of the best tasting pastries in the Long Beach area and definitely have great decorators that can make any style cake you are looking to have.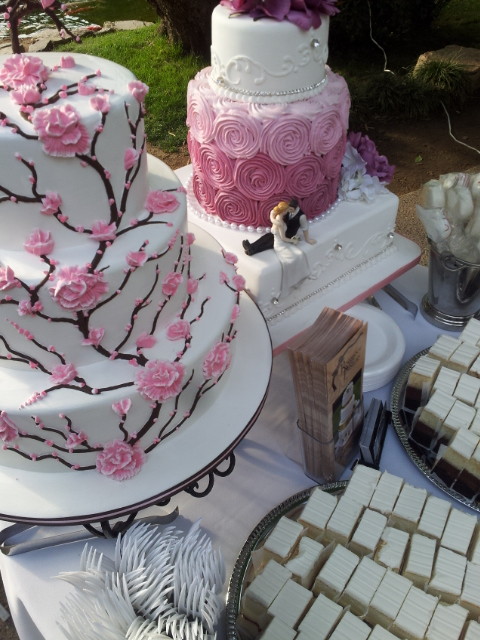 A Japanese garden wouldn't be complete with out Coi fish. These beauties were very large and very hungry. The great thing is that their food is already provided for you and believe me if you are standing on the edge of the pond they are expecting a hand full of food. Its great way to entertain people and kids love feeding the fish. On this visit there were also a family of ducks and little baby ducks are the cutest (I wondering if they rented them to add that little extra touch).
I had to take advantage of the Photo Booth of course. Strike A Pose photo booths provides great props for your photo booth needs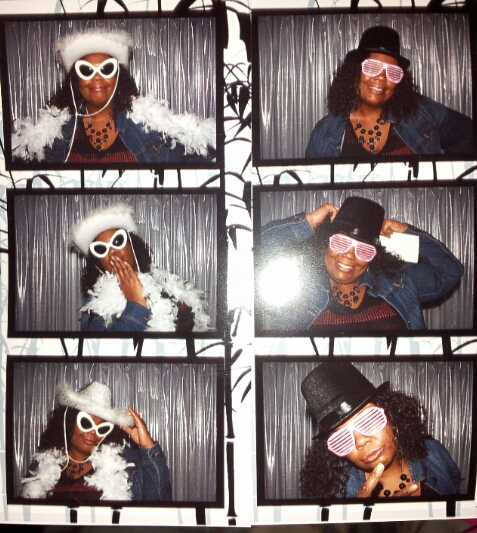 STRUT was honored to participate in the bridal fashion show. We featured one of our beautiful satin ballgowns with cap sleeves and sparkle buttons down the train available in light gold , ivory and white. She is also wearing one of our beautiful Swarvoski crystal headbands with a rhinestone and pearl veil. Also shown is one of our most unique dresses. It's a modern vertical lace shown in champagne and ivory. This dress has a beautiful lace ruffle train and is available in ivory and white also. She is also wearing one of our gorgeous crystal and pearl hair clips and we kept it simple with a plain pencil edge veil. Both styles are available in sizes 2-32. The gentleman are wearing tuxedos from Friar Tux.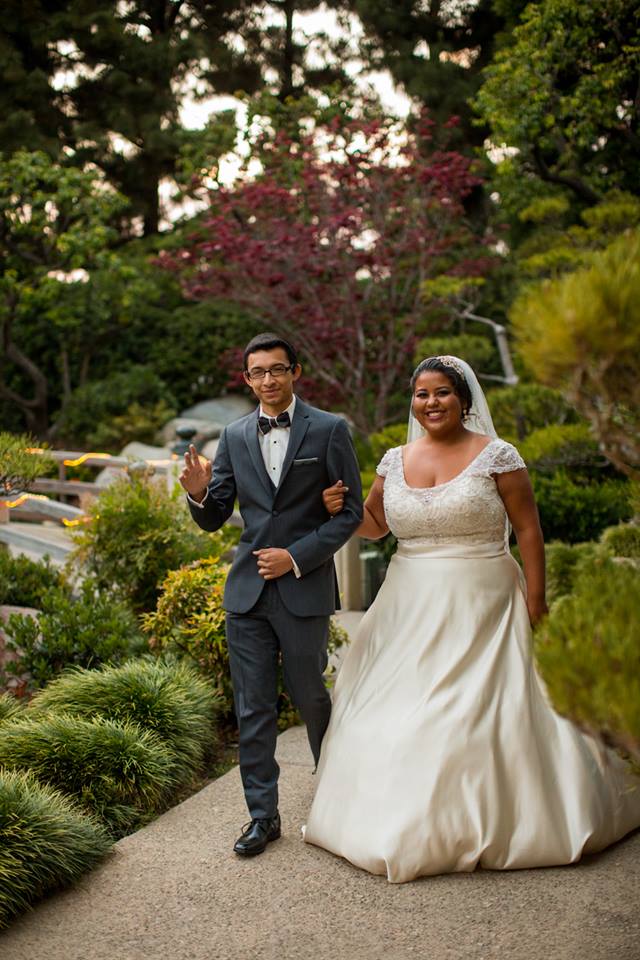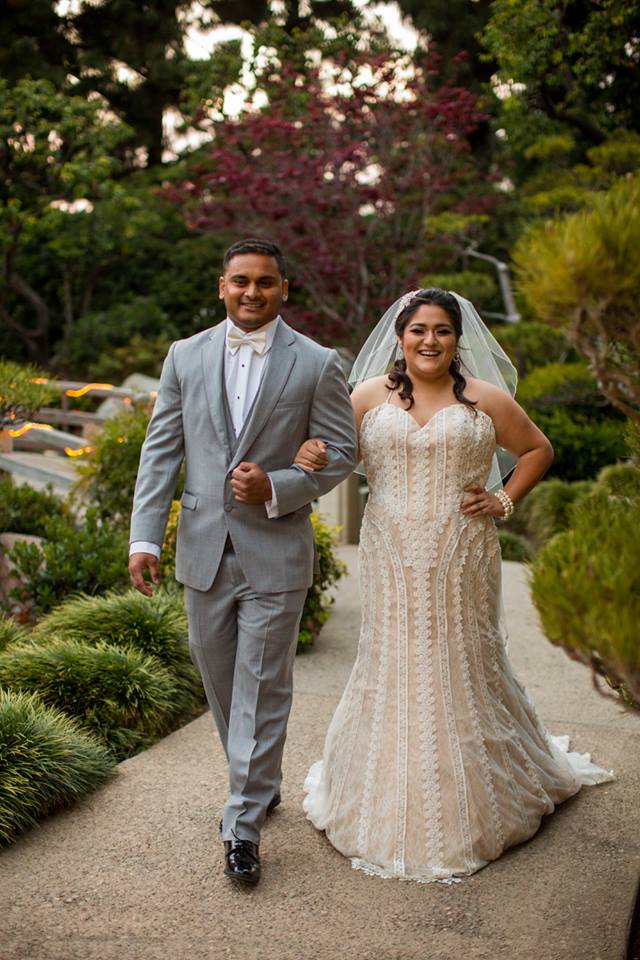 I have to say I was very impressed by what the Japanese Gardens has to offer. The set up is beautiful is a spacious place and the plant life, animal life and design of this place is great for the minimal need of decorations. I love the bridges throughout and the feeling that you are somewhere in a ancient garden in Japan. If I had to pick a dream place to get married it would be here.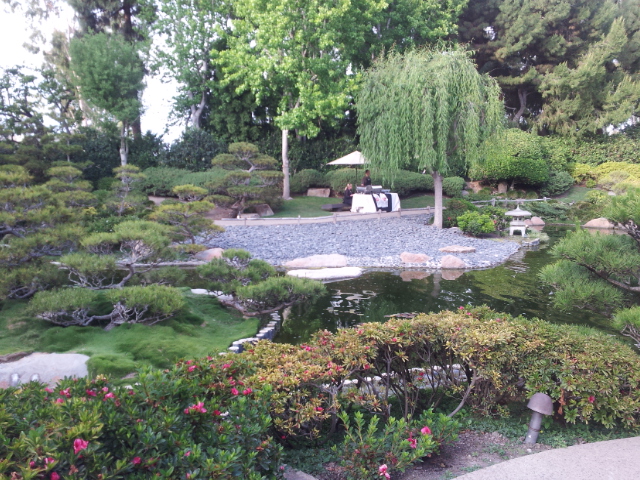 If this is the perfect place for you, we are happy to help you find the perfect dress to go with it. We carry the best selection of plus sized wedding dresses for your big day. So schedule an appointment at our Tempe, AZ or Long Beach, CA locations and let's make you beautiful for on your big day.