Caitlin and her family drove to our Long Beach, California bridal store in October of 2021, looking for her perfect, bohemian wedding gown. She found an amazing wedding gown for her retro – boho brewery wedding!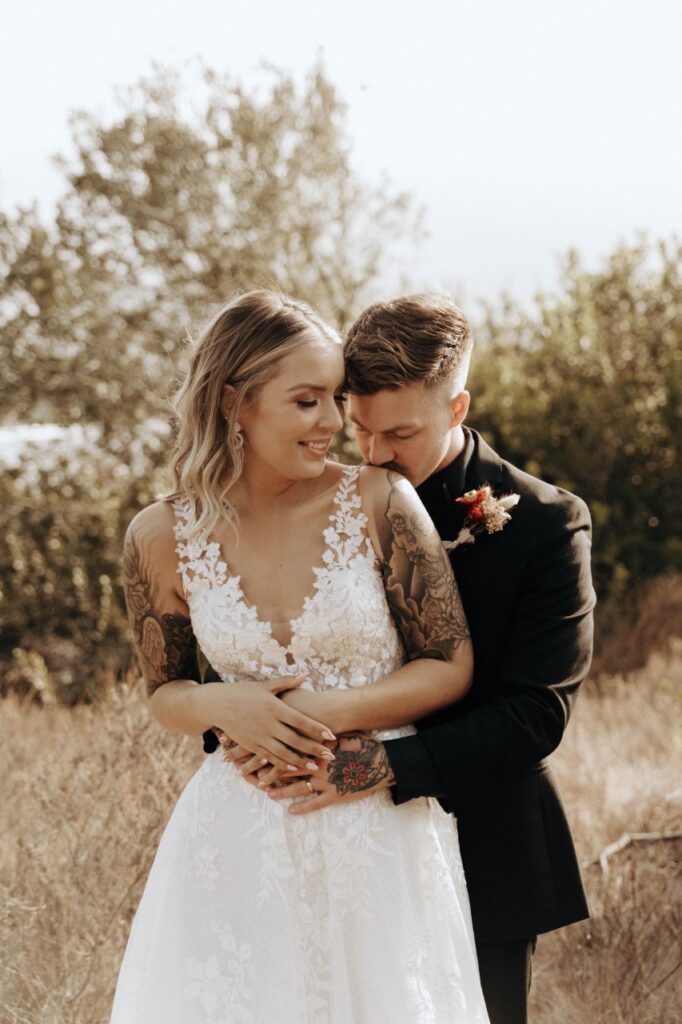 "Strut was only the second place I went to look at dresses," she said, "From the moment I walked in the door it was truly a perfect appointment! The person I worked with took the time to listen to what I wanted and was super patient & helpful and after trying on quite a few dresses, I knew I had found one!"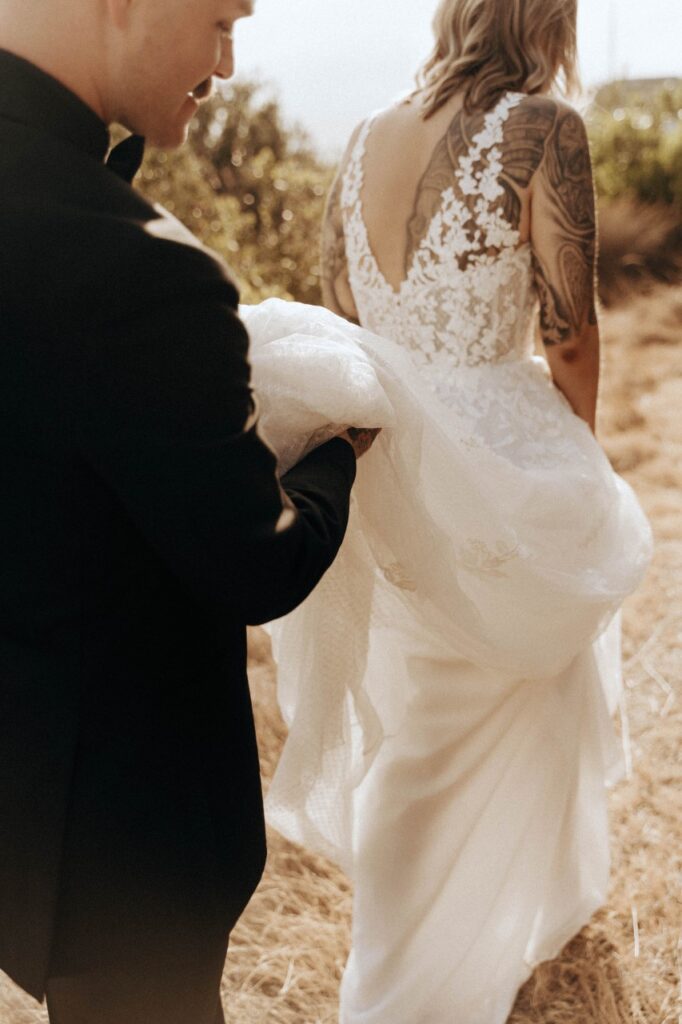 After trying on just three wedding dresses here at Strut, Caitlin said yes to a boho-style aline bridal gown. The bridal gown featured a V-neck neckline and an illusion lace bodice that was supported by thick, tank straps. The skirt featured a unique, English netting in the layers of tulle, giving the wedding gown a truly special flare to it.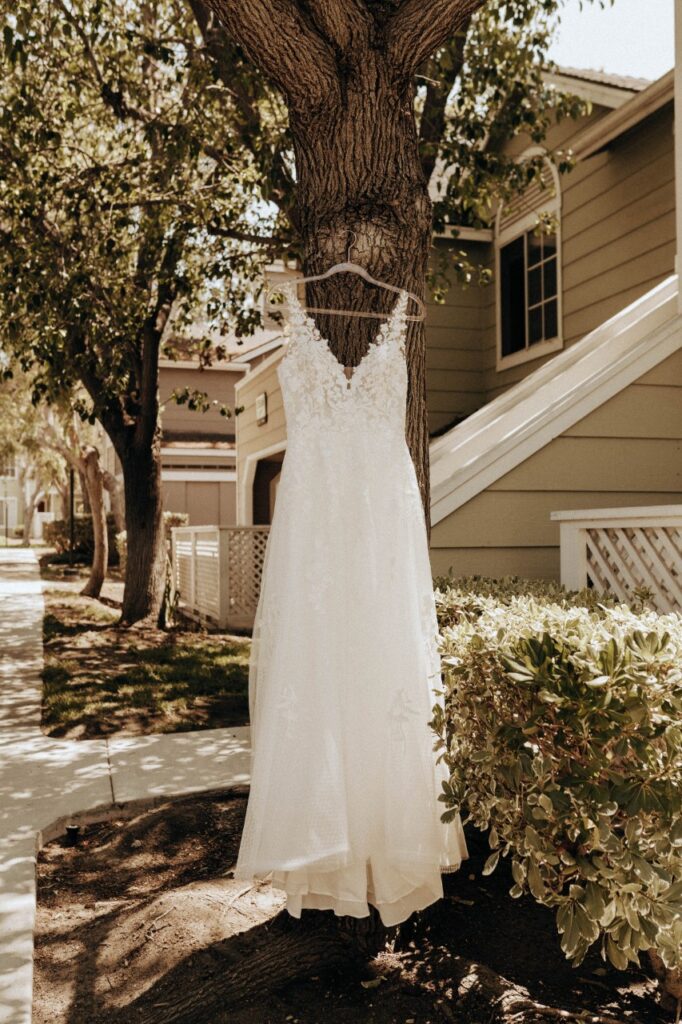 "I'm not super feminine and hardly ever wear dresses so I was nervous if I would have that moment where I knew I found 'the one'" Caitlin explained, "but the moment I put it on I knew it was the dress for me!"
Pairing it off with a cathedral veil with a finished-edged top and fully sequin scalloped floral lace around the edge, Caitlin said yes to not only the wedding gown but the entire bridal look.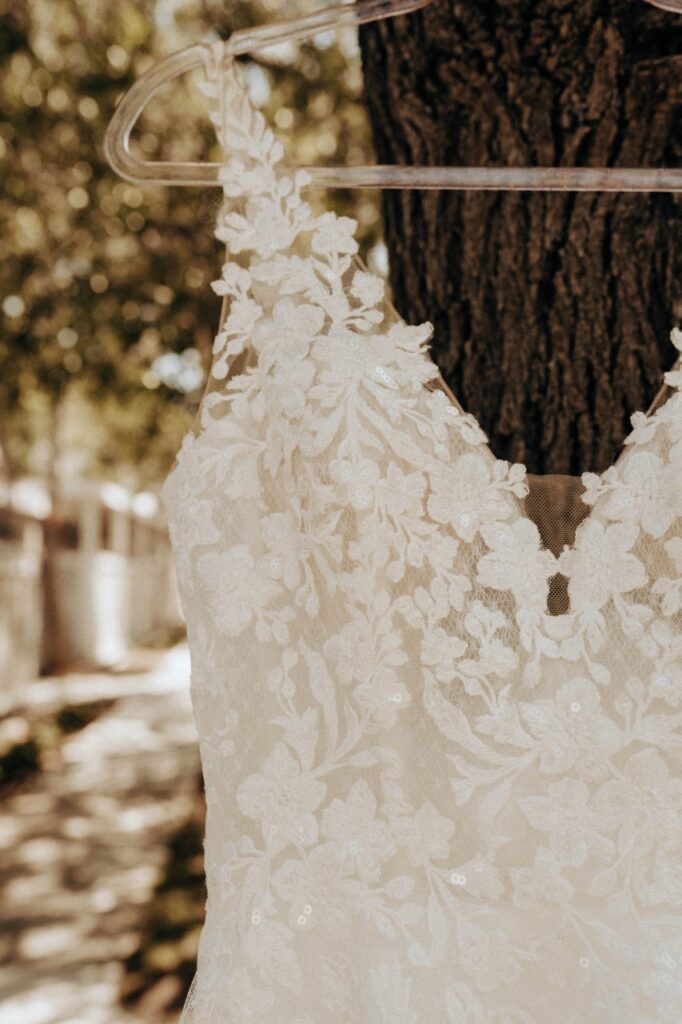 On July 16th, 2022, Caitlin and her fiancé, Dillion, said 'I do' in front of 100 of their closest friends and family in a retro-boho brewery wedding.
"We got married at a brewery called Eppig Brewing in Vista, California." she told us, "When we first began looking, we knew we wanted a laid-back wedding that felt more like a big celebration while still having some of the traditional aspects of a wedding. Plus, we have always loved brewery dates and when we saw Eppig, we knew it was the place for us! It has a separate area for the ceremony & reception and the open concept was perfect for a summer evening wedding. As far as the theme, I definitely was inspired by a 70's retro feel which was where my color inspo. came from and our use of disco balls!"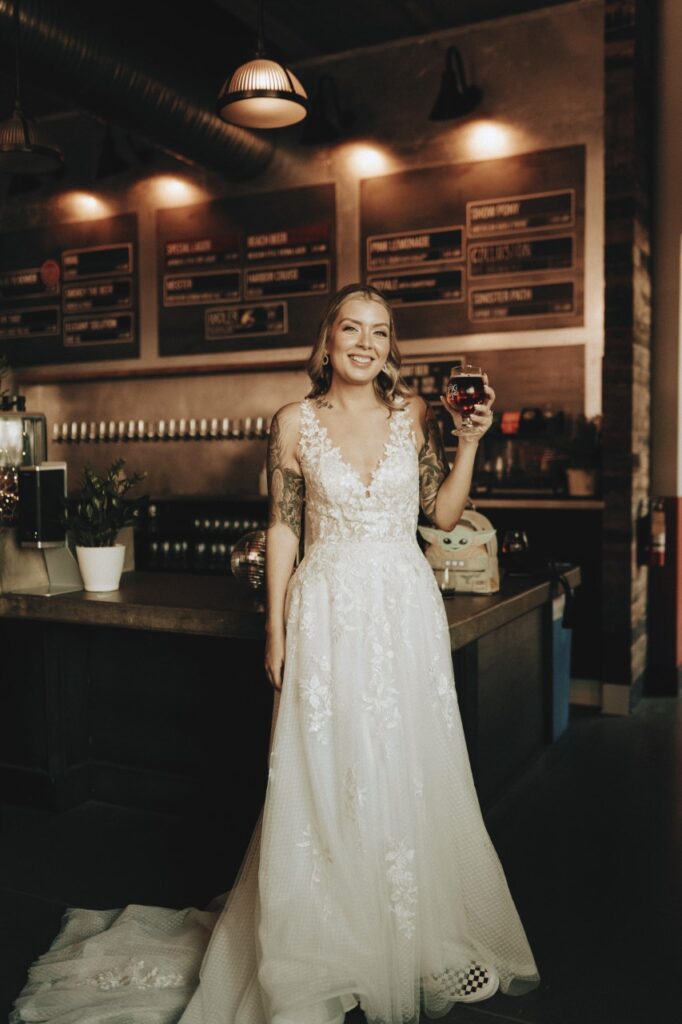 "I think I would have to say my favorite part of the day was the ceremony, specifically when we read our vows. We wrote our vows, so it was a super sweet moment, and it was the perfect start to the most fun evening." she went on, "…there wasn't a formal dinner (we had tacos!) and an ice cream truck for dessert. I think the funniest part was all of the dancing, there were some seriously impressive dance moves! Our DJ was awesome and had people on the dance floor all night!"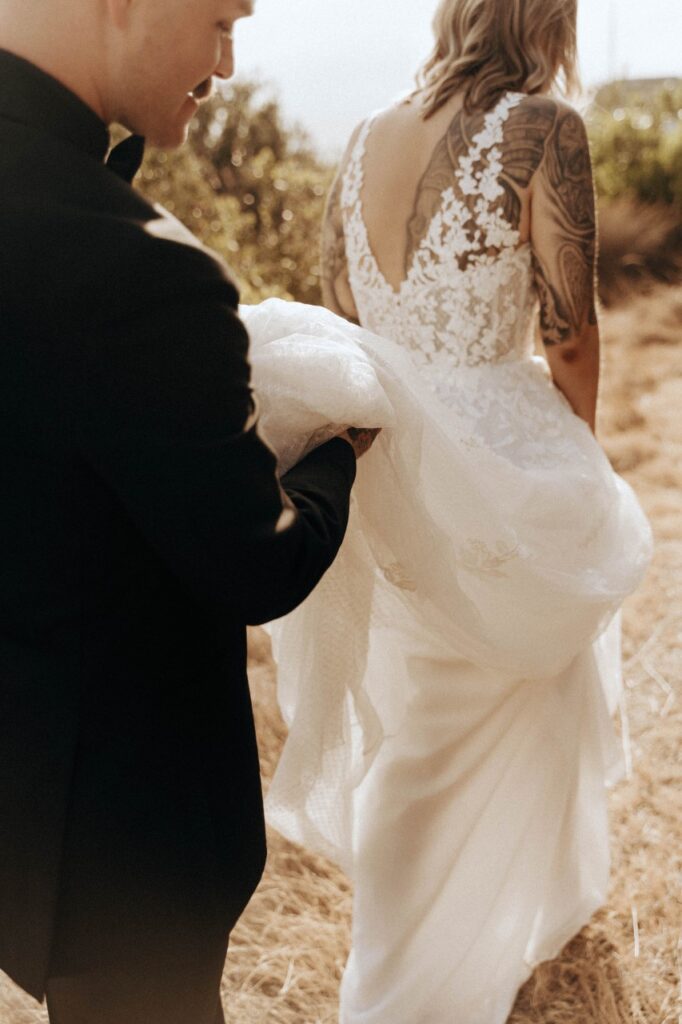 About a month or so after her fun and party atmosphere nuptials, Caitlin sent us her amazing photos and continued to sing Strut's praises:
"Again, it was an amazing experience," she said, "communication was great: from placing my order to picking up, to alterations. I have been recommending Strut to all my friends who are wedding dress shopping!"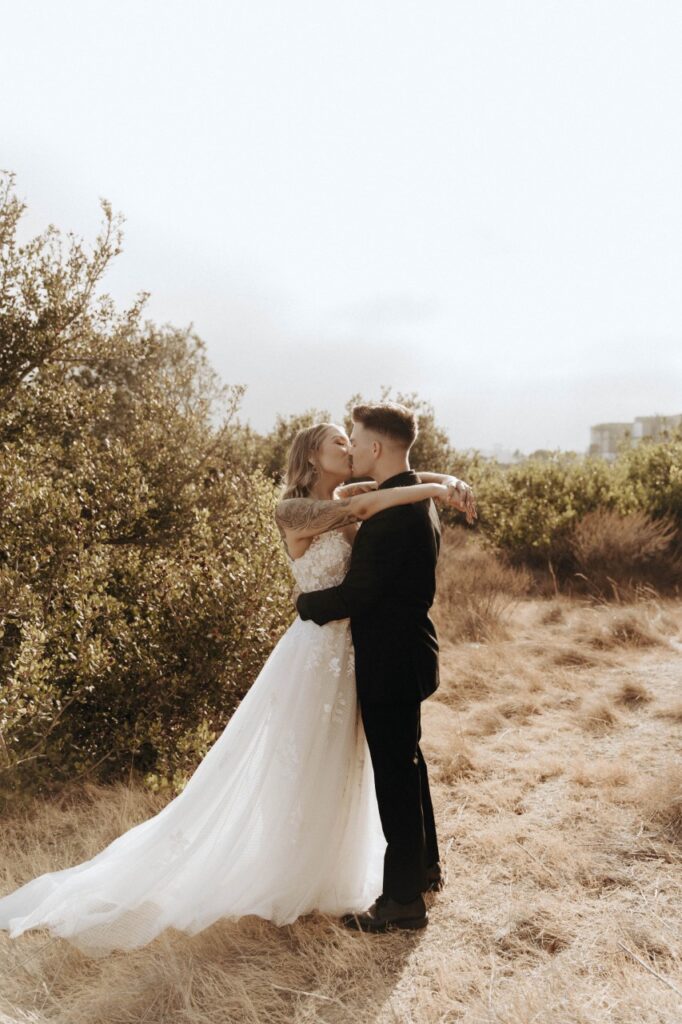 Congratulations, Caitlin, and thank you for sharing your special day with Strut!
Venue: Eppig Brewing (@eppigbrewing)
Photographer: Irie Photograph (@iriephotograph)
Audio Guest Book: After the Tone (@afterthetone.com)
DJ: DJ Jon Don Myers (@thejondonmyers)
Photo Booth: Photo Glam Booth (@photoglambooth)
Hair/Makeup: Lily (@hairartbylily)
If you're looking for a unique wedding dress, for whatever your wedding day vibe is, stop by our Chandler, Arizona or Long Beach, California bridal stores to work with one of our expert stylists today!