Cali and Oscar were married on October 4, 2014 at the Wright House in Mesa, AZ. It's a popular location for weddings in the Phoenix area because of their range of options and breathtaking grounds. They chose Provencal, an intimate location with stunning gardens, bubbling fountains, covered patios, and a gazebo.  They were married outdoors and her dress looked gorgeous in the sunlit gardens.  Check out her beautiful photos from Lexa Popa Photography.  She is absolutely radiant on the bridge in her dramatic, dropped waist ballgown from Allure Bridals.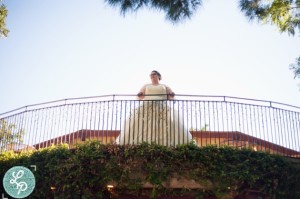 When she came shopping for her gown in January at our Phoenix location, she told us that she wanted a ballgown with some sparkle and no lace.  She ended up falling in love with a dropped waist organza ballgown with a waterfall of roses down the back and roses in the front.  She added a hoop skirt for extra fullness.  In addition to adding fullness without weight, hoopskirts hold the dress away from your legs and allow for a breeze, perfect if you're a bride who tends to get warm easily!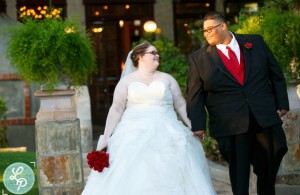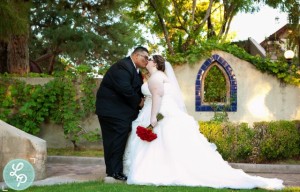 Cali's dress was a strapless organza gown with sweetheart neckline and ruched bodice. It featured beaded detail just at the waist. The drama was all in the skirt, with layers of organza and some large organza rosettes. She wrote, "My wedding day was perfect thanks to my amazing dress!!!" Angel was thrilled to have such a happy bride!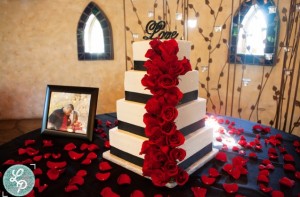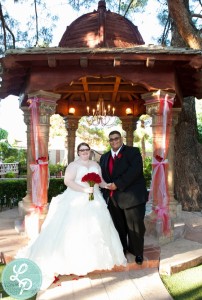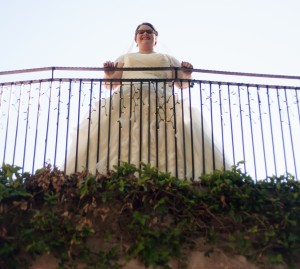 Cali and Oscar chose red and black as their colors and she carried red roses that echoed the roses on her skirt.  When she sent us her photos, she said that her dress was perfect.  We couldn't agree more!  Congratulations, Cali and Oscar!  We are so glad you shared your amazing photos with us!  You both look so happy!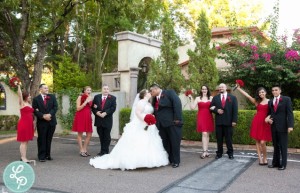 Sadly, Cali's dress is no longer available. But if you are looking for a plus size dropped waist ballgown, we can help you find something perfect for your vision at one of our bridal stores in the Los Angeles and Phoenix area. GIve us a call today!