We're so excited to feature our lovely Tempe Strut bride, Cami! Cami came in to our Tempe bridal boutique in May of 2017 looking for the perfect wedding gown for her church wedding. She wasn't really sure what she was looking for, but our expert stylists worked hard to help her find the wedding dress that made her feel like a princess. She told us she wanted it to be light and modest. Cami wanted to buy a dress that she could add sleeves to. She chose a beautiful lace a-line wedding dress with just a little bit of bling and she added her own sleeves! Check out Cami's lightweight aline wedding dress with sleeves.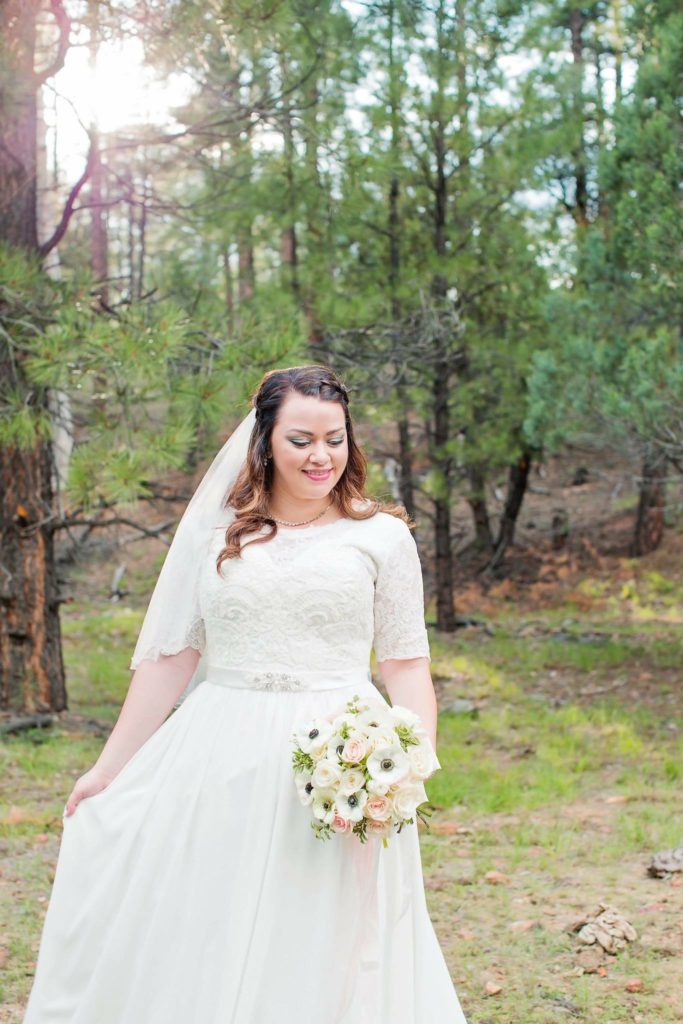 Cami chose a gorgeous plus size a-line wedding dress. It features a lace bodice with a satin belt. The belt included a cute little bling detail in the center. The skirt was a flowy chiffon fabric, which gave her the lightweight feel she was looking for. She's wearing it here in ivory. Her sleeves were completely custom, added by Gemma's Fashion and Sewing.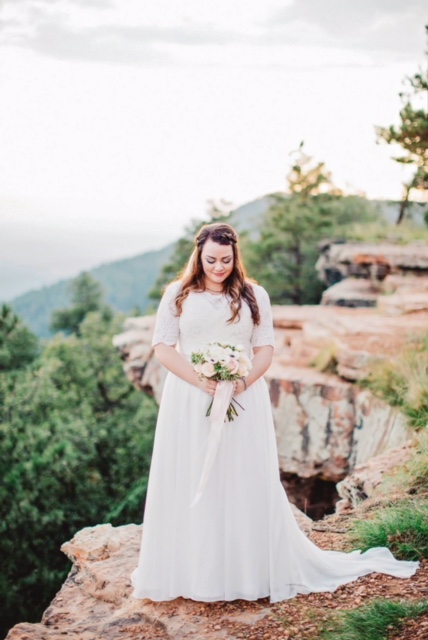 These photos are gorgeous! We're swooning. Shout out to Sarah Atkinson with Moments Defined Photography! Her beautiful bouquet looks amazing with the mountains in the background. Her flowers were provided by Emily Burton.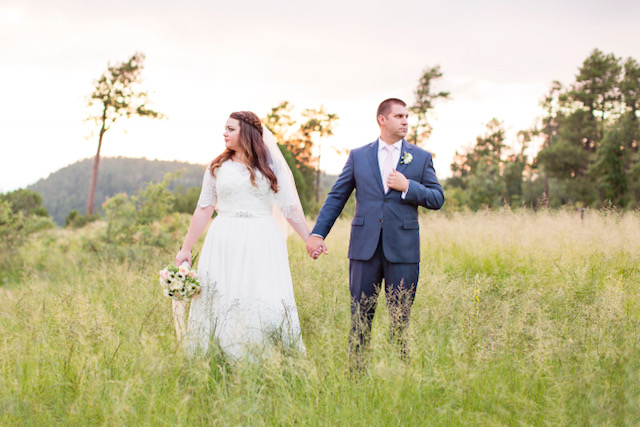 Cami and Camden were married in July of 2017. Congratulations to the lovely couple! Thank you, Cami, for letting Strut be a part of your special day.
Although Cami's lightweight aline wedding dress with sleeves is no longer available in our Tempe store, it is still in stock in our Long Beach bridal store. If you're looking for a lightweight, flowy bridal gown, we have the largest selection of plus size wedding dresses in the state. Come try out similar styles and let our expert stylists find the perfect plus size wedding gown for you. Check out our awesome appointments page and schedule yours today! Don't forget to stop by our facebook page for more awesome shots of Cami's wedding!