In February of 2022, Chelsea booked a bridal appointment at our Arizona bridal shop, ready to shop and find her perfect wedding gown for her fast-approaching nuptials. In her first initial call with our bridal shop, she had let the team of stylists know that what she wanted was something with sparkle and bling; a wedding gown that would make a statement and make her feel beautiful and confident! We found her the perfect glitter ruffle ballgown wedding dress!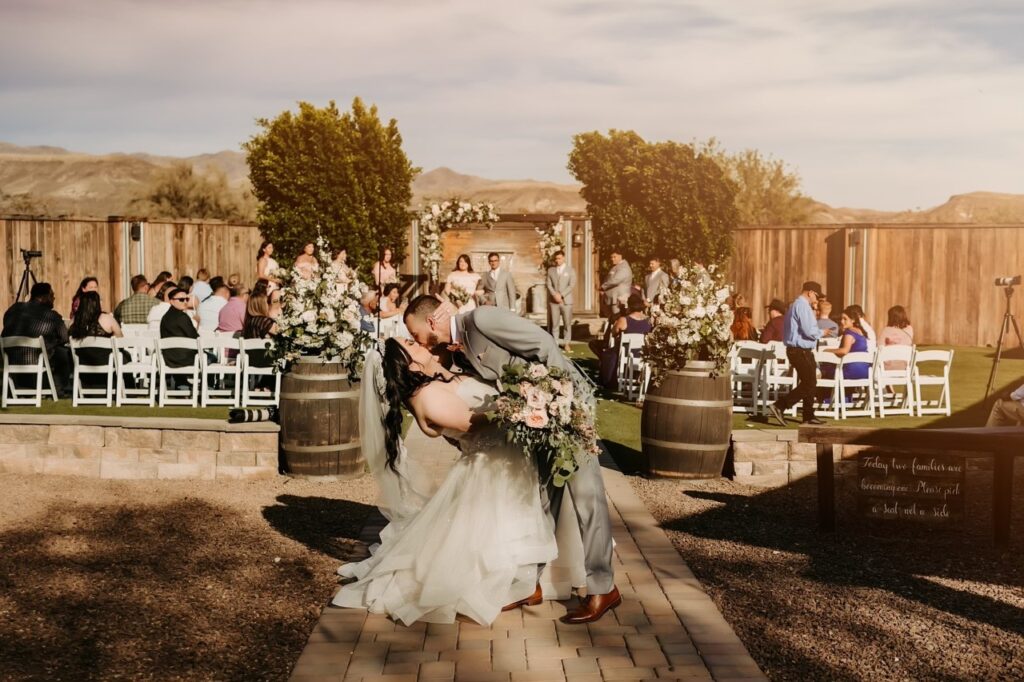 She also mentioned in her call that the wedding was being moved up from the original date as she was battling stomach cancer. Her diagnosis wasn't stopping her from finding the perfect wedding gown, so with her family at her side, Chelsea walked into Strut ready to say yes to the dress!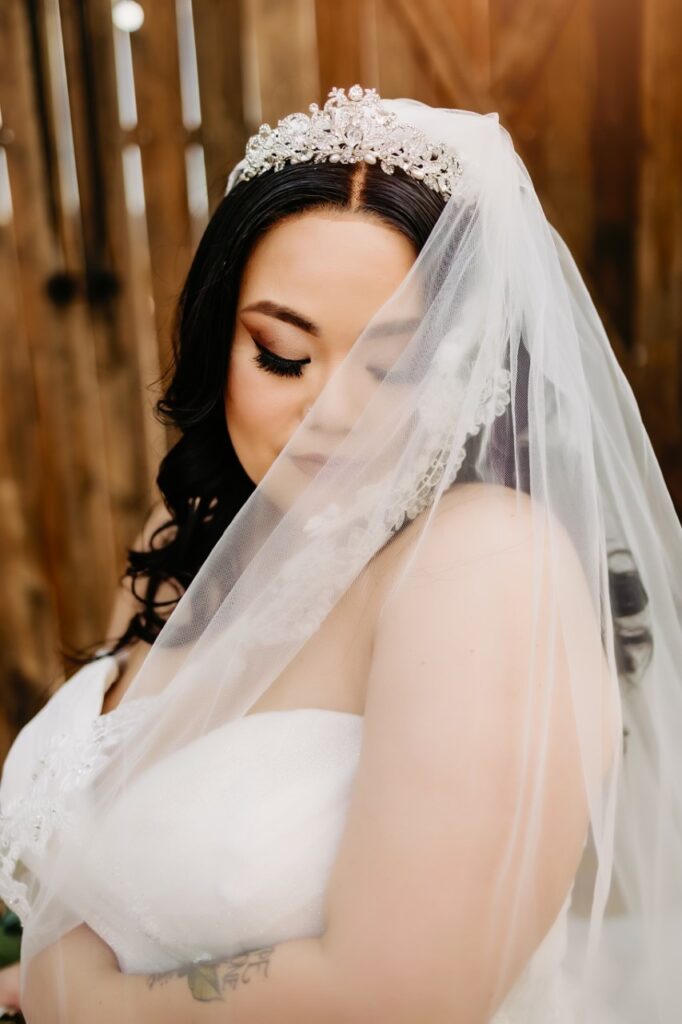 Right off the bat, Chelsea found her dream wedding gown! It was the very first bridal gown her stylist, Brooke, had dressed her in, and immediately her heart was sold. She tried on a few more wedding gowns just to be extra sure, but Chelsea knew that the first wedding gown that had greeted her at the door was hers.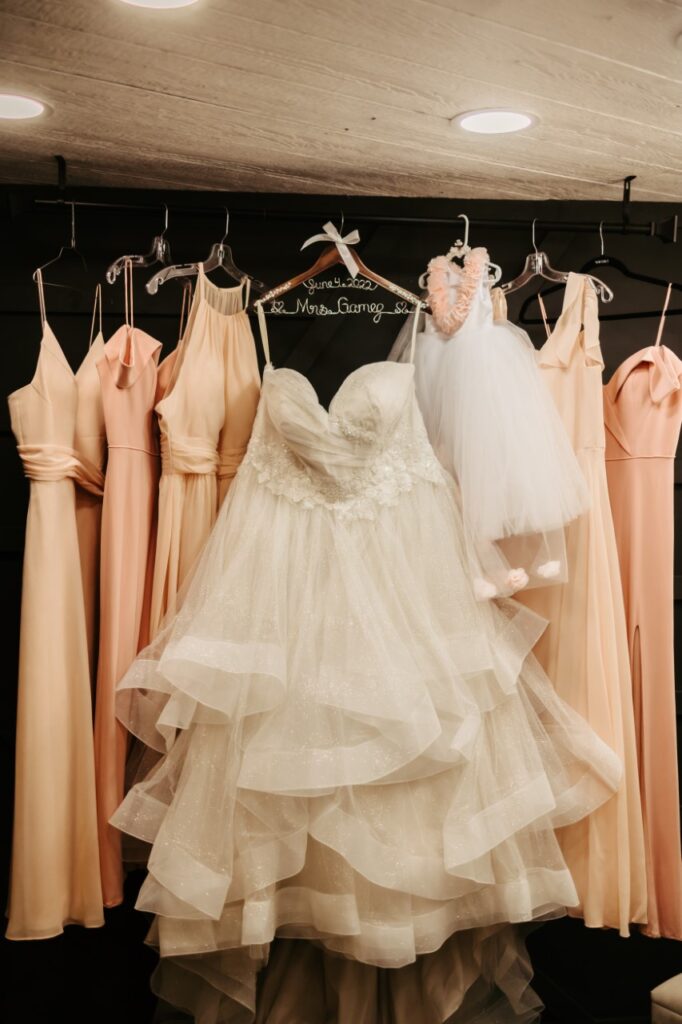 "When I first walked into Strut, I saw my dress and knew it was my dress." She told us, "When people say you will know when it's your dress, they are correct! [My stylists] Semaj and Brooke made me feel so special and helped me feel beautiful even with my hair completely gone from chemo. They are the hype team you didn't know you needed. The smile and tears when I saw my dress with my veil and tiara; it was so memorable."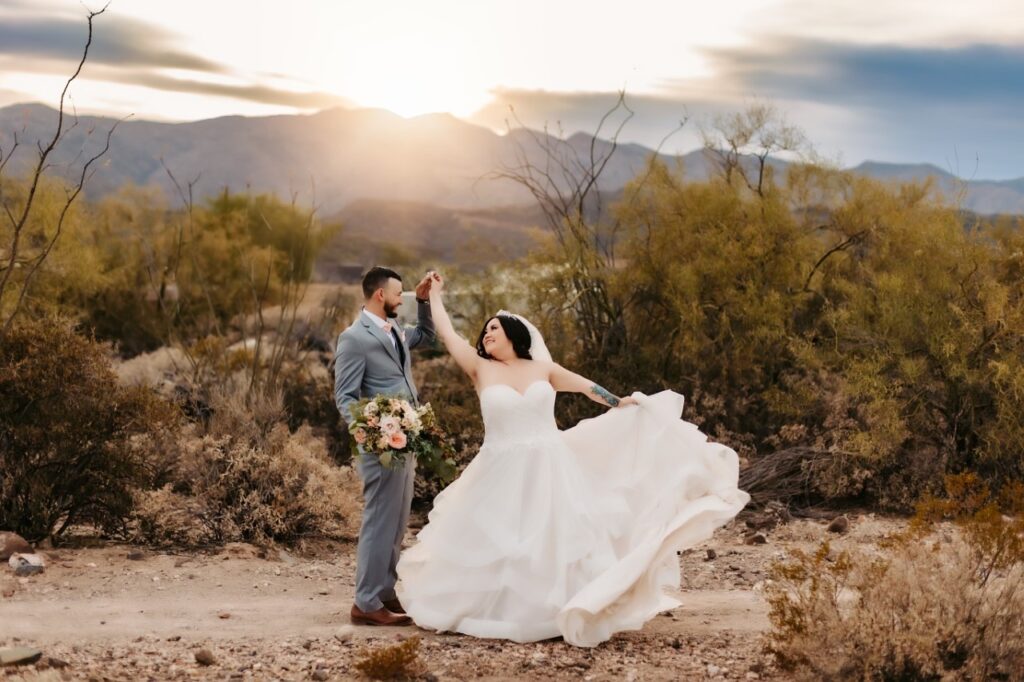 Chelsea's wedding gown was a strapless ballgown that featured ruffles in the skirt and a layer of sparkling tulle throughout the entire gown, giving her the sparkle and bling, she had been looking for. The beaded appliques along the waistline gave the overall gown the perfect accent of shine and glamour. Her lace-edged cathedral veil and pearl and silver tiara were the perfect accessories to complete her bridal look.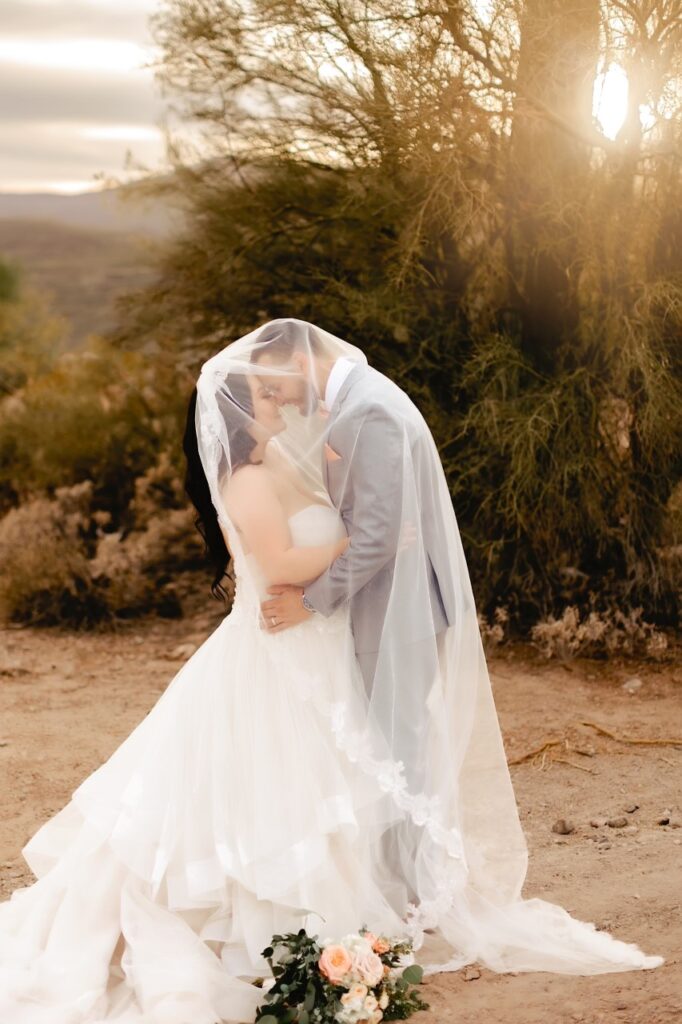 Chelsea and her fiancé, Eduardo, were wed in an intimate ceremony at their venue in Chilleens on the I-17 with the ceremony being outdoors and reception taking place indoors.
"We wanted our wedding to feel like the farmhouse theme," she said, "We loved the mountain background [and] this was the only venue we toured and fell in love with it instantly."
"[Some of my favorite moments were] watching our daughter, Zayda, go down the aisle, my husband's vows, and the look on his face when he saw me. [I had] a first look with my grandpa and my brother. My grandpa walked me down the aisle and we had our father-daughter dance. [Overall, my favorite thing was], knowing that we got married before my major surgery and the cancer spreading."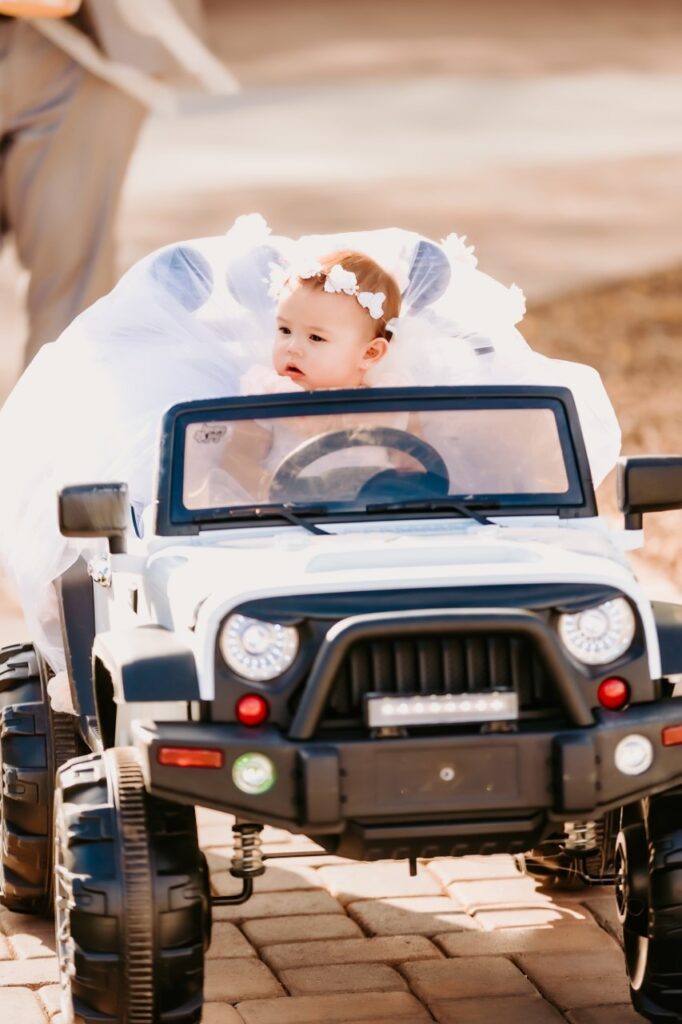 From these special moments and a day filled with love and laughs (the bride had mentioned a particularly funny moment in which her husband danced to get her garter), Chelsea and Eduardo's wedding day was truly one that would keep them smiling forever.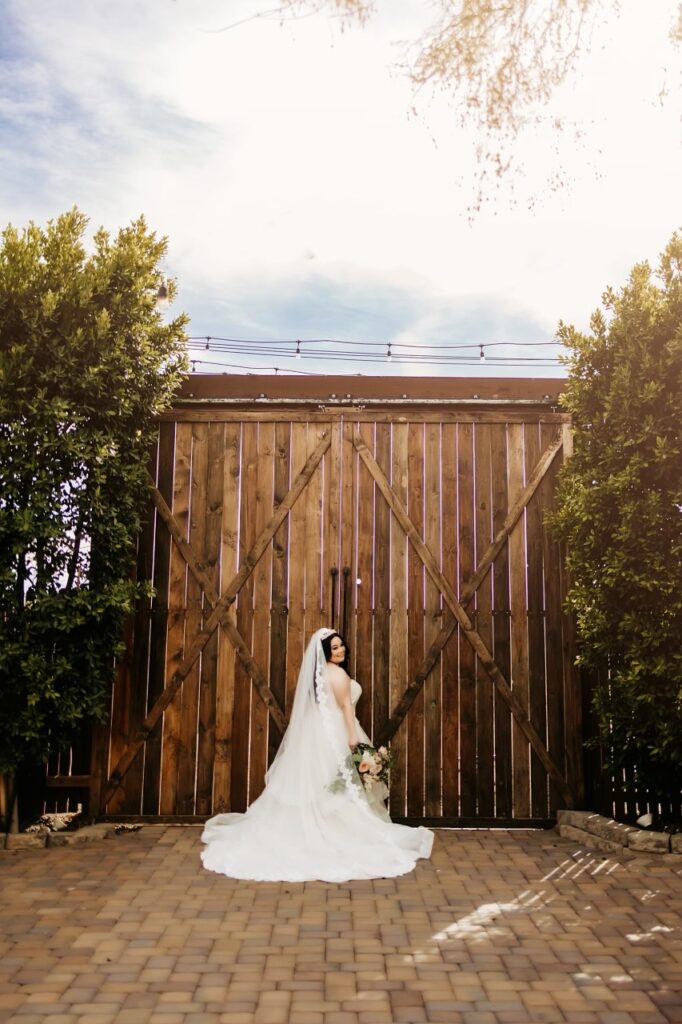 Recently, Chelsea came back to Strut to purchase a bridesmaid's gown for an upcoming wedding she's apart of. She couldn't stop sharing praises from her experience as a Strut Bride.
"I feel like I made friends." She said of our staff.
We feel the same for you, Chelsea, and thank you for letting Strut Bridal Salon be a part of your journey. Congratulations!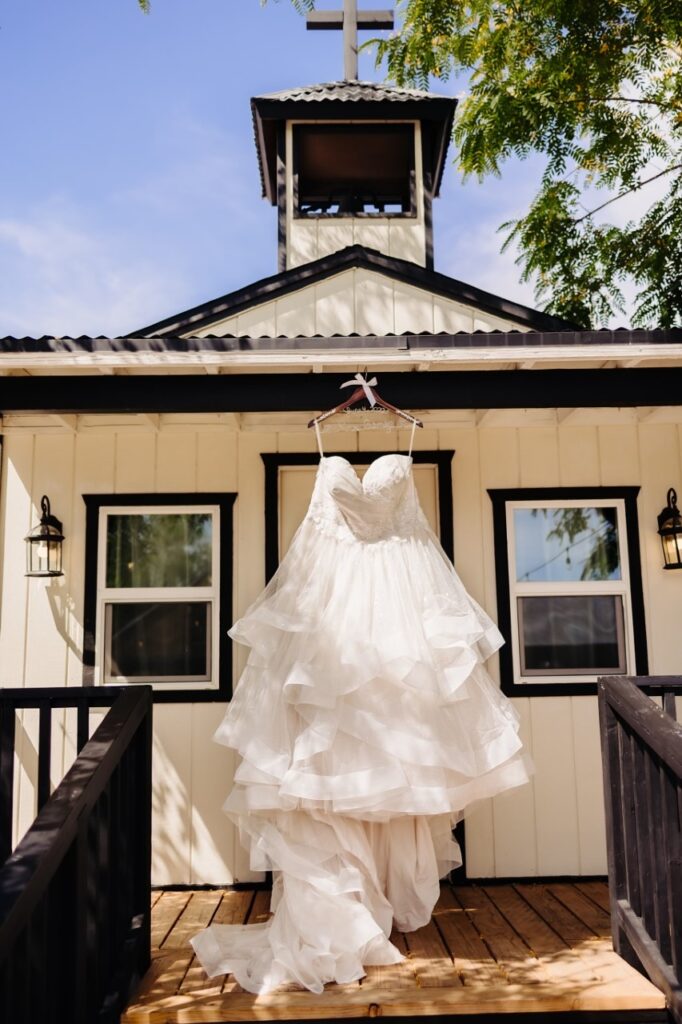 While Chelsea's glitter ruffle ballgown wedding dress is no longer available in our Chandler, Arizona or Long Beach, California bridal stores, our Strut bridal shops carry plus size wedding dresses to size 38 in store to try on. Book your wedding dress shopping appointment online today!