Strut Bridal Salon is known for our beautiful gown selection for plus size brides and also offer the best customer service for our brides. We thrive on making sure that our brides are happy and feel beautiful in the perfect dress we select for them. We love showing appreciation for brides choosing us to be a part of their big day, So to show that appreciation we have a special promotion going on for the month of October. Because, of course, what bride doesn't like free stuff?! So for the month of October if you purchase your wedding dress at Strut you will receive a free tux rental from Friar Tux in our Long Beach, CA location or from Celebrity Tux and Tails in our Tempe, AZ location and also a free wedding garter. Yes for free!!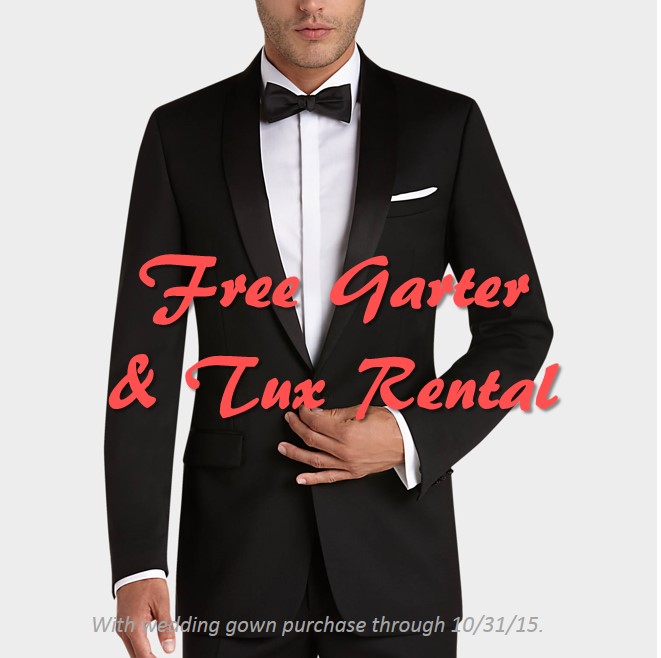 A free tux rental is great relief on the budget for your wedding planning and both tuxedo places offer great selections for any type of wedding. Anything from suits with a traditional tie for a more casual wedding to a classic 3 piece tuxedo with a fancy bow tie. Whatever your vision is for your handsome Groom, we're sure these guys can make your vision come true. This a big day for your Groom and his groomsmen to look their best and we would like to help out with that with this free offer with purchase.
We all know that one of the fun parts of the wedding is the Groom taking off the garter to toss to all the single men out there and we've some creative ways of how that takes place. We have a great selection of garters from classic, to fun , to flirty. Here's just a few of our favorites!!
So don't miss out on this great promotion and schedule an appointment with one of amazing stylist to find the perfect dress for your big day. Remember we specialize in sizes 12 and above with the largest selection of wedding dresses for curvy brides in Southern California and Arizona. Let us help the vision of your wedding come true.