Karen came into our Long Beach, California bridal store during the summer of 2021. Her wedding dress shopping appointment was no different from our regular bridal appointments, just that she was shopping at a time in which select in-stock wedding gowns were marked down to a lower price. So Karen scored a killer deal on her illusion back mermaid wedding dress!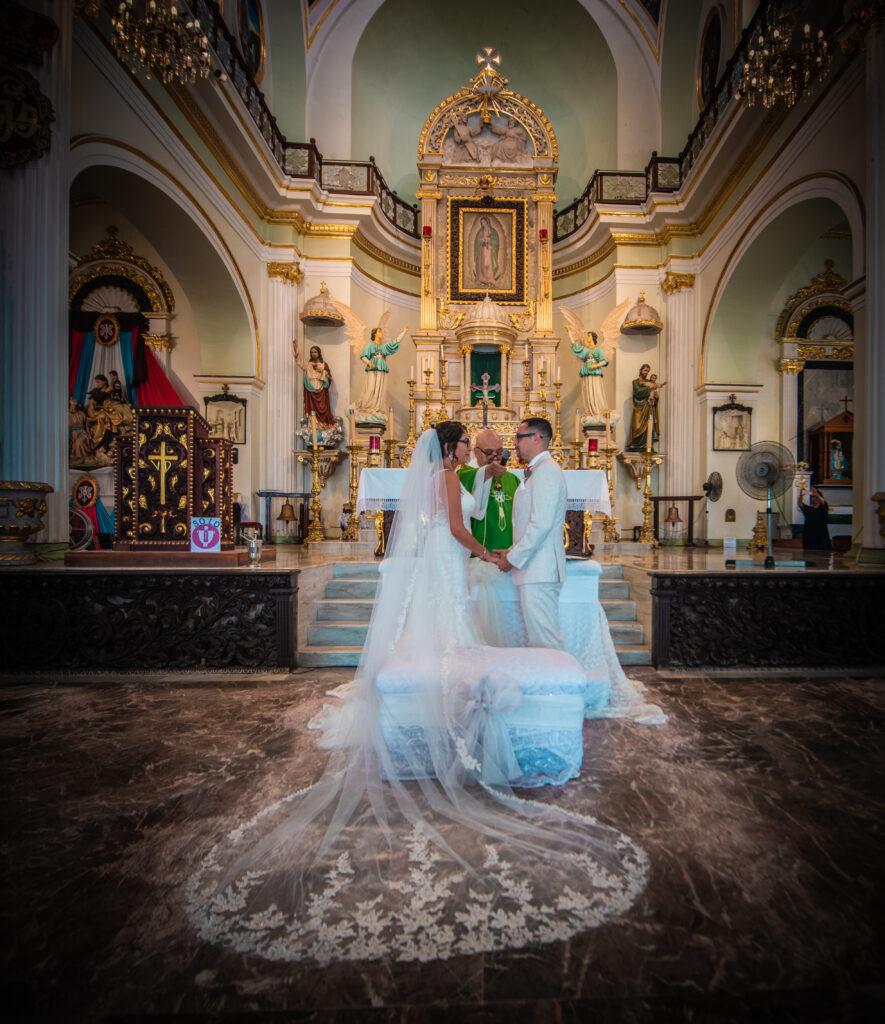 "I was fortunate to have grabbed a spot during the sample sale." She told us, "I kept skipping this one gown since I had an idea of what I wanted. When my mom kept encouraging me to at least try it on—I gave in. I tried on 3 dresses that were a style I'd normally go for but loved. When I finally tried on the dress my mom chose, I walked out and both of them had teary eyes.  I fell in love with the semi-sheer back, and the stunning train and it was a style I would have never chosen for myself…but I felt BEAUTIFUL. I knew after 4 dresses; I had found the one. Never went to any other store! Lesson learned…trust your mom and branch out of your comfort zone!"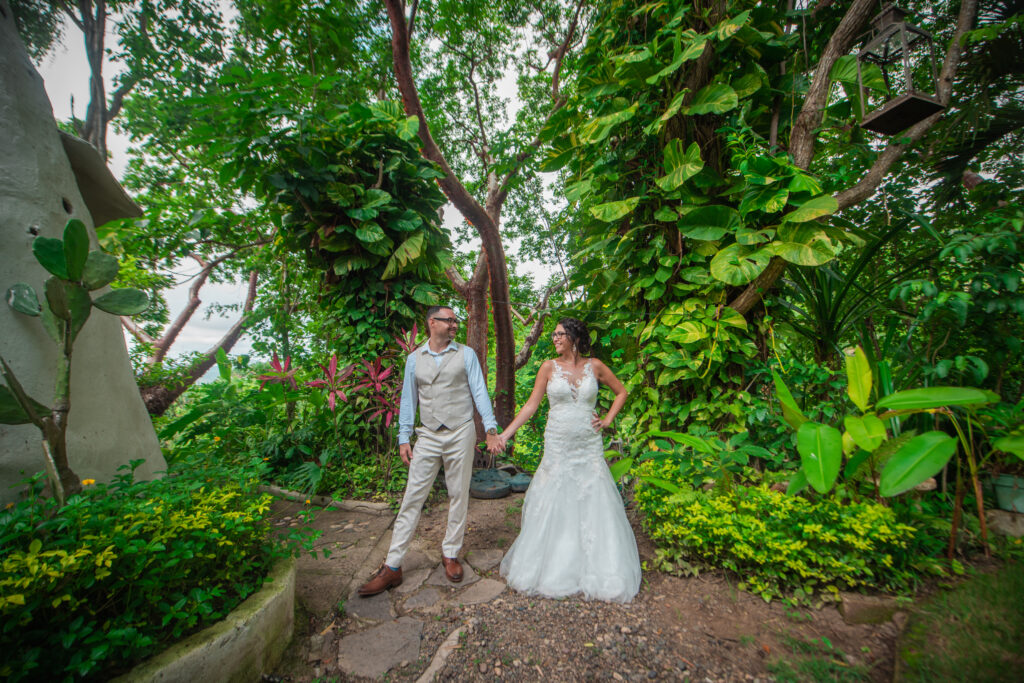 The chosen wedding dress that was out of her comfort zone was an ivory v-neck lace illusion back mermaid wedding dress with a low back. The v-neck was covered with a soft illusion, making it look as though her gown had a plunge, but it was covered. Since she found this gown as part of our sample sale, Karen was able to take that wedding dress home with her for and fantastically discounted price.  Her stylist paired the sample sale wedding gown with a cathedral veil and that was just the perfect way to end her appointment.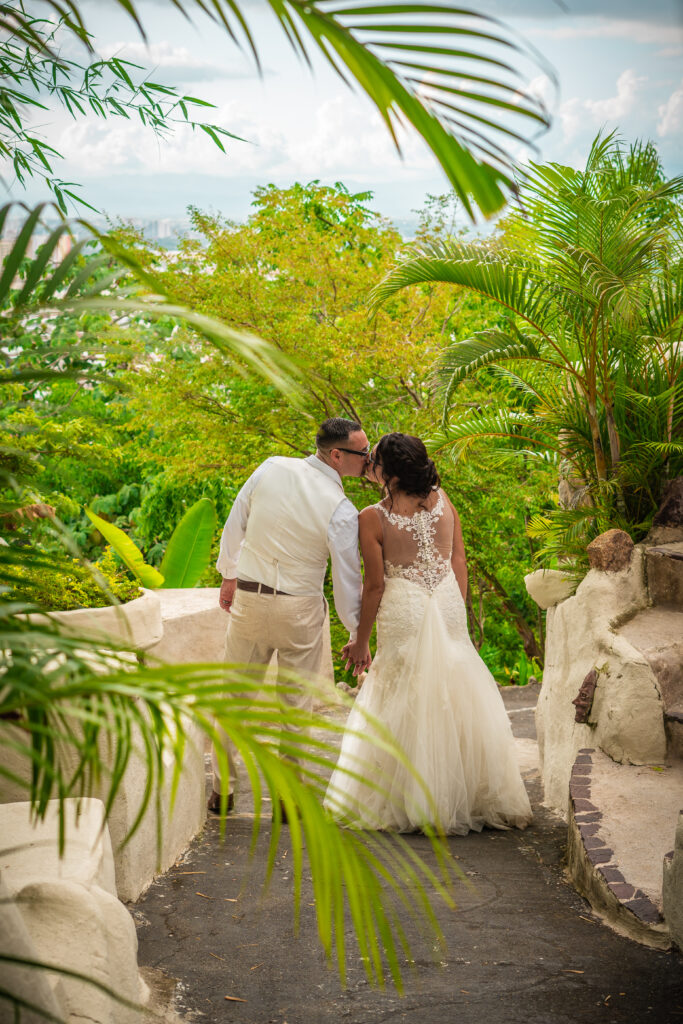 "I had Catherine at the time and my experience was wonderful." Karen said, "I felt comfortable, and she made me feel welcomed and at ease. She knew the signs of when I found the one before I even knew! I kept talking about the dress I chose, and she stopped me right there and said "let's try it on again!"—she was right. I found the perfect cathedral veil, as well! Everyone there was so kind and warm the minute I walked in—I felt that they loved their jobs and it showed in the way they interacted with me and all the other brides. It was a very supportive group of women."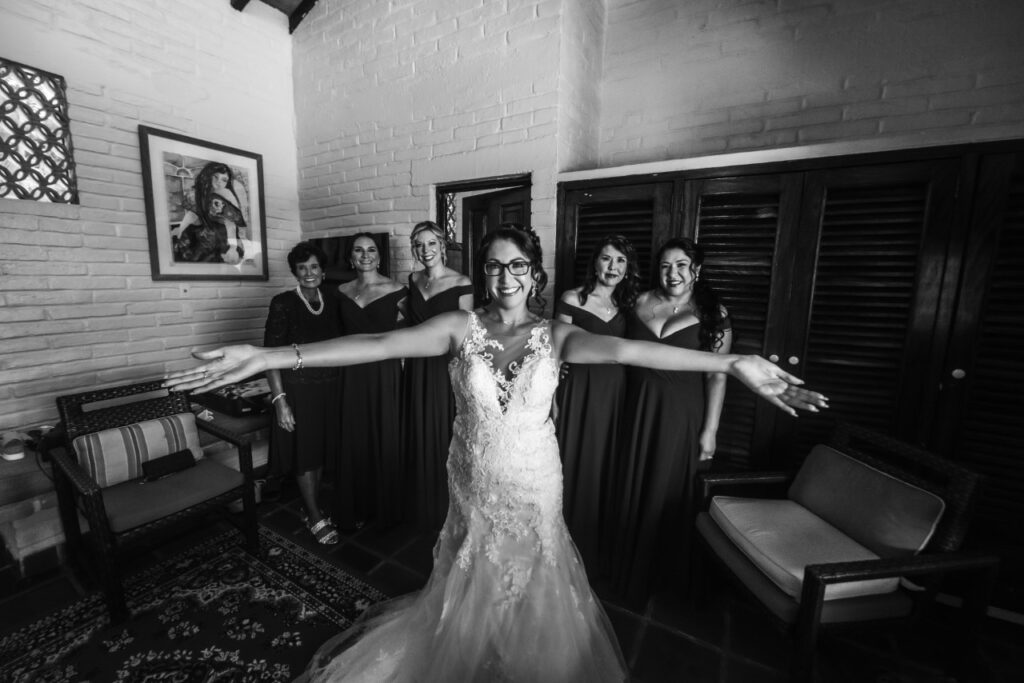 Karen and her fiancé, Ricky, were wed at the stunning The Church of Our Lady of Guadalupe in Puerto Vallarta, Mexico on July 23, 2022. "(The Church) has been around for 100 years." She wrote us, "I wanted to be married in an old-style cathedral and it was stunning! Our reception was at Terra Noble wellness center (outdoor). Since our wedding was a destination, we chose this location blindly from afar and trusted our wedding planner. The first time seeing it was the day before the wedding—it was up in the greenery of the hills and could not have been more peaceful and serene. It was amazing to be in nature! In total, we had around 70 people in attendance."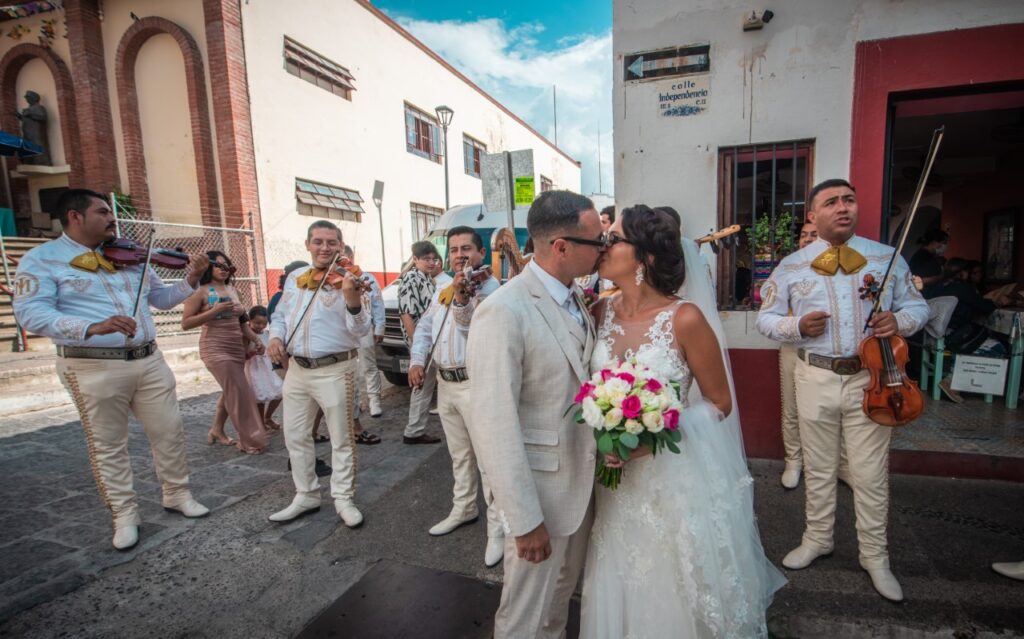 "We both simply wanted vibrant and fun!" she went on, "So, we opted to keep florals authentic to the Puerto Vallarta region for the reception, which ended up being a variation of tropical flowers. Our ceremony was classier and more romantic, with the church also giving off that vibe. We stayed with classic white and dark pink roses. Ricky and I are very easygoing and simple…and felt our wedding was exactly that! We did have wild humidity while there (apparently the hottest it's ever been in their history!), but it was also storm season. We thought we lucked out on no rain since it had been clear all week, but once dinner and speeches finished, it began to pour. Luckily, our guests embraced it and we found ourselves dancing in the rain the entire night!"
Dancing in the rain and enjoying the company of their loved ones, Karen and Ricky had a wonderful time and were even able to have a little moment of … friendly competition.
"Both Ricky and I are baseball fans, unfortunately, opposite teams and happen to be rivals." Karen said, "With him being a San Francisco Giants fan and I being a Dodgers fan, we found out they were playing each other on our wedding day. We brought our baseball hats and placed them on our couples' chairs and people got a good laugh! Unfortunately for him, my team won, and I made sure the DJ announced it!"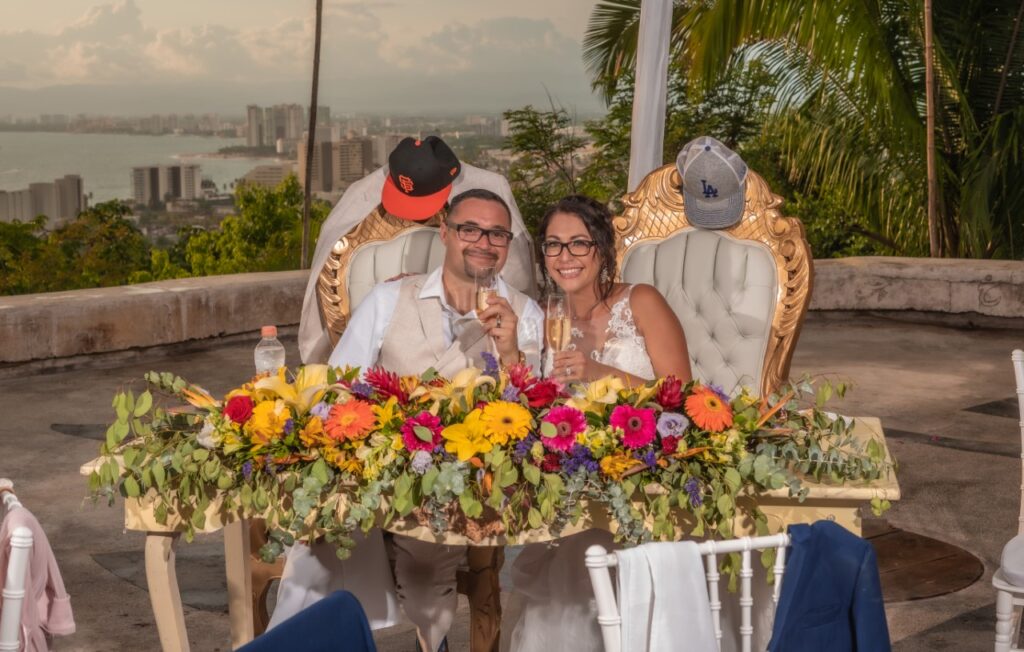 "(My bridal stylist) Catherine was amazing, but I know she has since moved on." Karen later wrote us, "Lara, my seamstress, has been a lifesaver in giving me the feel I wanted with my dress. She's so talented and adjusted everything without hesitation!! Beautiful work and so happy she works with your store!"
We are so happy to hear that Strut could make your special day all the more special with the perfect wedding dress! Congratulations, Karen and Ricky!
If you're looking for a beautiful designer wedding dress at a discount price, check out our wedding dress sample sale May 25 – 27, 2023. We'll have select in-stock bridal gowns marked $500 off when you pay in full. Book your wedding dress shopping appointment today!