Please give a radiant welcome to our colorful bride Tess, wearing a floral chiffon wedding gown. Tess is a teacher from Santa Cruz, and she made it all the way to Long Beach with her mother and cousin, who was also her Maid of Honor, to find the wedding gown of her dreams. Our bride booked a VIB appointment, so she and her party were served bubbly while on the search.
Tess tried on different wedding dress silhouettes and surprised herself with how amazing she looked and felt in our bridal gowns. Our brides bring so much magic to our wedding gowns! The very second that Maritza, our lovely Senior Stylist, put our enchanting floral chiffon wedding gown on Tess, everyone was in happy tears. It was INSTANT love, and we couldn't have picked a more unique wedding gown for such a stellar bride.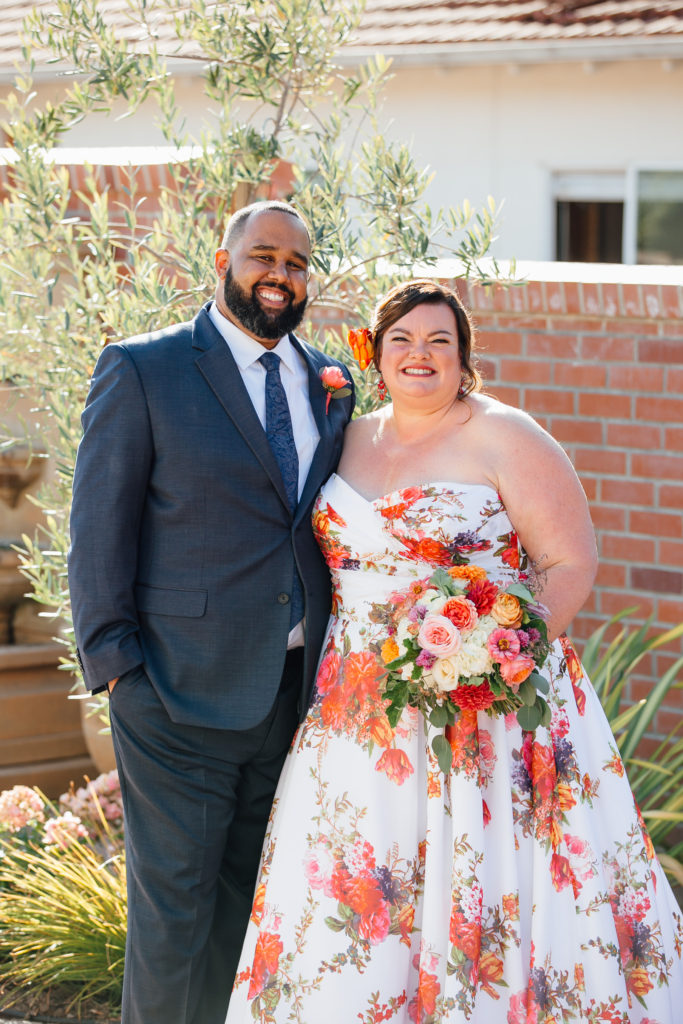 Tess' wedding gown comes from Sophia and Camilla, a boutique collection brand not found online, and is orderable in several different fabrics, with sparkle fabric, 4 different lace options, and even 10 different colors! Tess's wedding dress features a stylish ruched bodice, which sits on her natural waistline, executing her beautiful shape. The bridal gown flows magically with an elegant train. On the back of her dress, there are delicate buttons that start at the top of the gown, all the way to the end of the train. One of our favorite features of this floral chiffon wedding dress is….. THE POCKETS!! Pockets are a game-changer, and a must! Here at Strut, we LOVE when wedding dress designers offer us endless options and the ability to tailor to each bride, because every bride is unique and deserves their vision to come to life.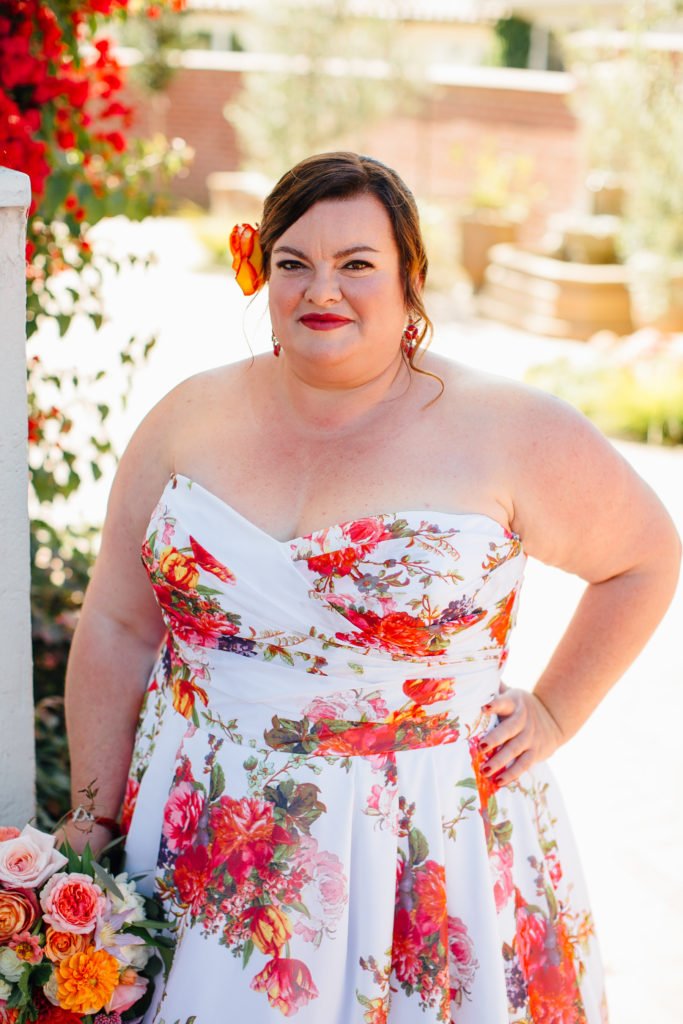 The happy couple, Tess and Dennis, tied the knot at Bargetto Winery in Soquel, California on September 29th, 2018! The special day started in the late afternoon and carried on late into the night! Tess and Dennis were shooting for a rustic Italian elegance themed wedding, and were both able to incorporate their personalities into the big day. Tess showed her vivacious spirit by fusing the vibrant colors from her gown into the florals on her wedding day. Everywhere her guests looked, they were surrounded by bright shades and stunning colors. All of the pictures from the wedding day show how much joy was shared between each soul who got the pleasure of attending this special event. Love, laughter, and celebration of a beautiful lifelong commitment between two soul mates.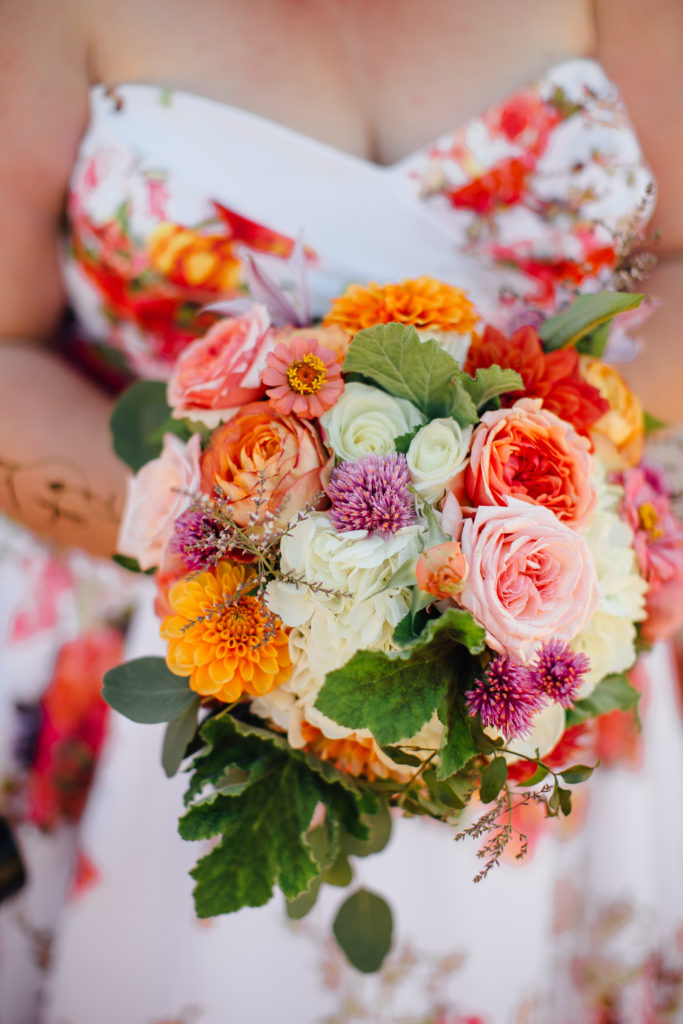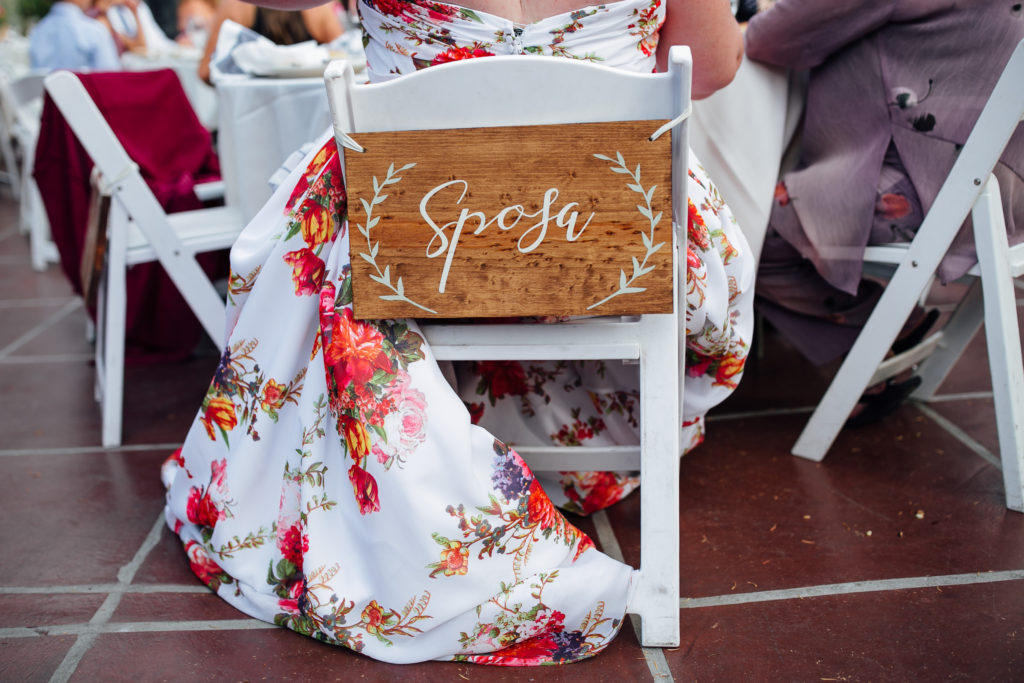 We truly want to congratulate and give our absolute best wishes to these two love birds, as they continue bringing so much joy into this world together. Tess shared, post wedding, "I loved my experience at Strut and I'm so grateful to have found the dress of my dreams there."
Tess and Dennis' wedding got featured in Offbeat Bride January 14th; be sure to go check it out!
Vendor Love:
Venue – @bargettowinery
Photographer – @katherinebreewalkerphotography
Dress – #sophiaandcamilla at @strutbridal
Makeup – Jen Paris
Hair – Jonelle Badger @seaweedhairdesign
Bride's bouquet and groom's boutonniere – @susisflowers
DJ – @soundinmotioneg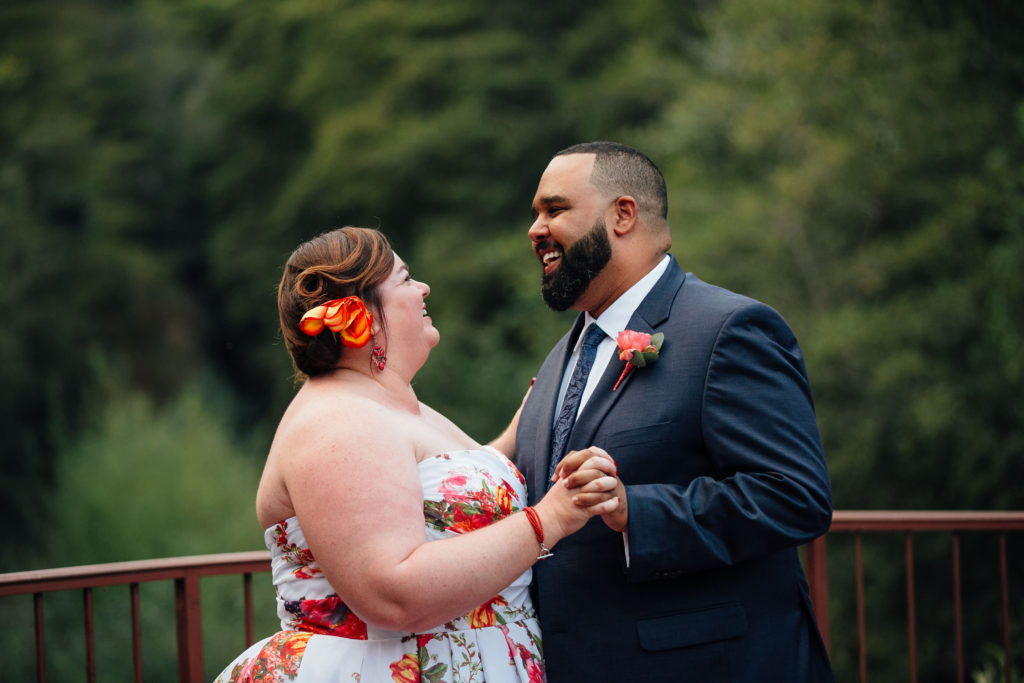 If you love Tess's beautiful floral chiffon wedding dress, it's available in this striking print in our Los Angeles area bridal store. We specialize in plus size and curvy brides sizes 12 and up. Book your visit today!