Presenting to you Mr. & Mrs. Fairfield! Our gorgeous bride Lexy and her husband Jack tied the knot under the twinkling bistro lights surrounded by the gorgeous, lush greenery of their Schnepf Farms wedding venue in Queen Creek, Arizona on December 4th, 2021.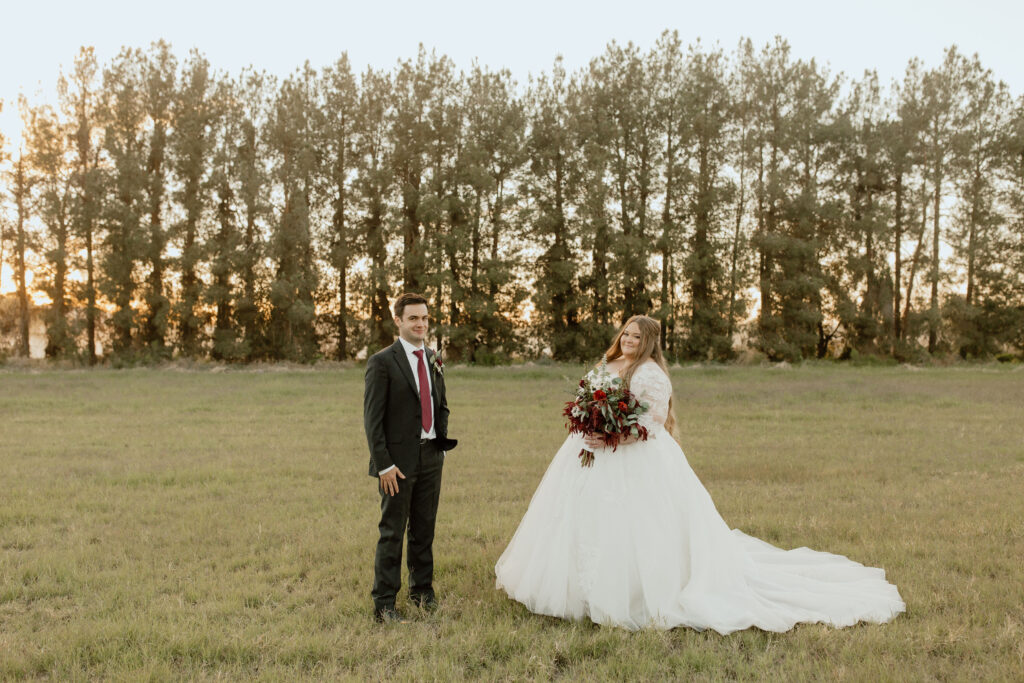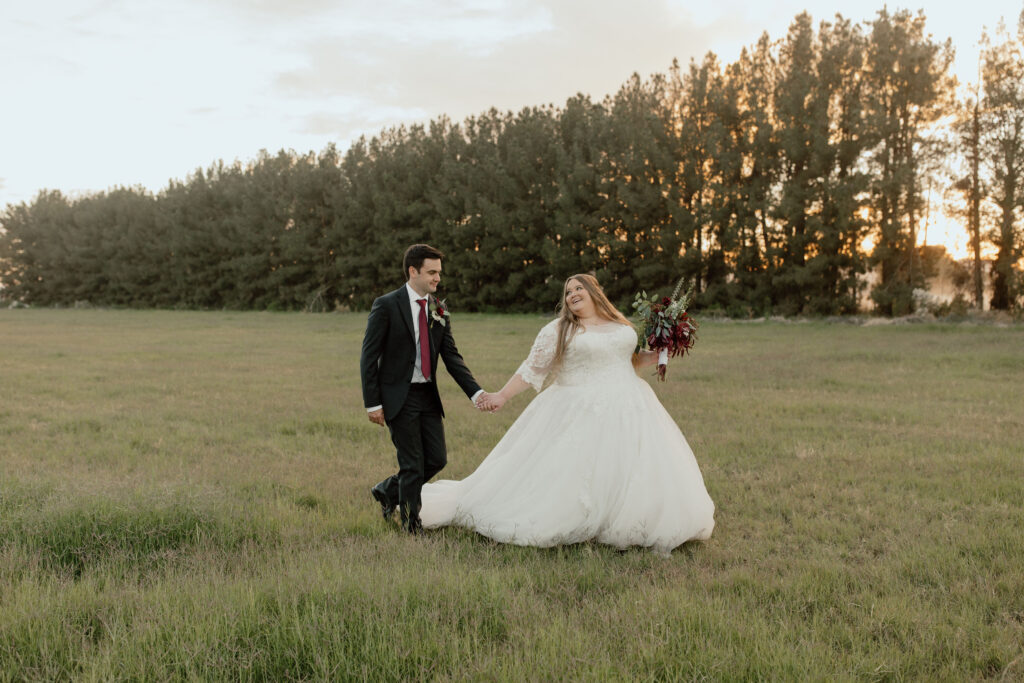 When asked about their choice of wedding venue, the couple wrote, "We wanted hints of romantic boho with light rustic touches. Our colors were burgundy, greenery and a hint of gold. Our wedding was December 4, so we wanted a wintery, but not Christmas vibe."  Well, Lexy and Eric, we think you achieved just that! Every detail of your wedding gave us all the winter feels!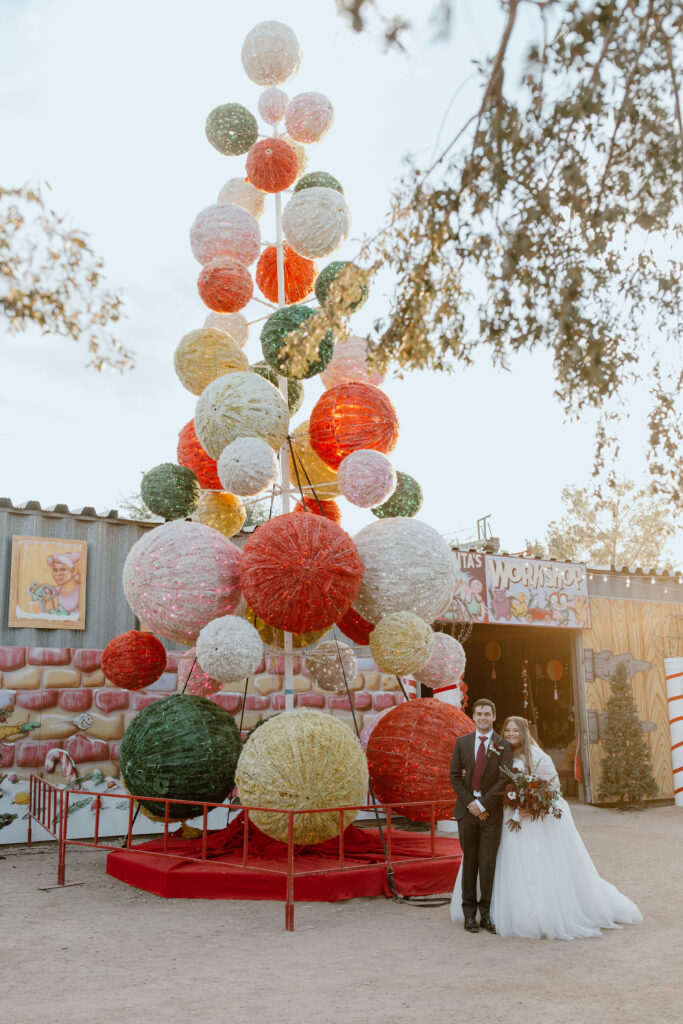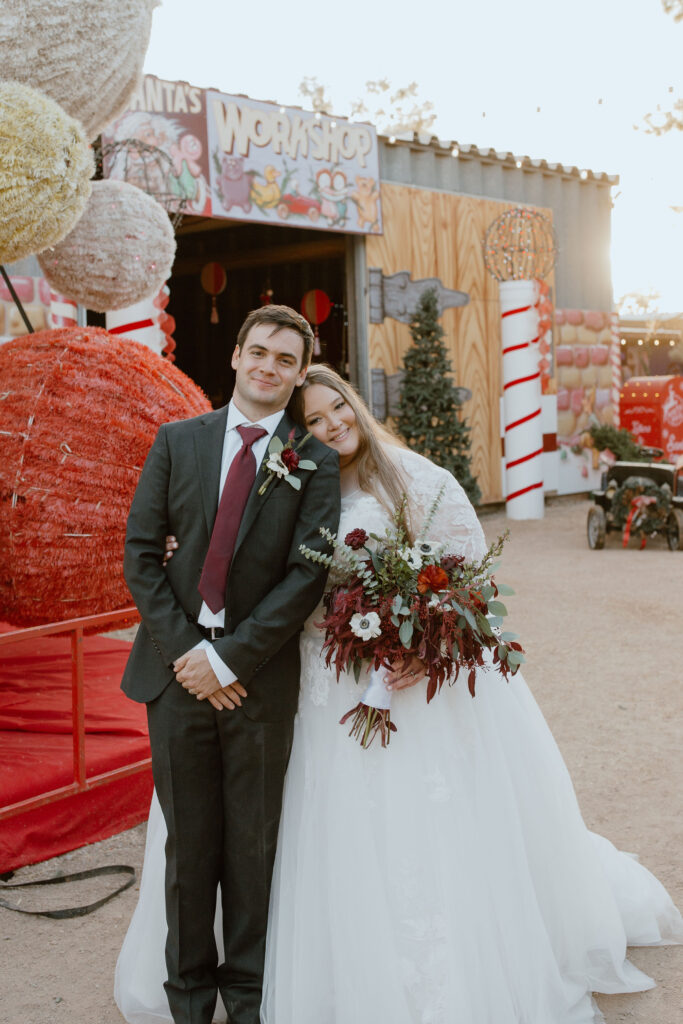 We asked Lexy to share some of her favorite moments of their big day with us. She wrote, "Put simply, our wedding was the most magical day of our lives. I thought I'd feel stressed or nervous, but those feelings were nowhere in sight on the big day. I felt this sense of calm (and excitement) that was just overwhelming. I had the love of my life by my side, we got married, and everything else was just a bonus. Some highlights of our day included seeing the work of all our amazing local vendors, our personalized ceremony performed by Jack's uncle, a sparkler first dance, and more."  Here are some of the unique touches they had on their wedding day: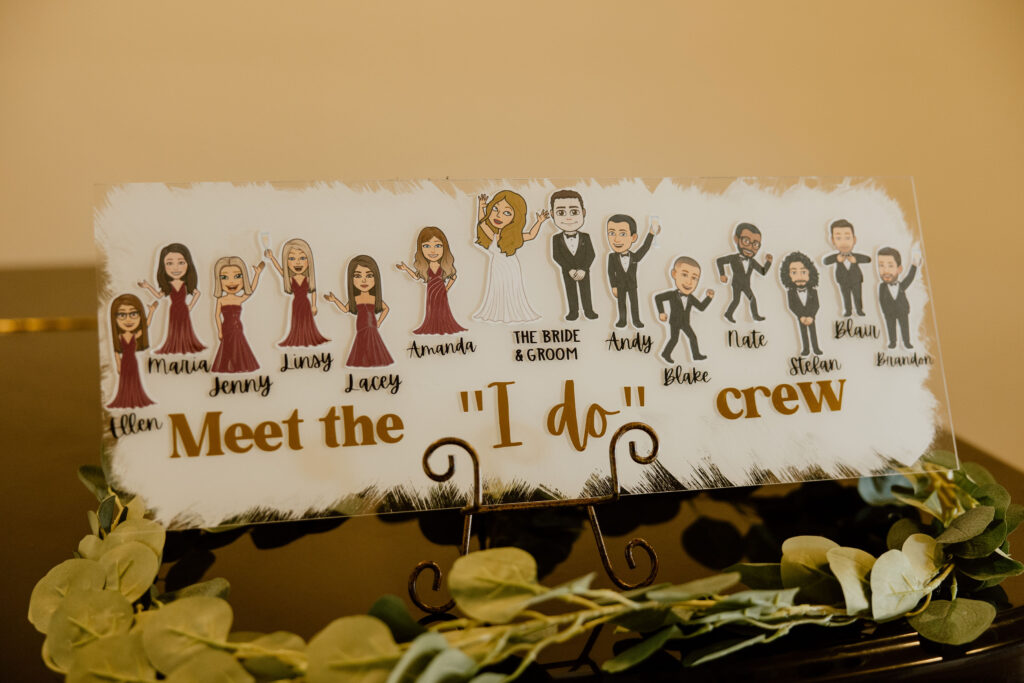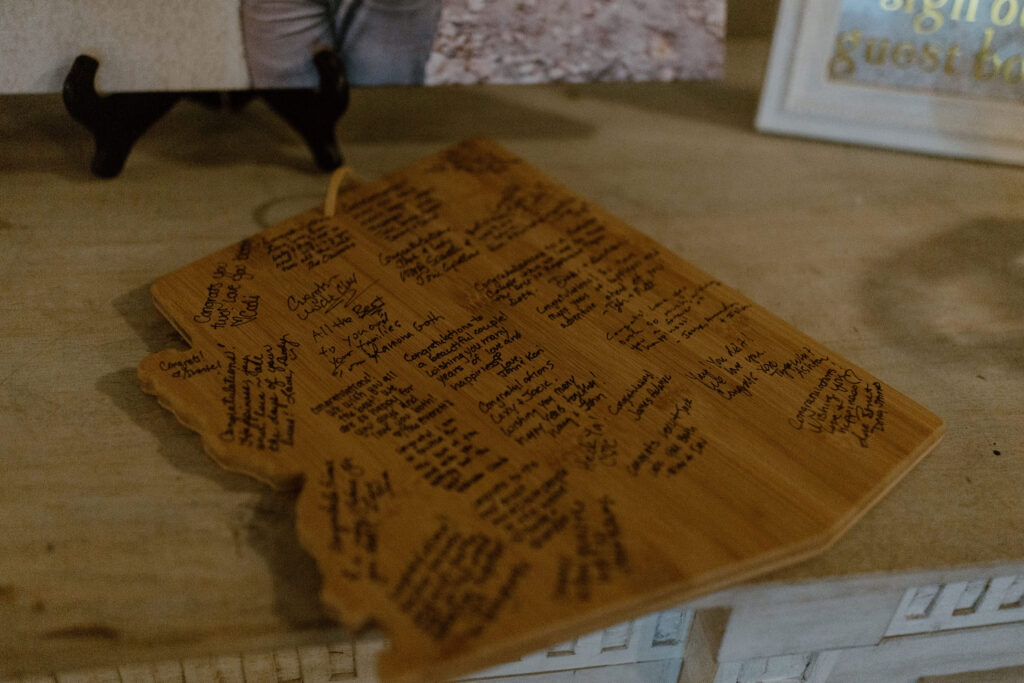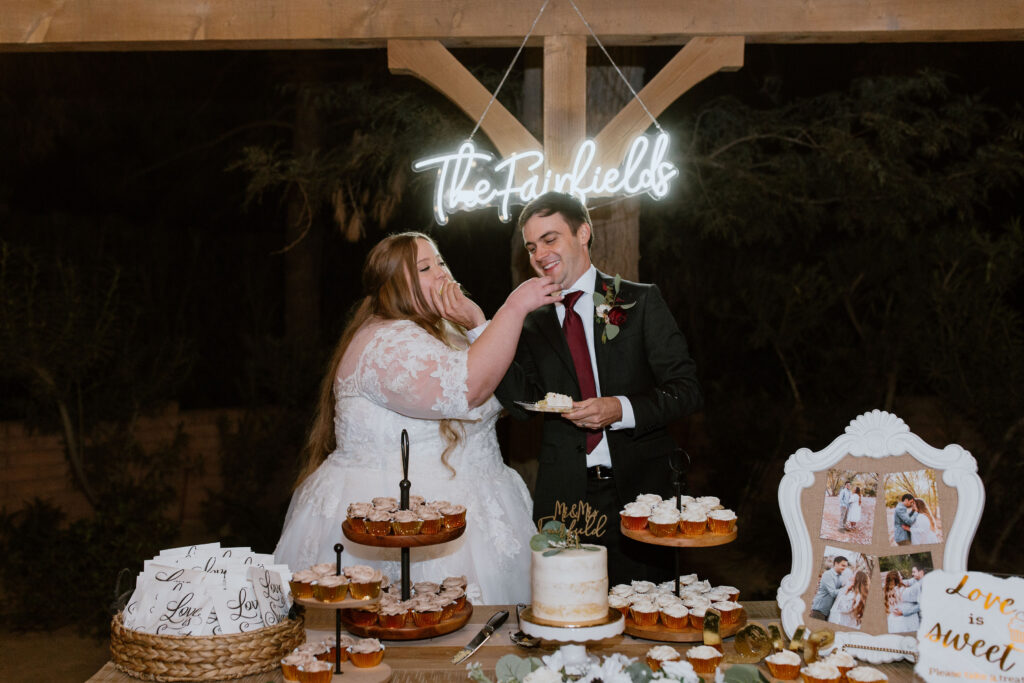 "The funniest part of the day was when we arrived at the venue. We were driven separately, however we didn't coordinate times and showed up at the exact same time. I had to run into the venue like a spy to avoid him seeing me before the first look. This was worth it because his reaction during our first look was EVERYTHING."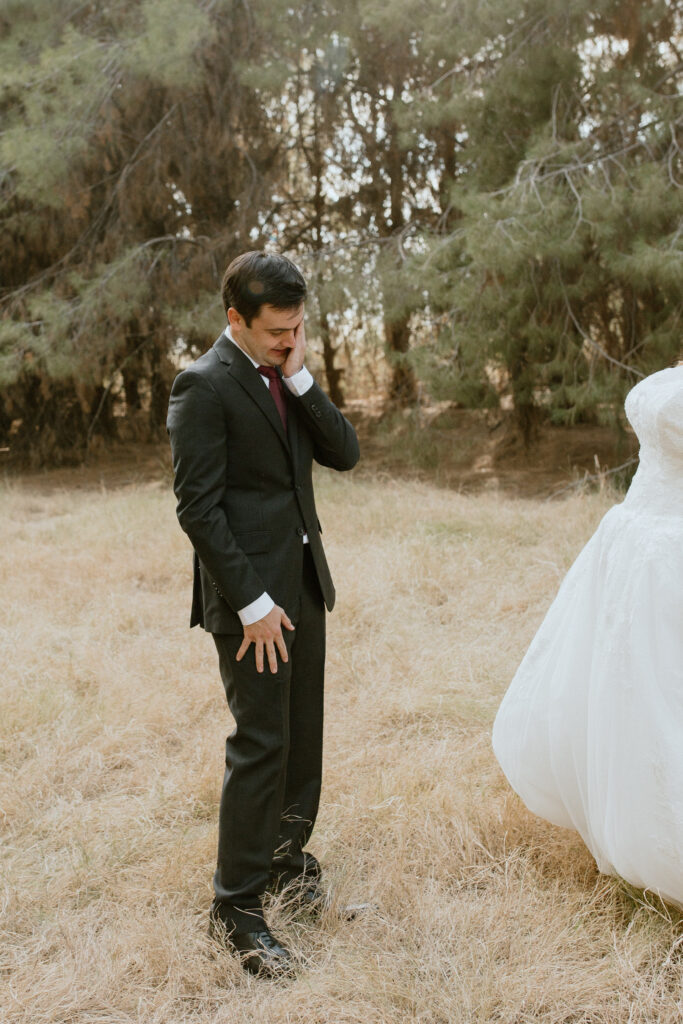 We love reading responses like this, because it is so fun to read all about the special little moments that happened behind the scenes of the "Picture-Perfect Wedding Day".  Moments like these are what make wedding day even more memorable for our couples! Plus, the added laughs we get from reading these stories are an added bonus, too!  
Lexy shopped our former Tempe, Arizona bridal store in November of 2020 with her mom and our senior bridal stylist Ronnie!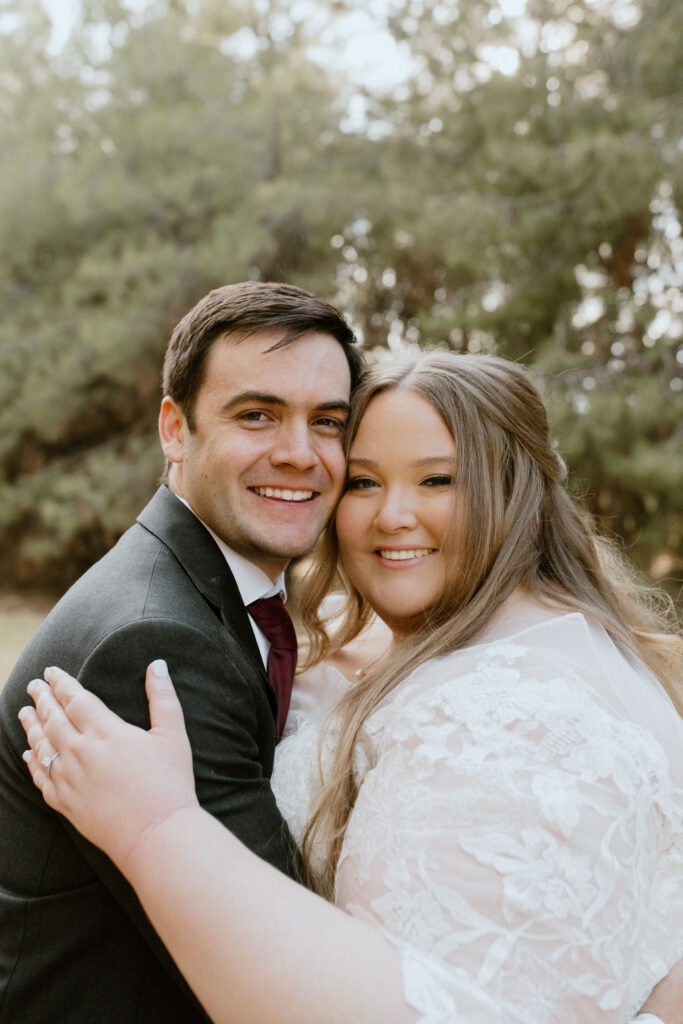 When asked about her gown shopping experience, she wrote to us, "I was SO nervous to go dress shopping because as a plus-sized baddie, I don't have great memories of trying on clothes at a shop. In fact, when I got engaged, I swear I was going to use an online retailer so I wouldn't have the experience of going to a store and not feeling like a bride. I found Strut Bridal online and I made an appointment, but I struggled to feel confident even up to the car ride to the store."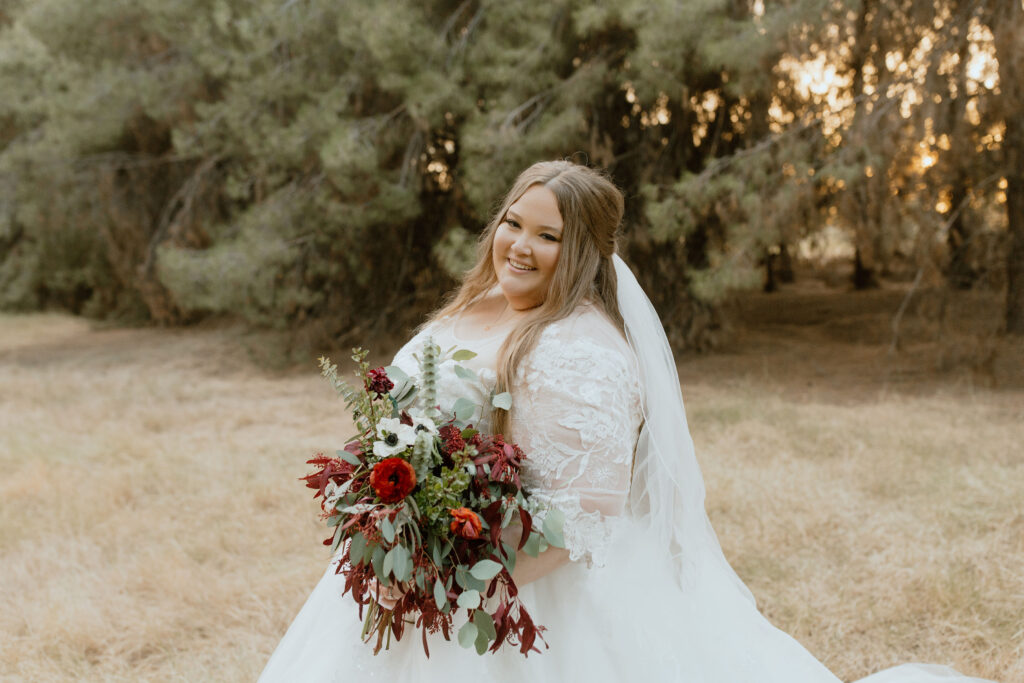 "When I got to Strut, I nervously walked in, making nervous jokes, but TOTALLY FREAKING OUT. I met Ronnie, who congratulated me right away and started talking dress styles with me. I instantly felt not like a plus-sized bride, but just a bride shopping for her wedding dress! I still remember right before I started trying on dresses, Ronnie asked me my typical dress size, I told her, and she said, 'Oh girl, I've got you!' And she did."  
This response from Lexy really pulled at our heart strings! Here at Strut Bridal Salon, we strive to create a comfortable, fun, stress free bridal gown shopping experience for every bride that walks through our doors, no matter their shape or size! We were elated for Lexy when she said yes to the dress that day!
Lexy's lace ballgown featured intricate, lace detailed sleeves, an illusion style sweetheart neckline, and an amazing train with buttons all down the back! One thing we absolutely loved about Lexy's wedding gown is that the gown originally had full length sleeves! During the alterations process, Lexy worked with our seamstress to shorten them and create these sweet three-quarter length sleeves instead! She definitely added her own Lexy touch to this dress, and we are obsessed with how they turned out!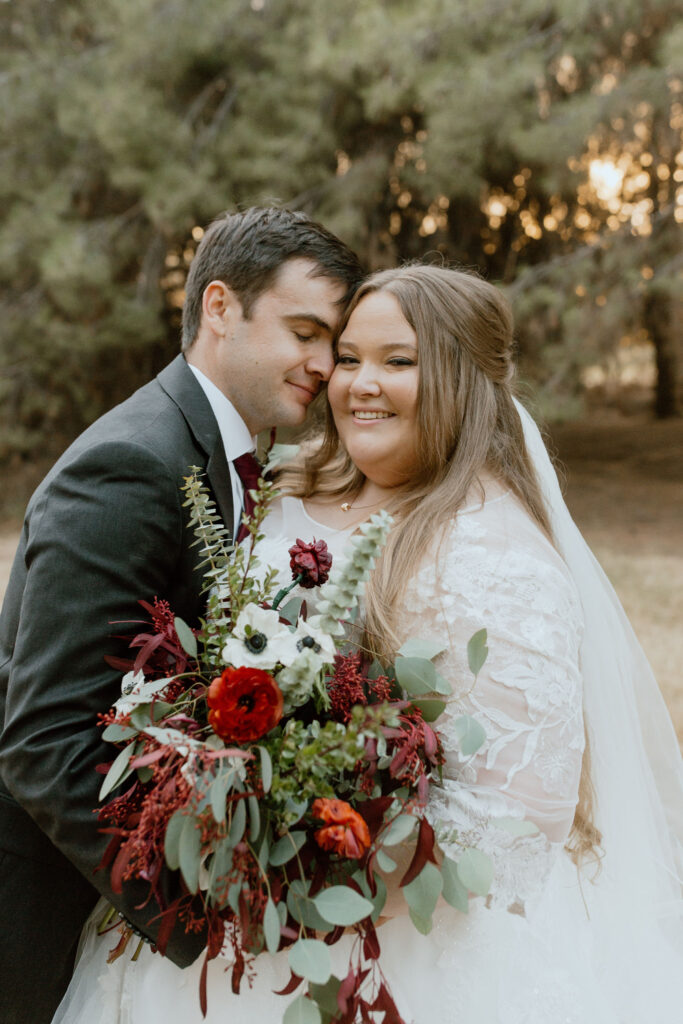 Lexy wrote us the most heartfelt response when writing about her overall experience shopping with Strut Bridal Salon. She wrote to us, "I'm so grateful for my shopping experience at Strut. I would highly recommend any bride consider shopping there for their wedding dress. It's comfortable, efficient, and SO FUN.  I just felt like I was hanging out with my instant besties, who hyped me up for my wedding! I felt respected and looked at like the bride I was, no matter what size body I live in. I worked with some amazing people at Strut,  
-Ronnie helped me find my dress. She helped me try on dresses and talk through what I liked about each one. She was so patient and kind.
-Brooke was the ultimate hype woman every time I was in the store!!
-Sema'j helped me at my first fitting appointment. He was so supportive and helped me decide I wanted a veil even though I thought I didn't before!
-Kaylei helped me at my last fitting appointment. She helped me get all that fabric situated so my dress sat right. She didn't hesitate to jump in and help!"  
Lexy, Thank you so much for your endless sweet words about our Chandler, Arizona Bridal Boutique and staff! Even more thank you and your amazing husband Jack for sharing your special day and memorable moments with us. We are so excited to be able to call you a Strut Bride Forever!!  
Vendors:
Dress: @strutbridal
Coordination: @sage.stoneweddings
Floral: @belovedflowerco
Venue: @weddingsatschnepffarms
Cake: @honeybeecakeco
DJ: @engage.ent
Hair and makeup: @bethsbeautybaraz
Suit: @menswarehouse
Photo: @dreyjohnsonphoto
Video: @rileyhicksvideo
Photo booth: @modernwestphoto 
Congrats to the newlyweds – we couldn't be happier for you!!
If you're looking for a plus size wedding dress, Strut has the area's largest selection of plus size bridal gowns to size 38 in store to try on. Book your visit today!