Amanda's journey from a fiancé to Strut bride was one that just continued to get better and better. A bride already full of energy from the moment she walked in the door of our Los Angeles, California-area bridal shop, Amanda was 100% ready to say yes to a Strut dress and be a bride! She ultimately fell in love with a Bridgerton inspired rose gold and ivory ballgown!
"OMG! So, my fiancé proposed to me at the end of April 2022, and I already had a trip planned to visit my family two weeks later in SoCal." She told us, "I knew immediately that I had to see if Strut Bridal [in Long Beach] had any appointments available and if my bride tribe could join. The stars aligned, and I could squeeze in a dress fitting on my trip. I love the customer service of Strut Bridal, but we should call it a customer experience. I spoke with Kellee before I met her in person, and we instantly connected. We laughed so much before meeting each other, which made the experience all the sweeter. She pulled all the dresses sent to her via email and pulled some others she thought I would like (and she wasn't wrong)."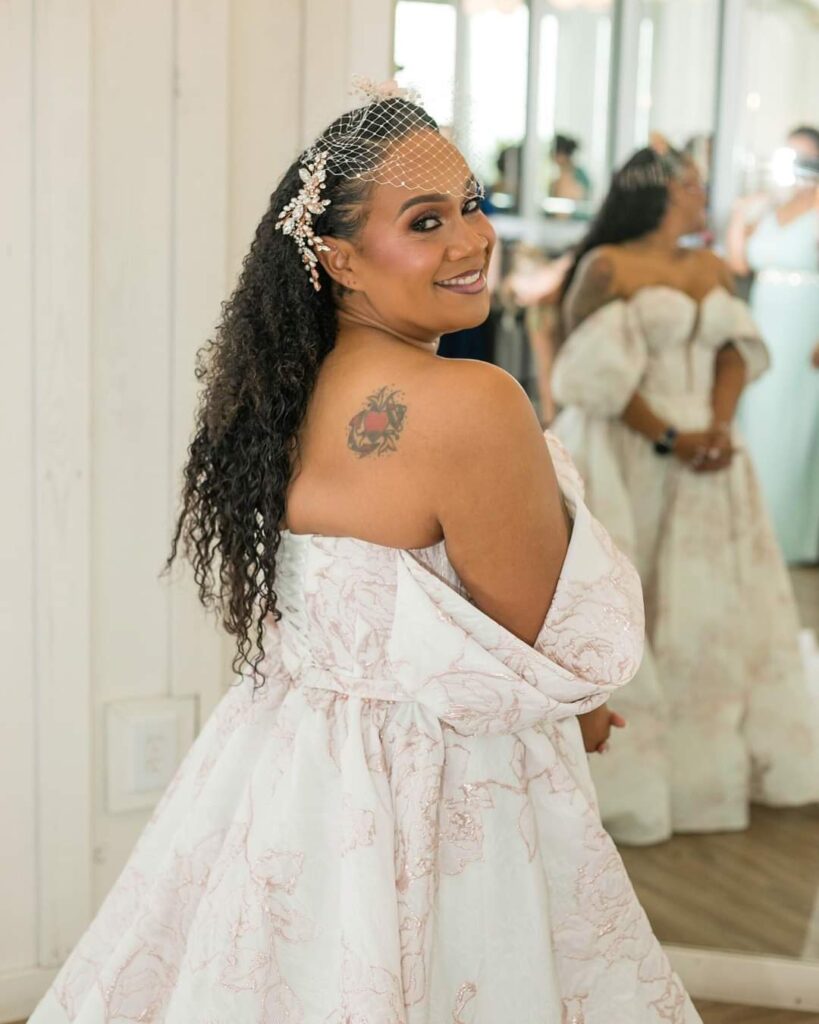 "Fast forward to the day of the fitting, and WOW! I believe I had the last appointment on a Sunday, and they had my name written on the board: "Welcome, Amanda." We had champagne, snacks, and pretty much the whole shop to ourselves. Kellee was Team Bride, not that we had any negative folks to worry about in my bridal tribe, but she made it clear that I made the decisions and not anyone else."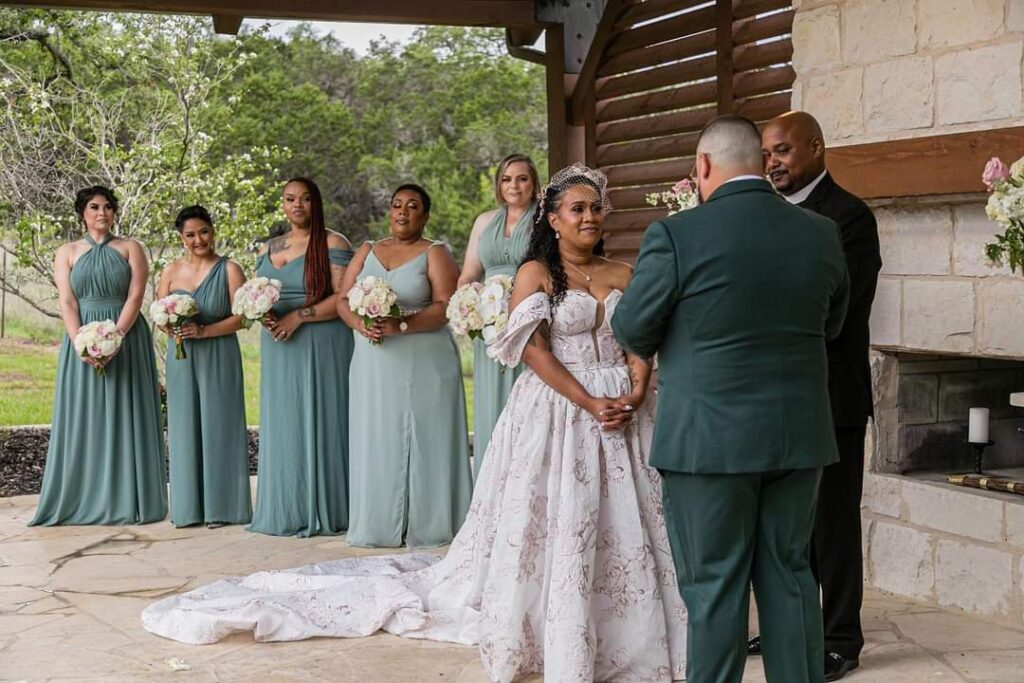 "Each dress was beautiful even though it wasn't the dress for me, but the best part was that each dress fit. I didn't have to imagine what it would look like in my size. I wasn't strapped or pinned in awkwardly. As a plus-size bride (size 14), I had heard of brides being embarrassed at Bridal stores, and I was lucky to be empowered by Kellee and Crystal!"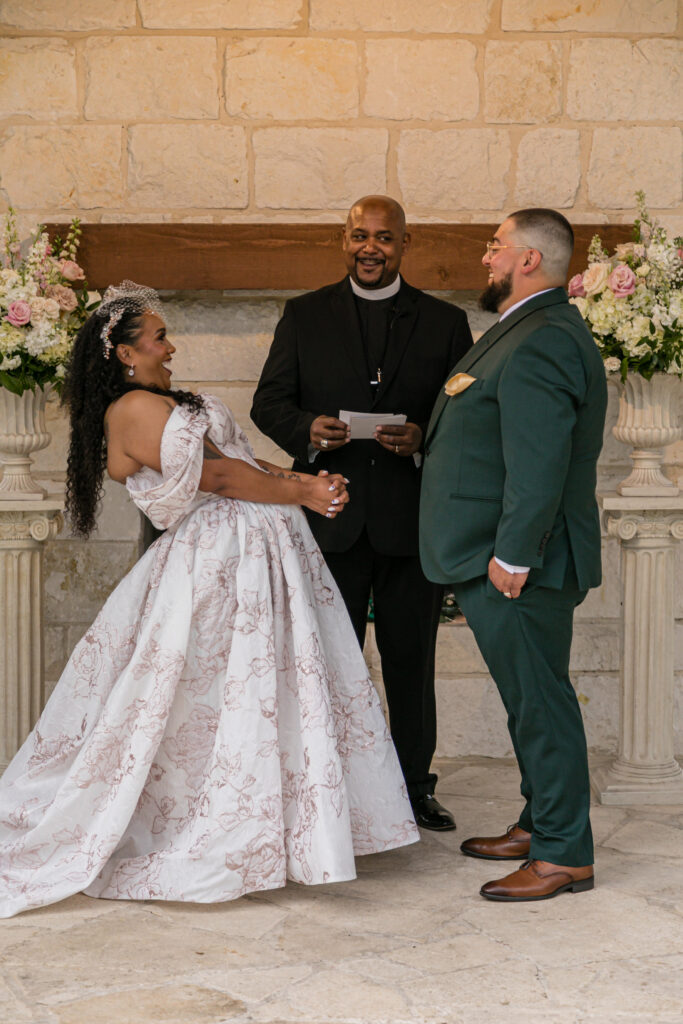 Amanda and her entire team were so excited to be at Strut Bridal Salon in Long Beach, California. From the VIB (Very Important Bride) champagne wedding dress shopping experience with champagne and snacks to the overall laughs and joys of seeing their friend in various bridal gowns, Amanda's team was all about the 90 minutes they were in our bridal shop.
After trying on just a few wedding gowns, Amanda found THE ONE.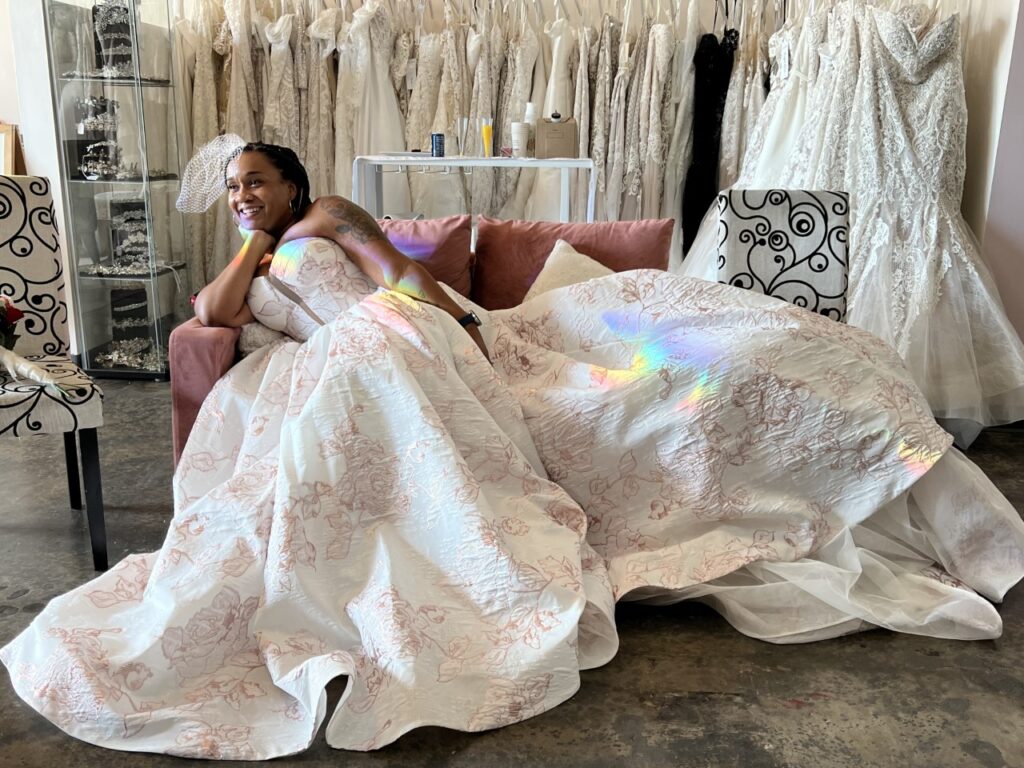 "My dress!" Amanda gushed, "My niece actually found the dress on Instagram, and I was not too fond of it. There was nothing about the dress that I liked. I literally had Kellee pull the dress because my niece asked me to try it on. I was fully prepared to try the dress, take a selfie, and send it to my niece (who couldn't make the flight to Cali). When Kellee put me in the dress (I was turned away from the mirror), she said, "This is the dress." And sure enough, I turned around and did a happy dance."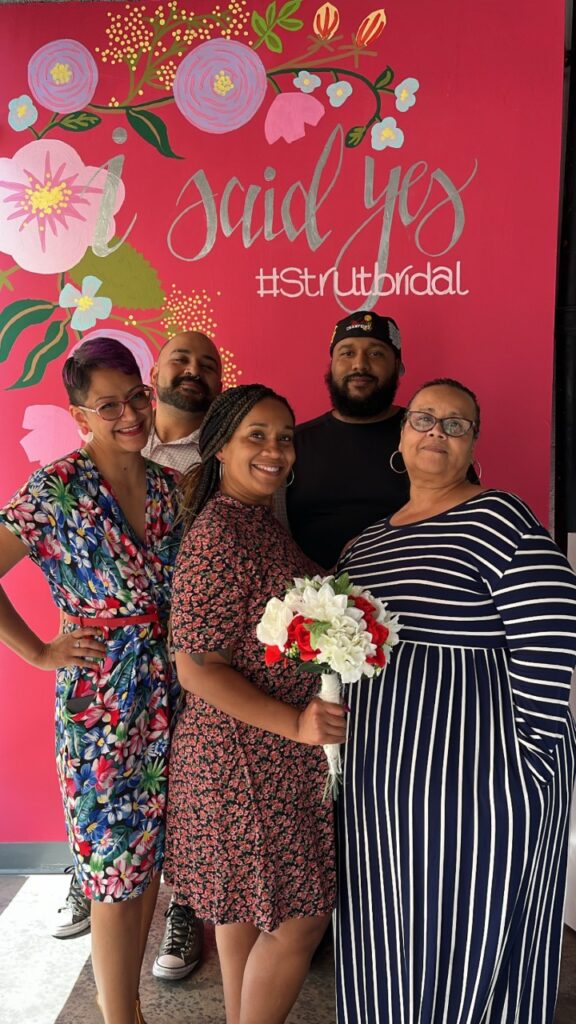 Amanda's wedding dress was a unique ivory ballgown with rose gold detailing throughout the bodice and skirt; the detail looked as if it was almost painted on, rather than a more "traditional" applique on the material. The gown featured a satin ribbon corset and puff, off-the-shoulder sleeves, which Amanda decided to make detachable during alterations.
"This dress looked amazing on me." Amanda went on, "The rose gold complimented my skin tone, and the corset bodice snatched me in all the right places. The material was light and all-around gorgeous. Kellee was right. This was my dress. And I've gotten nothing but compliments. It's a unique but still bridal dress, and I'm a unique woman, so it's the perfect dress for me."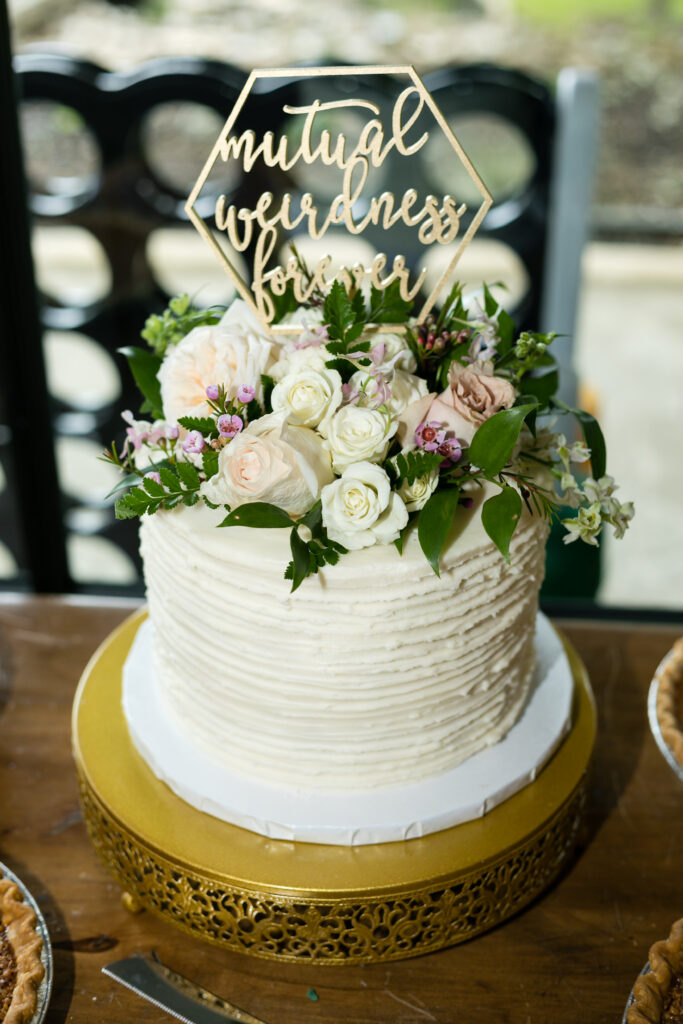 On March 30, 2023, Amanda and her fiancé Pete tied the knot at Legacy Hall at the Milestone in New Braunfels, Texas. The wedding ceremony was held outdoors while their reception took place indoors, where the happy couple and 120 of their closest friends and family partied the night away.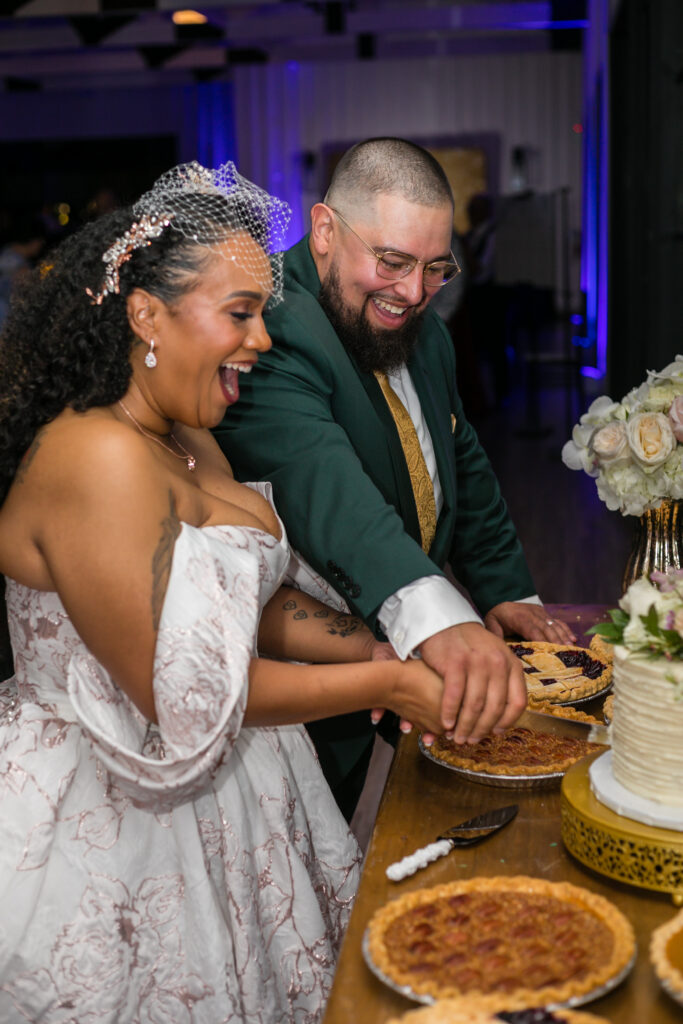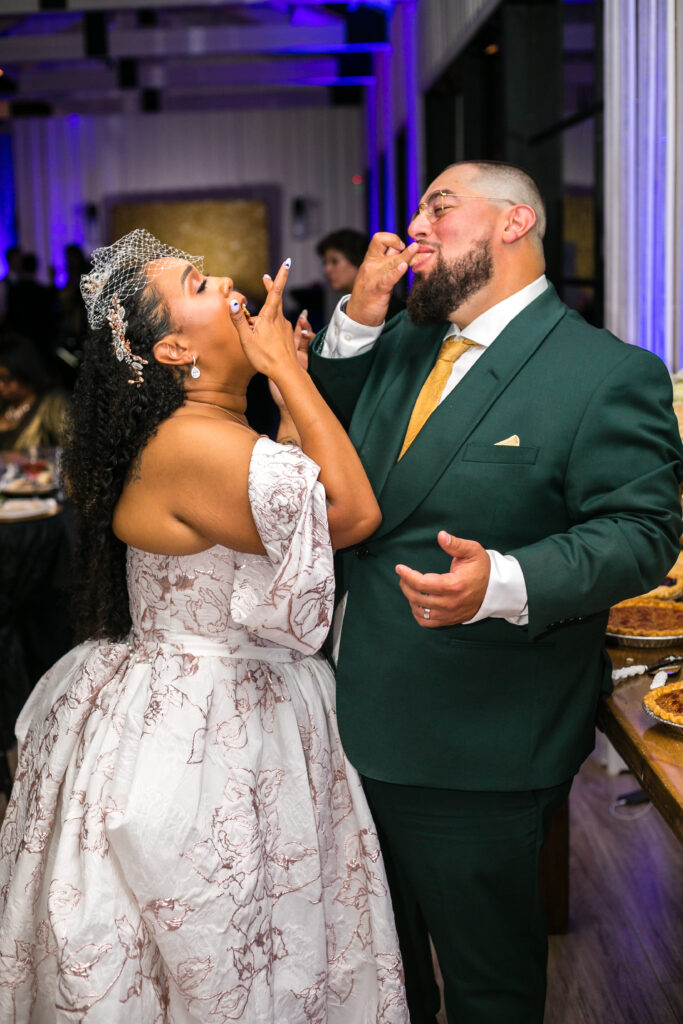 "I had a Bridgeton theme, but it was subtle." Amanda explained, "Our welcome sign, seating chart, table signs, and flower arrangements were Bridgeton-themed, and my wedding dress. We also played the Bridgeton playlist, a.k.a instrumental pop songs, while guests waited for the ceremony."
"There were so many moments that I loved." She went on "The first was walking down the aisle. I walked down the aisle and saw my brother crying. They were happy tears, of course. But that was the vibe of the wedding. Not only was everyone there to celebrate our love, but they felt and saw the love we had for each other. Our vows were genuine and funny. We laughed, and we were just weird together. Pete and I jumped the broom and danced back down the aisle to "Whoomp, There It Is" We danced our first dance to Allen Stone's "Consider Me" as a couple. Afterward, we stayed on that dance floor! What couple can say they could dance all night at their wedding? We can! And we ate our food too, lol."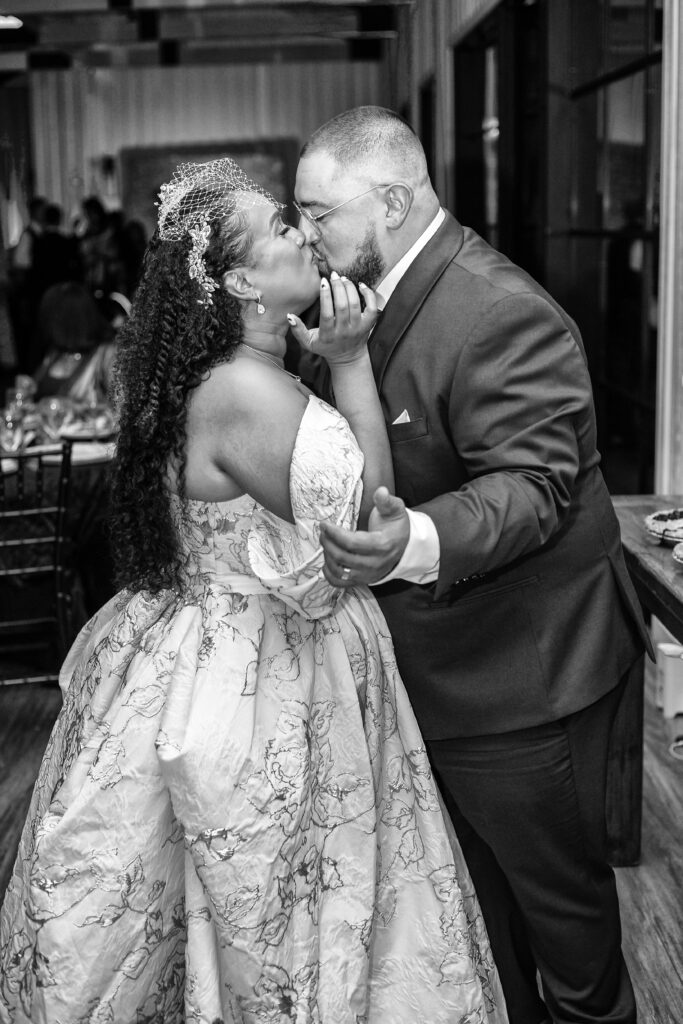 "[The most fun part of the day was a few things] cutting the cake, dancing to the Wobble, and almost forgetting to sign our marriage license, lol. Also, I made my dress sleeves detachable and totally forgot to detach them during my wedding. Hahaha, too funny." She went on "We also had private moments during our wedding. We cut our cake by ourselves while our guests were dancing. We had no idea how to wrap our arms, and our photographer had to help us. It was so funny, but we got to share that moment with just the two of us. We also did our final dance in private while our guests lined up for our "grand exit." We will cherish those moments forever."
After the wedding and an exchange of friendly emails with her bridal stylist, Kellee, Amanda shared all of her photos and still couldn't stop raving about her wedding gown and her experience at Strut.
"The only way [Strut] can improve is if you had a location in Texas, lol." She wrote to us, "But seriously, there is nothing you can improve on. I loved my experience from start to finish, including alterations. My advice [to other brides] would be to try on everything you want, including a dress you don't like on another model because you never know how it will look on you. Don't shy away from color. I would never have imagined I would pick the wedding dress that I did, and let me tell you, I love my dress. Feel it. If you don't feel comfortable in the dress, take it off and put on another. You'll be able to feel it when it's your dress. Some brides cry. I did a happy dance."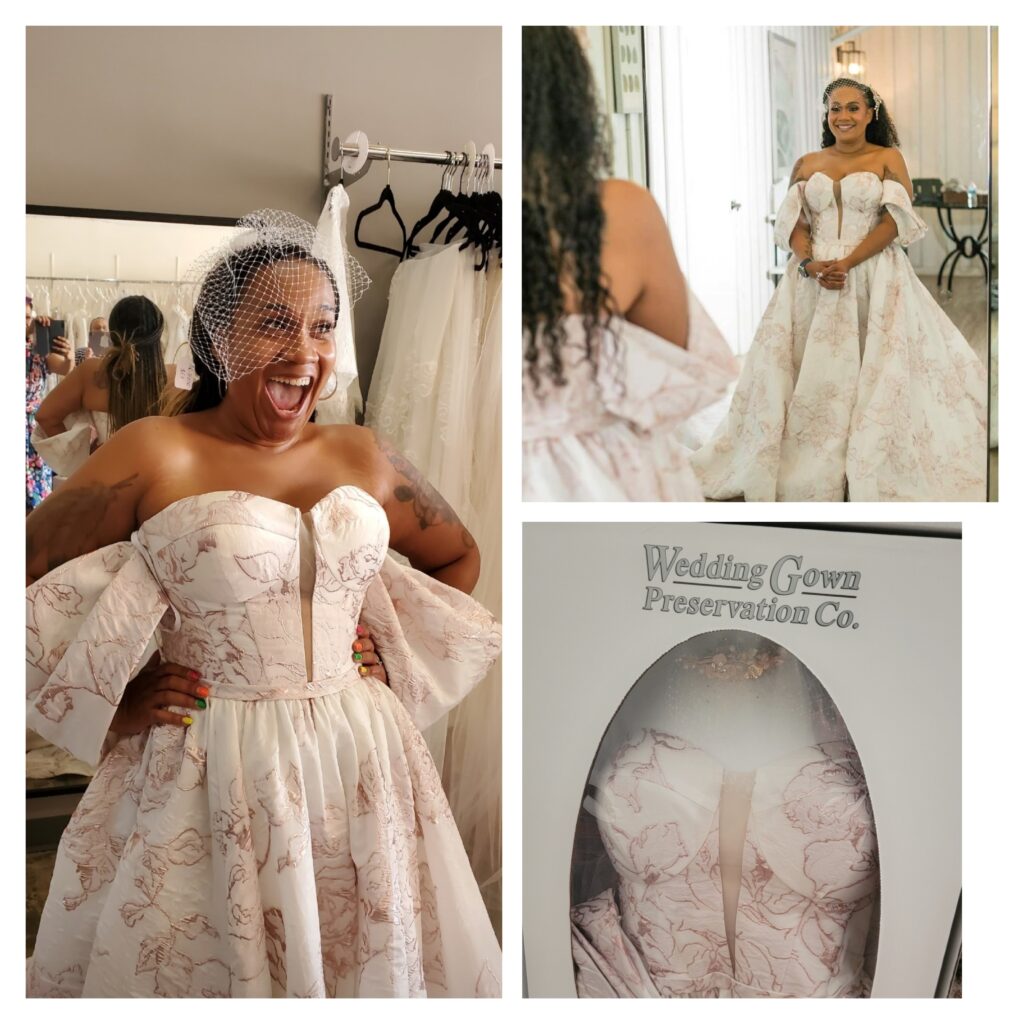 "Shout out to Kellee and Crystal (sorry if I spelled your name Crystal!). Crystal was always there with us. She is funny and supportive (the best hype woman ever!), and she got approval for me to buy jewelry before you sold it in your stores. Kelle, you already know how I feel about you—my Slytherin fairy godmother. There should be more people like you in the world 😊"
Congratulations Amanda and thank you for being such an amazing Strut Bride! She's the first to be featured in this Bridgerton inspired rose gold and ivory ballgown wedding dress. If you're looking for a unique, floral wedding dress, book your wedding dress shopping appointment today!