Before booking an appointment and entering our Long Beach, California bridal shop, Mariah was understandably nervous about shopping for her wedding gown. "I honestly thought my dress experience would be a nightmare." She told us, "I am a full-figured woman and I love everything about me and my body, so I was ready to show it off for my wedding. After getting so many ads from so many places with none of the models fitting my figure, I finally came across Strut Bridal on IG. I went through some posts until… I was in love with what ended up being the one."
Mariah's wedding gown was a stunning off-the-shoulder Aline featuring lace appliques throughout the bodice and skirt. To make it go just that extra special mile, and with the help of her bridal stylist, Kellee, Mariah used one of our sparkle tulle overskirts to add a layer of shine, so she ended up with an aline with glitter overskirt.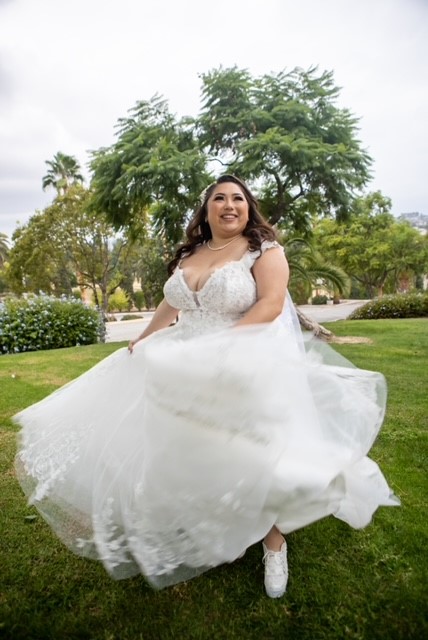 "[Kellee and I] vibed immediately!" Mariah said, "When I tried on THE ONE I wasn't sold because the other dresses were so sparkly and this one wasn't. Kellee quickly suggested adding a glitter tulle and boom I was sold!"
With her glitter tulle and showing off everything she loved, Mariah and her gorgeous aline with glitter overskirt were ready to walk down the aisle.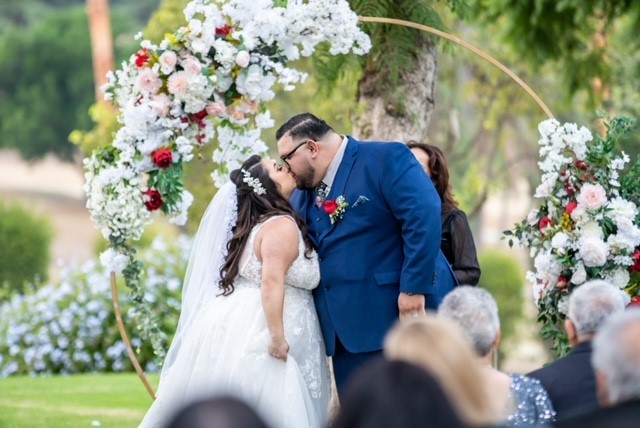 On October 22nd, 2022, Mariah and her fiancé Jorge said 'I do' at Quiet Cannon in Montebello, CA. Their outdoor ceremony was bright with all the lush and natural greenery. The happy couple were wed under a circle arch adorned with white and shades of red flowers, perfectly highlighting the deep wine red bridesmaids' gowns and the groom's bright blue suit.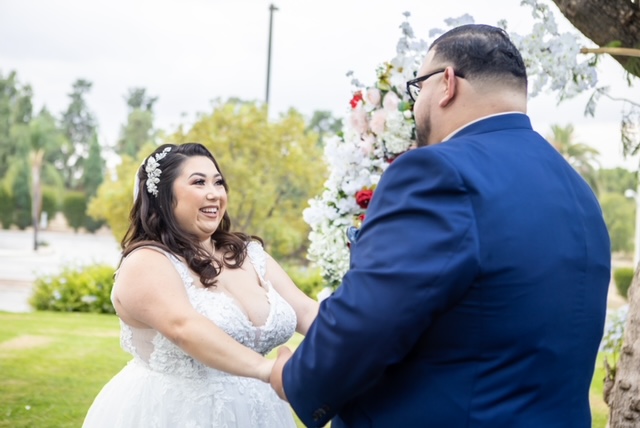 "Our ceremony was outside and the reception inside." She said of her special day, "My biggest vision for our wedding was the feeling of family. I got to give my mother's ring to my mother-in-law and my husband gave a Raider jersey to my father. The memorial table had both our grandparents and my mom at their weddings. All my guests tell me is that you could definitely feel the love and devotion we have for our families."
"For the garter toss we decided to put the garter on a football that said 'Great catch you're next.' During the garter "toss" or hike…well there were too many balls on the field and his got injured. Right after he knocked over a vase that was on the floor and all we could do was laugh. I would not say we are the most graceful couple."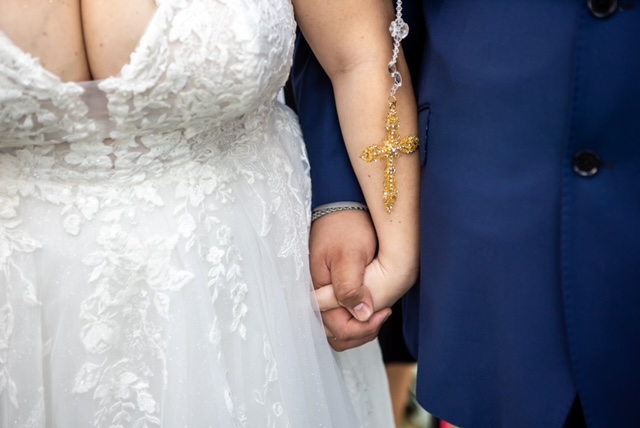 "My favorite moment was when me and my husband got to sneak into cocktail hour before our grand entrance and I got to take in the memorial table all by myself." She went on "I got to absorb everything that day meant to me and got to show love to the people who weren't there, including my mother. I placed my bouquet behind her photo and my videographer caught that moment and in my wedding preview they voiced over my speech to my mother-in-law where I honored both my mother and her by giving one of my mom's rings to my mother-in-law, joining our families together."
Months later, Mariah came back to Strut in Long Beach to be featured as one of our models. Even then, she couldn't stop singing Strut's praises.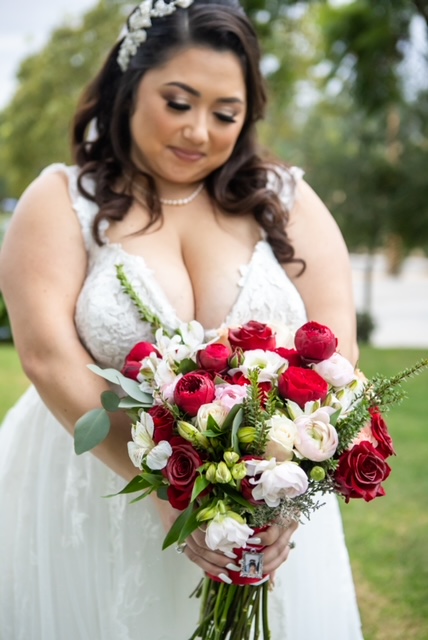 "To have the dress buying process be so effortless it gave me the most confidence, enough to even model with NO modeling background." She told us, "KELLEE!! She understood my needs so well it was like she was reading my mind! The whole team is amazing, and Aubree [the social media manager] is a beautiful ray of sunshine that helped me own my beauty…. I recently transferred and one of my coworkers is a Strut bride (we are besties now)! So, from the bottom of my heart THANK YOU."
You are very welcome, Mariah, and congratulations!!
if you're a cuvry bride who is anxious about wedding dress shopping, rest assured that Strut Bridal Salon has your back (and your front!). We have the state's largest selection of plus size wedding dresses in our Los Angeles, California area bridal shop. Book a champagne wedding dress shopping experience and bring your besties to say YES!