Anisa is a Strut Bride for our Tempe, Arizona bridal store. She wore a beautiful long sleeve ballgown wedding dress and looked radiant on her wedding day. But we also love how many amazing details about her wedding that she shared with us – it makes us feel like we were there!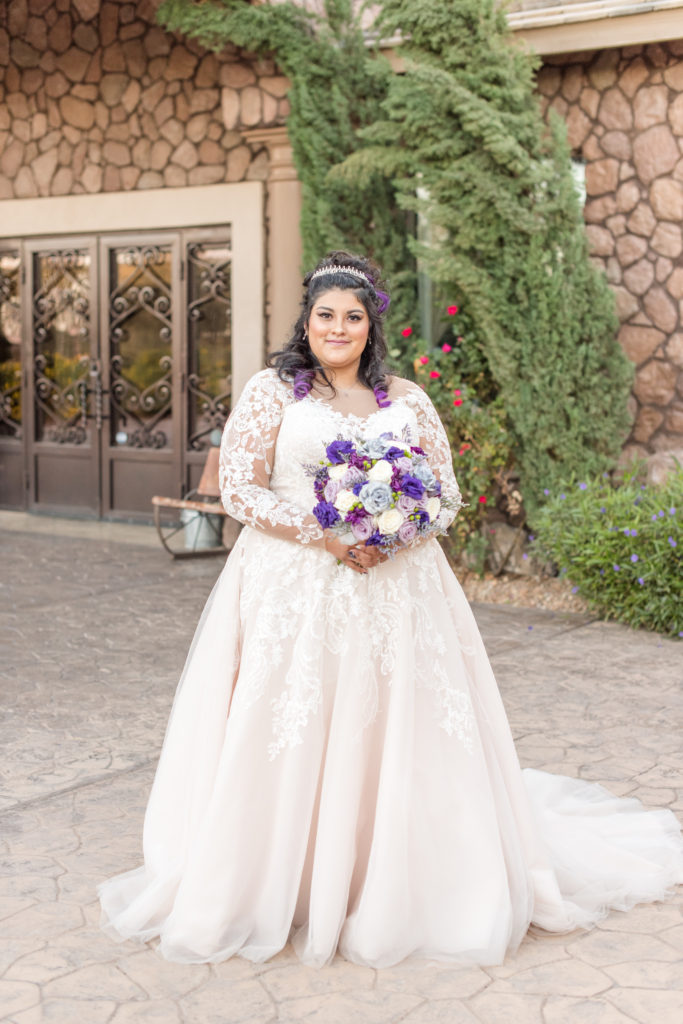 Hello my name is Anisa Hanson and my husband and I got married November 2, 2019. I bought my dress at your Tempe location. I am a plus size woman and shopping for a wedding dress was always on my mind. Was I going to find something that fits or looks amazing on me at the same time? Questions like this would go through my head.
I went into my bridal appointment with pictures of what I wanted in a dress and after trying a total of 3 dresses, I found the one. Strut Bridal Salon made the whole process so easy and made me feel beautiful inside and out. Everyone was so kind and always helped me with everything. I wish I could wear my dress forever and everyday, I felt so beautiful and looked so good to!
Thank you to the amazing team at the Tempe location and a big shout out to Ronnie for always making me feel so comfortable and helping out in any way she could! Every bride deserves to feel beautiful and confident on her wedding day, and Strut does just that for you! Thank you!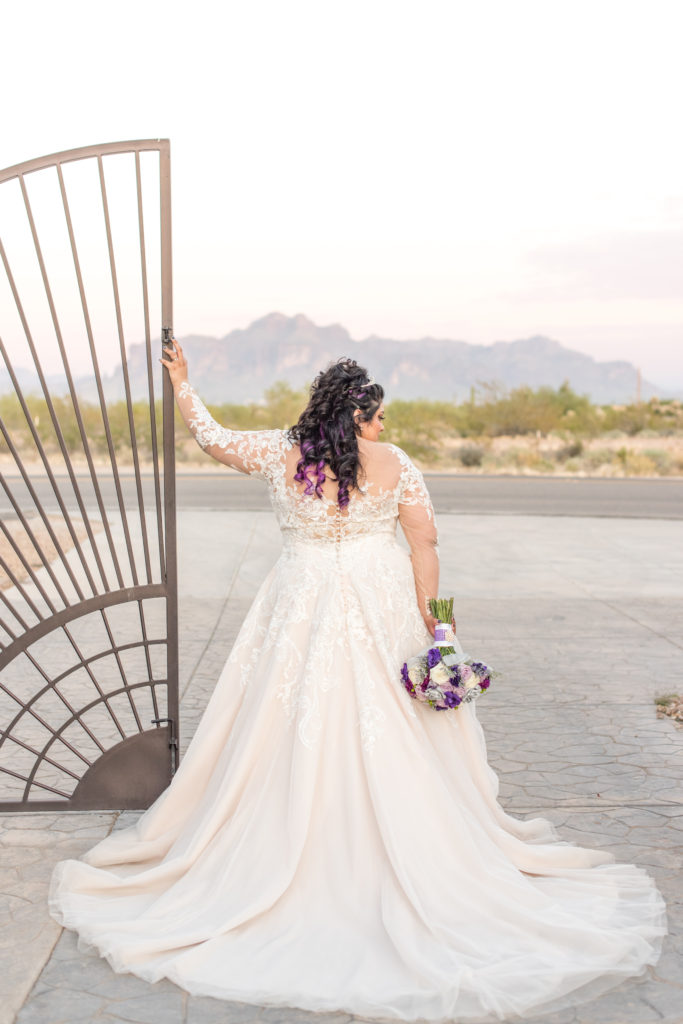 We got married at Superstition Manor in Mesa, Arizona. I have always wanted that Disney fairytale wedding and it was a huge venue with a grand ballroom! We had the Superstition Mountains behind us and its was absolutely beautiful. The ceremony was outdoors and the reception was indoors, so our guest were able to enjoy the cool weather outside or the warmth inside. We had about 118 guests.
Anisa's dress was ivory lace over champagne tulle for a lovely two tone effect. While we often custom add sleeves to our brides' wedding gowns, Anisa's dress is already long sleeve. We love that shot of the full illusion back with beautiful lace applique details! Her wedding dress also has light sequins, which catch the light when you move.
My favorite part about the whole day was of course walking down the aisle and seeing the man of my dreams tear up and smile as I walked down the aisle! He tried to keep it together, but he just couldn't ans it made the moment even more special! Another favorite part was having my dad walk me down the aisle. Anyone who knows me, knows my dad is my everything and right before the doors open it felt like my whole childhood and memories we shared passed through me to that very moment!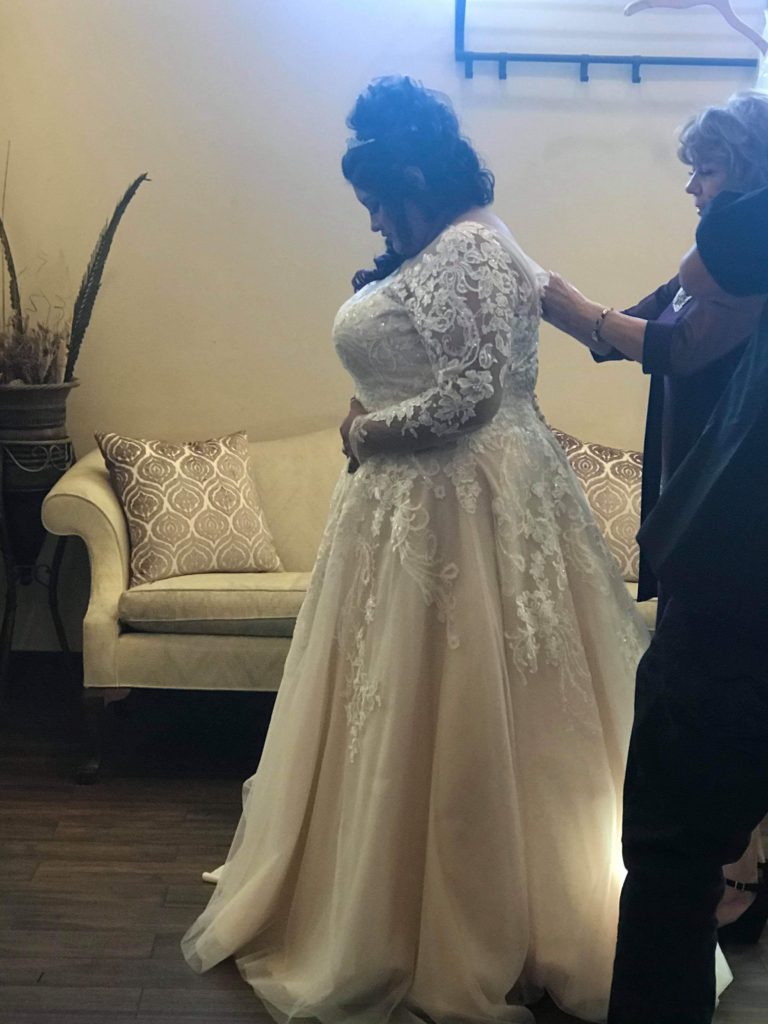 We didnt have a set theme, but we had a lot of Disney related things. And my dress, venue, and decorations all fell into a Disney fairytale? My husband I are big WWE fans so we had bought wrestling belt and incorporated it in some of our pictures! The funniest part of the day was when one of my bridesmaid dove for the flower bouquet when I tossed it. She claims she tripped, but I know she wanted that bouquet lol I hope she gets married soon so I can send her your guys way!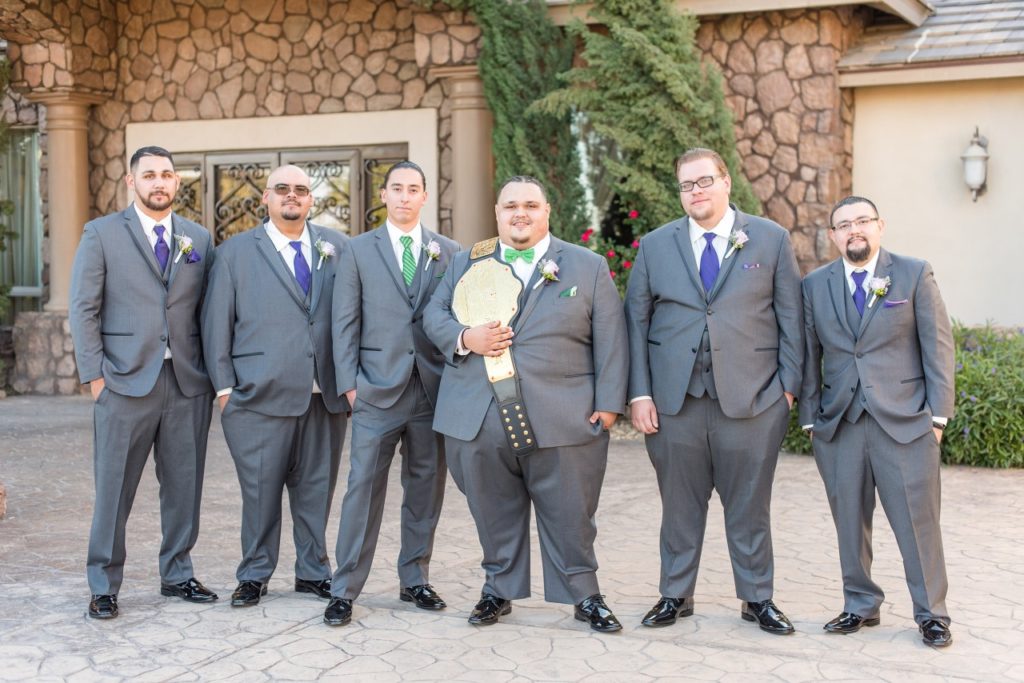 For a long time I knew exactly what I wanted. I wanted lace, ballgown, sleeves, and of course SPARKLE! A special part about getting my dress was having my dad there. I always told myself that I couldn't say yes to the dress without him there. I had printed out a few pictures of what I wanted in my dream dress and a budget and after trying on 3 dresses I found the one. Originally we were supposed to get rid of the sleeves because it looked beautiful without, but once we tried it on with the sleeves I knew right then and there it was the one. I felt beautiful in it! Keeping it a secret for over a year from my husband was the hardest part!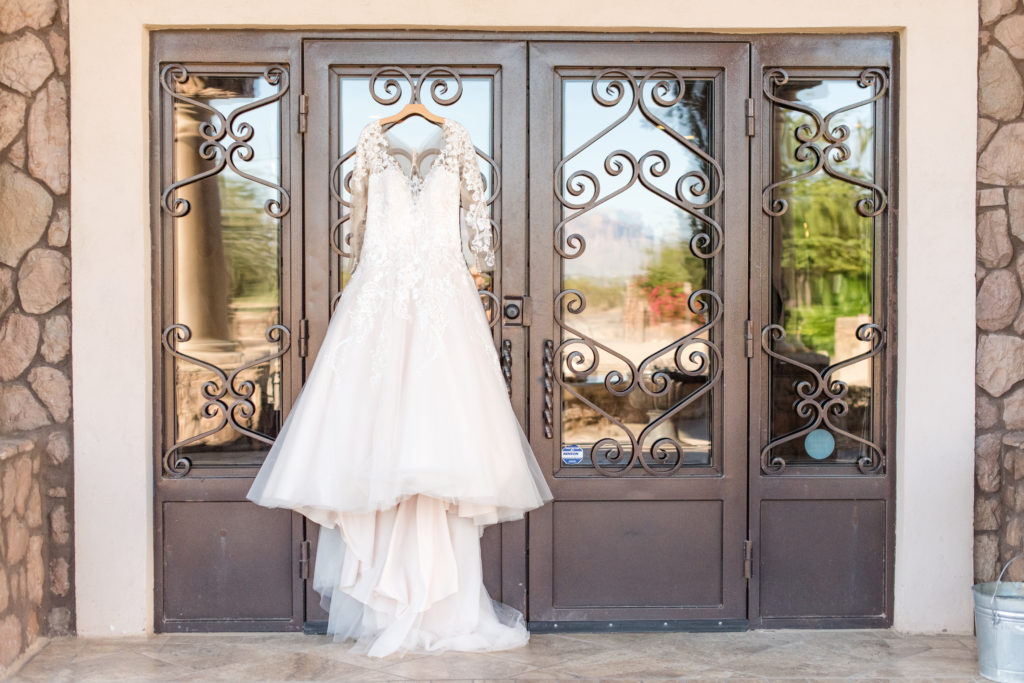 My Strut shopping experience was perfect. The girls were amazing and made everything so easy. I loved how private everything was and could enjoy the moment. Being a plus size women and getting ready to try on wedding dresses is stressful, but I had no problem at Strut and slipped into any dress I could!
Brooke, Anne, and Ronnie were the three ladies that helped me through this whole process. Either on the phone or in the store. Ronnie was the main lady who I had the pleasure of having! She was there for all my fittings and always made sure I stayed calm and relaxed through it all!! The Strut Bridal team was AMAZING! You ladies really made my dream come true and I will never ever forget it!??
Oh my gosh, Anisa, thank you so much for your kind words. We love hearing everything you loved about your wedding!
If you love Anisa's long sleeve ballgown wedding dress, it's currently available in our Los Angeles, California area and Phoenix, Arizona area bridal stores. While we are temporarily suspended due to the coronavirus, we're excited to reopen and help brides again soon!