In the summer of 2021, Ann Vu came to our Arizona wedding dress store with her best friends, looking for the perfect wedding dress for her San Jose wedding. Her vision was elegant and timeless, so the wedding dress had to fit that idea. Ann was a petite bride, so finding something that was proportional to her height was also a concern. We just wanted to celebrate the fact that she was going to a first time bride over 40 years old!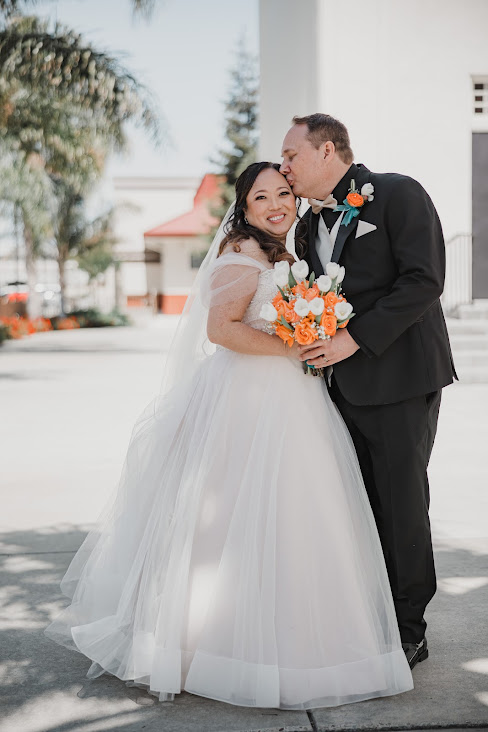 Working with our stylist Brooke, Ann found the one! She said yes to a gorgeous ballgown wedding dress that featured delicate detailing across the bodice and a full tulle skirt. The skirt had a touch of sparkle tulle throughout with a horsehair trim along the edge; this firmer piece of tulle helped keep the skirt in place so that the ballgown could move smoothly with her.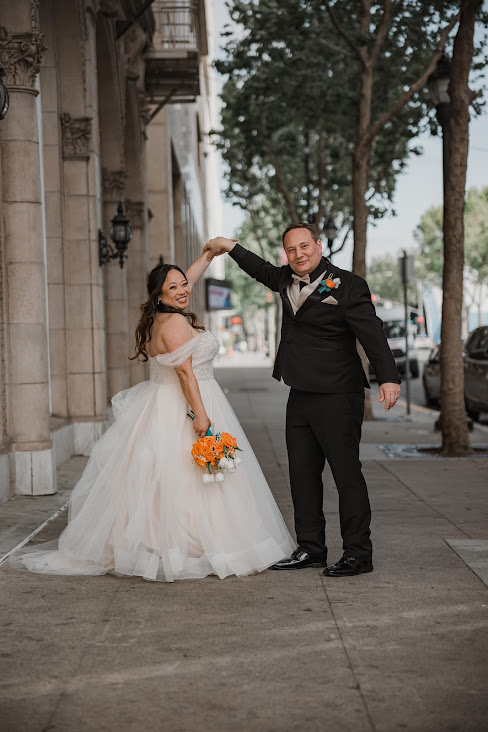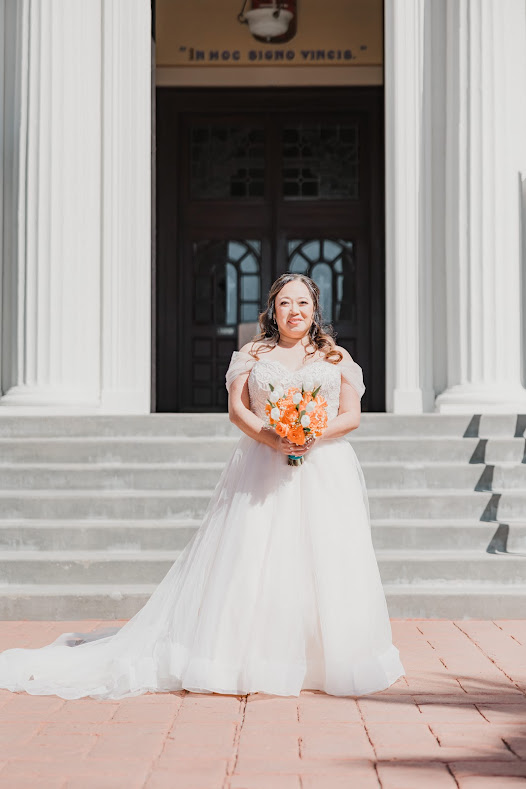 During her alterations process, Ann asked if the seamstress could create a pair of sleeves. Our seamstress, Barbara, got right to work and created a unique pair of cap sleeves from the excess material of Ann's tulle wedding gown hem. She added a finishing touch of lace to the bodice to cover the natural v-neckline, and Ann's bridal gown was perfect. The exact vision of elegance and timelessness that she was dreaming of! Finishing off her whole look with a veil and headpiece, our beautiful bride was ready to walk down the aisle.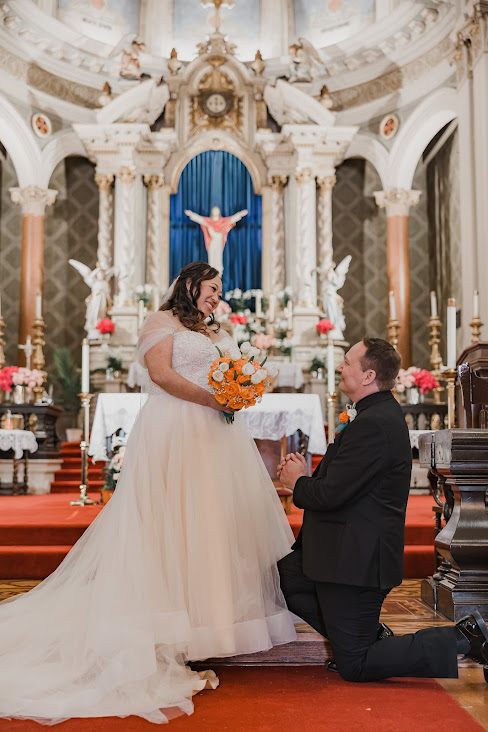 Ann and her husband were wed in a traditional catholic ceremony in the spring of 2022, in a Catholic church in San Jose, California, surrounded by their closest friends and family. The bright touches of terracotta orange in the bridal party's gowns and the bride's bouquet gave a unique pop of color to the traditional church setting. There was nothing but happy smiles on the bride and groom's faces as they posed for fun and joyous photos with one another. Just from the photos alone, one could see this was the wedding they had both dreamt of.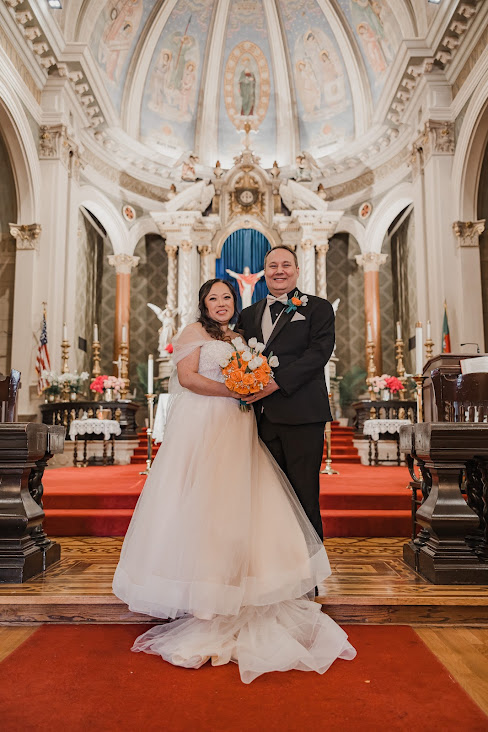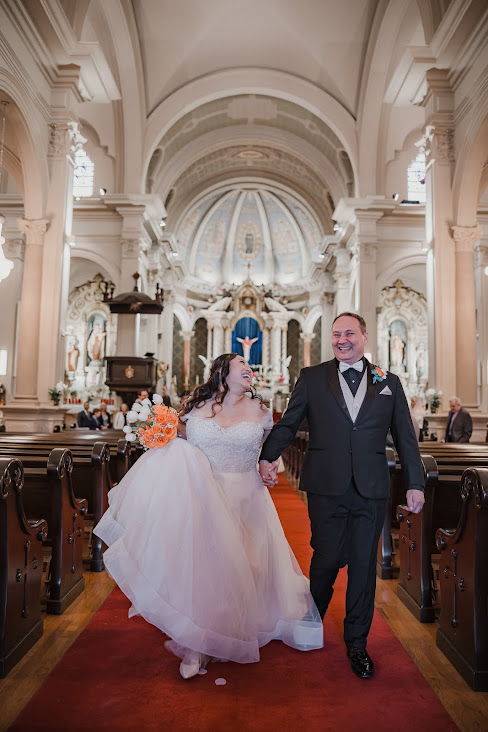 "I need to say thank you to Brooke who helped me find the perfect dress, Barbara who did amazing work on the lace bodice and cap sleeve, and Corrie for putting up with my crazy work life to schedule/help with my fittings," Ann later wrote us, "I love the cap sleeve and lace bodice; it made an already gorgeous dress even more special. The ladies of Strut are fairy godmothers to brides. Thank you so much for being a part of my dream wedding."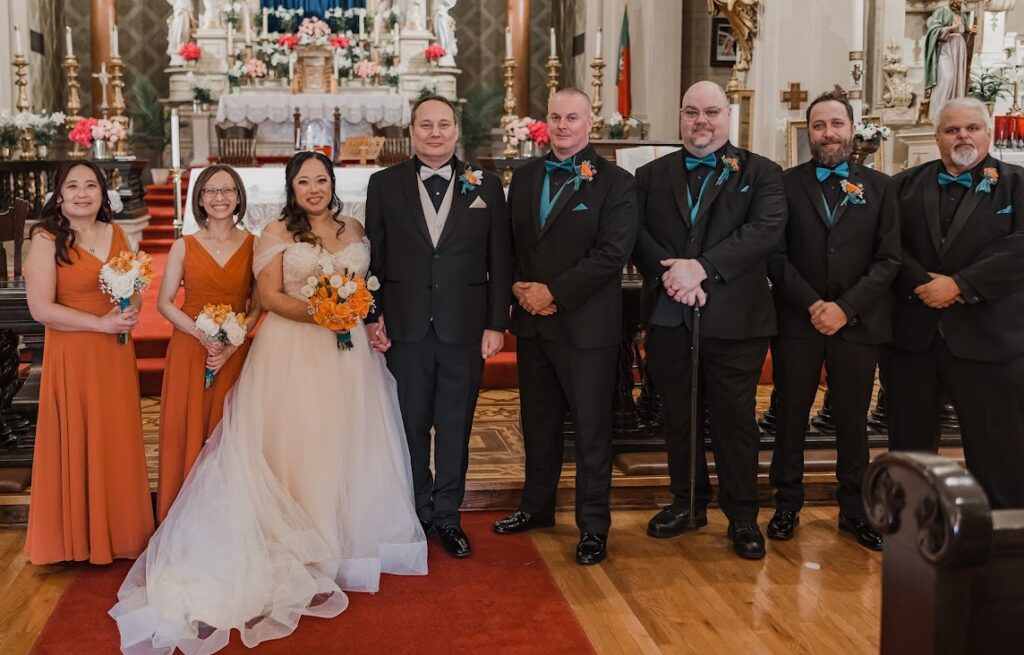 Thank you, Ann, for letting us be part of your special day! Ann and her husband recently announced other big news – they are expecting! Congratulations, beautiful!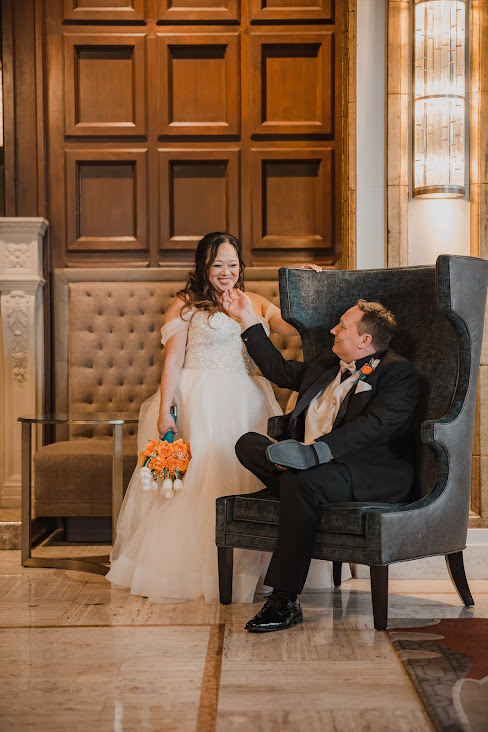 If you're an older bride wondering if a traditional wedding dress is right for you, give us a call! We recommending trying on a couple of stylist with our trained stylists and if they don't feel right, we can also try some social occasion gowns. We love working with brides of all ages, because age is just a number, but our bride over 40 years old are near and dear to our hearts, too!