In March of 2021, Sylwia came into our Long Beach, California wedding dress store to find the perfect wedding gown for her fall wedding. She came in alone, seeing if there were wedding gowns that fit her perfect vision: fitted and sexy, yet comfortable so that she could move around and enjoy her special day. After trying on a few wedding gowns, she knew she just had to bring back her family to share in her special 'Say yes' moment. With the amazing time she was having as well as the selection of bridal gowns, Sylwia knew Strut most definitely had her wedding gown, a sexy fitted crepe wedding dress!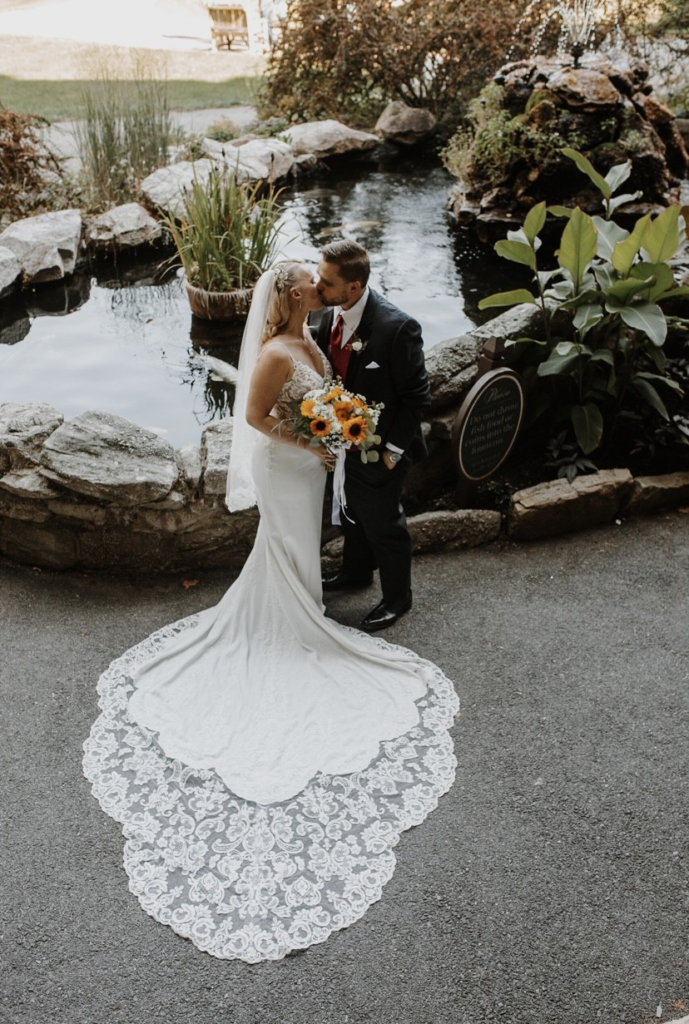 Sylwia came back a month later to purchase the gown of her dreams. She chose a gorgeous, fitted gown with beaded spaghetti straps and lace appliques throughout the sheer bodice. The skirt of the gown is structured from a simple crepe material, but it's the cutout lace that makes it all the more stunning. The lace continues through to the train which extends past the crepe skirt, making a unique cut-out look. Sylwia finished off her look with a faux fur capelet with a rhinestone clip and a gold, metallic flower and marquise leaf headband. Topping everything off with a veil, Sylwia said yes to the whole look! From head to toe, Sylwia was the ideal picture of an Autumn New York bride.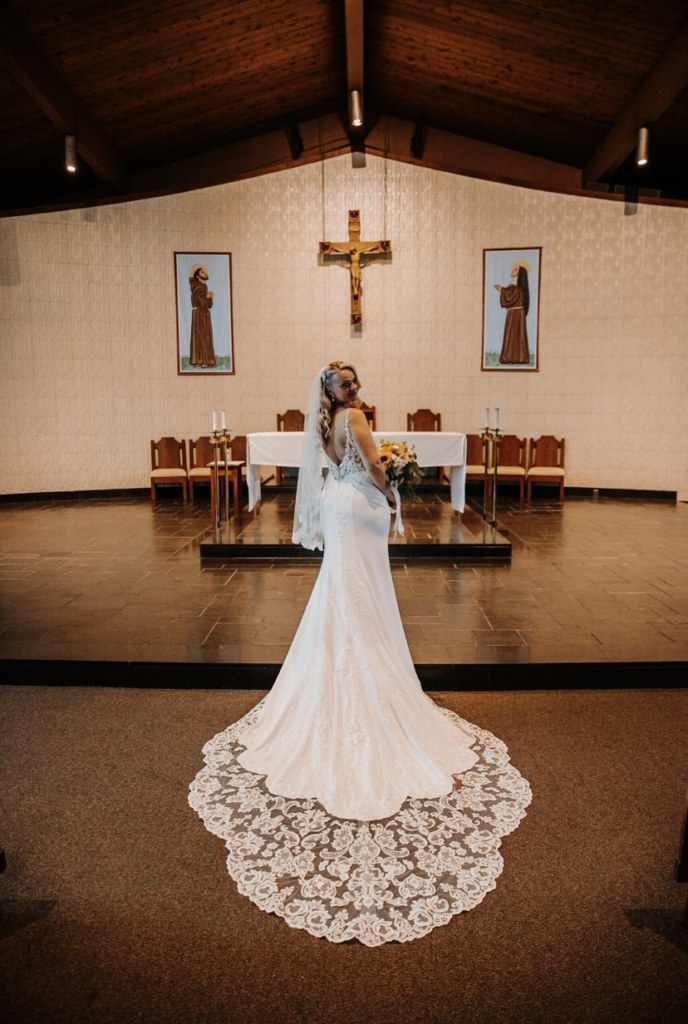 After just a few more months of waiting (a standard wedding dress order can take at most 8 months to come in), Sylwia picked up her gorgeous gown and all of her accessories. Once she was done with alterations, a normal step in the wedding gown purchasing process, our beautiful bride was ready to walk down the aisle.
She told us,
Favorite part/moment was when I wasn't too nervous to get up and sing in church as a surprise to everyone in attendance. I was in the church choir growing up and always wanted to sing on my big day, but didn't know if nerves would get the best of me. I told our harp player/singer Joyce Hoffman that I would either nod or give her a "never mind" look when the time came. She was the only one who knew the plan. Others thought I wasn't feeling well or had to pee when I stepped off the altar to go sing one of my favorite songs, Seek Ye First.
Another favorite part was seeing all the different people from our different walks of life mingling and partying on the dance floor like they've known each other forever. Our DJ said our 50 people wedding seemed like it had more people than the 200 people wedding they had hosted before ours because everyone was up dancing."
'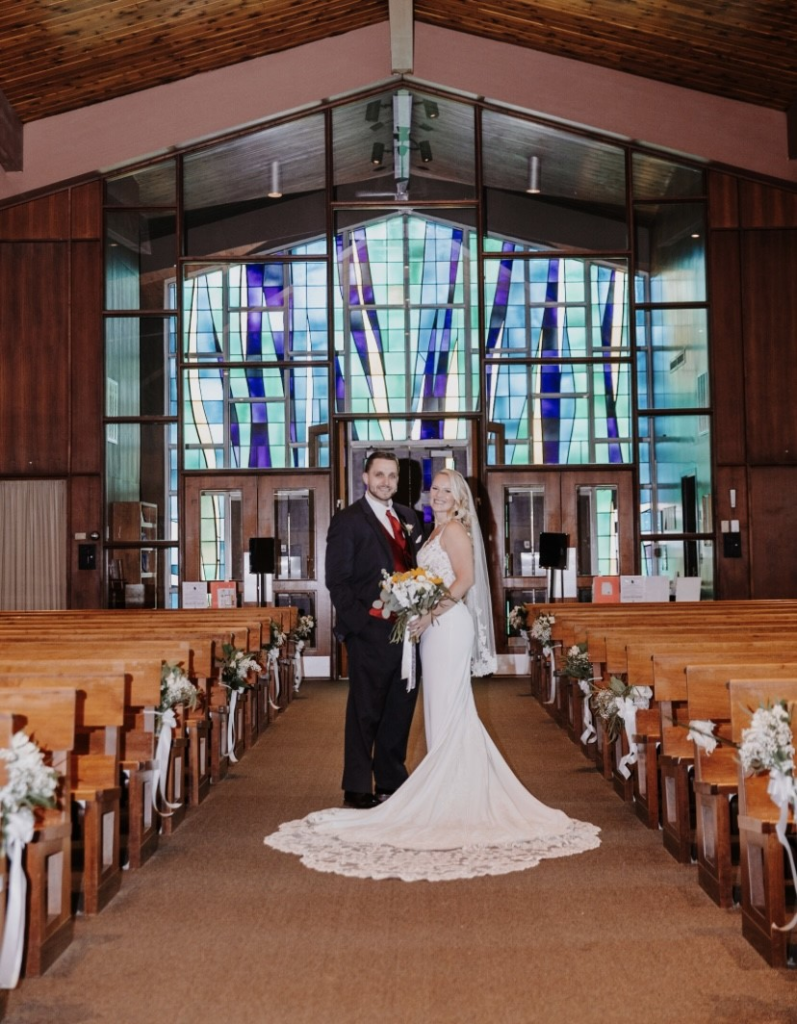 On October 2nd, 2021, Sylwia and her fiancé were wed in a formal, yet classic ceremony, surrounded by their loved ones. She wrote, "A special thank you to Julie for being there for me the day I chose my dress. She played a huge part in helping me feel excited for the big day. With no friends on the west coast and no one to take with me to my appointment, Julie was my friend that day and I thank her for that. Fun fact: my hair piece is also from Strut. It was a headband and with a change of plans in my hairstyle, I still wanted it to be a part of my big day so I broke the headband in half and turned it into a clip and it still received so many compliments LOL Thank you for helping me feel beautiful on my big day!"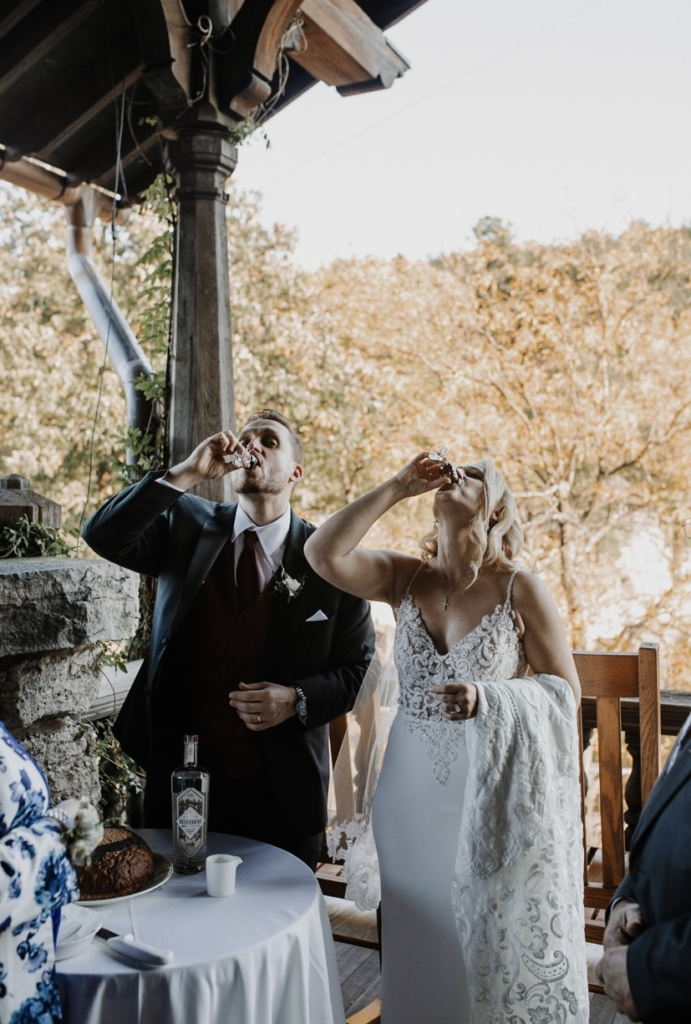 Vendor Love:
Location: Mohonk Mountain House and St. Joseph's Church in New Paltz, NY
Flowers: Theresa Colucci from Meadowscent
Hair and makeup: Studio One Hair Design
Photos: Laiken from thelaiks photography
Wedding coordinator of Mohonk Mountain House: Christina Latvatalo
Joyce Hoffman: Harp player and cantor
St. Joseph's R.C. Church in New Paltz NY
"We got married at Mohonk Mountain House in New Paltz NY. I attended SUNY New Paltz and worked at Mohonk during my college years. New Paltz is my happy place and Robert and I  enjoy spending time at Mohonk and visiting the New Paltz town often. We were limited to 50 guests due to COVID restrictions. Our wedding was in St Joseph's church. Cocktail hour was on the porch overlooking the lake at Mohonk and our reception was in a private conference house on-property."
She continued, "Funniest part of the day would have to be the intro song played for our parents when walking into the reception. The song we chose had a melody that was a nod to our Polish heritage, but also had some raunchy lyrics. We expressed to the DJ "please only play the melody bridge not the lyrical part." Well, while we were waiting for our introduction, we hear the intro begin for our parents and the raunchy lyrics play.  We turned to each other with huge eyes and big omg expressions. We then busted out laughing and in the end no one even noticed!"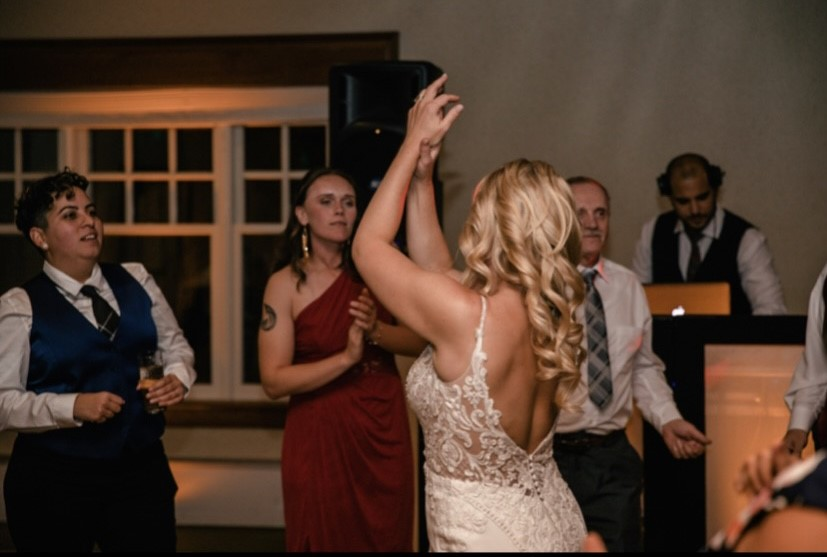 Congratulations to the bride and groom and thank you for allowing Strut Bridal Salon to be part of your very special day!
"I came into Strut after going to several places. Everyone I know is on the east coast so I came in by myself, sad and discouraged and not really expecting anything but I didn't want to cancel the appointment because I knew I had to find something. Julie sat down with me and asked me a few questions. She went on to pull some dresses for me and my mood completely shifted with the very first one I tried. I felt Julie understood what I was looking for and her personality made me feel like I did indeed have a friend there with me. I appreciated her not being pushy and just letting me talk thru what I liked/disliked. When I tried on my dress the first time, I actually liked it but felt it was a bit too dramatic for me and wayyy too revealing for a church wedding. Julie helped me find an adorable covering which I wound up purchasing that day. However, I did not buy the dress that day. I went home and looked at photos, shared with friends, and actually went on to more appointments at other places. One thing kept happening though, I kept comparing every dress to the one I tried at Strut. I finally returned a week or so later and made the purchase. This was my dress! After alterations, the dress was less revealing and I wound up not wearing the covering for church because the weather was unusually warm for October." 
We have sexy wedding dresses for every size bride! With the Los Angeles, California area's most size inclusive wedding dress store, brides of all sizes can find something low back, booty-licious and wow-worthy! Book your wedding dress shopping appointment today!