Strut bride Britney came in to the salon "seriously dreading wedding dress shopping" because, like most plus-size brides, there is a sense that you can't be catered to in the way that you should be as a bride. All Britney knew was that she wanted her gown to have sleeves, and that's where senior stylist Maritza came in! Maritza welcomed our bride Britney, her mom, sister, mother-in-law-to-be, and Gigi the service dog to Strut, and had a conversation about the "pretty and elegant" shape that Britney was looking for, before pulling a myriad of gowns into the fitting room, including a gorgeous wedding dress with sleeves!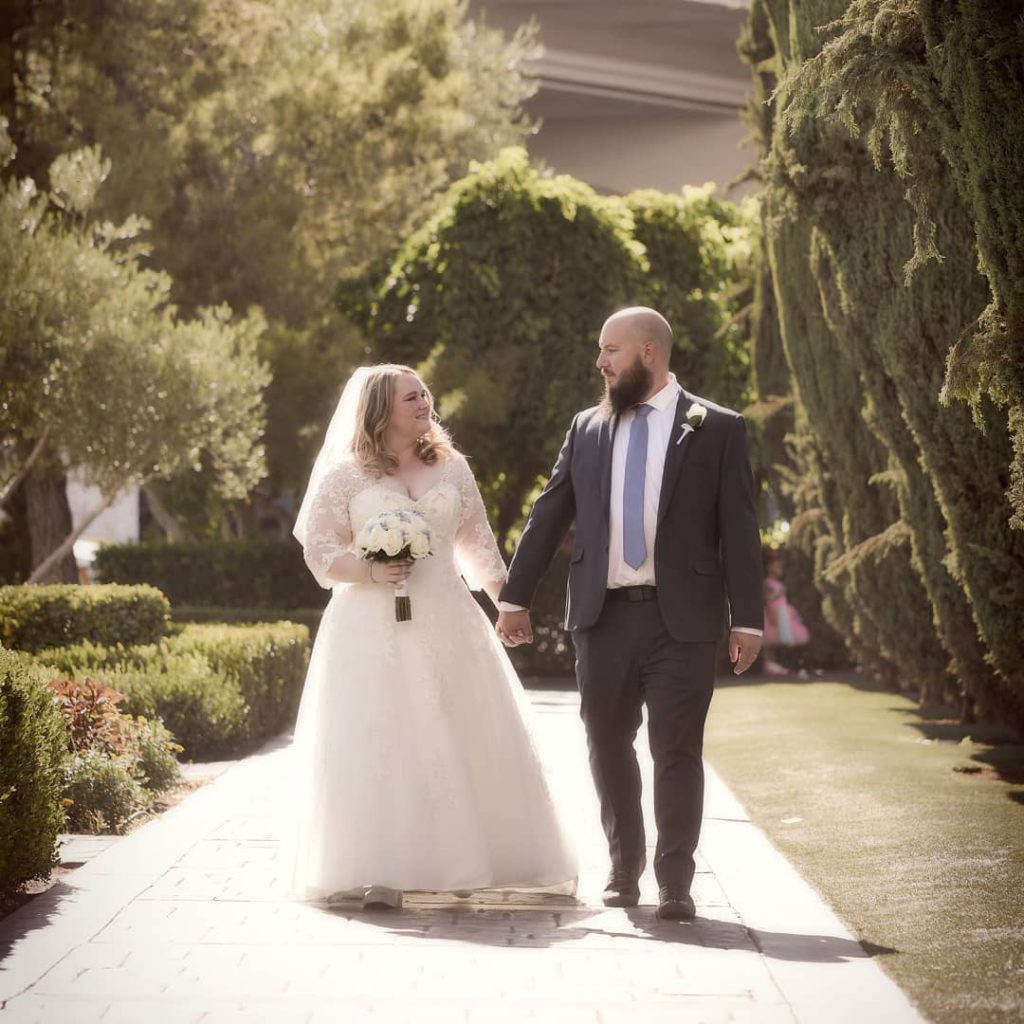 "I had a hard time choosing between two different dresses," Britney said about her shopping adventure, which is actually a common occurrence for most brides. This "problem" can cause confusion, since a lot of brides are not expecting to feel so wonderful in so many different styles, but it can also cause confidence, which is what makes trying on bridal gowns, especially in a plus-size salon, one of the most exciting and beautiful experiences a bride can have.
One of those two dresses, happily enough, ended up being "the perfect dress" and our bride said yes to a gorgeous lace, A-line, with three-quarter sleeves and an embellished neckline. Britney was ecstatic to say yes to the dress with her mom and mother-in-law-to-be in attendance, as they were both going to help pay for her gown. How wonderful is that? They were not the only ones that made her day, though, "Maritza and Lara were absolutely amazing. They made me feel beautiful."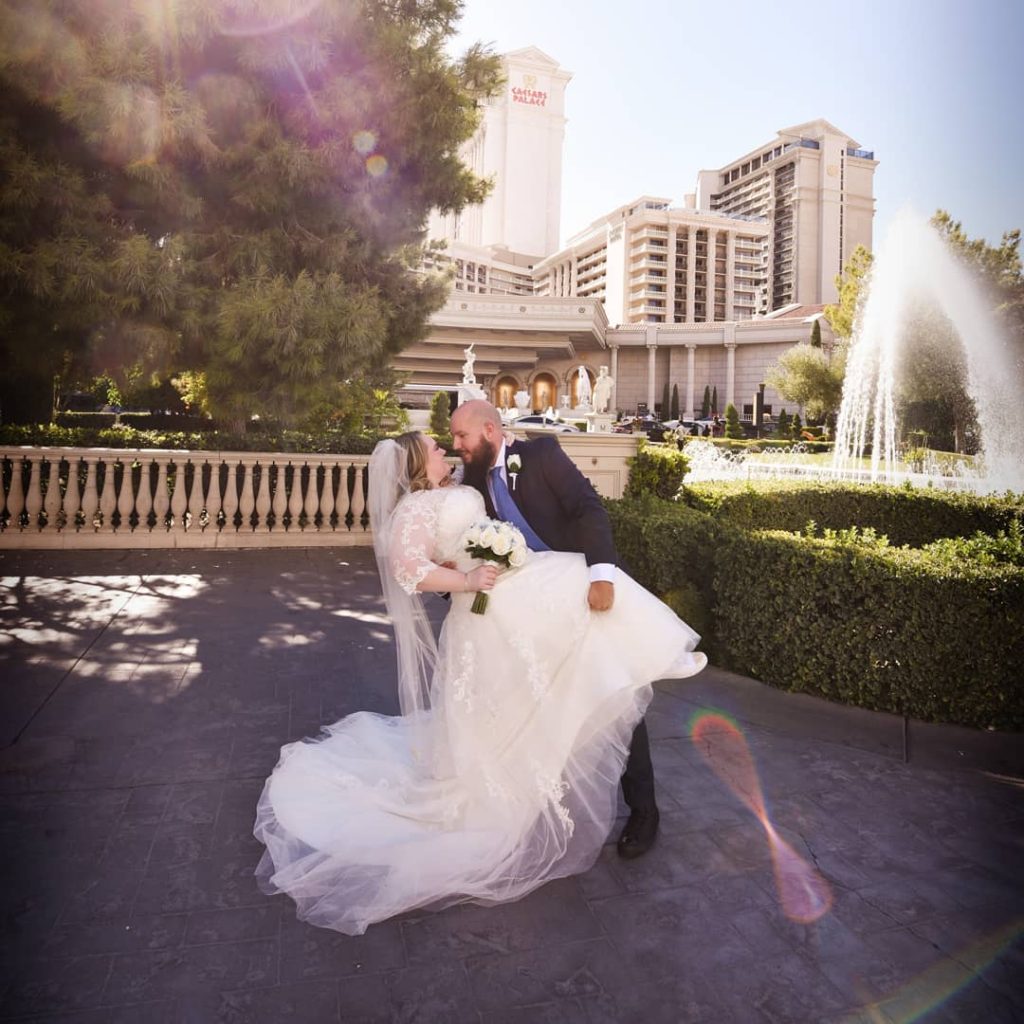 Britney and her groom, Chris, got married at beautiful Caesar's Palace in Las Vegas! They had an intimate, "comfortable and casual" wedding with fifty five guests. The funniest part of the day was when their officiator had to tell the bride and groom to take a deep breath before the vows because they were shaking so badly from the nerves, but being nervous did nothing to take away from our bride's favorite part of the wedding, which was marrying her best friend.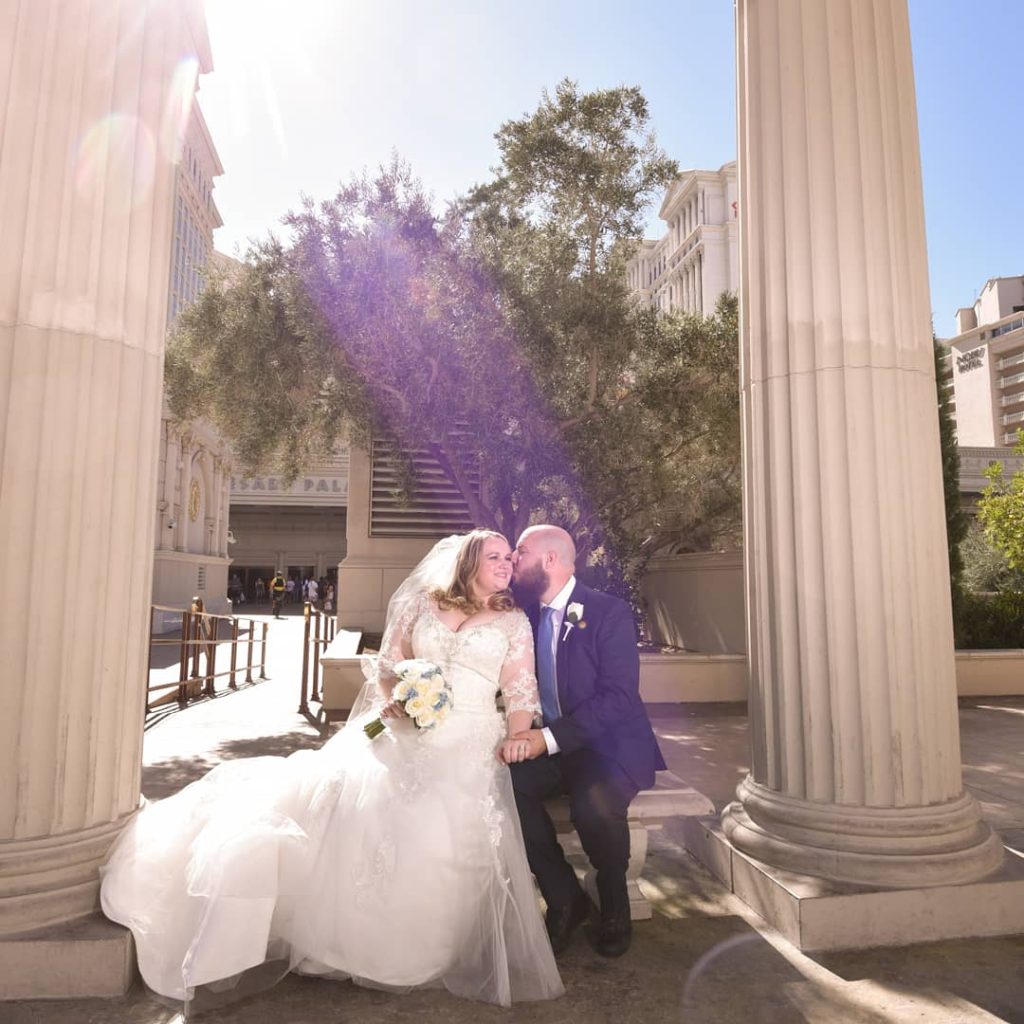 So many plus-size brides feel that they may be judged or end up feeling bad about their body after shopping for a wedding gown, but that's not how we operate here at Strut. Britney said she just wanted "to feel beautiful and confident" and, thankfully, Britney got to experience that at Strut and on her wedding day! Congratulations, Britney and Chris! The Strut team is honored to have been a part of your big day and is so happy you had a wonderful wedding!
If you love Britney's gorgeous wedding dress with sleeves, it's currnetly available in our Long Beach, California and Tempe, Arizona bridal stores. Book your visit today!