For our brides that LOVE Disney – this blog is for YOU! We've taken some of our favorite wedding gowns and headpieces and styled them in the way we think some of our favorite Disney Princesses would dress on their big day! If you are looking to add a bit of Disney magic to your wedding day, ask your personal bridal stylist to give you the Disney touch and see what they Bibbidi-bobbidi-do! If you missed our previous blog with Princess Ariel, Princess Pocahontas, & Princess Aurora, click here to catch up!! Check out more of our favorite Disney princess inspired bridal gowns!
Starting with one of our favorite feisty females, it's Princess Jasmine! We love how Jasmine wanted to choose her own path and used her cleverness, along with her style, to get what she wanted! Featuring an amazing A-line wedding dress with a tropical floral embroidered pattern, off the shoulder sleeve, and an impressive lace edged train, this dress is fit for any princess who loves to show her shape! We paired this sensational plus size wedding dress with a dazzling, crystal blue, opal and silver headband that adds a regal touch to any bridal look!
This gorgeous plus size bridal gown is shown in a size 26, is in an ivory/sand color, and retails for $1799 in our Los Angeles, California area bridal store. The brilliant headpiece is one of a kind and retails for $269 in the same store.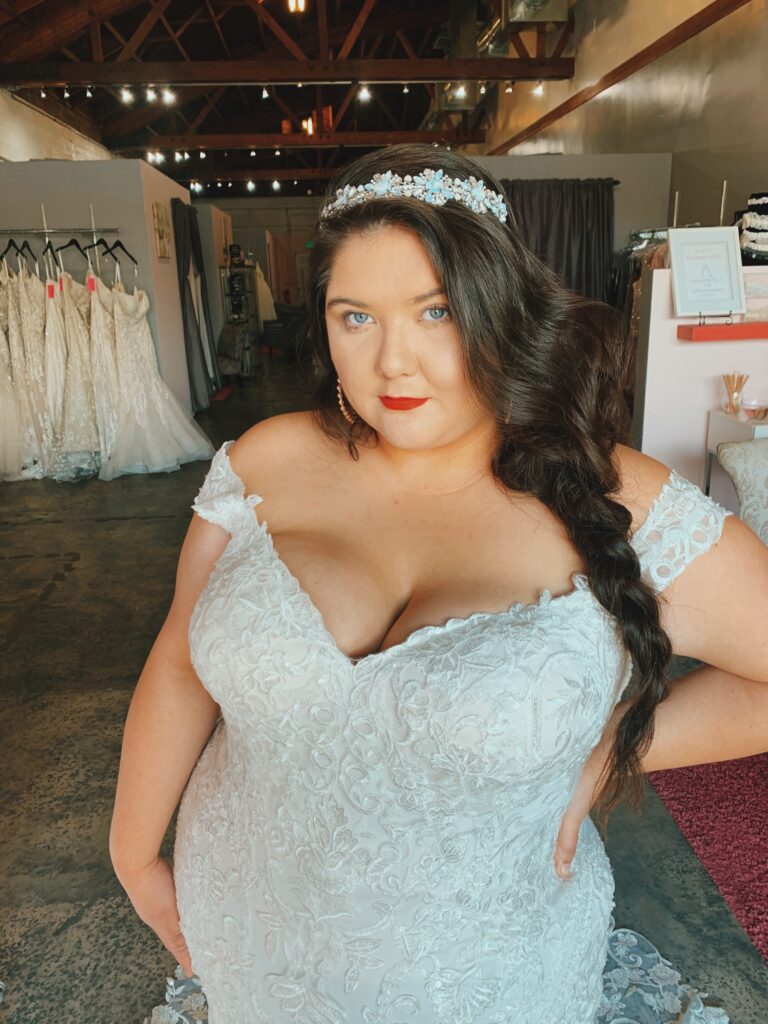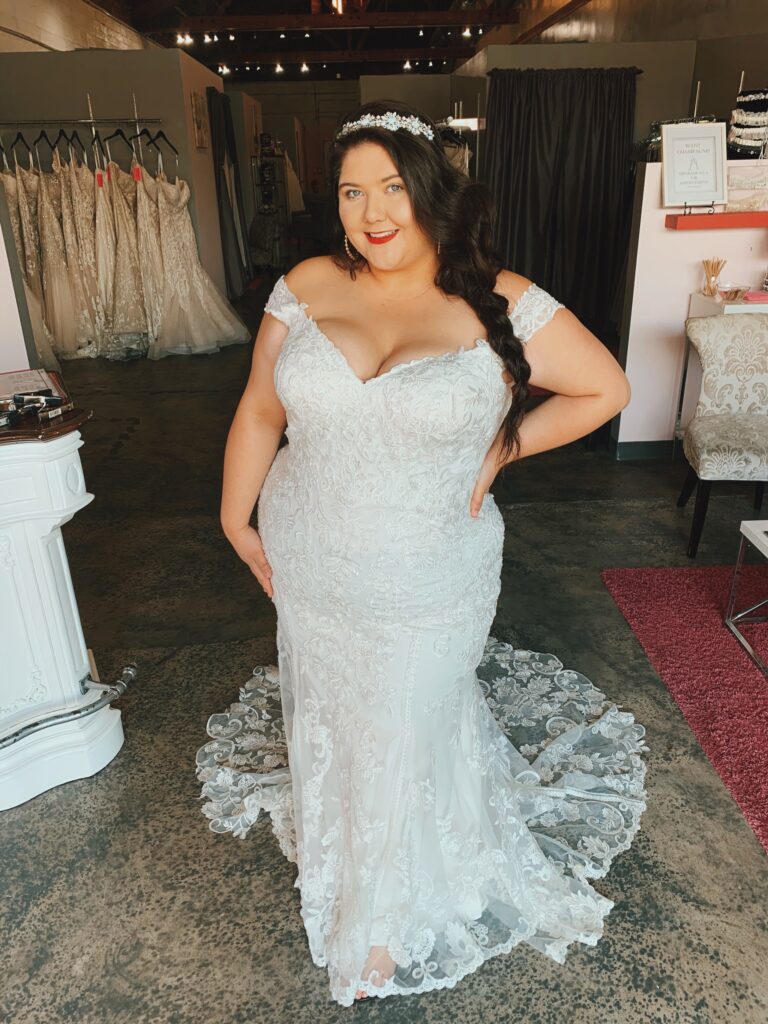 This pretty princess created the classic fairytale ending and inspired us all to find true love, it's Cinderella! This remarkable look features one of our most dazzling wedding dresses, a sweetheart neckline ruched bodice bridal gown, with a full skirt with layers of spectacular sparkle tulle, and it even has pockets! The glorious headpiece is a bedazzling silver tiara featuring three teardrop rhinestones to add a bit of extra magic! You will feel like all of your wishes came true on your wedding day, with this beautiful ball gown and striking tiara! This plus size wedding dress is literally the perfect princess ball gown, for dancing the night away and ending the night with your one true love! This gown is shown in a size 28, in an ivory color, and retails for $1549 in our California and Arizona bridal boutiques. The sparkling tiara fit for any queen, retails for $319 in our Long Beach store.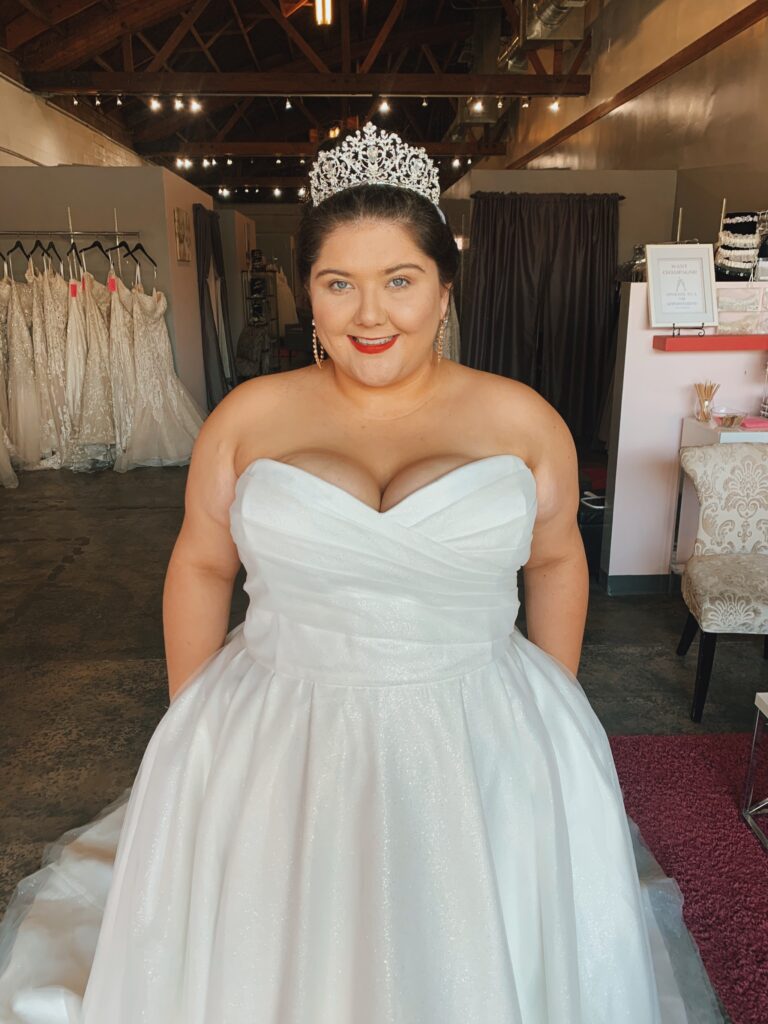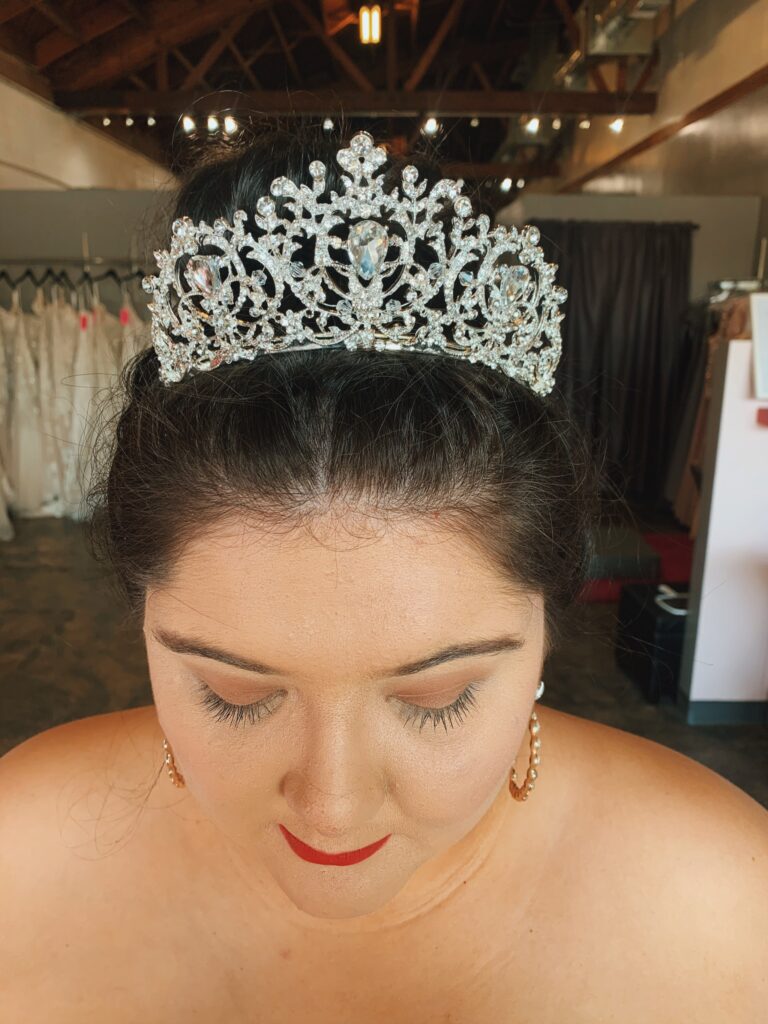 Last, but certainly not least ofor our Disney princess inspired bridal gowns, is the princess that taught us about hard work and to never give up on our dreams, Princess Tiana! We love Tiana's sensational Louisiana look and we chose a ball gown wedding dress we felt matches her sense of style and fun! This brilliant ball gown features a V-neckline with an illusion plunge, detailed & delicate floral embroidered pattern, and a stunning silhouette that creates an hourglass shape on any body! The glittering gold headpiece features a romantic rose pattern, decorated with rhinestones all over. This luxurious gown is shown in a size 22, shown in an ivory/café color and retails for $2349. The superb headpiece is only found in our stores and retails for $259.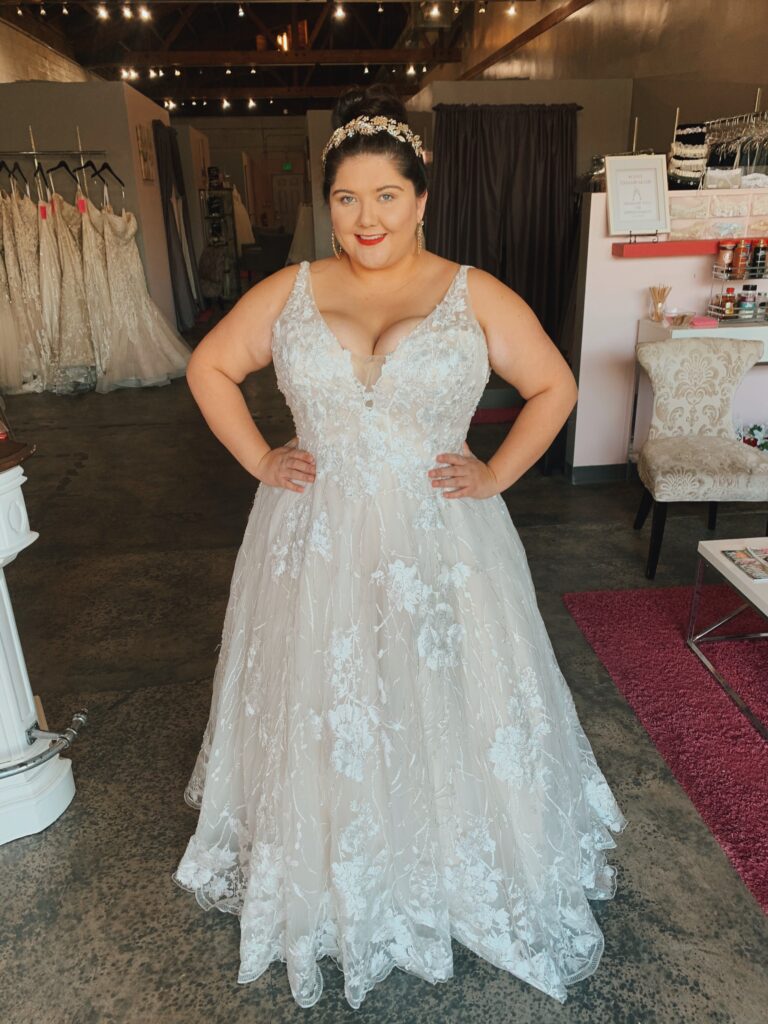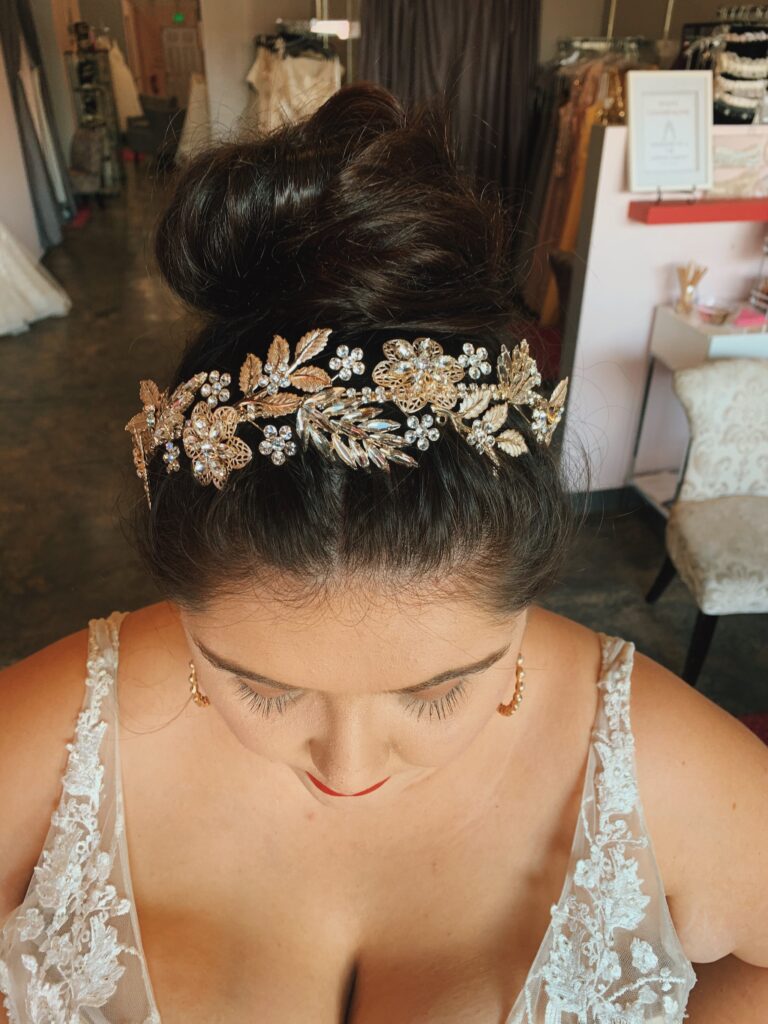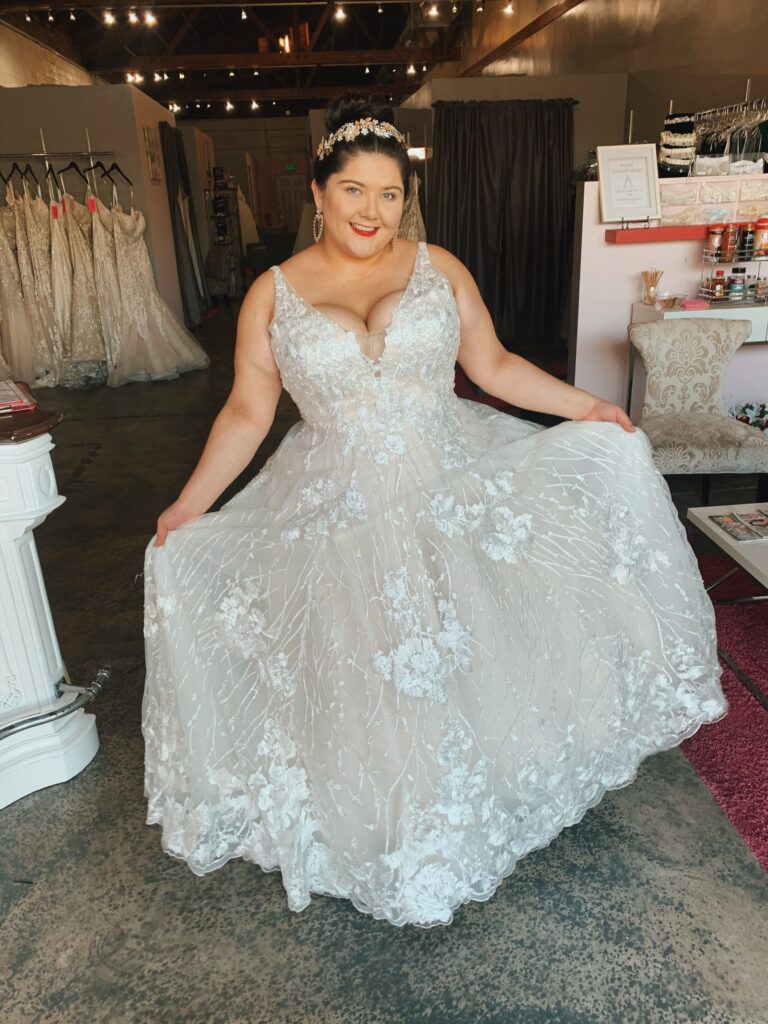 We love helping all of our bride's wedding dreams come true and being able to add some magic to your wedding day!
Book your virtual or in-person appointment today to make all of your dreams come true!