Disney loving brides……this blog is for you! We've taken some of our favorite wedding gowns and headpieces and styled them in the way we think some of our favorite Disney Princesses would dress on their big day! If you are looking to add a bit of Disney magic to your wedding day, ask your personal bridal stylist to give you the Disney touch and see what they Bibbidi-bobbidi-do! Here are some of our favorite Disney princess inspired wedding dresses!
Starting first in this round of pretty princesses is one of our favorite fishy females, Princess Ariel! We love her determination and commitment to true love as well as her amazing style fit for land or sea! This bridal look is perfect for any bride who loves a unique mermaid style wedding gown or anyone who is having a beachside ceremony. With this gorgeous gown and beautiful headpiece, you will be flipping your fins to get to your wedding day!
⁠This gorgeous mermaid style gown features a plunging neckline, lovely lace straps and intricate lace pattern all over, and a completely comfortable feel, perfect for dancing the night away with your….what are those called, feet!
⁠This gown is shown in an ivory and nude color, is a size 22 (runs small) in our Long Beach, California and Phoenix, Arizona bridal stores and retails for $2099. The stunning starfish headpiece is one-of-a-kind and retails in our California bridal boutique for $199. ⁠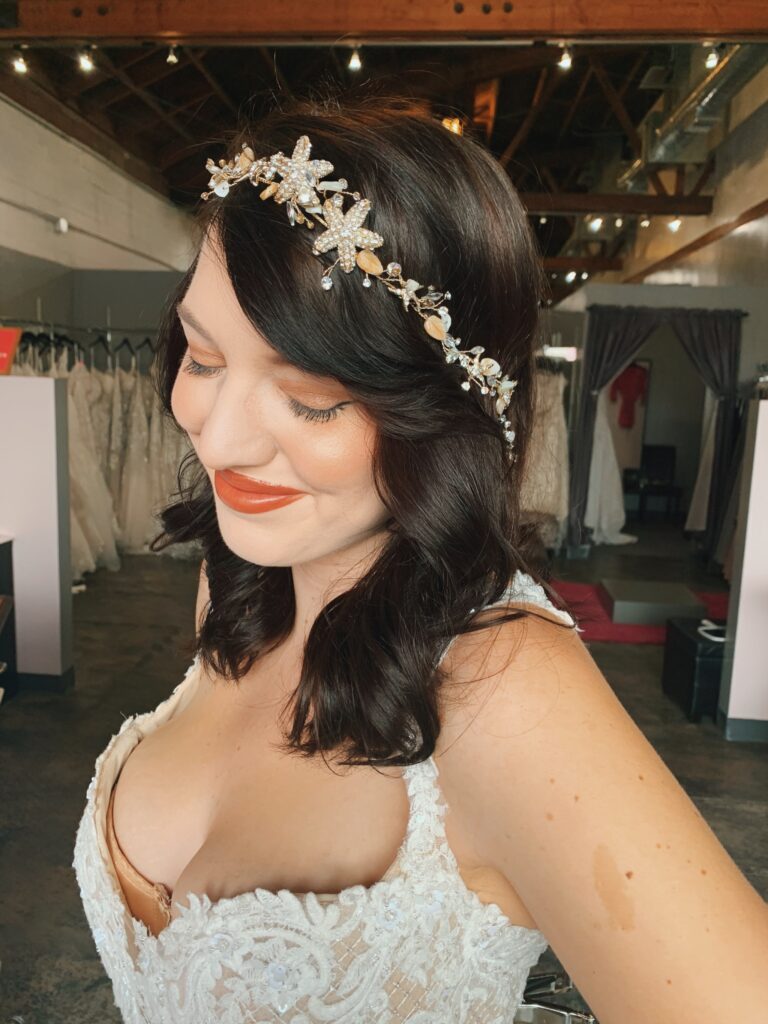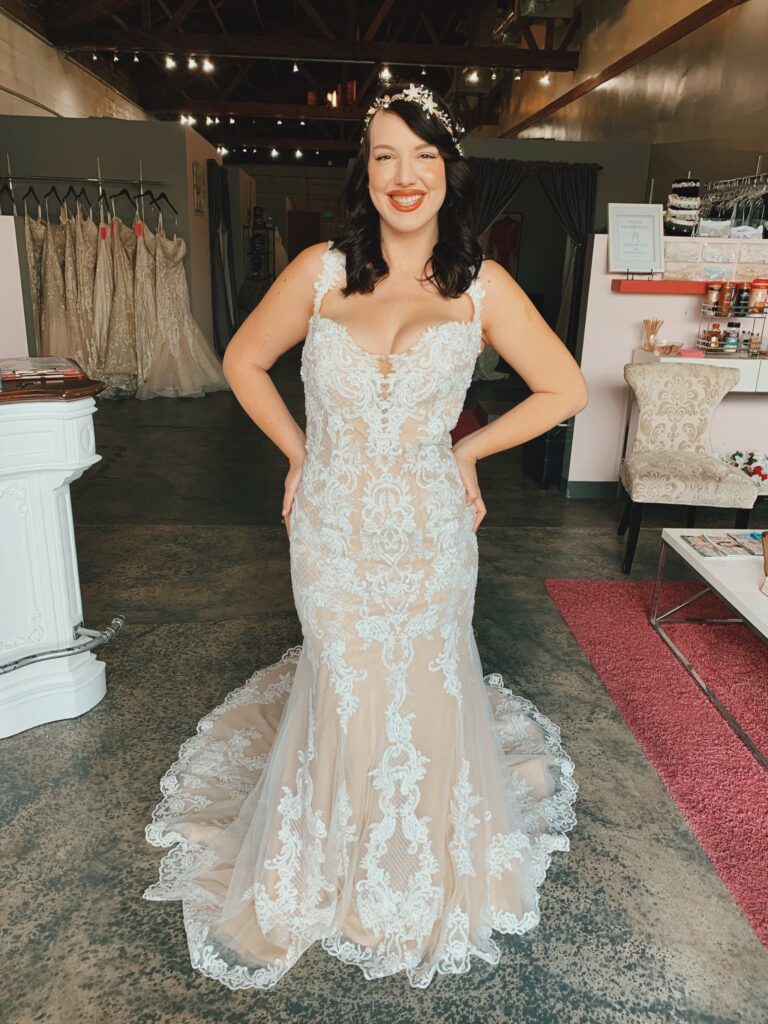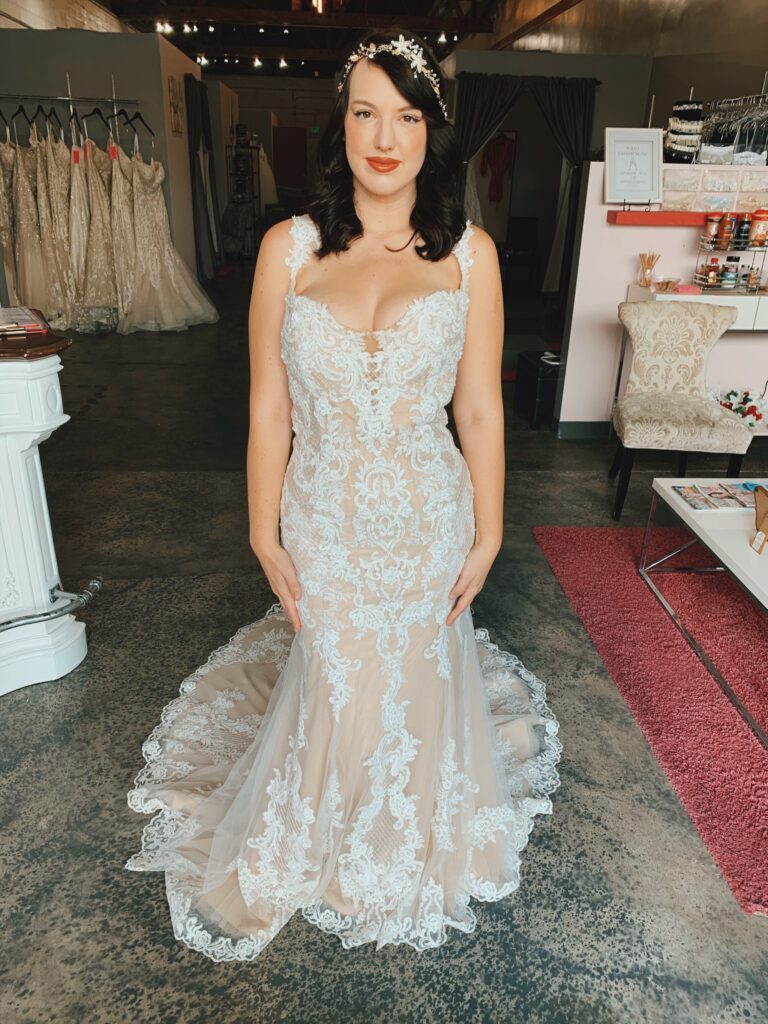 Following up with an extremely empowering, beautiful, and brave princess, Pocahontas! We love how devoted this princess is to her family and loved ones and absolutely loved being able to represent her, as she is not always represented. We feel this stunning mermaid gown with it's delicate and intricate print would look graceful and grand on Pocahontas!
This magnificent lace sheath mermaid wedding gown features a deep v plunging neckline, detailed spaghetti straps, and a stunning lace edged train! It is truly the perfect gown for any bohemian bride or those looking for a unique and unforgettable design on their dream wedding dress! It is shown in an ivory and almond color, in a size 24 in our LLos Angeles, California bridal store, and retails for $2599. The exquisite tiara features gold leaves encrusted with rhinestones all around the bottom and retails for $349 in the same location.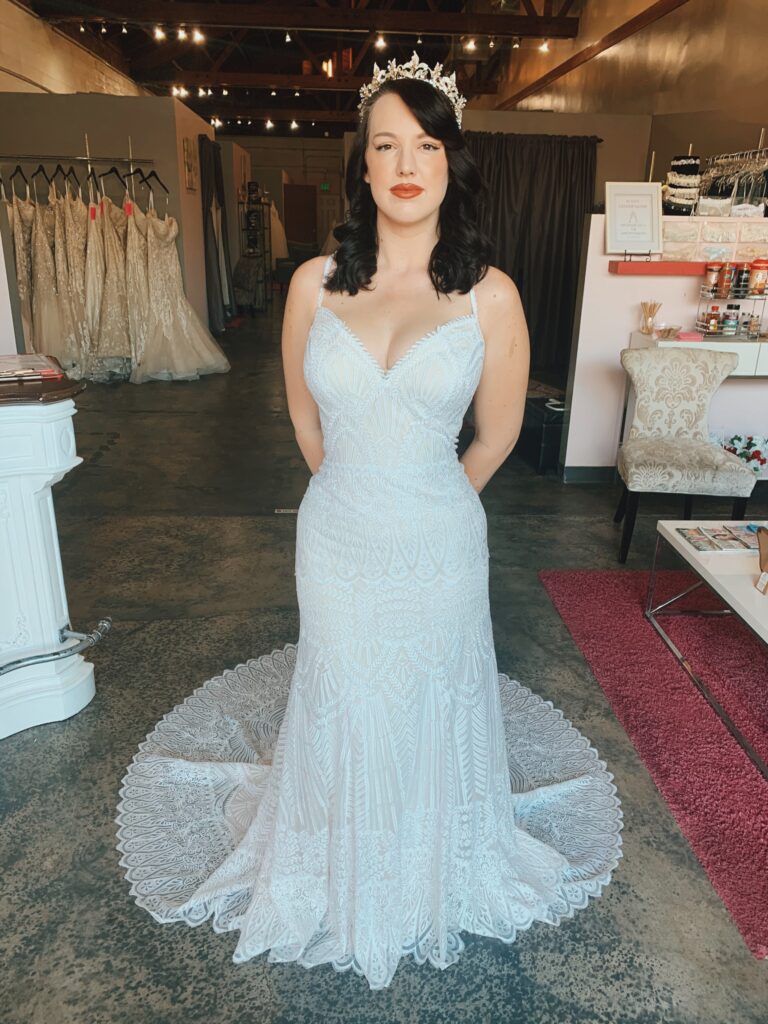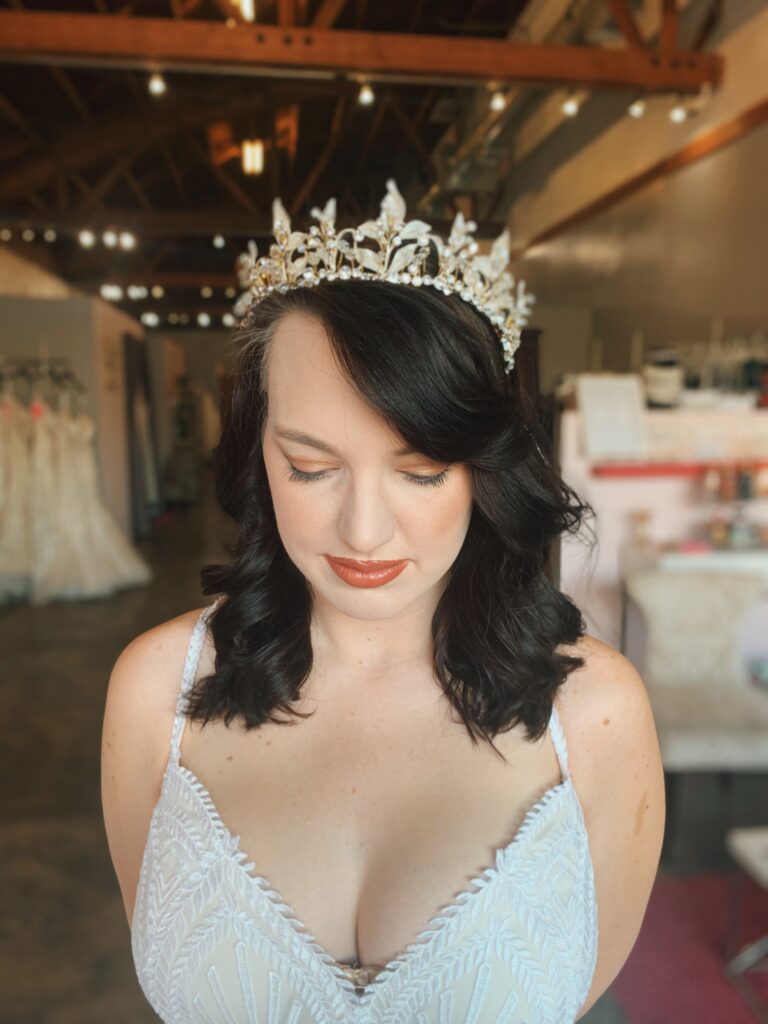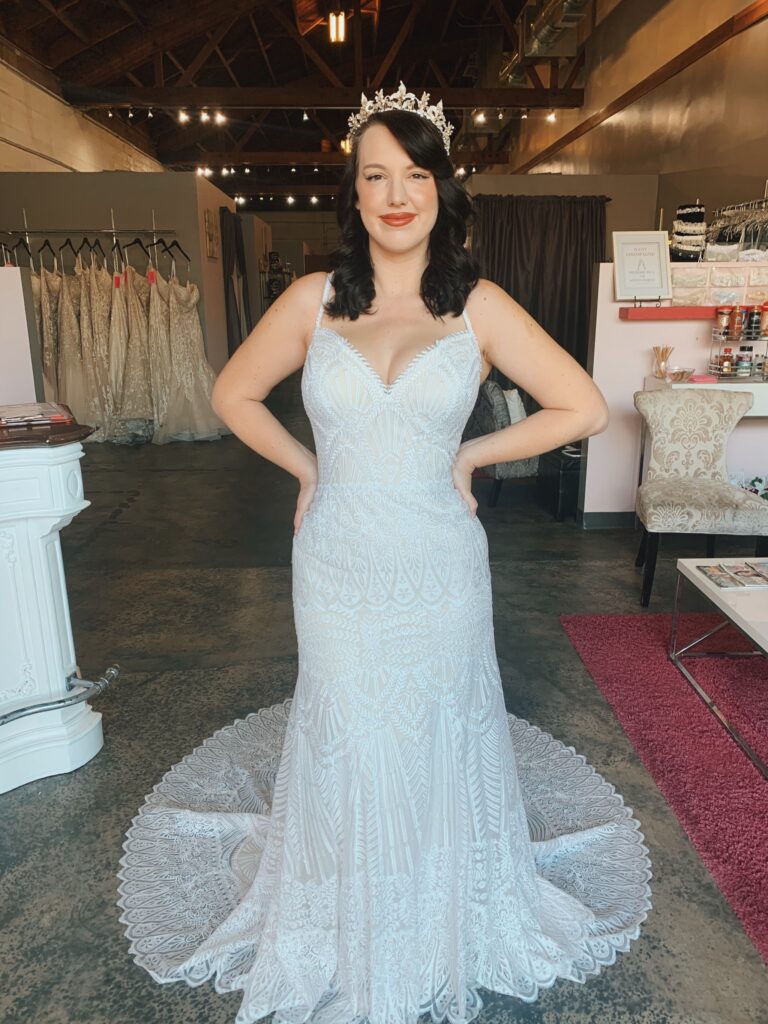 Last but not least is a princess that taught us the importance of a good nap. It's sleeping beauty, otherwise known as Princess Aurora! We love Aurora's classic sense of style and her determination and desire to follow her dreams! Aurora's love for animals, singing, and fashion makes her one of our favorite princesses and we felt her connection with nature made her dream wedding dress pick easy! We chose this beautiful floral patterned ball gown as Princess Aurora's wedding gown for many reasons but we felt that the lovely rose pattern and sweetheart neckline made this the perfect choice! The pretty floral pattern adorns the entire gown, from top to train!
This delightful dress is shown in an ivory and nude color, is a size 22 in our local bridal stores, and retails for $1999. The glittering rose gold headband features miniature gold roses, encrusted with rhinestones and pearls and blends beautifully into any bridal hair style. This one of a kind headpiece retails for $179 in our Long Beach location.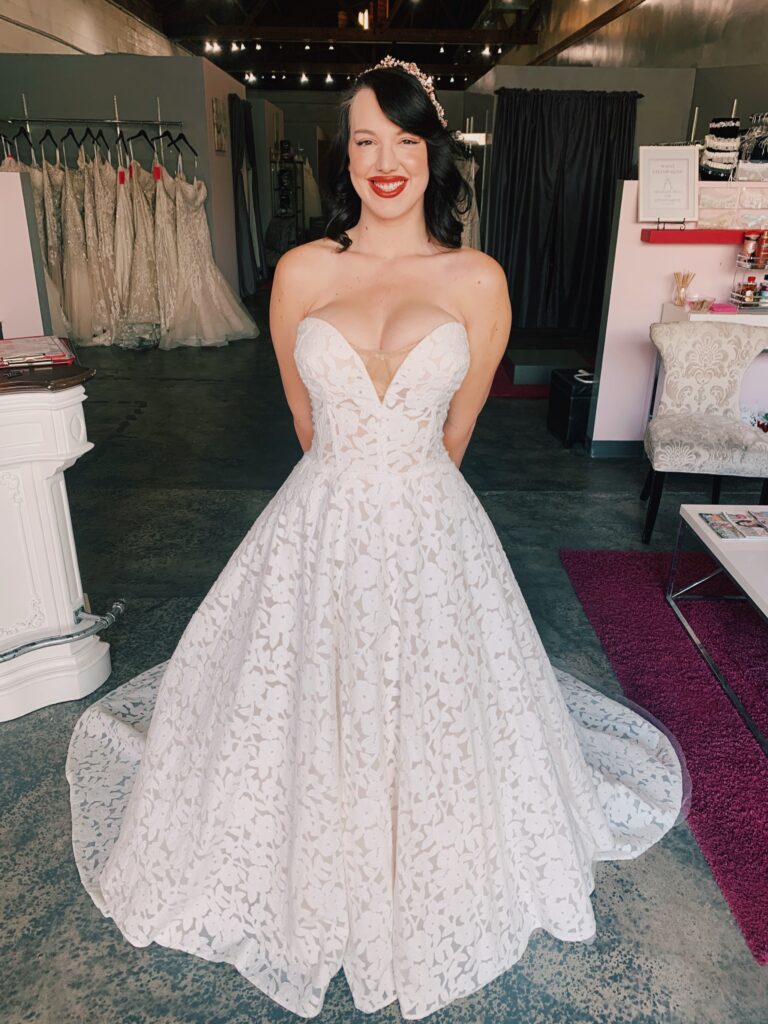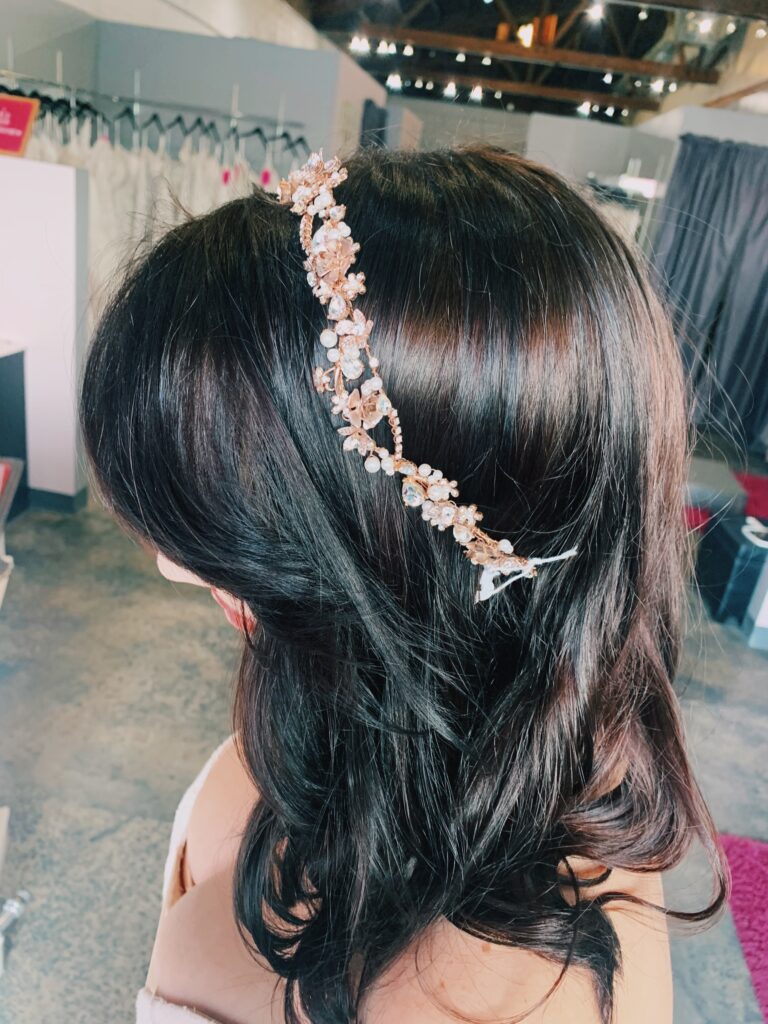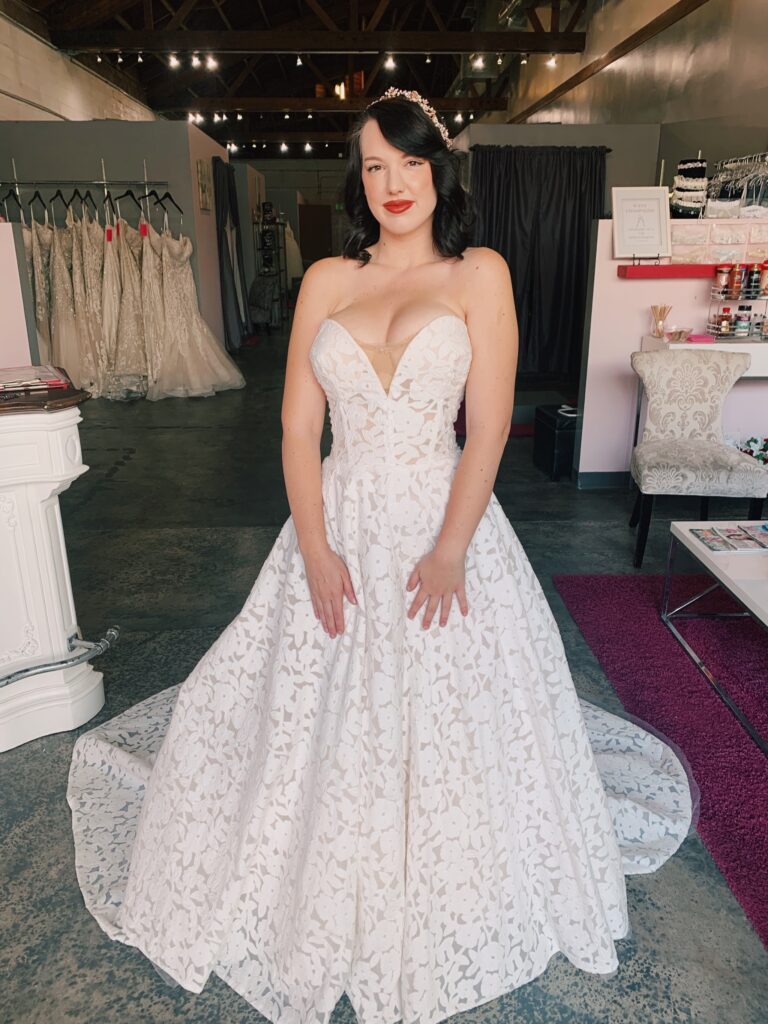 We love helping all of our brides find the perfect Disney princess inspired wedding dress (or something more traditional) and being able to add some magic to your wedding day!
Book your virtual or in-person wedding dress shopping appointment today to make all of your dreams come true!