Francesca and her party stopped by our Arizona bridal store to find her dream wedding dress. They were having a wedding shopping weekend and knew they had to add Strut to their list. Francesca wanted something glam for her red, gray, and navy wedding. With all of her guests in tow, Francesca booked our Private Appointment which meant they had the entire store to themselves. As soon as they walked by the front window, Francesca's wedding dress was there waiting for her, and she chose a glam wedding dress with tiara!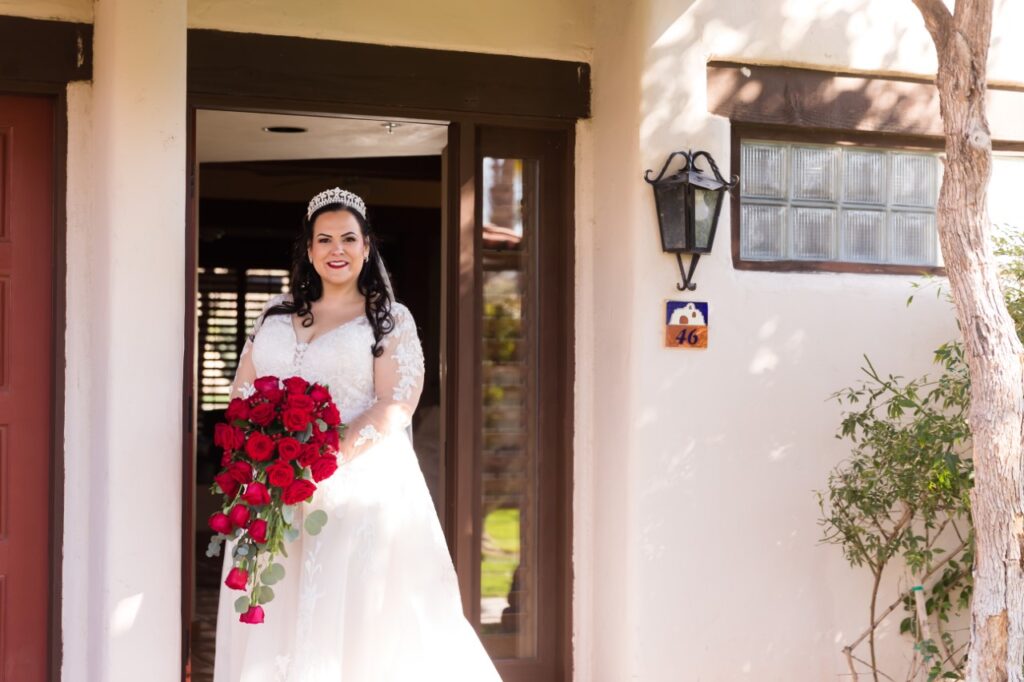 "My college roommate saw it in the window right before our appointment and said to me 'I saw your future dress sister!'", Francesca wrote to us, "It was the 1st dress that I tried on … loved it from the 1st moment it was on. I did try other dresses, 10 to be exact, but I came back to the 1st dress and said yes to the dress."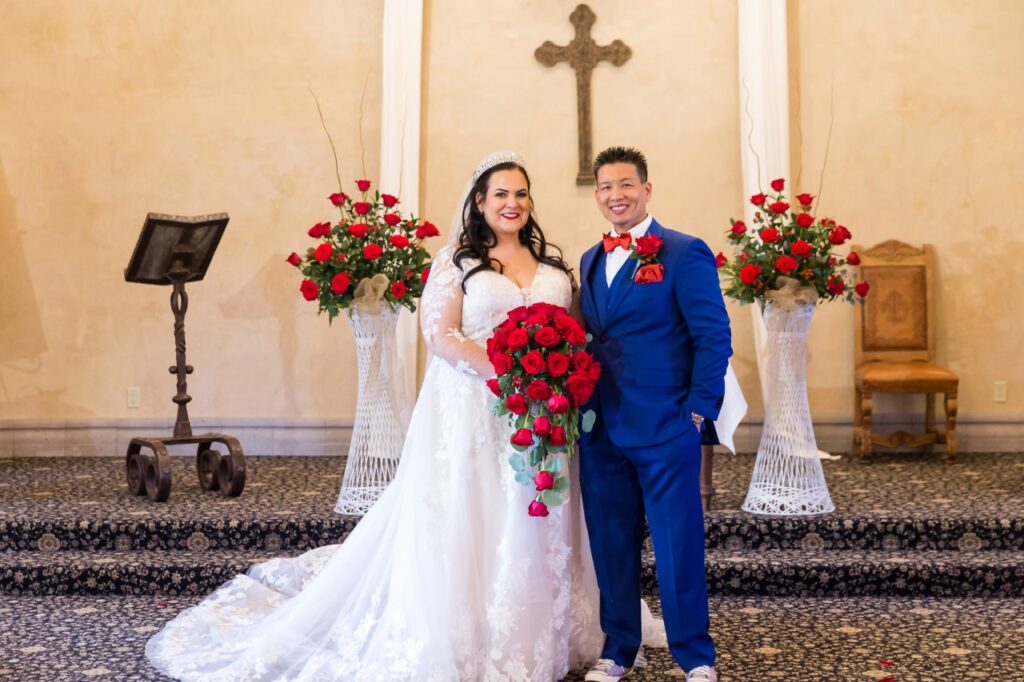 Francesca said yes to a long sleeve ivory ballgown with lace appliques throughout. The soft V-neck of the wedding gown, accented with lace, gave the gown a both soft and delicate look. Francesca topped off her look with a fingertip veil that had the same lace appliques as her dress, the perfect match. "My dress specialist was wonderful, kind, and made me feel absolutely beautiful." She wrote to us. Adding a beautiful, tiered rhinestone tiara to her overall look, Francesca was ready to walk down the aisle!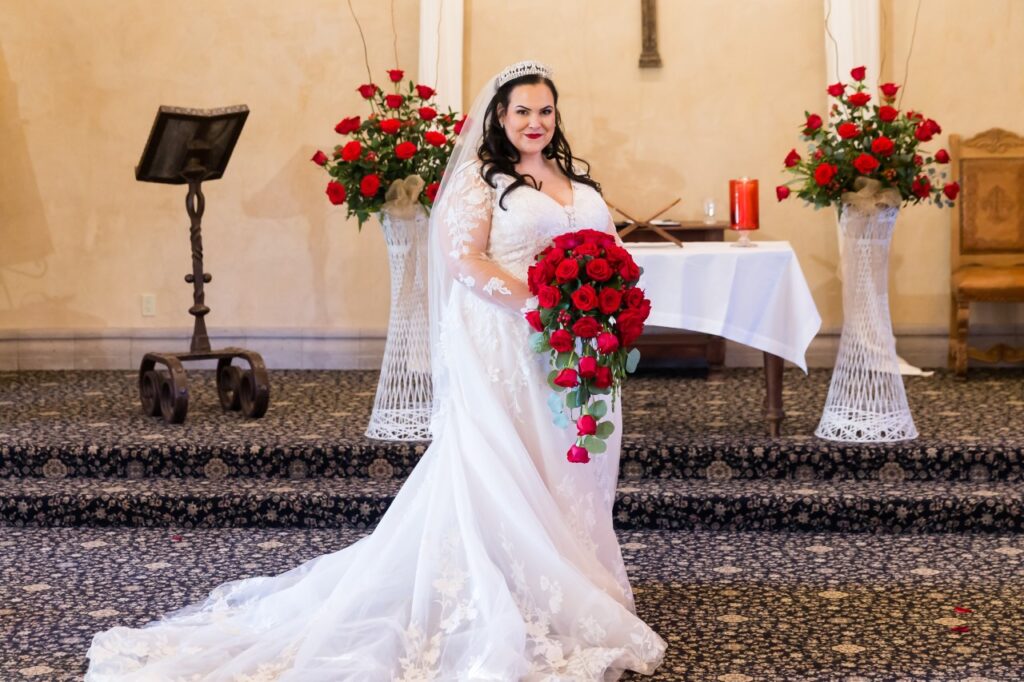 Francesca and her fiancé, Tonny Tang, were wed on February 26th, 2022 at Tubac Resort in Tubac, Arizona. "I was attracted to this place for its modern rustic country feel," she let us know, "It was just enough country with enough fancy all mixed up into one. We had 115 guests to share/ witness our special day." The wedding itself had a country modern feel with touches of red roses throughout. Exactly what Francesca an her fiancé were hoping for!
"Favorite moment of my big day is standing in front of the chapel waiting for the doors to be open and when they do," she said, "my future husband starts to cry once he sees me in my wedding dress. As I walked forward to my future all I could think how happy I was, how beautiful I felt, and how I looked like a queen. Truly was an epic moment!"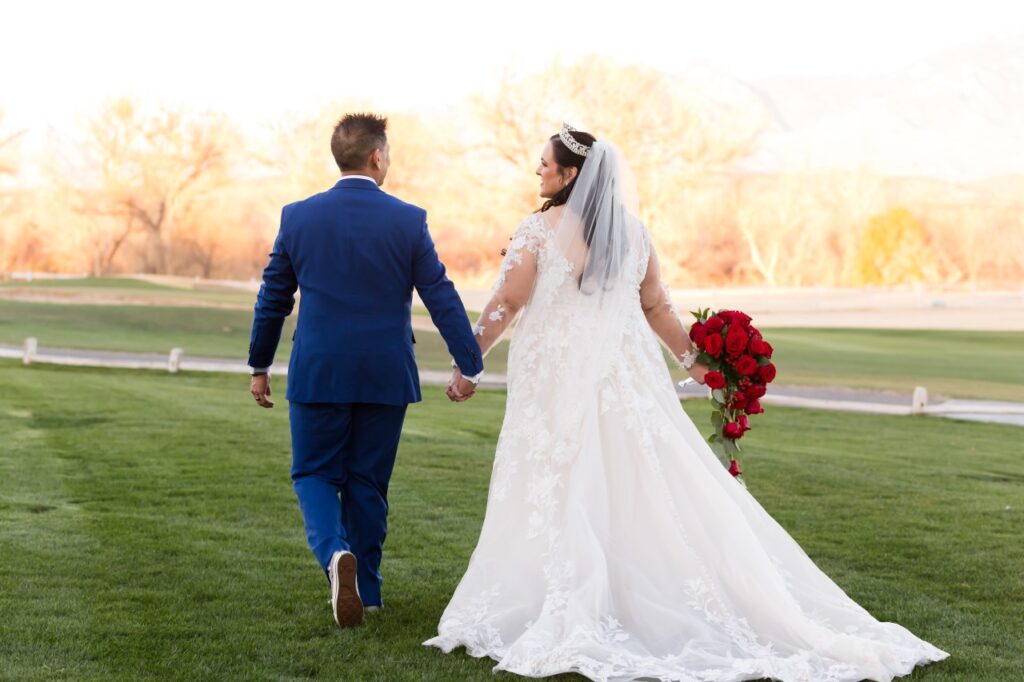 "Our first dance was the funniest thing ever…" she added, "My husband and I plotted a funny twist to the 1st dance by starting out like it was a dirty dancing theme/jump move. Seconds before the big lift I run and stop right in front of him and said, "yeah right that is not happening today" everyone laughed and then we started the real dance."
Francesca and her husband were all smiles and laughter throughout the night. Their wedding was exactly how they dreamed it would be.
Congratulations, Francesca and Tonny! Thank you for including Strut in your special day! If you're looking for a glam wedding dress, check out our selection of classic wedding dresses in our Long Beach, California and Chandler, Arizona bridal stores. We carry plus size wedding dresses to size 38. Book your private wedding dress shopping appointment, like Francesca did, and get the whole bridal store to yourself!