When Kelly, a pastry chef, came looking for her wedding gown at our Phoenix bridal store, all she requested was a halter wedding dress. Other than that, she was completely open to different styles, fabrics and silhouettes. We found her a simple, ready to wear strapless a-line wedding gown in satin. We showed her different ways to add her halter strap and once she could see it, she knew it was the one!  She admitted to being a bit nervous about wedding dress shopping, but we were able to put her at ease and help her find the perfect dress for her September 2014 wedding.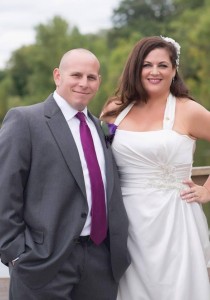 Kelly and Matty were married in Minnesota on September 5, 2014.  Their wedding was an indoor ceremony, but they planned to take all of their photos outside. Their colors were purple and greens. She loved the fact that her dress was lightweight and simple. The light color accent at the waist included subtle beaded detail with just a hint of sparkle. Her handsome husband obviously loves being married!  And we love the touches of purple in his tie and flower, but especially her shoes!  Congratulations, Kelly and Matty!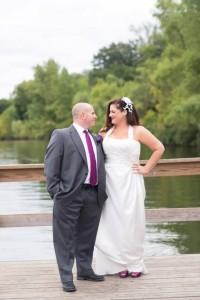 Kelly works as a pastry chef at Quiessence at The Farm.  She found out about Strut because her student, Kaylie, got her wedding dress here. We love it when curvy brides help one another find us!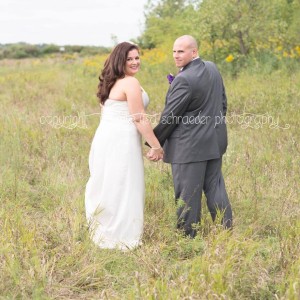 If you have always pictured wearing a wedding dress with sleeves or a halter strap, don't let a strapless gown frighten you!  Our expert stylists are pretty creative and can show you all kinds of ways to personalize your wedding dress.  We can add cap sleeves, full sleeves, flutter sleeves and straps, turn a straight neckline to a sweetheart or make it more modest, remove a train, or cut a dress to tea length or hi-low.  If you visualize it, we will try our best to make it a reality! Check out our website for more information about shopping at Strut!