Our bride, Maya, visited our Long Beach wedding dress store back in March of 2021 after looking for her bridal gown at various designer trunk shows. "My friend made my appointment for me," Maya wrote us, "she had been researching dress shops and knew I wanted to make sure I checked out places that had lots of plus-size dress options. I went to a standard-size shop… but the experience of spilling out of the dress as it was clipped on really made it hard to visualize how the dress would actually look on me."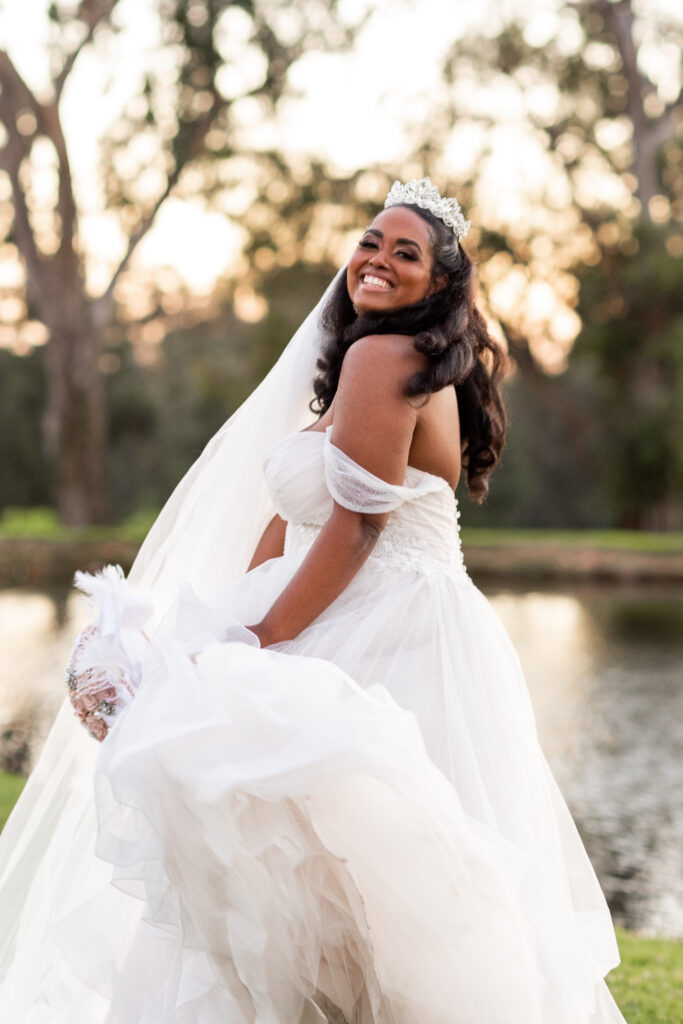 After trying on a few wedding gowns selected by her party, Maya found her dream ruffled glitter ballgown wedding dress. She chose a beautiful, tiered skirt ballgown with horsehair trim and sparkle all throughout. With her stylist showing her how to add off the shoulder sleeves and topping the look off with a veil and tiara, Maya knew this was her wedding gown. "The tears instantly started flowing." She said, "As I was getting choked up and emotional and knew this was my dress, I randomly got a text from my soon-to-be husband, and it was just the heart eyes emoji🥰. I immediately said I was done looking.  He told me he just got a feeling that I was having a good time shopping and so that just made me 100% sure about my pick."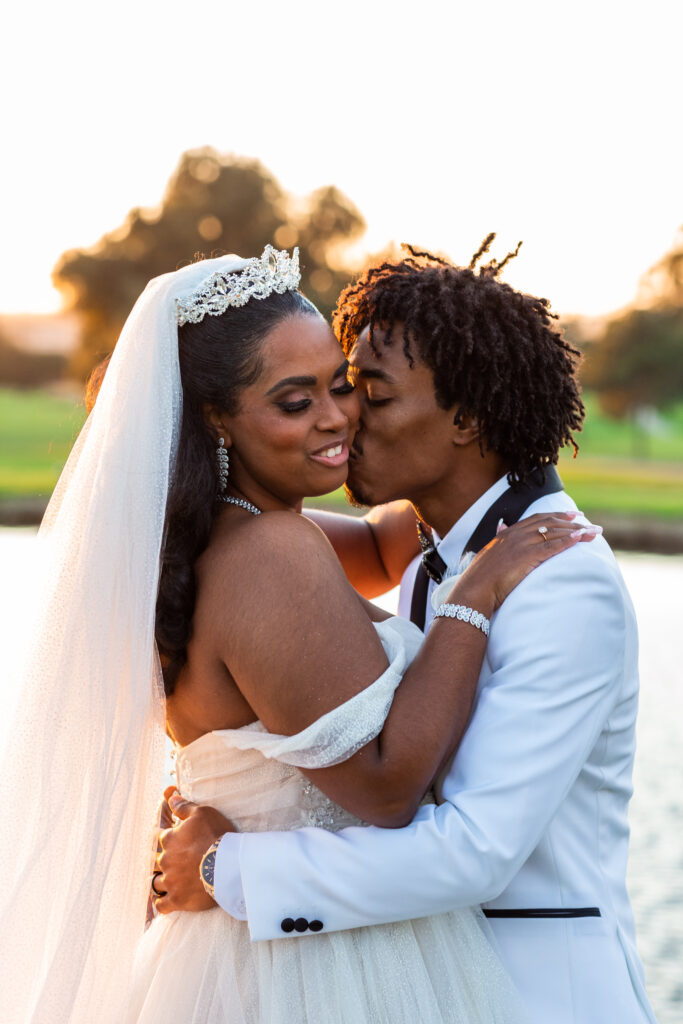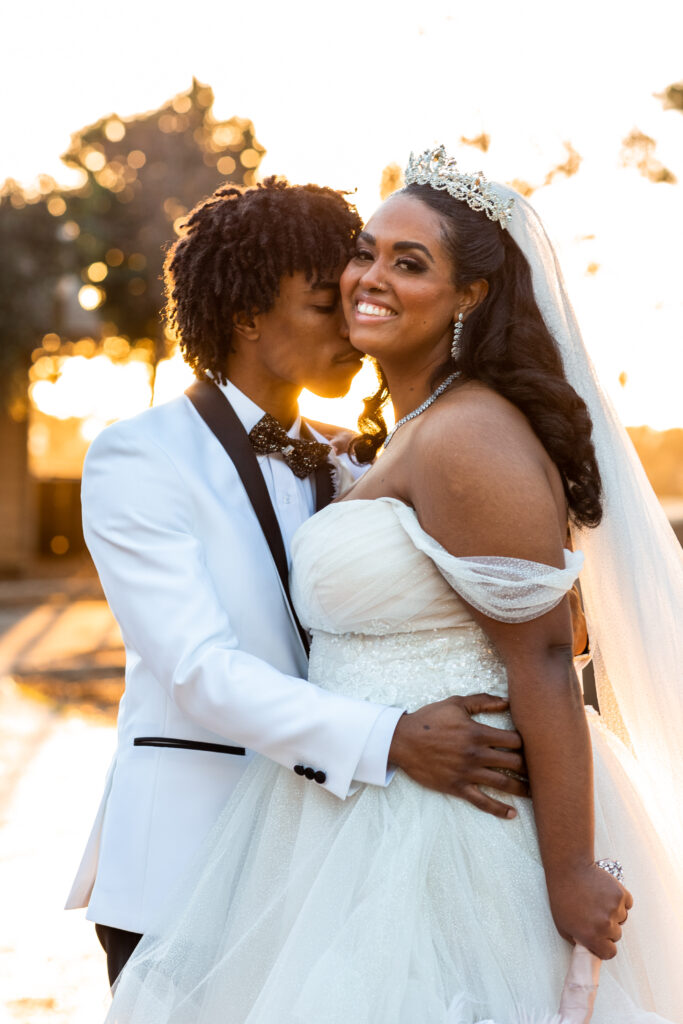 Maya and her husband, Montez, were wed on New Year's Eve 2021 at Chester Washington Golf Course in Hawthorne, CA. The theme of the Roaring Twenties, mixed in with a bit of Harlem Renaissance and Great Gatsby, was seen throughout the wedding; from the fun feathers instead of flowers to the sparkle in Maya's wedding gown, the wedding was truly a night to remember.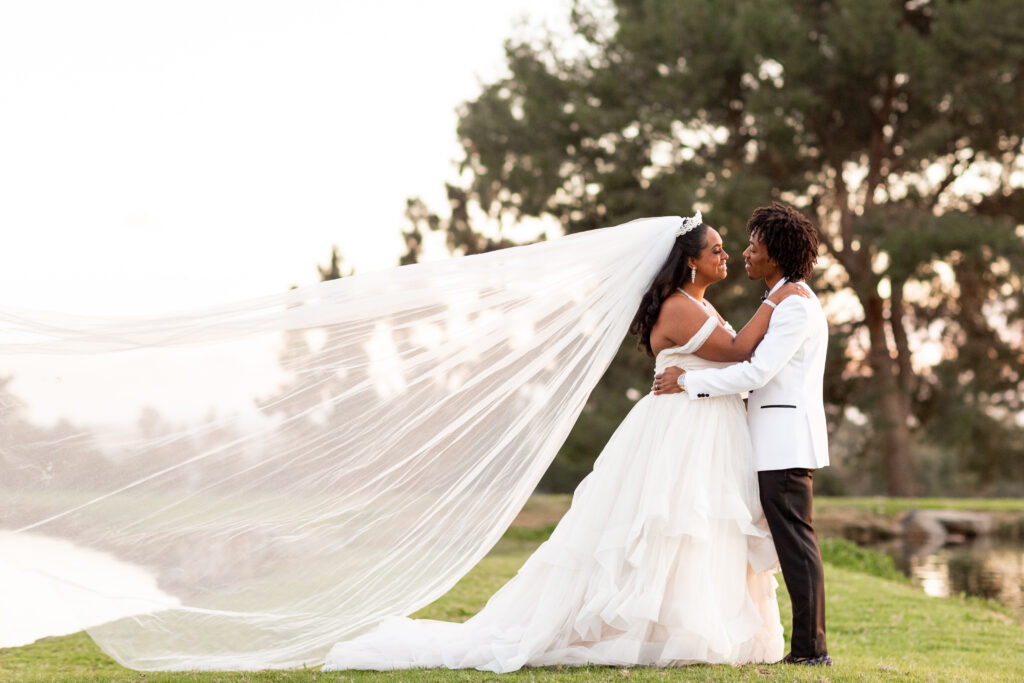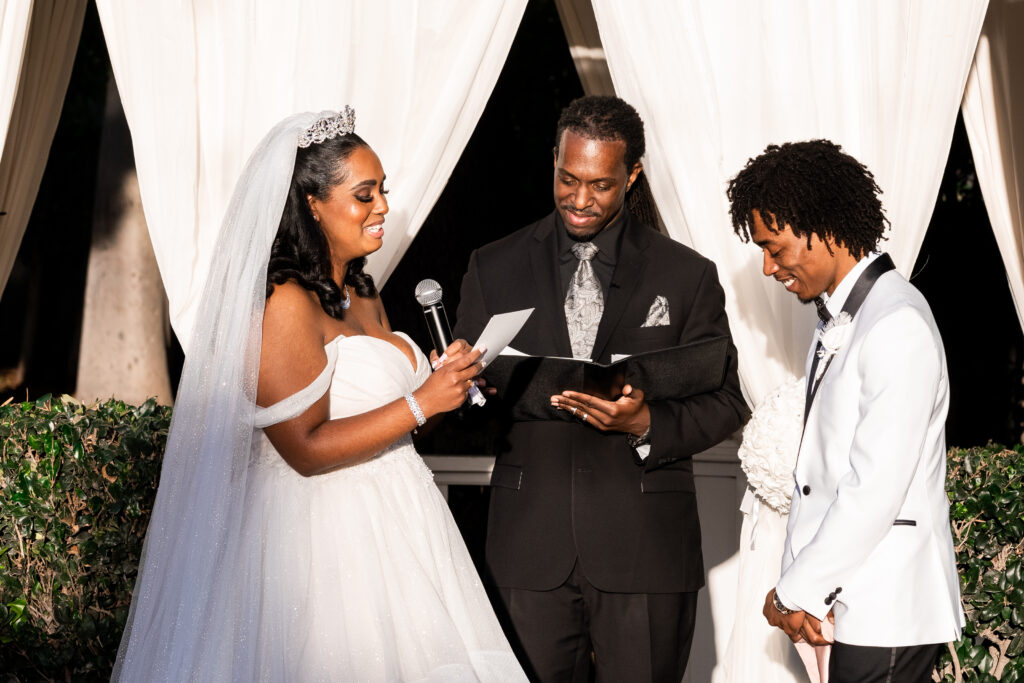 She wrote, "I hate to be a cliche but I would have to say the ceremony was my favorite part. I think just actually walking down the aisle to my soon-to-be husband and truly being the happiest I've ever been and seeing him overcome with such emotion about our lives together just put me on top of the world. Then hearing his vows made my heart feel the most full it ever has. We had a really hard time the entire planning process so for it to finally be happening and here after 14 months and everything actually being perfect was such a win after so much hard work and stress."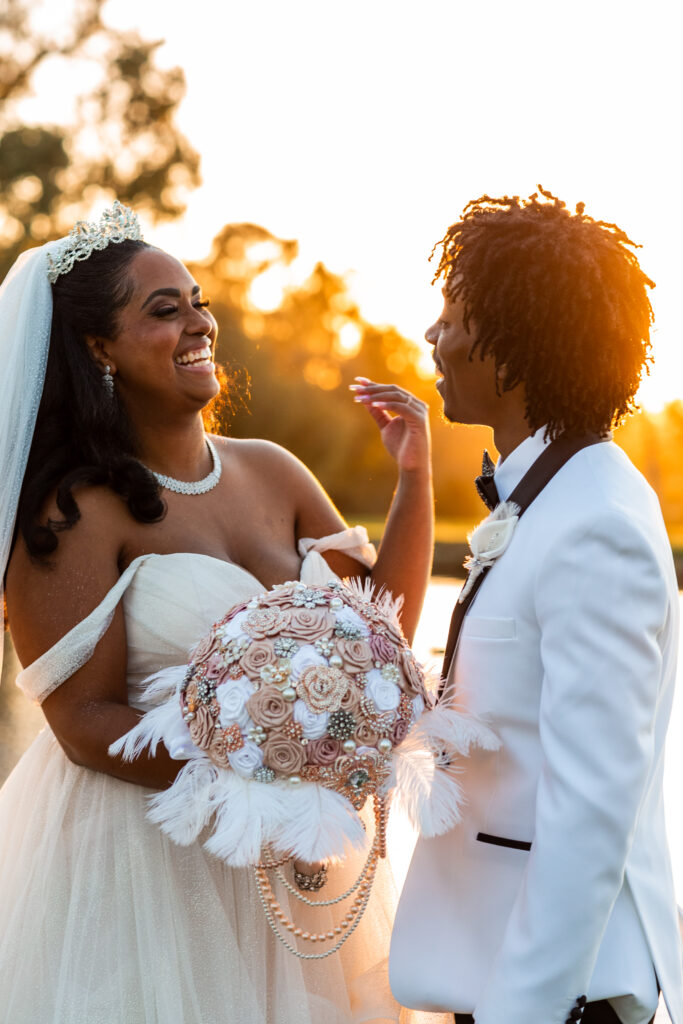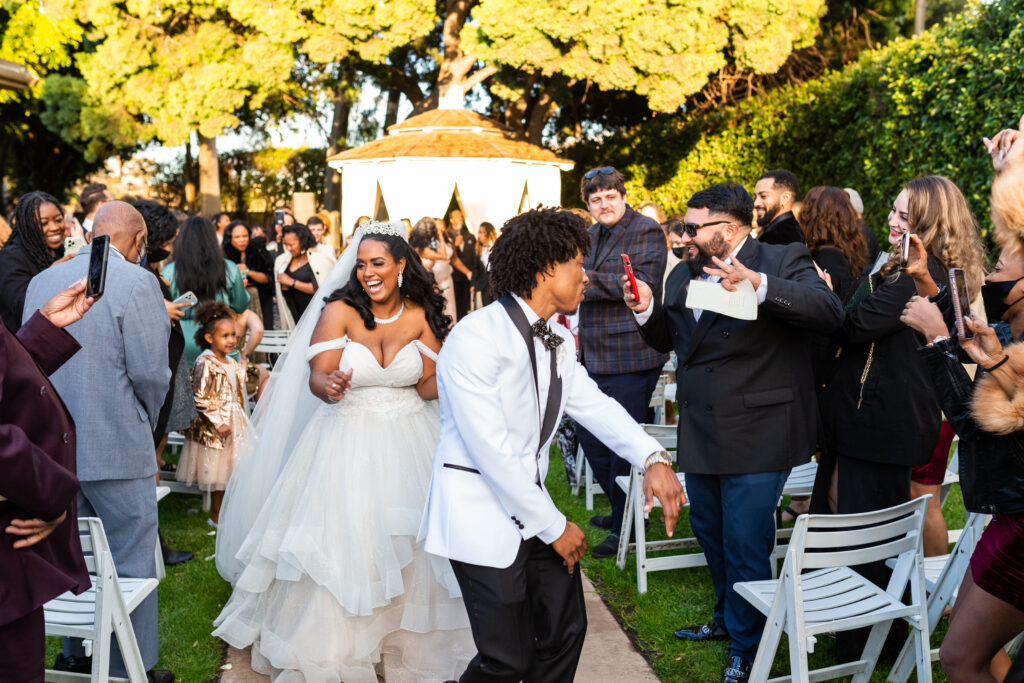 The venue was so reasonably priced, she added, and that "We had our ceremony on the grass in front of the gazebo as planned because it miraculously stopped raining after a week-long downpour, we did pictures by the pond at golden hour, and then a cocktail hour and reception in the main events room. We had 120 guests but thankfully our venue fit 250 so even at half capacity the room felt nice and spacious while still full of life. "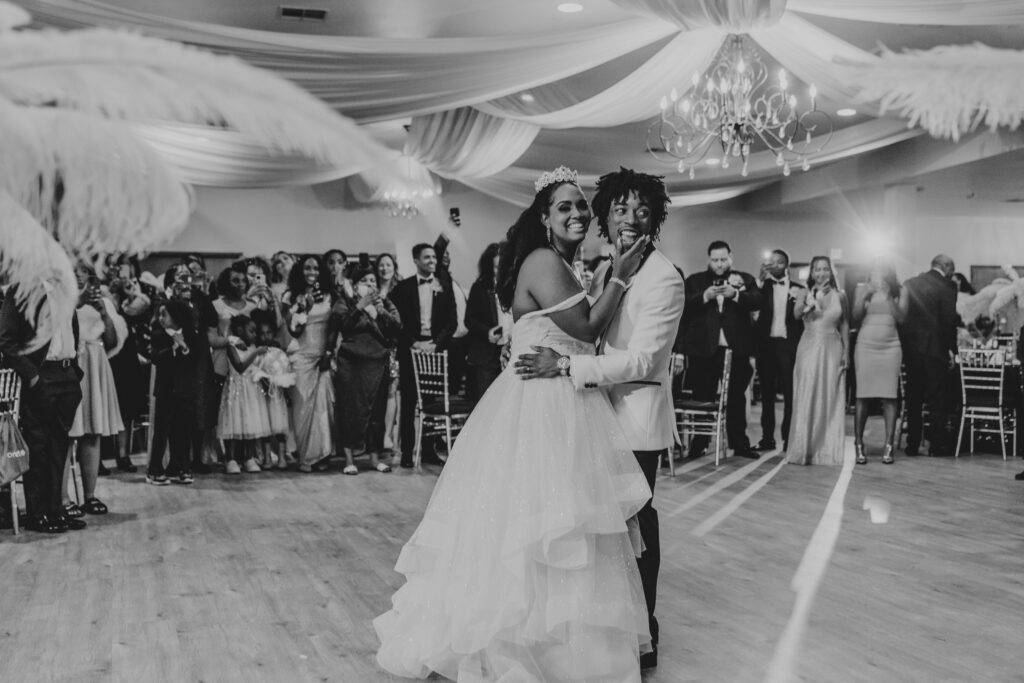 And speaking of budgeting for weddings, Maya gave us this great wedding budgeting tip: "The theme for our wedding was Harlem Renaissance, Great Gatsby, and Roaring Twenties. I really wanted it to be elegant, with a wow factor, but also fun and festive as we got married on New Year's Eve. While I love flowers they are not something I am passionate enough about to spend so much money on them to blow my budget, so we worked double time at finding an alternative. We ended up using feathers instead and it was brilliant! Super cost-effective and they ended up looking so elegant and fun."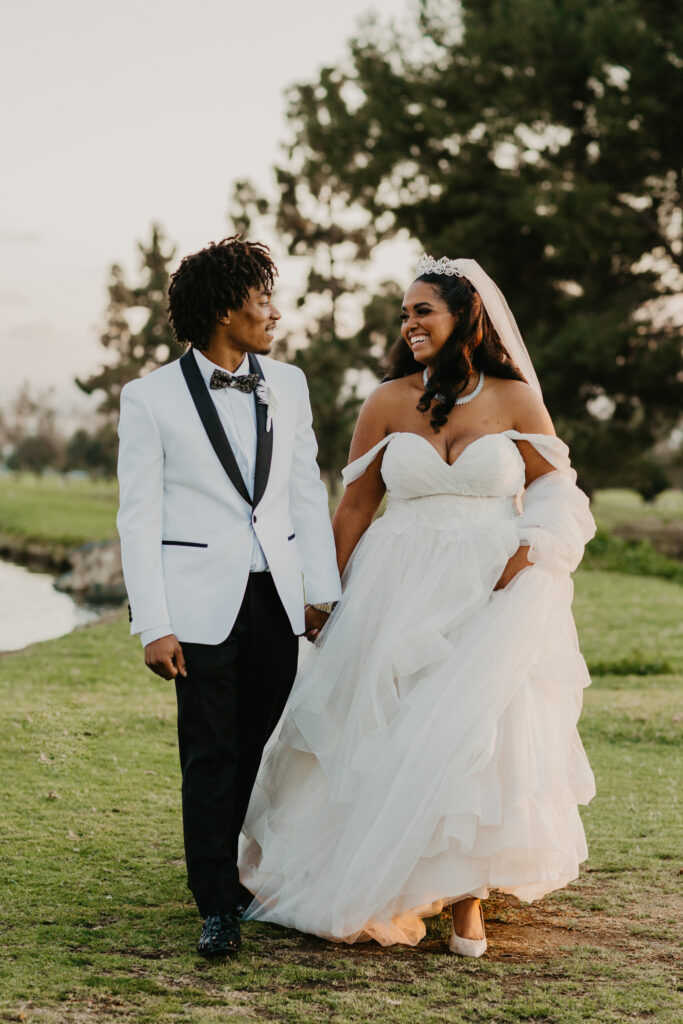 "I could not recommend Strut more." Maya later wrote to us, "I loved my experience so much I've been telling everyone about it and even posted about it on my YouTube channel and shared footage of me saying Yes to the Dress at Strut."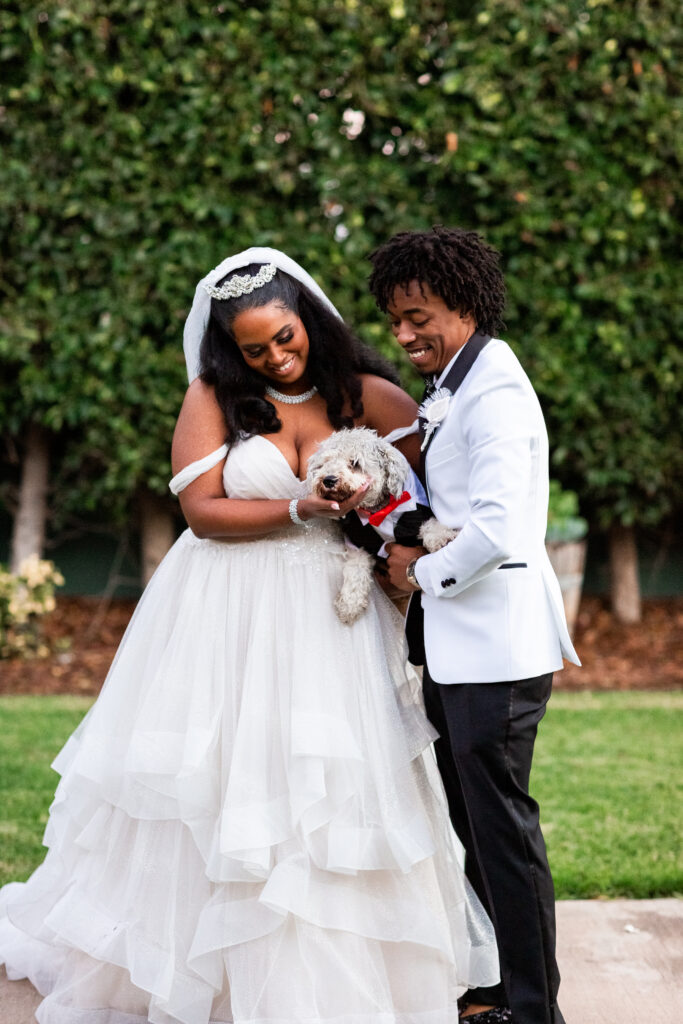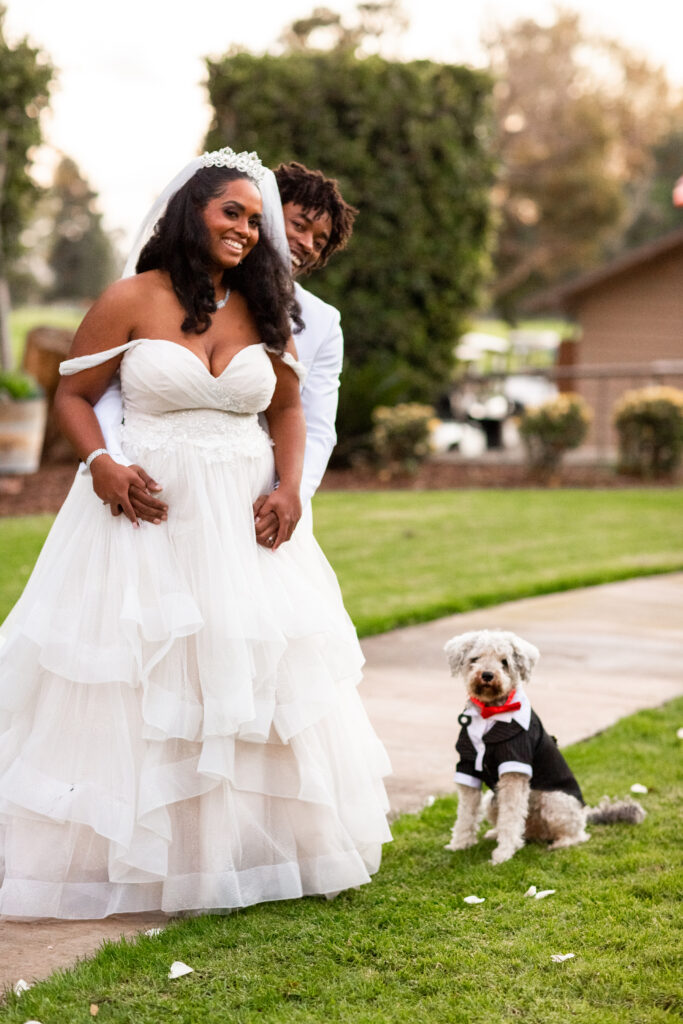 She continued, "I think the thing that set Strut apart from other dress shops was the wide range of styles, the competitive price point, and having a large size range of dresses to try on in-store without feeling like all the dresses you could actually put on were only size 2. The dresses I tried on were all different sizes and I loved that because some dresses had to be clipped smaller onto me, while others had to be clipped to fit bigger. Another amazing thing about Strut was TaMiko's honesty. I let her know I had already lost 12 pounds and was planning on continuing and she told me how to properly order my dress and how much my dress could be altered. I ended up losing a total of 63 pounds and would have ordered my dress completely wrong without her help. I also have to say the in-house seamstress is amazing. Vicky is phenomenal at what she does and an absolute pleasure to work with."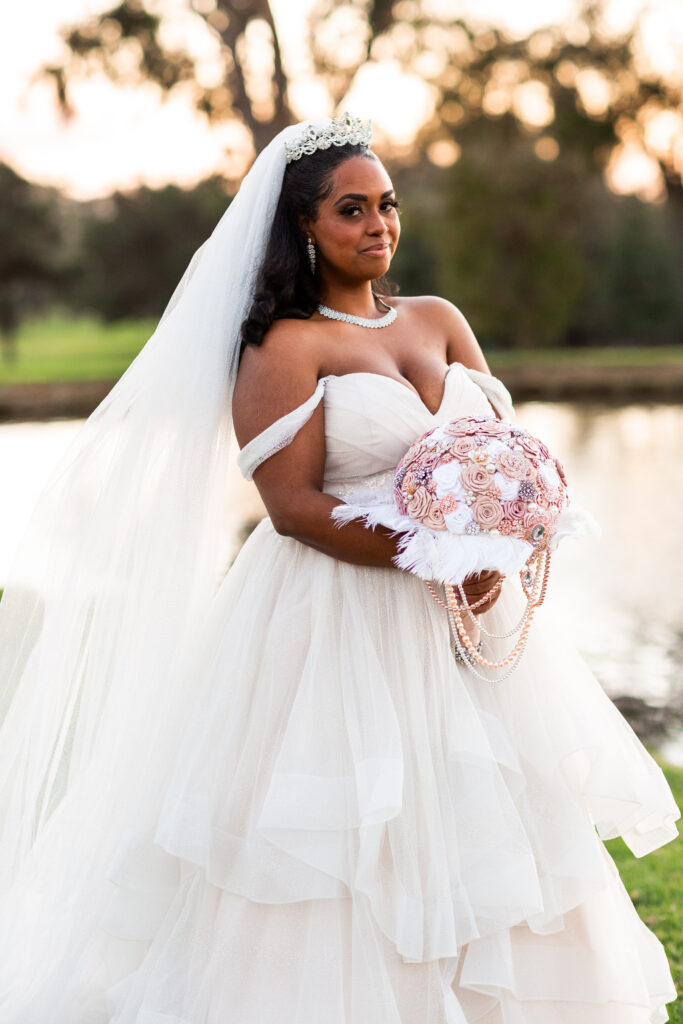 Her wedding sounds like it was one fun party, complete with after party! "The funniest part of the day besides the dancing and actually getting married was our after-party. Because we got married on New Year's Eve we wanted people to be able to see the fireworks at midnight and have real FUN with our friends so we ended up having an after-party at our house. The vibe was high school, your parents are out of town, kick back, holiday party. Everyone changed into cute comfy clothes and we just had a blast partying until the early morning. It was the perfect end to the most amazing day."
Vendors:
Photography & Video:
The Pixel Perfection
https://www.thepixelperfection.com/pi…
Florist:
Tia Talbott – Gorgeous Bouquet
Venue:
Chester Washington Golf Course
https://www.chesterwashington.com/pri…
Coordinator:
Boneshia Perri
323-756-2516 ext. 2
Hair:
Signature Curlz – La'Shanda
https://www.instagram.com/signaturecu…
Congratulations, Maya! Thank you so much for being a Strut Bride and share your special day and night with us!