All of us at Strut are wishing a huge congratulations to Stephen and Mercedes! Their wedding on March 13th was held at The Ashley Castle in Chandler, Arizona. The Ashley Castle is unmatched elegance, ambience, and luxury – much like their beautiful wedding. So it was fitting that Mercedes chose a long sleeve fairytale wedding dress from our Chandler, Arizona bridal store!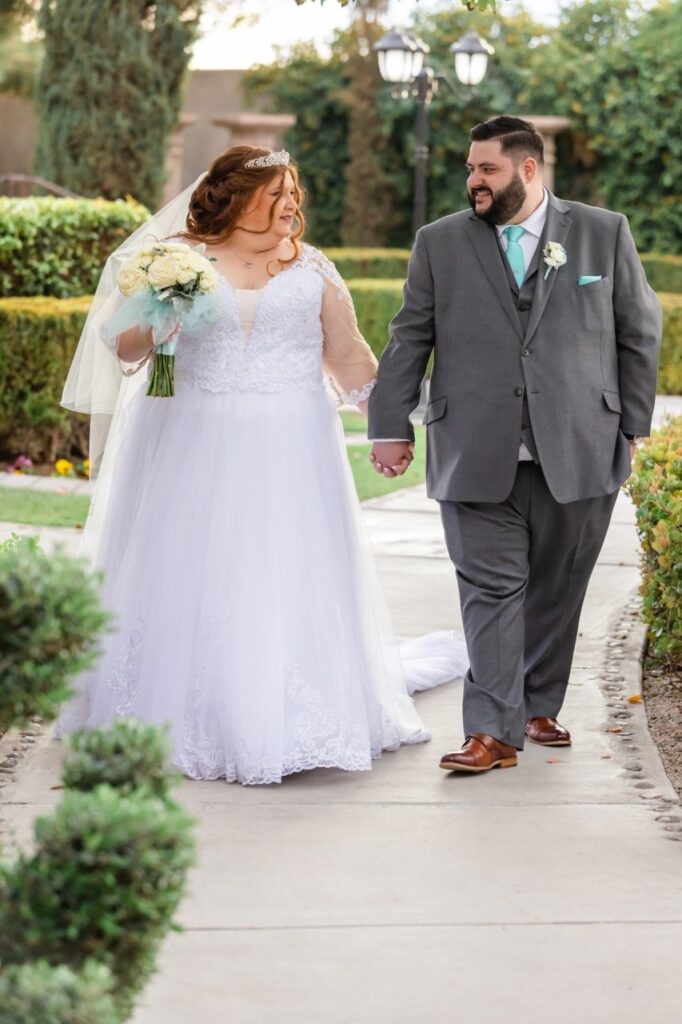 We first met our beautiful bride at the AZ Wedding Expo in 2019 and the rest is history! Shortly after, Mercedes came in for her wedding dress shopping appointment with her mother and future mother-in-law – giving one our senior stylists, Ronnie, the privilege of working with such an amazing group. When asked about her wedding dress shopping experience she tells us,
 "It was amazing! I only went to Strut because I knew that was where I wanted my dress from.  I tried on maybe 3-4 dresses. I was going with a style of dress that was sort of vintage and elegant at the same time. I also wanted to have a little princess element as well. I fell in love with my dress because it had all the elements I wanted."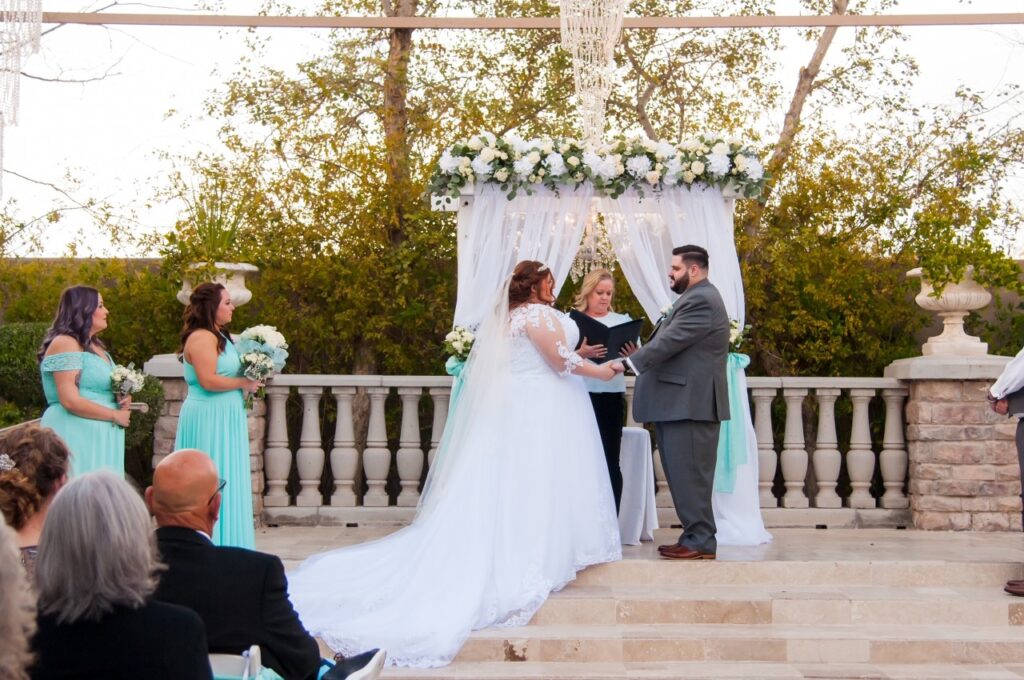 THE DRESS was a beautiful off the shoulder ballgown with lace sleeves and a full tulle skirt that matched their classy, elegant, and vintage theme perfectly. The couple's goal was to keep their wedding timeless and classic, and that they did!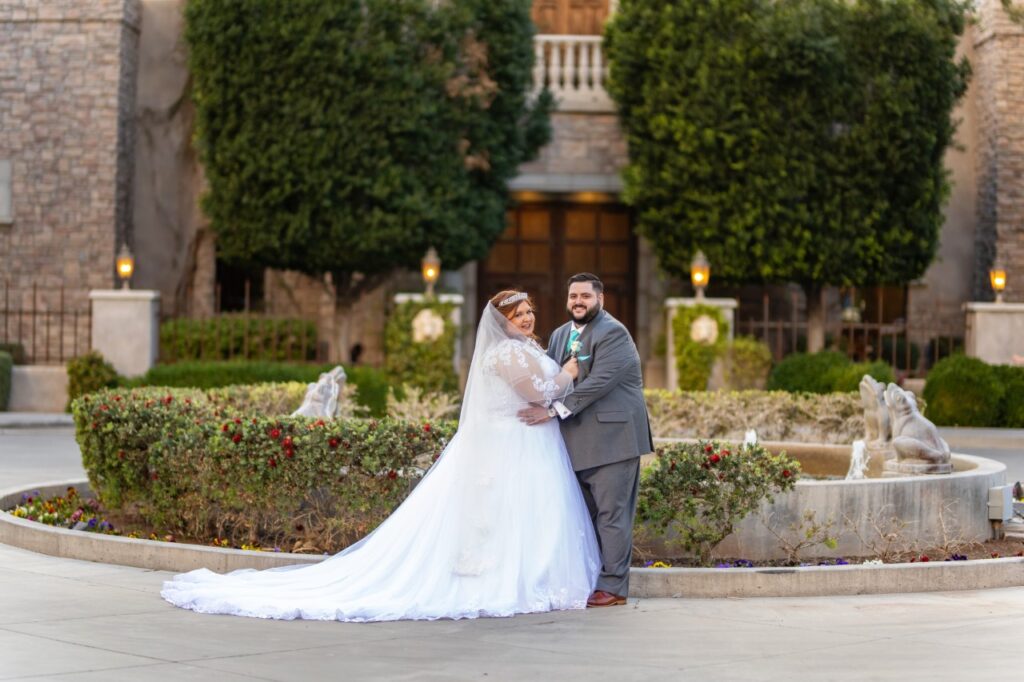 Their big day gave us all plenty of moments to remember, but when asked which moment they held closet to their hearts, the newlyweds said,  "Our first dance. It was the most amazingly incredible moment. Our first dance song was Perfect Symphony by Ed Sheeran and Andrea Bocelli and the second verse of the song is in all Italian. The moment the Italian verse started we surprised our guests with fireworks."
Imagine being outside on a warm spring evening in Arizona, surrounded by the gray stones of a castle's outside walls and tons of breathtaking greenery while watching two people you know and love have their first dance together as husband and wife, when suddenly, there's fireworks! There is only one word to describe what every guest felt during this moment: speechless.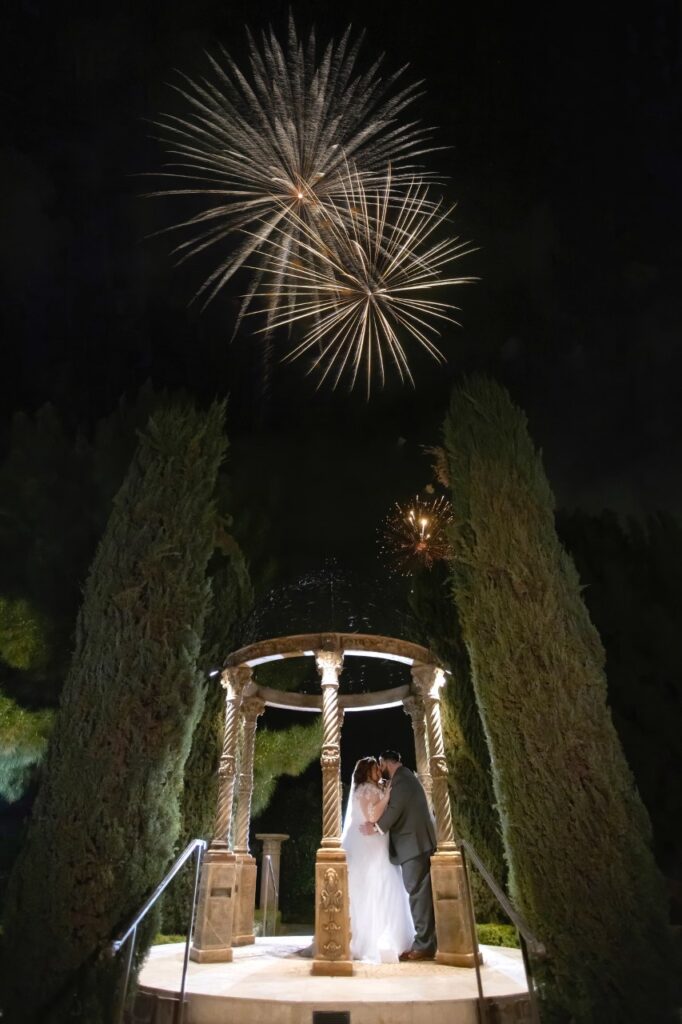 Stephen and Mercedes share more than a love for each other; they also share a love for the movie Grease! Towards the end of their magical evening, completely unplanned, the DJ, Jeff Nelson with Unforgettable Events, played his own mashup of all the songs from Grease and the crowd of 125 got wild! The couple showed off their memorized danced moves and really gave the videographer something to film!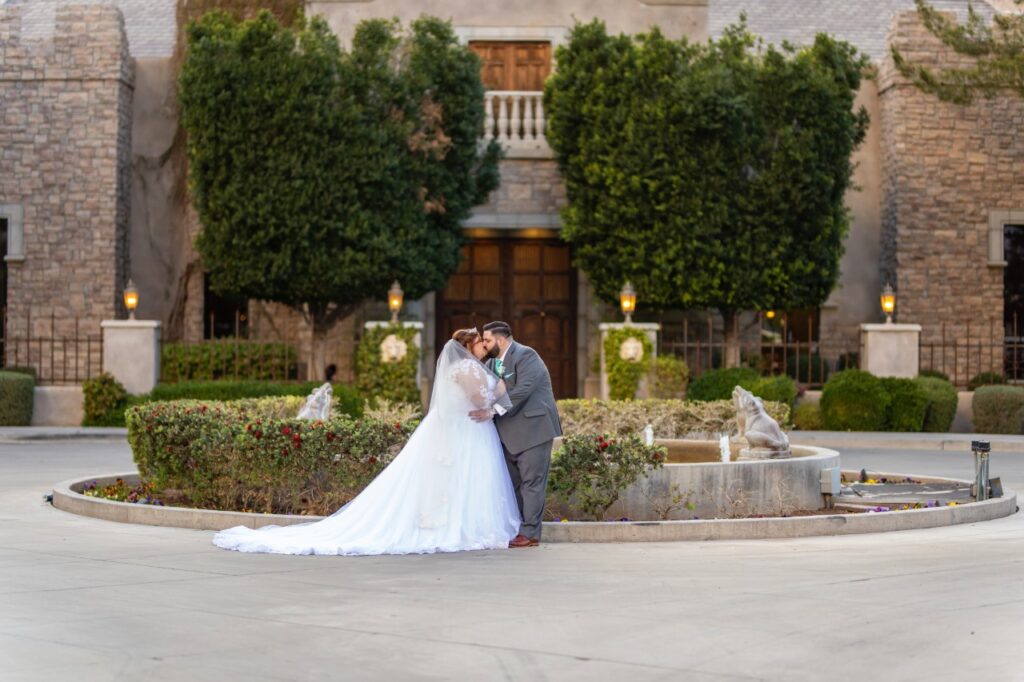 Congratulations Stephen and Mercedes, from all of us at Strut Bridal, we're wishing you many years of love and happiness!
Venue- The Ashley Castle @theashleycastle
Floral- Amy with The Ashley Castle
Dress- Strut Bridal @strutbridal
Photography- Colling Photography @collingphotographyarizona
Videographer- Perry with @picturevideoaz
Hair- Calla Sharp @thehairapist97
Makeup- Stephanie Kole @stephaniekolemakeup
String Quartet- Emotion String Quartet @emotionstringquartet
DJ- Jeff Nelson with Unforgettable Events 
If you're looking for a stunning plus size wedding dress, visit our Long Beach, California or Chandler, Arizona bridal stores to find the area's largest selection of wedding gowns for plus size and curvy brides. On a budget? Our annual wedding dress sample sale runs from July 16 – 31st. It's the best time to find a wedding dress under $1000. Book today!