Olivia and Michael had been planning a wedding for several years but life intervened and it kept getting postponed.  When it finally happened, things fell into place even quicker than they had anticipated.
Their wedding was truly a family affair.  They were married on October 25, 2014 on a private property in Cornville, AZ.  They had a simple outdoor ceremony and Olivia's uncle built their wedding arch.  Impressive, right?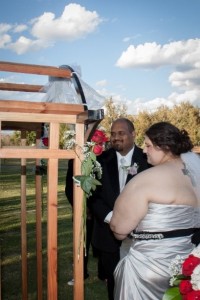 Her mom catered the food and her sisters served while a cousin was their DJ, making their wedding truly a family affair.  While it was a little different than they had imagined, Olivia says that her wedding was perfect–and it certainly looked like a beautiful day!
Olivia and Michael chose red, black, and silver for their wedding colors.  When Olivia came to our Phoenix wedding dress sample sale in July 2014, Ann and Angel helped her find a gorgeous silver satin fitted wedding gown accented with a blingy, black belt.  It was almost like it was meant to be, since it matched her wedding colors perfectly!  And, as Olivia reminded us, "Once you have the dress, it's downhill from there!" Olivia was thrilled to find her perfect wedding dress right off the rack and at a great price.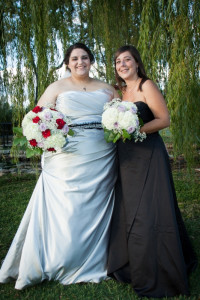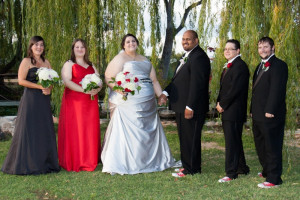 We love the red chuck taylors the groomsmen wore!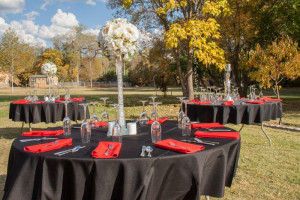 Olivia sent us a photo of her dramatic tablescape with tall flowers, and also one of their first dance.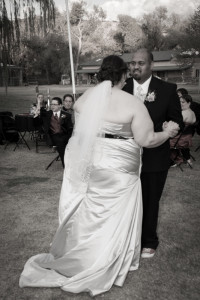 Olivia and Michael, we wish you a lifetime of happiness!  We know that your marriage will be full of love and laughs!
If you have a specific color in mind for your plus sized wedding dress, give us a call!  We have lots of ways to incorporate color into your dress.  While we can't promise we'll have a silver dress in stock and on sale, we can help you create your vision! Call today for your one on one appointment.