All of our Long Beach bridal store stylists are drooling over this new plus size mermaid wedding dress–the bling! the sequins! the cool design! the awesome structure! So of course we had to put it on to see how it would fit our curvy brides. Here's stylist Ann (ignore the no makeup and messy hair look, please, this was all about the new dress!) checking out this amazing new mermaid gown: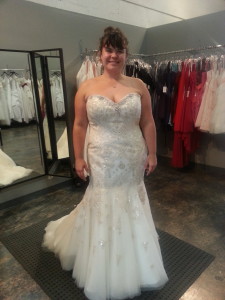 Here's what we love: this gown has a beautiful sweetheart neckline that is edged with sparkle, making it great for brides who love bling. The long fitted bodice shows off hourglass shapes. We recommend adding a petticoat underneath this to give the skirt more shape and to make the sequins really sparkle when you move. But the best part is the detail. Here's a close up: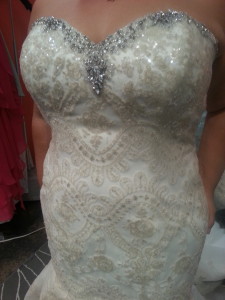 Look at the intricate detail work–it's all done in gold sequins! We love this glam gown for vintage weddings, or for Great Gatsby inspired events. You can see the shimmer a bit on the bodice, but we think the photos don't do it justice at all! It comes in this ivory and gold, or in all white. This plus size gold sequin mermaid gown is available only in our Los Angeles area bridal store, and it retails for under $2000, but it looks like a million bucks. Really.
We wanted to inlude a photo from the designer so you could see another view. The flare in the skirt is caused by a petticoat, so to get that dramatic flare, ask us about adding it under your wedding gown.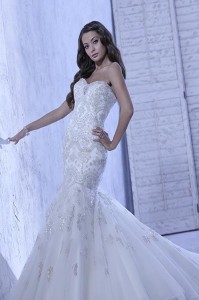 It's definitely a unique wedding dress for brides who dare to be different! We'd pair it with stillettos and a big gold hair comb with side swept hair. Ann loved it so much she thinks she might need another vow renewal this year! If you'd like to try on this new wedding gown, give us a call. Phoenix area brides can request a wedding gown transfer to our other location to try it on. The fee is applied to any wedding you purchase. As always, appointments are recommended so you can enjoy our award-winning customer service!