In the fall of 2021, Ariana and her family decided to schedule a Very Important Bridal (or as we like to call it, a VIB) wedding dress shopping appointment at our Long Beach, California bridal store. Ariana was open to styles and silhouettes, but she knew she needed a wedding gown for her upcoming March wedding. She rocked a stunning lace sheath wedding dress with illusion back and train.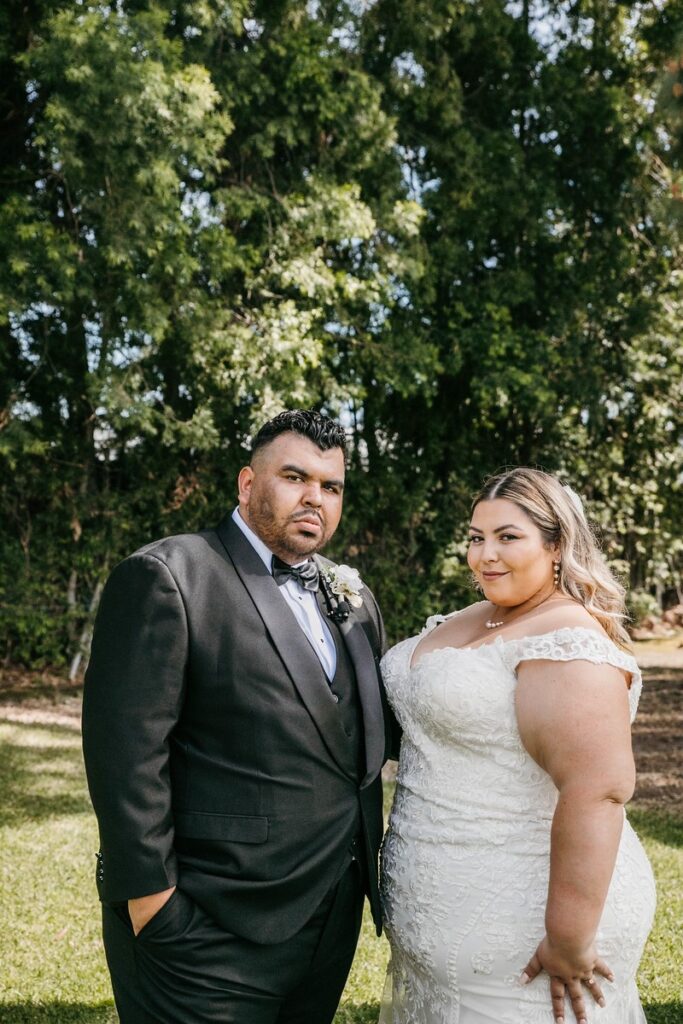 "Being a plus size woman, I was a bit scared to see what little selection might be out there for me." She said, "But then I came across Strut Bridal on Instagram, and I knew that I had to come check it out in Long Beach! The dresses I saw online were so beautiful. They had so much to choose from that was in the price range I was aiming for. We came to shop on a Saturday and Kellee, my amazing consultant, understood exactly what my vision was."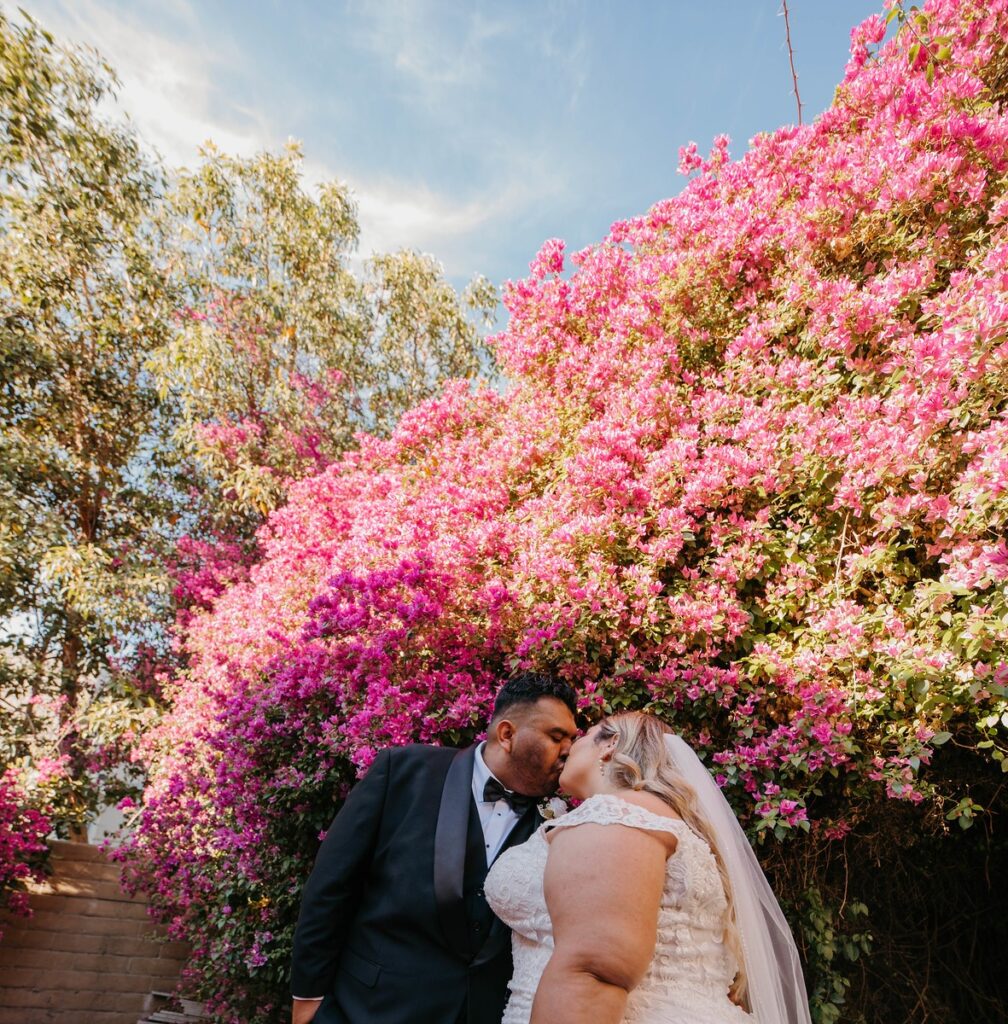 "I wanted lace with a train and somewhat fitted, but not exactly a mermaid." She continued, "She brought out 5 amazing dresses and the dress I ended up choosing was the last of them. I was so torn between the 2 of them, but I knew that I saw myself walking down the aisle in the dress that I chose."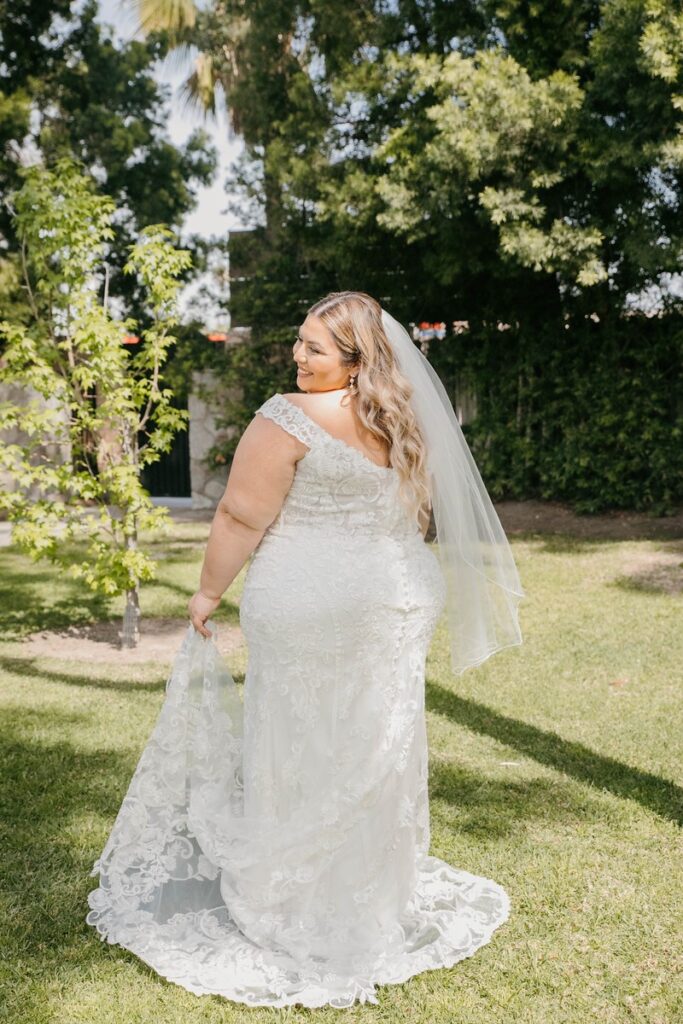 What Ariana chose was a beautiful, fitted lace wedding gown with delicate off-the-shoulder straps. The lace pattern went throughout, giving the wedding gown a stunning classic vibe. "I was so blessed to be one of those brides that found her dress on the very first shopping day!" she later told us, "I felt the most beautiful I've ever felt in that dress. I also felt that the dress went well with our venue. After shopping, I really couldn't help thinking about the dress. I would dream about it and show everyone I could— besides my fiancé at the time."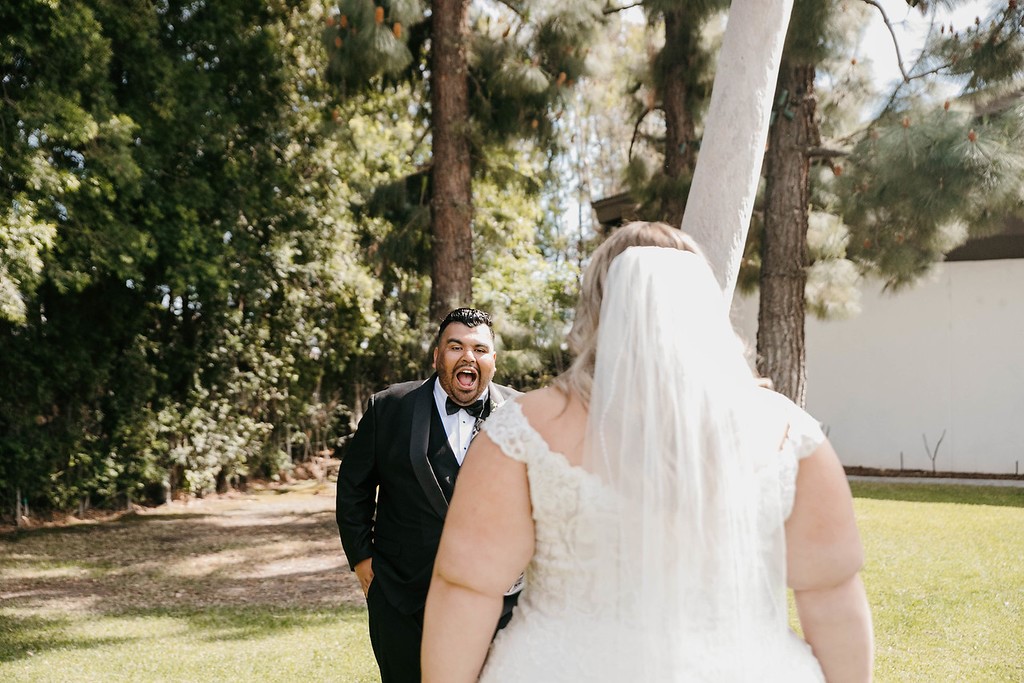 Ariana and her fiancé, Izak Bailon (@izakbailon), were wed on March 25th, 2022, at The Griffith House in Anaheim, California in front of 140 guests. "We had our ceremony and reception outdoors, but there are options to have an indoor ceremony." She told us, "What made us choose this venue is the unique Spanish style of the historical home and its beautiful courtyard space. It was simple, yet very elegant."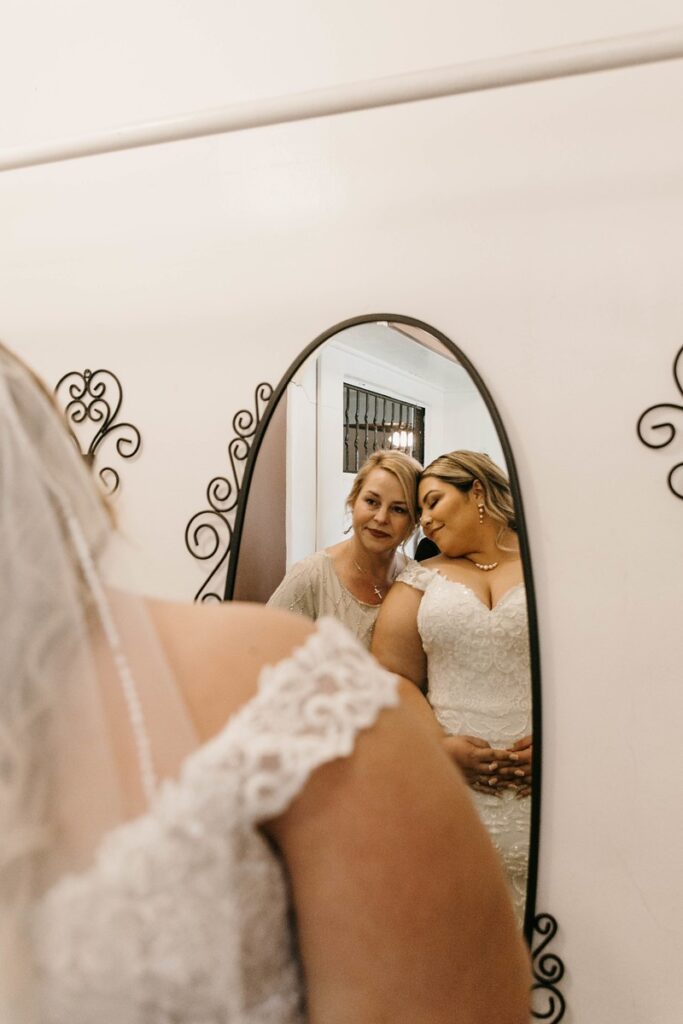 "I wouldn't necessarily say our wedding had a theme, but we were aiming to incorporate Spanish-style elements in our wedding, which was embodied in our venue and the details of my dress." She went on, "We also chose the color champagne for my bridesmaid dresses and linen accents. Our florals were all white with greenery."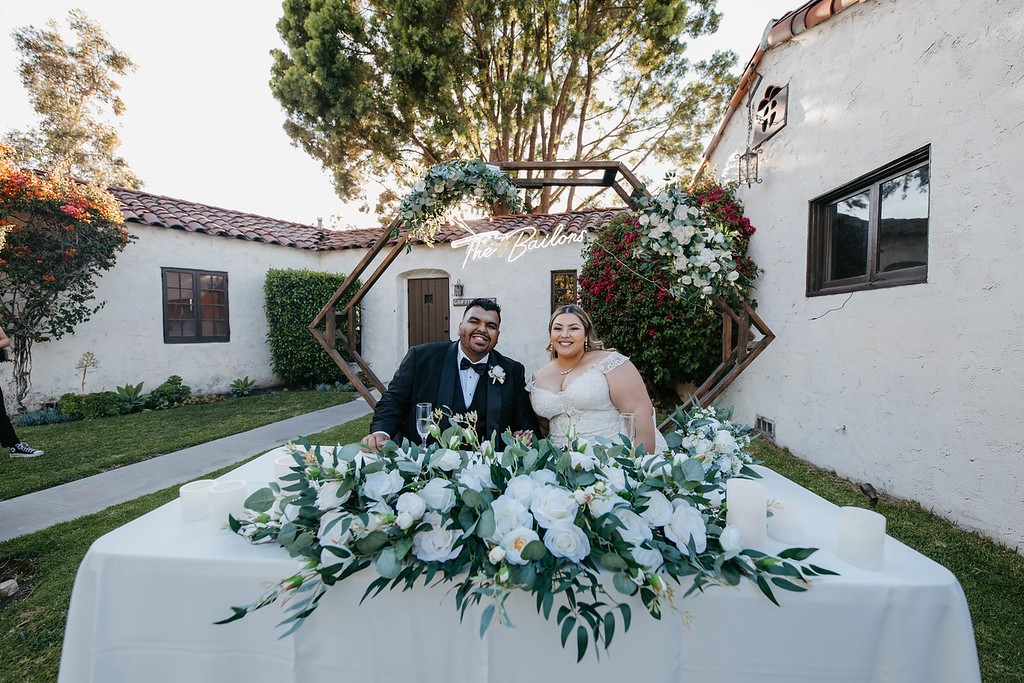 When asked what her favorite part of the day was, other than saying 'I do' of course, Ariana had the perfect answer: "So, the photographer and videographer were filming the moment my mom helped me get into my dress. My mom was making sure my jewelry was in place, zipping me up, and helping me put my shoes on. We were having our emotional moment, tears everywhere while "Slipping Through My Fingers" was playing in the background. Then, all of a sudden, we hear my sister's voice coming from the bathroom right behind us saying, 'hey guys, I know you're having a moment. Just let me know when it's okay to get out of the bathroom.' It turned out she was in the bathroom listening to us the whole time. It was good though because it gave us some comedic relief from all the other emotions. All of us— the photographer, videographer, my mom, sister, and myself were laughing."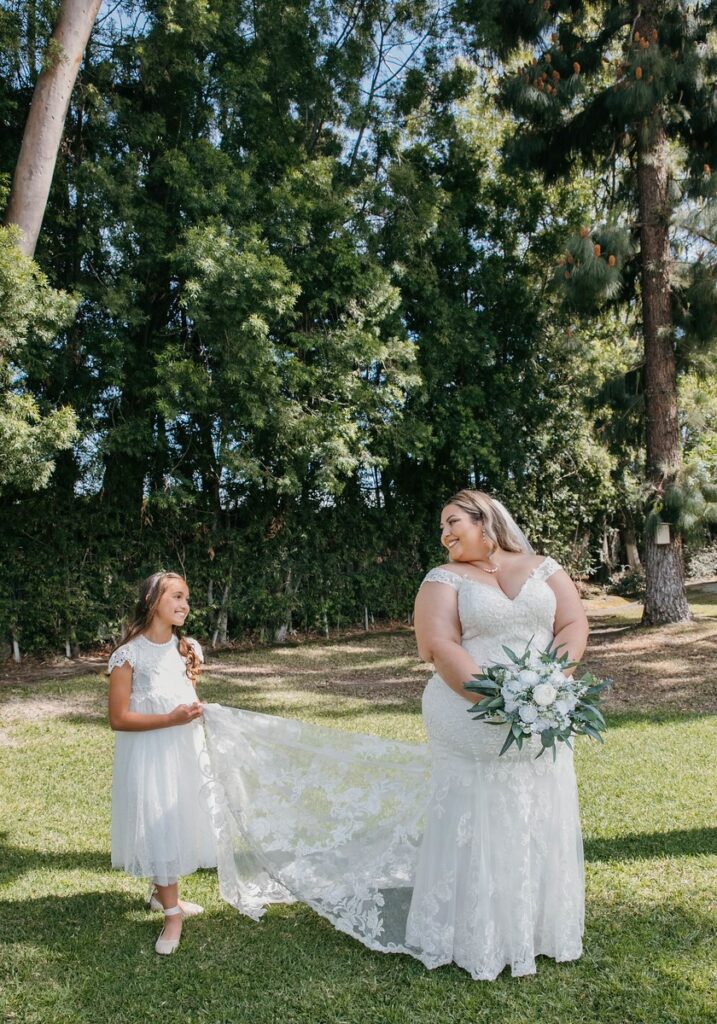 With their entire day filled with laughter and love, Ariana and Izak had the perfect wedding day. We here at Strut are so lucky to be a small, yet important part of it.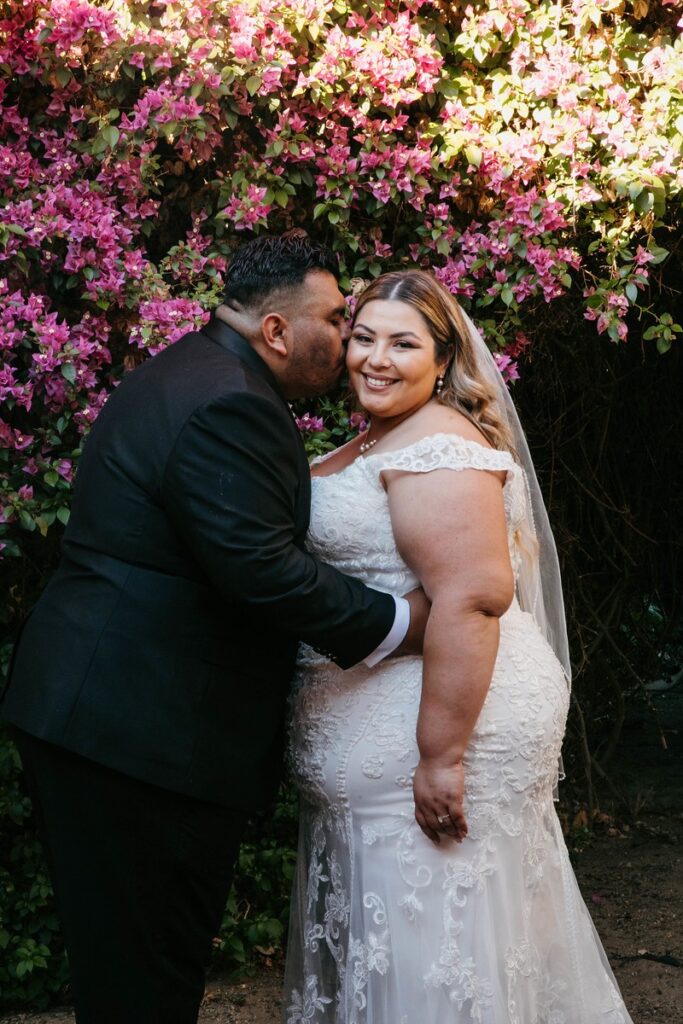 "I would just want to encourage every bride out there to go to Strut Bridal for the best bridal gown shopping experience." Ariana later wrote to us, "The consultants and store managers are the best and always greet you with positivity and joy."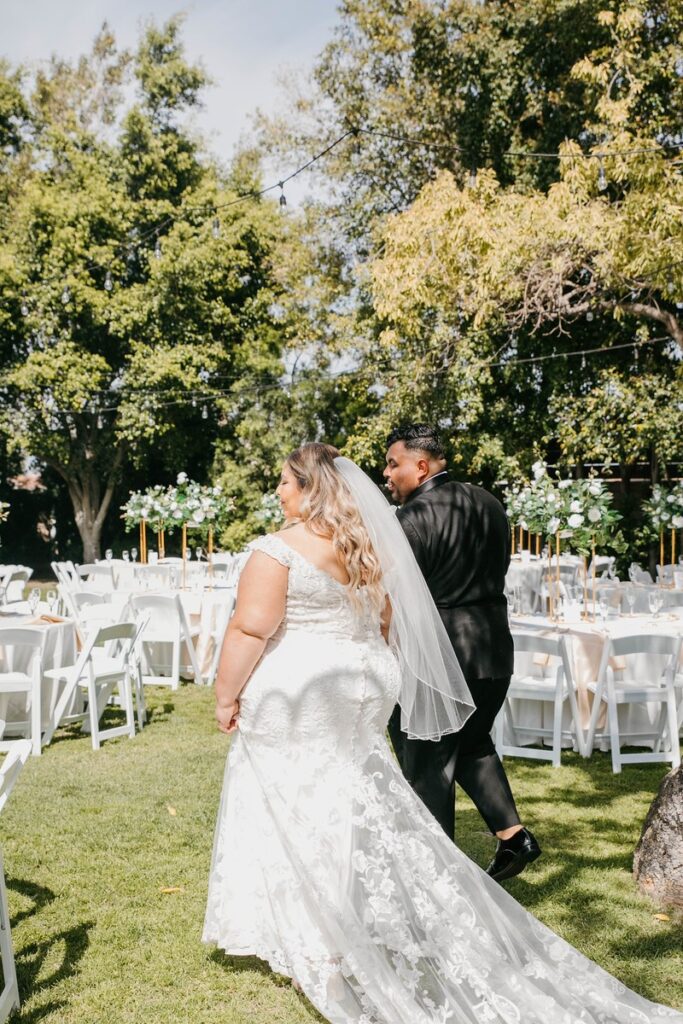 Congratulations to the Bailons!
-Day of Coordinator: Diana Hutchinson @hutchinsonweddings and @griffithhouse
-DJ: Emmanuel Leon @mlsoundandlighting
-Videographer: Elizabeth Quintanilla @elizabethaquintanilla
-Photographer: Xiadani Vazquez @xiadanimvaz
-Bridal Hair and Makeup: Natalie Dehner @natdbeauty
If you want a super special wedding dress shopping appointment, check out our options, including champagne bridal appointments and private bridal appointments.