We love supporting independent designers and small businesses, just like us. So when we got a phone call from the founder of a new plus size wedding dress concept, we couldn't wait to hear more. We're super excited to introduce the Curvy Unicorn's national debut and pop-up shop in Long Beach at our bridal store!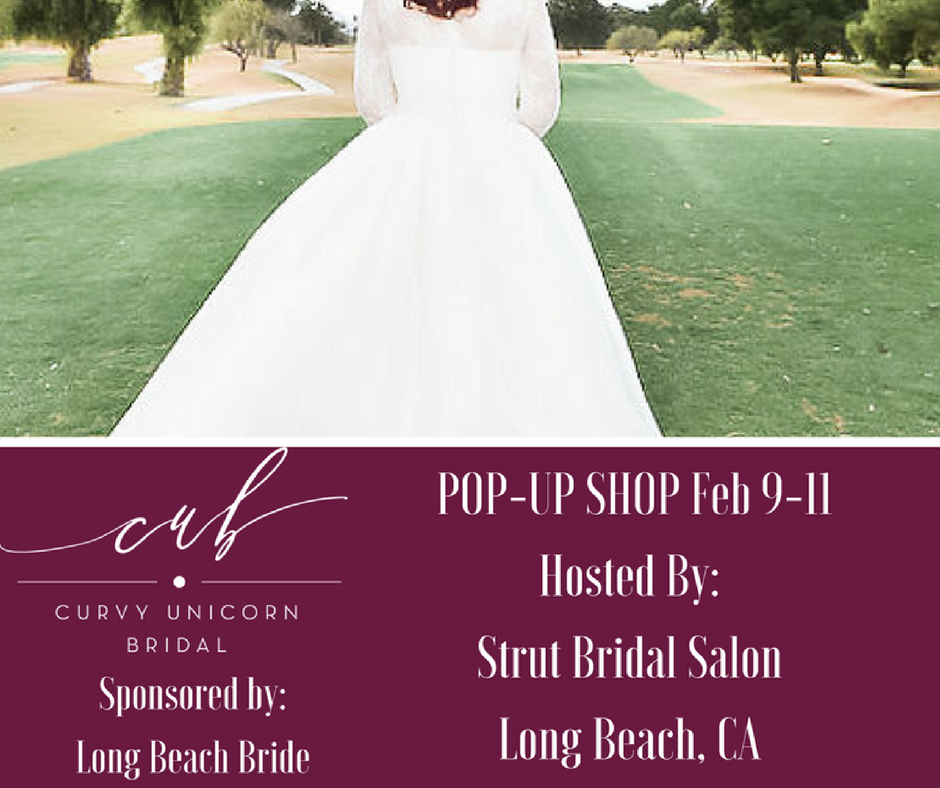 Curvy Unicorn Bridal's mission is to celebrate and empower plus-size brides through community and solidarity. Looking fabulous for your wedding happens only after you feel fabulous on the inside. Curvy Unicorn celebrates bodies of all sizes, people of all kinds, and knows every woman deserves to feel beautiful on their wedding day. Curvy Unicorn brides believe that they should feel great, look great, and BE great!
Meet Founder Keneshia at this three day Pop Up Shop. Keneshia Raymond is the founder of Curvy Unicorn an online Wedtech based plus size wedding dress company that celebrates curvy brides. Keneshia has been active in the wedding community for over 8 years as a planner & wedding designer she also founded Enchanted: The Wedding Event & Blissful Creatives: an online education resource and creative strategy agency focusing on helping creatives launch, grow and strategy for wedding creatives. Kay is a speaker & educator and recent author, when she is not working you can find her dancing, surfing, reading or enjoying sometime with family.
Check out the new Grace Collection: The Grace collection was inspired by the elegance of the curvy women's silhouette.The collection offers a mix of delicate lace and gorgeous silk, it embodies romance that will make you feel beautiful on your wedding day. The Grace Collection's timeless simple elegance is one that will never go out of style.
The Grace Collection starts at 1,600 we are running a special of $300 off of any dress purchased with payment plans available.
Our awesome co host is Long Beach Bride!
LB Bride : https://www.lbcbride.com/
FB :https://www.facebook.com/LBCBRIDE/
IG:https://www.instagram.com/longbeachbride/
Please schedule your appointment online at www.strutbridalsalon.com for the Curvy Unicorn's national debut and pop-up shop in Long Beach, CA.