Have you ever wanted to slip away, escape reality, and marry the person of your dreams on the divine beaches of Hawaii? Haven't we all?? Well, on June 26th of 2015 our impressive bride Rose and her now husband Tim managed to pull off a tropical rendezvous in Kona, Hawaii at the Courtyard King Kamehameha's Kona Beach Hotel. To be specific they were actually wed on the Lu'au Grounds which are located on what was the home of the king.  It is considered royal grounds! I think it is safe to say our bride looked good enough to be royalty!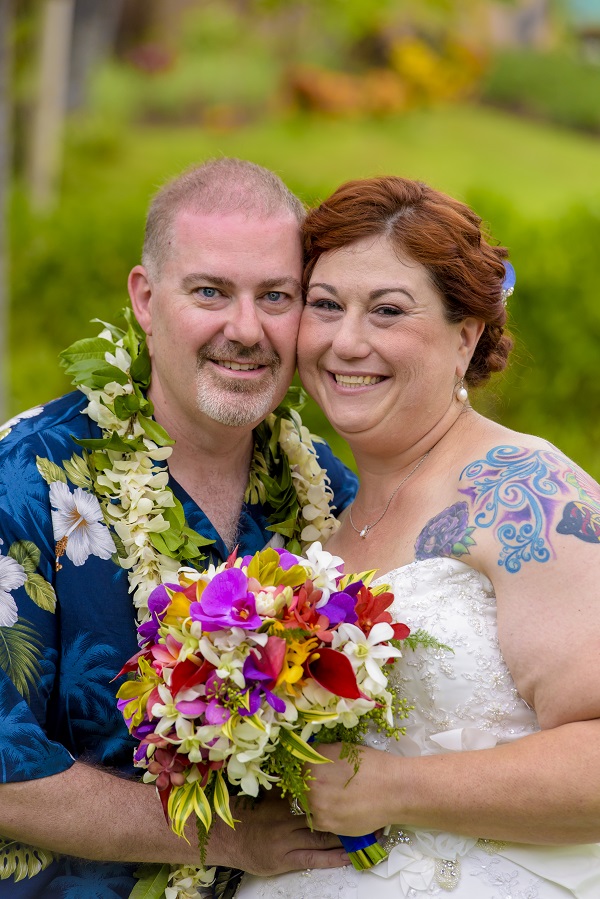 A picture really is worth a thousand words when you look at these two beautiful people, Rose is a vision in her  Eden Bridals wedding gown that she purchased last year at our annual sample sale. And who wouldn't be in this gorgeous gown? Rose's wedding dress has a beautiful organza skirt, embellished with just enough lace appliques to give it the bridal brilliance! And let's not forget the top of the gown, with a sweetheart neckline, kissed with just the right amount of beading. Our bride not only sparkled in the light but beamed on her wedding day!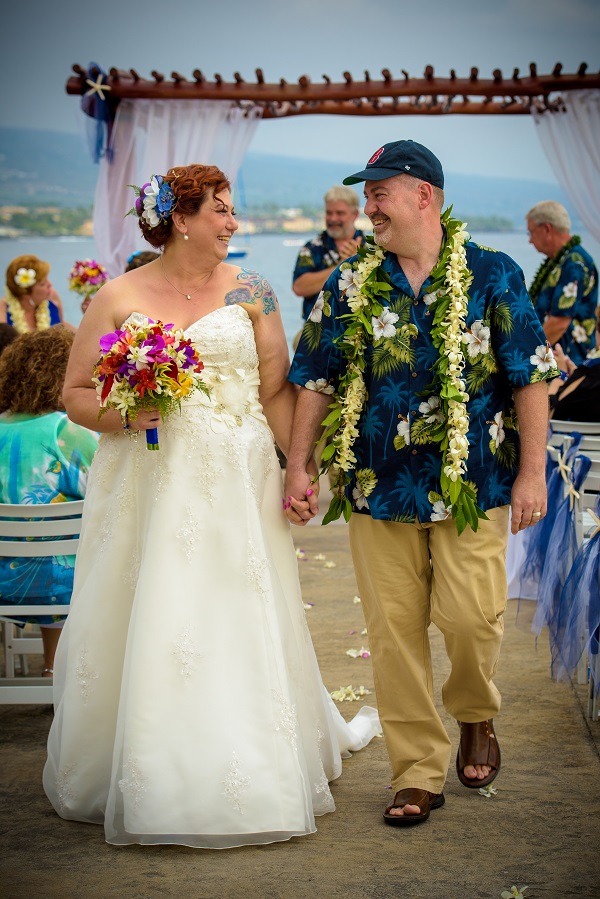 Rose's dress also featured a corset for a touch of that princess feel (we all secretly want it) and a beautiful flower belt that highlighted her curvaceous, vivacious figure! The flowers from her belt were a perfect pair along side the astonishing orchids in her hair. Those flowers are gorgeous! Her beachy main was definitely the icing on the wedding cake! Credit is also due to Tim, the gallant groom, and his groomsmen who stayed comfy yet dapper along side his bride in his awesome Hawaiian button up and khakis. Rose didn't tell us she was walking down the aisle with Magnum P.I.  😉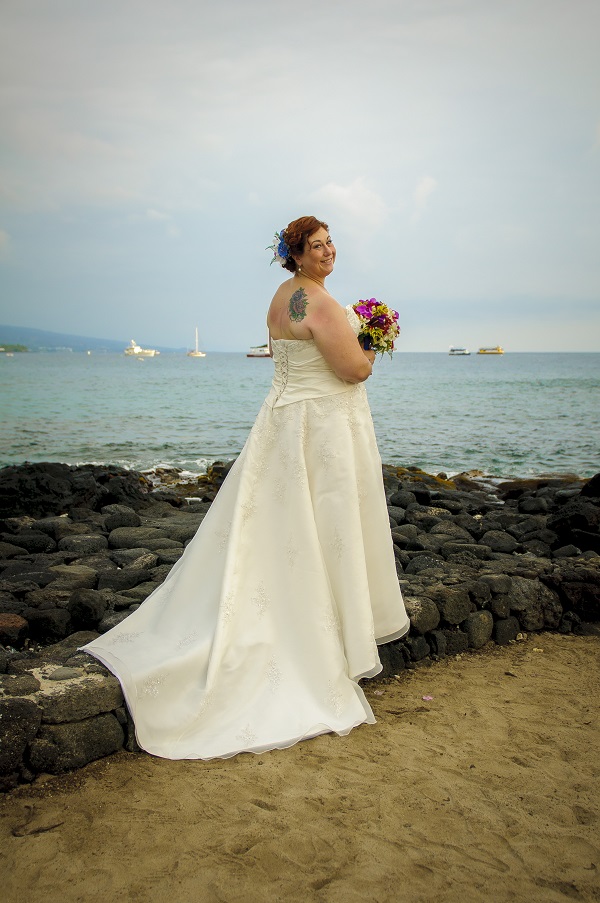 Rose wrote us and said, "Stephanie was my consultant and she was amazing. The whole experience was out of this world and so comfortable.  I was able to find a dress that was going to be easy to alter as I lost weight before the wedding.  And your recommendation for alterations was spot on. I got my lovely dress during the annual sample sale.  It was perfect for our beach side wedding. The guys stayed casual in Hawaiian shirts and khaki pants.  One of our Best Ladies (no Matrons in my group) bought her dress at Strut."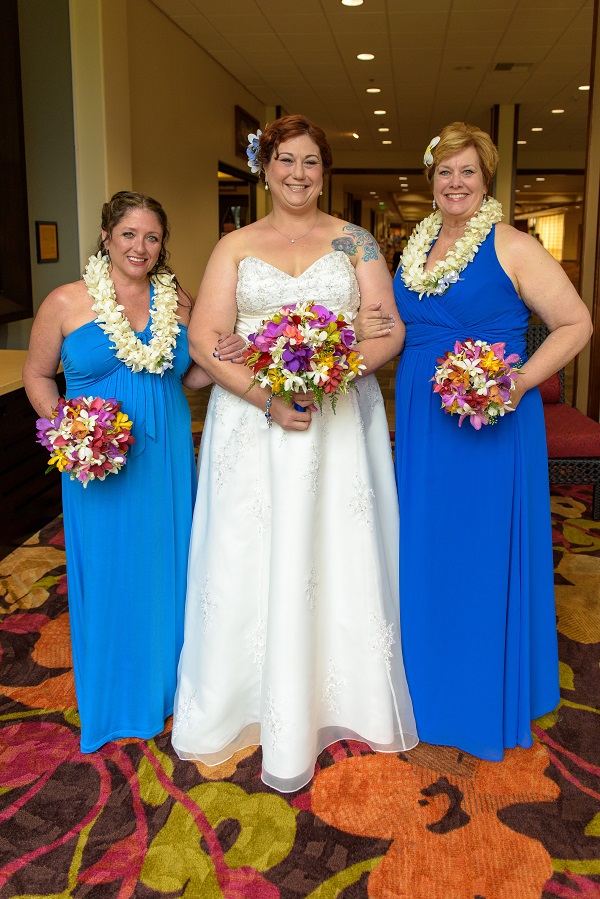 Also, her ladies of honor donned lovely shades of blue which went swimmingly with the bride. One of her ladies even bought her special occasion dress from our Phoenix store as well! So whatever your wedding needs may be Strut can accommodate! We look forward to helping you feel like royalty for your special day!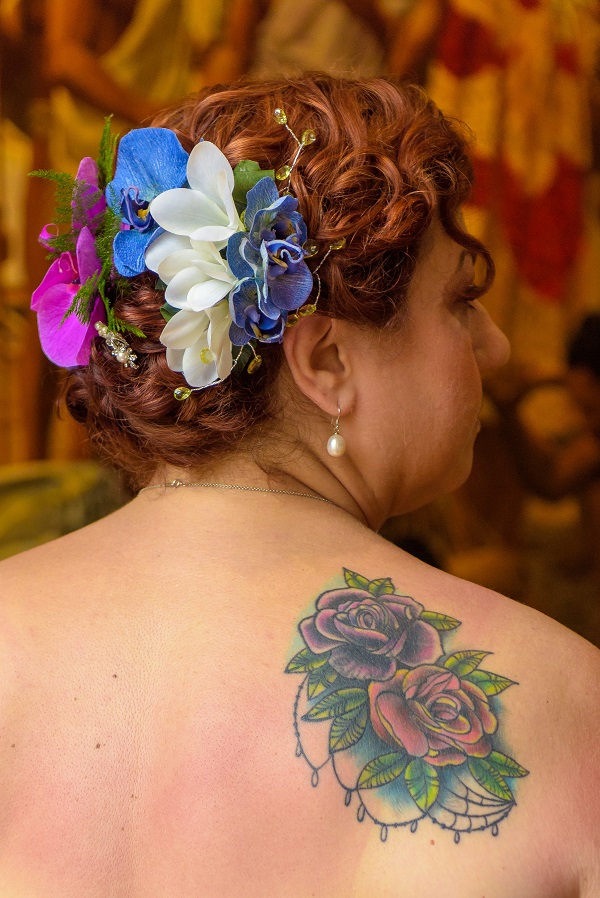 While we no longer carry Rose's beautiful wedding gown in our stores, we still have a great selection of plus size wedding dresses available for purchase off the rack. If you're looking for a sale wedding gown, we hold our annual sample sale in July. Sign up for our email list to keep up to date on wedding dress sales, new arrivals and more!