After booking a Very Important Bride champagne bridal appointment at our Long Beach, California bridal store, Janet knew that Strut was the place where she was going to find her perfect Redondo beach wedding dress. "As a plus size bride I was afraid I wouldn't find a dress that I liked or would look good on me," Janet told us, "I did some research on other stores, but I didn't like their styles as much. Eventually, I searched up hashtags on Instagram #PlusSizeWeddingdress and found Strut Bridal. I was amazed at how beautiful the dresses were."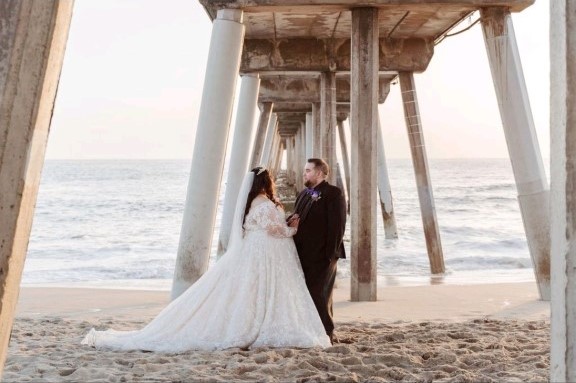 In October 2021, Janet and her family came in for her appointment and were immediately greeted by her stylist. Mere moments later, Janet was saying 'Yes to the Dress!' "I booked my appointment and had Kellee assigned as my stylist." She said, "She took her time to get to know my interest and hobbies. I went in thinking of a whole different look but she took the time to ask about my hobbies and theme of my wedding. I told her how I loved flowers and the beach! While sharing with her, she grabbed some dresses and helped me try them on. The first dress she had me try on, I was instantly in love with it! So were my mom and sister!"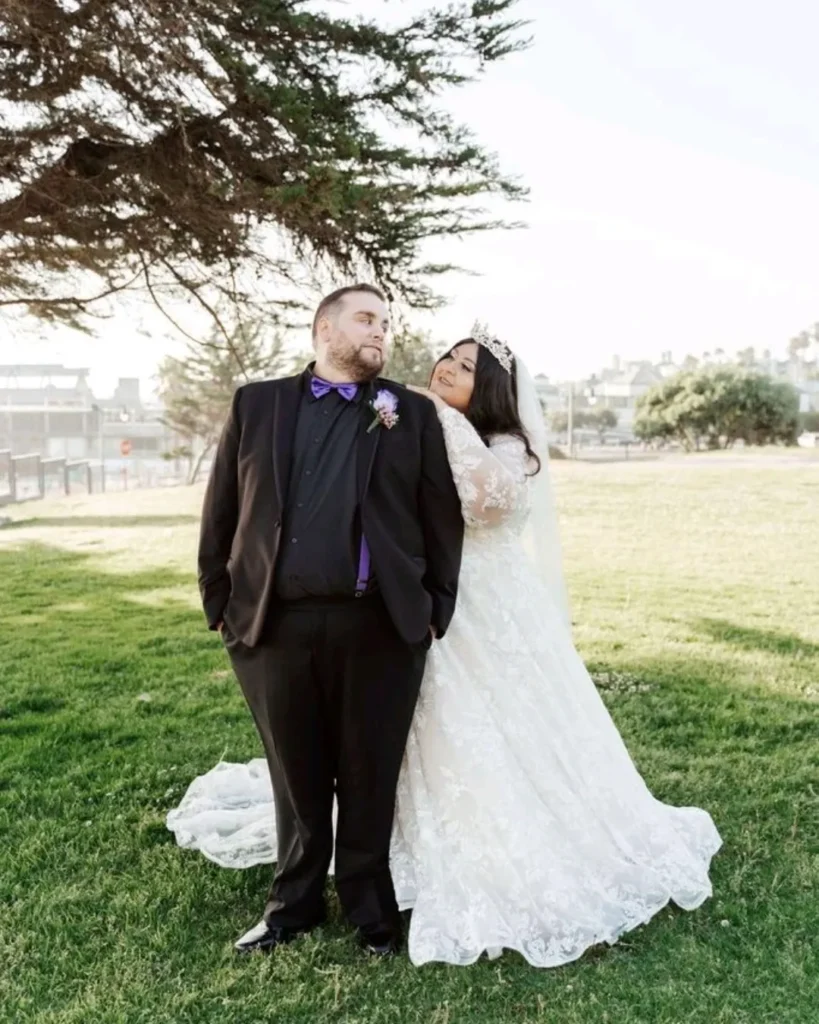 Janet said yes to an ivory and blush ballgown with intricate, rose-like lace appliques throughout. The underlayer of the bridal gown was a soft, yet stunning, glitter giving it a shimmering look! Topping the look off with a tiara with brushed gold leaves and rhinestones and a beaded fingertip veil was the perfect finishing touch for the overall look. "She [the stylist, Kellee] placed the most beautiful tiara and veil that paired perfectly!" Janet said, "I decided to try on two more dresses but knew I had to go with the first dress! It was the most beautiful dress I had ever seen! I truly felt like a queen in it!"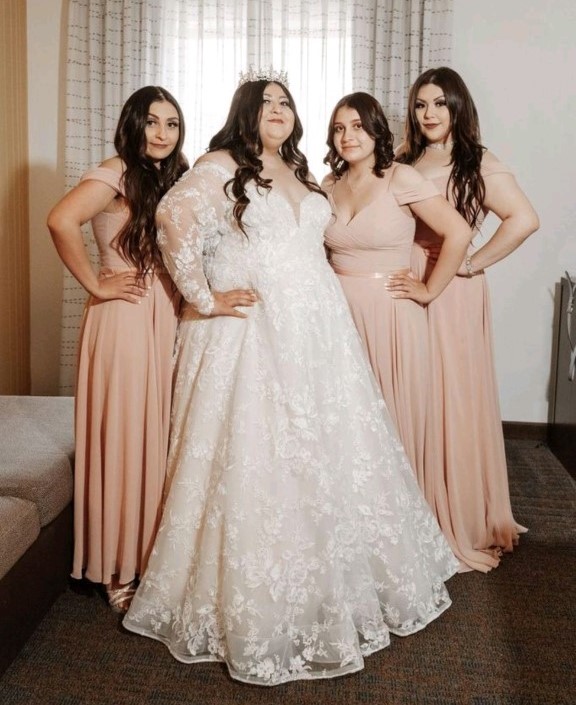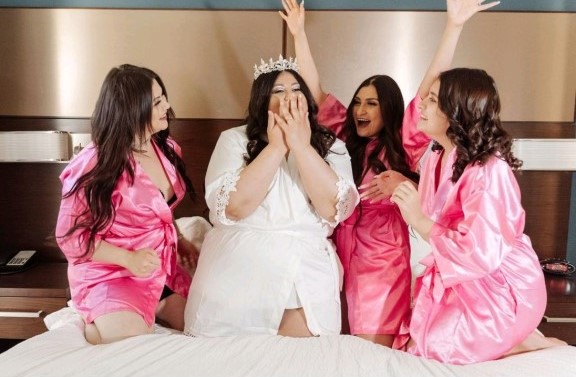 To make the gown even more special and unique to Janet, her stylist, Kellee, ordered a couple of yards of matching fabric to help make the dress absolutely perfect. "My dress didn't come with sleeves but she helped order the most beautiful fabric as well!" Janet told us, "Thanks to her and Strut Bridal, it was easy for me to have everything altered with Lara [the seamstress] as well." We're so thrilled to help Janet create her perfect Redondo Beach wedding dress!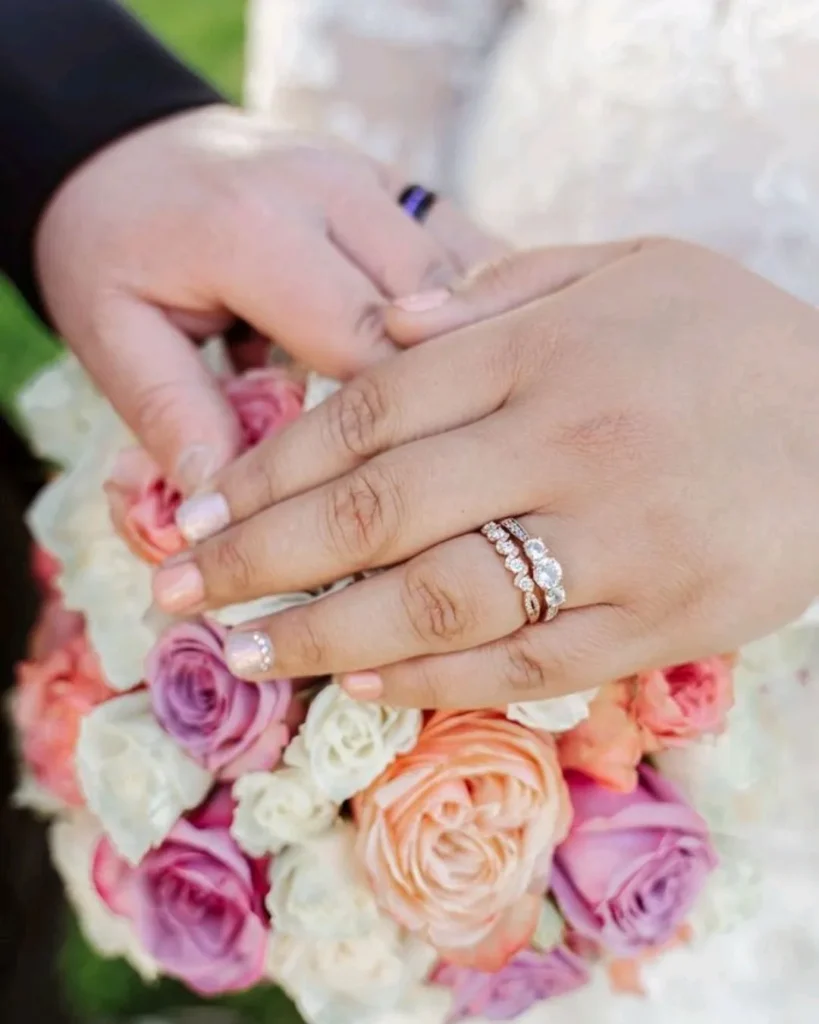 Janet and her fiancé John were wed on April 30th, 2022 at the Catalina Room in Redondo Beach, California. "What attracted us to the venue was the fact that it was a close distance by the beach." Janet told us, "We knew we wanted our wedding by the beach. But,  we wanted something indoors to avoid possible rain or winds. We had a small intimate wedding of 100 guests who celebrated with us."
Although she said there wasn't a "full theme" to the night, Janet and John's wedding had the perfect balance of vintage and modern. "…My bridesmaids had a more modern look." She said, "My husband and groomsmen wore suspenders and bow ties."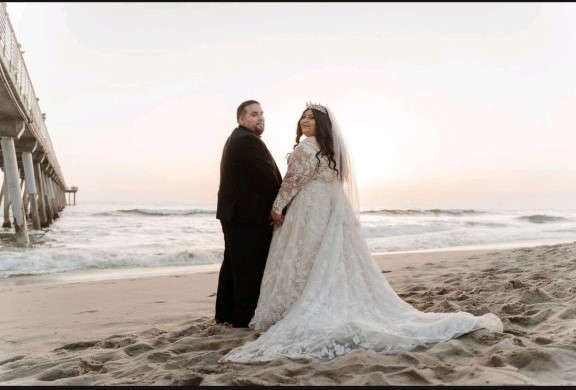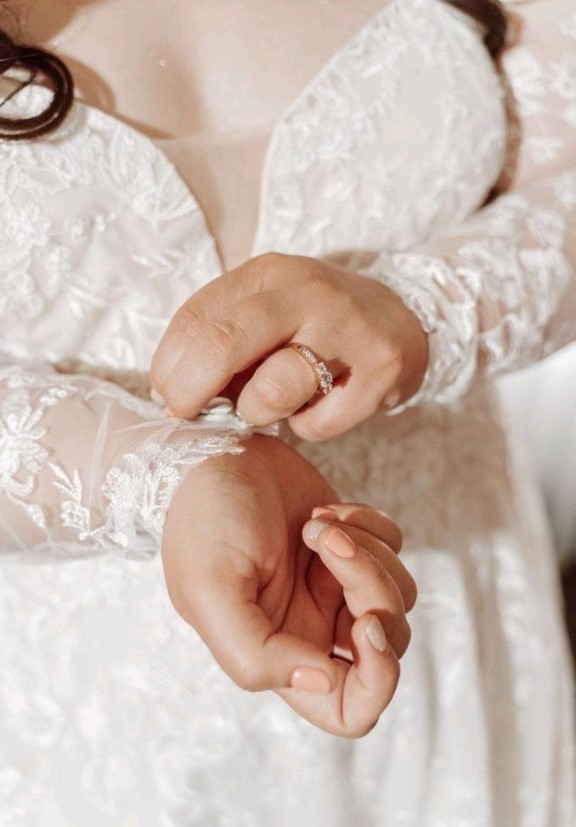 "I had two funniest parts of my wedding day." Janet later wrote to us, "The first was trying to get myself to read my vows. I was extremely nervous and couldn't compose myself for a minute.  The second funniest part was when my photographer asked my sisters to kiss me on the cheek for a cute photo. They both accidentally leaned in with full force and dropped me on the floor; talk about tough love!"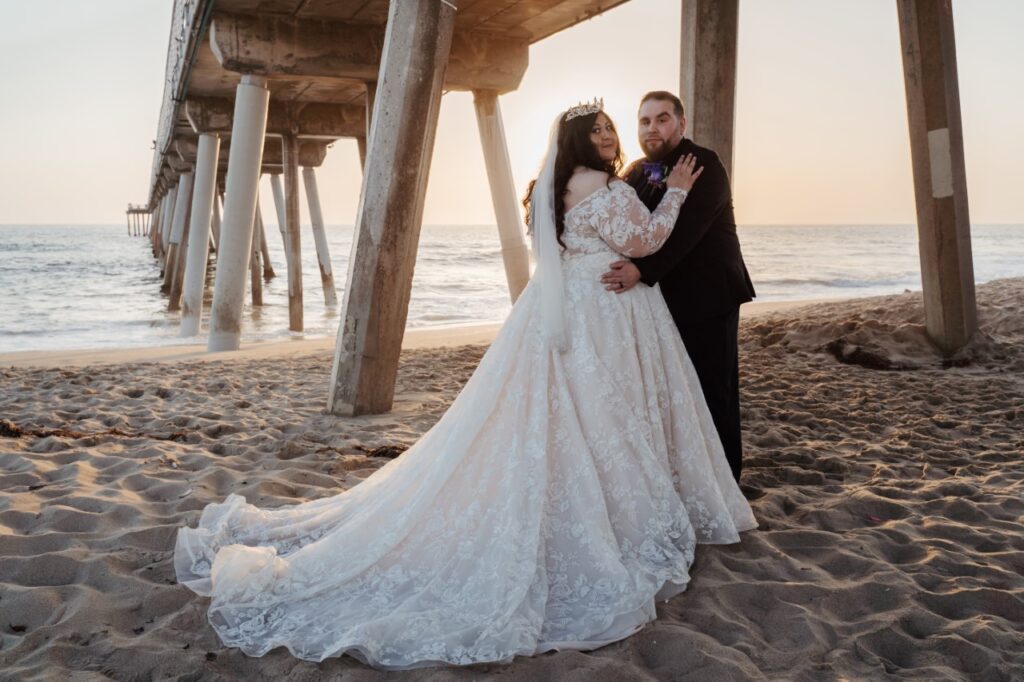 "I wanted to thank Strut Bridal for making my dream come true as a plus-size bride," she went on, "I would recommend your Strut Bridal stylist Kellee a billion times and more!"
Thank you, Janet, for making Strut part of your very special day. Congratulations to you and your husband!
Floral: @Floral_visions_
Catering: @Lesaffairesevents
Cake: @Pink.sweets
Officiant: @Socaldjpros
Dj and lighting: @Tempoedjs
Driving/ chauffeur service: @xclusivechaufferservice
Alterations: @folklorestudio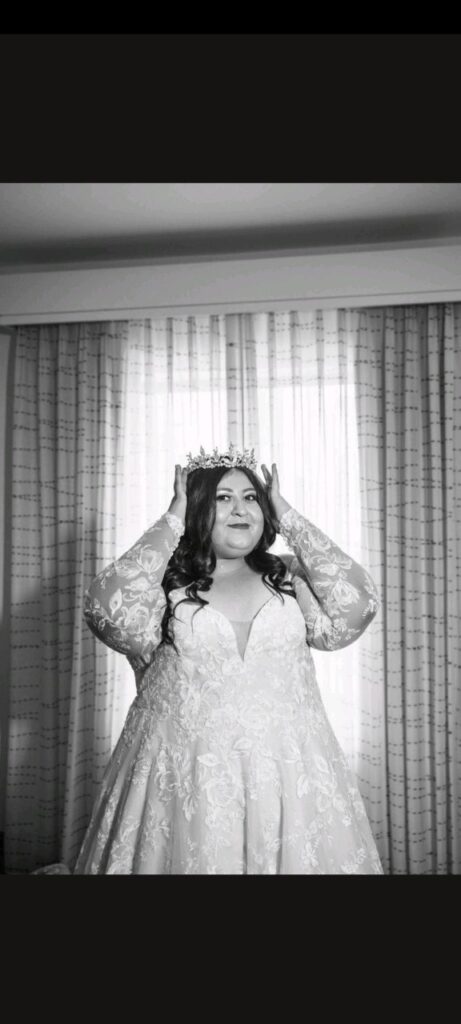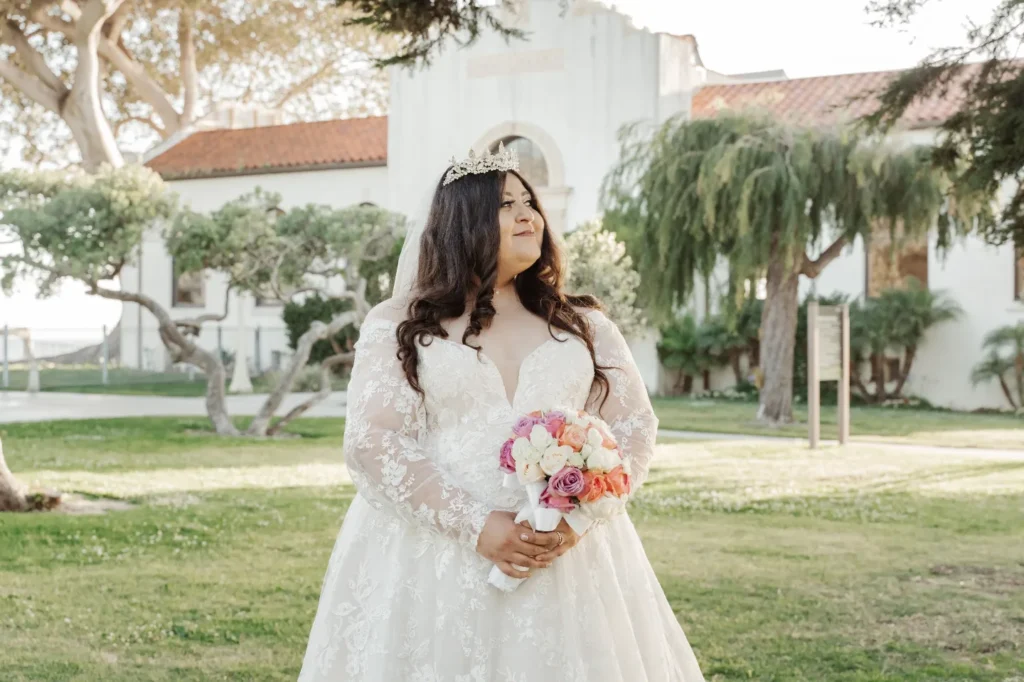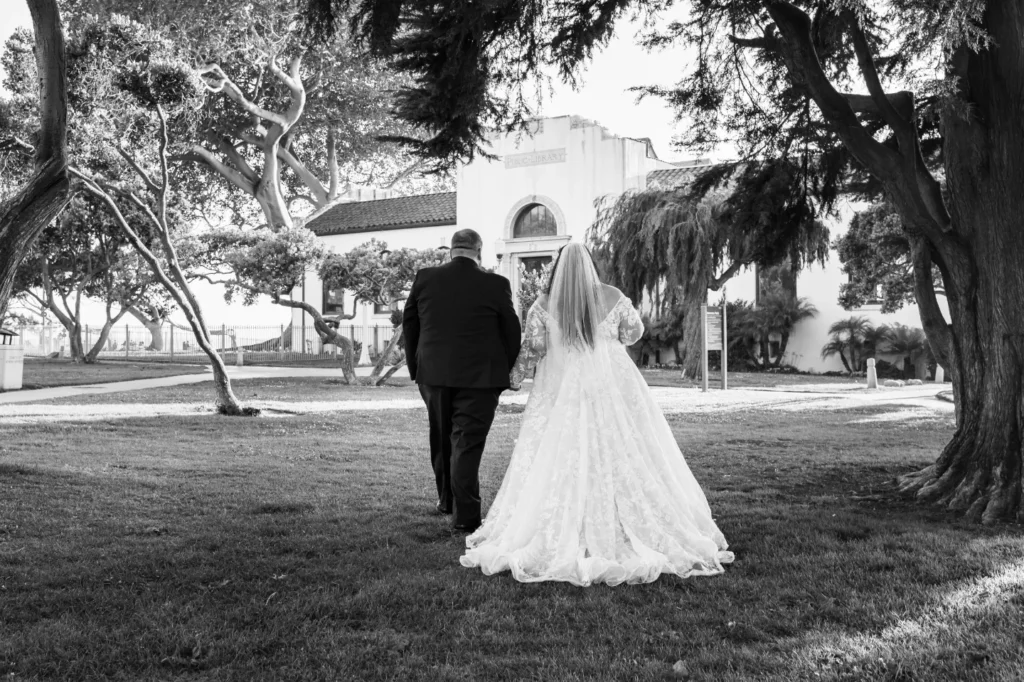 If you're looking for a custom plus size wedding dress, visit our Chandler, Arizona or Long Beach, California bridal stores. Our expert bridal stylists will work with you to help you customize the perfect wedding dress for your big day!