This was Rachel's first time to go wedding dress shopping, and she found us because one of her best friends is also a Strut Bride. Shout out to Rena Alyousef – thanks for the referral! Rachel told us when she came in that she only wanted to come here because she was afraid of going anywhere else and having a bad experience because she's heard so many horror stories. Maritza, our Senior Stylist, had an absolute ball working with Rachel, and gave her the incredible experience she deserved. By the end of the appointment, Rachel had fallen head over heels in love with a long sleeve mermaid wedding dress.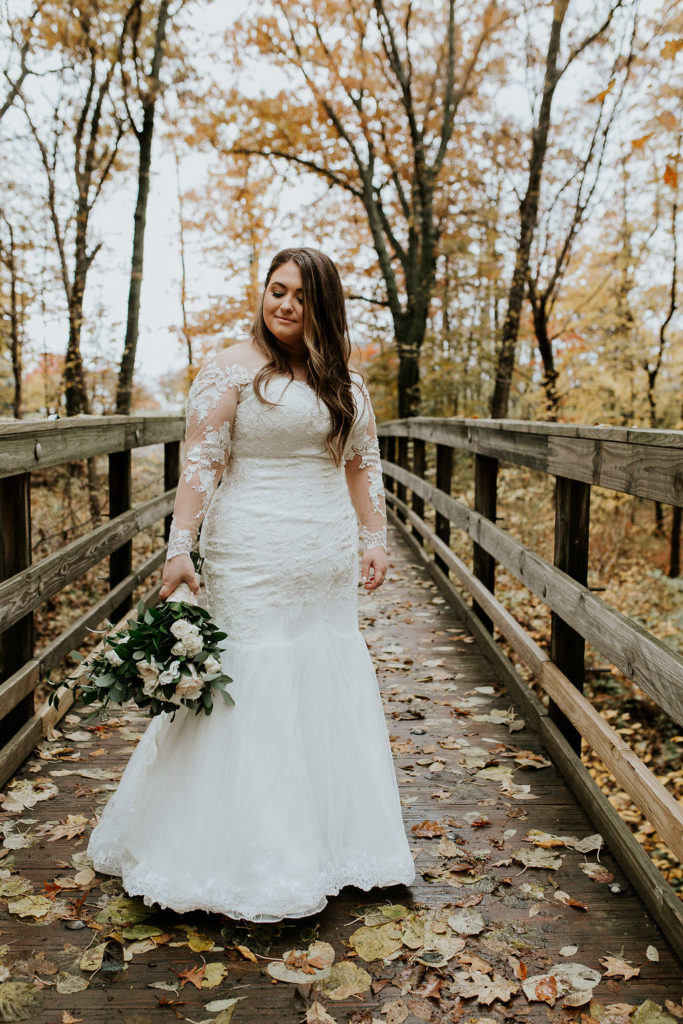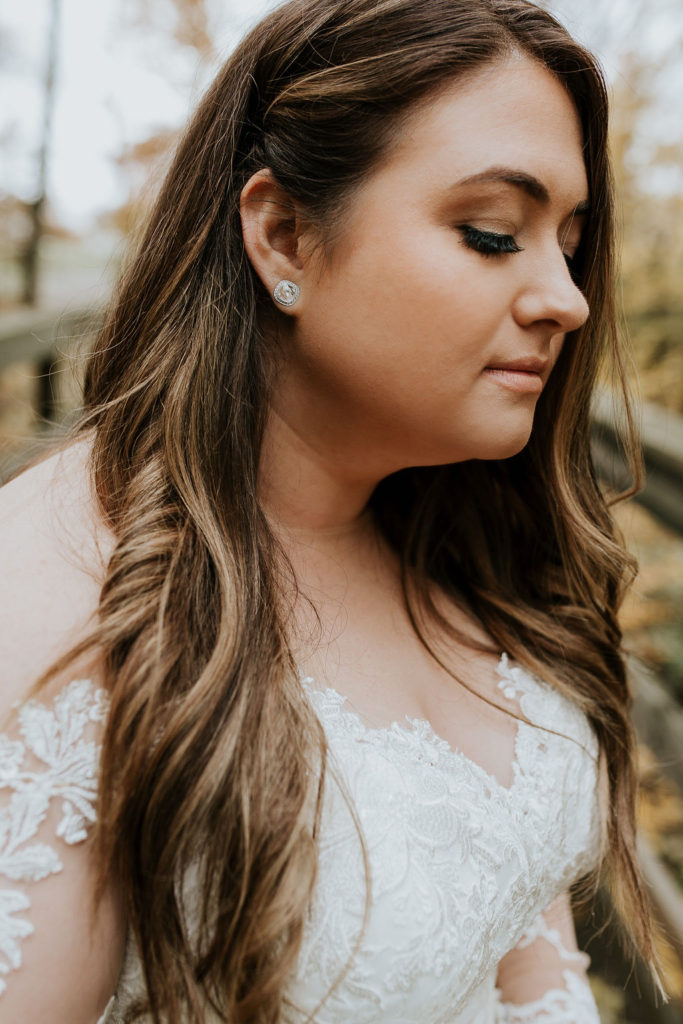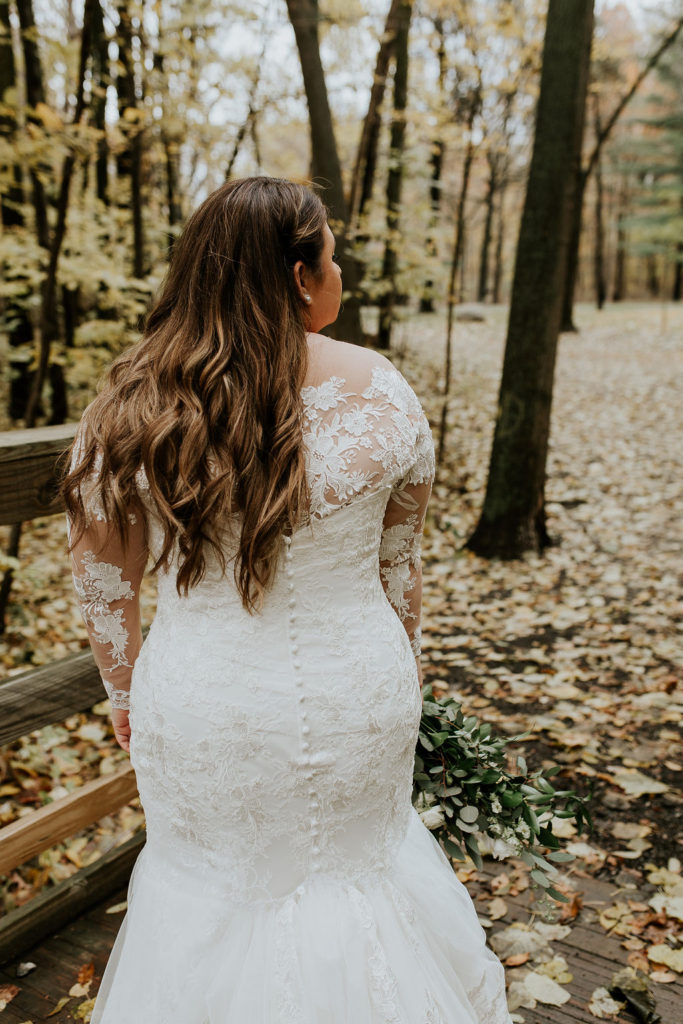 Rachel and David got married in Auburn Hills, Michigan on the evening of November 2nd, 2018. Rachel Met her husband David online, and the couple dated for 3 years before they decided to tie the knot. David is a youth pastor, with an immense heart filled with love for helping and serving others. A perfect match for our bride Rachel, who has a heart of gold and an irresistible personality. When we met Rachel, she came to her bridal appointment with her mother, aunt, friend, and cousin. They were such a supportive and lively bunch, and the entire appointment was filled with so much fun, love, and laughter. Her aunt even flew in from out of town just to be there for this special dress hunting moment.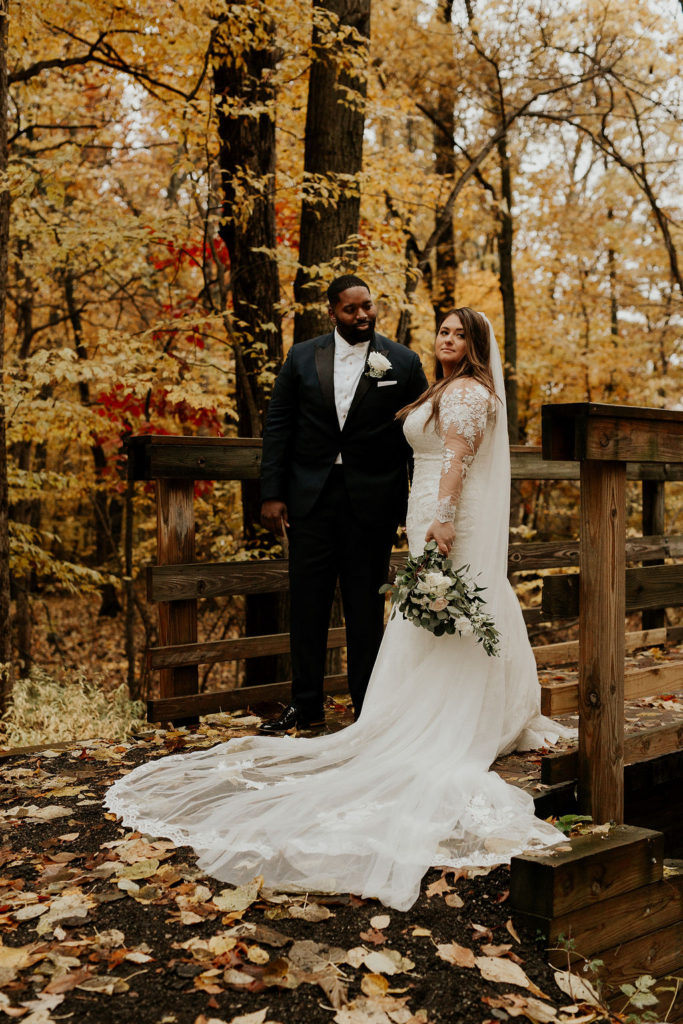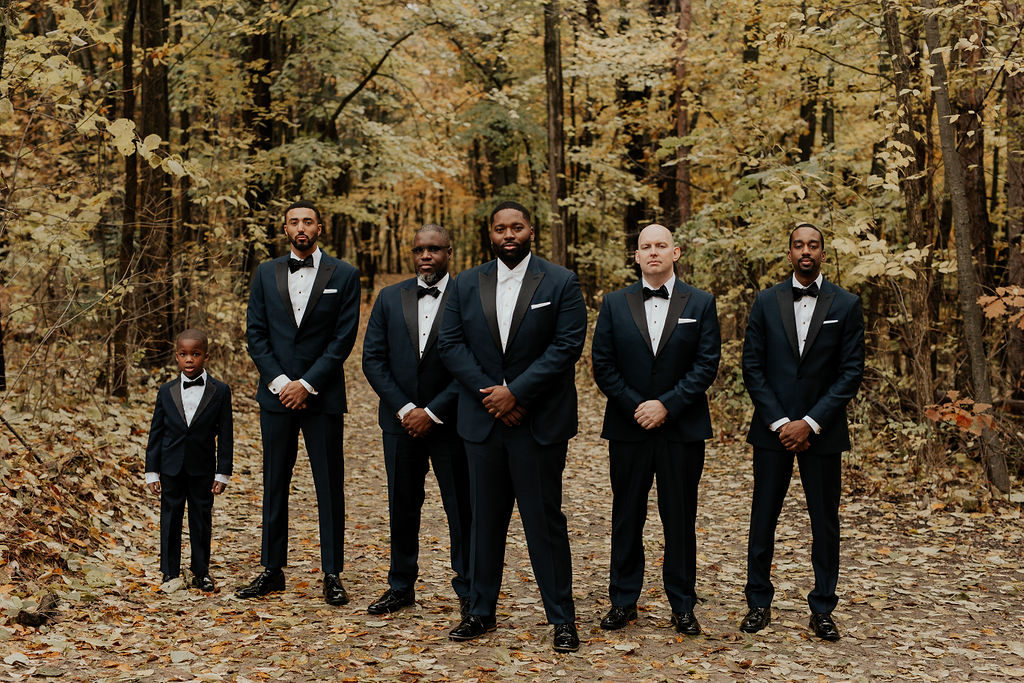 Her long sleeve lace mermaid wedding dress has a strapless sweetheart neckline and mermaid shape. Throughout the entire gown, sparkle ivory lace appliques are featured, providing the perfect combination between timeless and modern. Rachel was inspired to show her spark and personality in her gown and ordered extra sparkle lace appliques and tulle from the designer. She worked hand in hand with our miracle worker seamstress, Lara, to bring her vision to life. Lara custom made the sleeves on Rachel's wedding gown, and added a delicate and lace-hemmed tulle overlay at the end of her skirt, right where it flares. The tulle added an impeccably romantic feel to this sexy gown.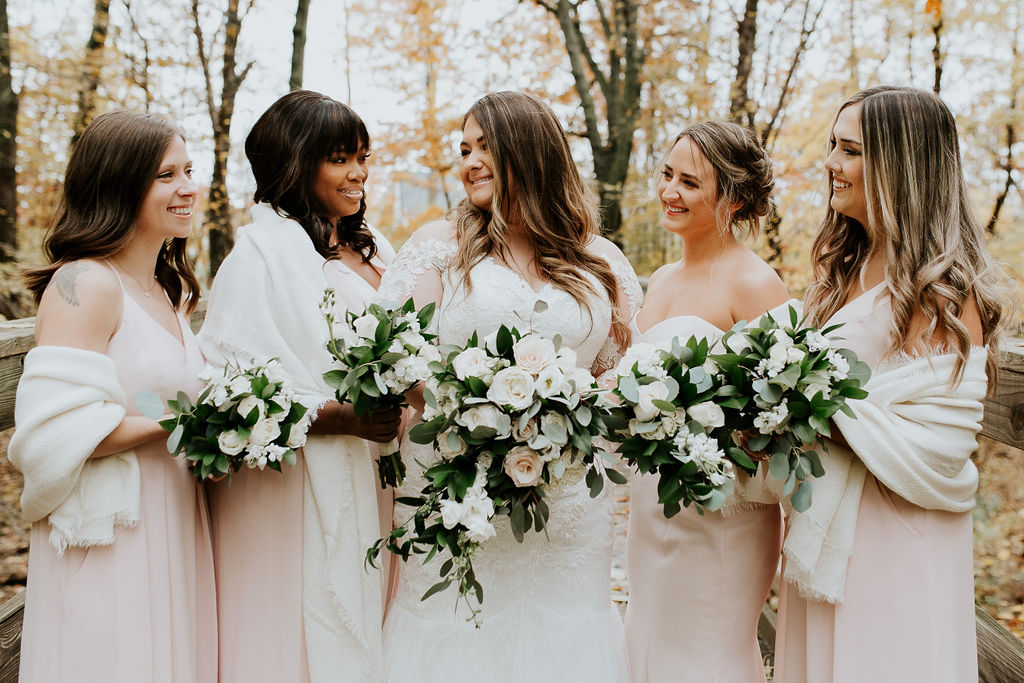 Rachel dressed her bride tribe in a splendid shade of blush, to compliment her gown and the beautiful, natural tones of her venue. We are absolutely amazed by the beautiful nature, greenery, and fall colored leaves that the party took pictures around. What a warm and romantic feel. We are truly honored to have gotten to know Rachel, and support her on her journey. We wish both Rachel and David continued love and support from everyone they encounter, as they adventure this world together as Mr. and Mrs. Their stunning wedding photography is by Heather Michelle.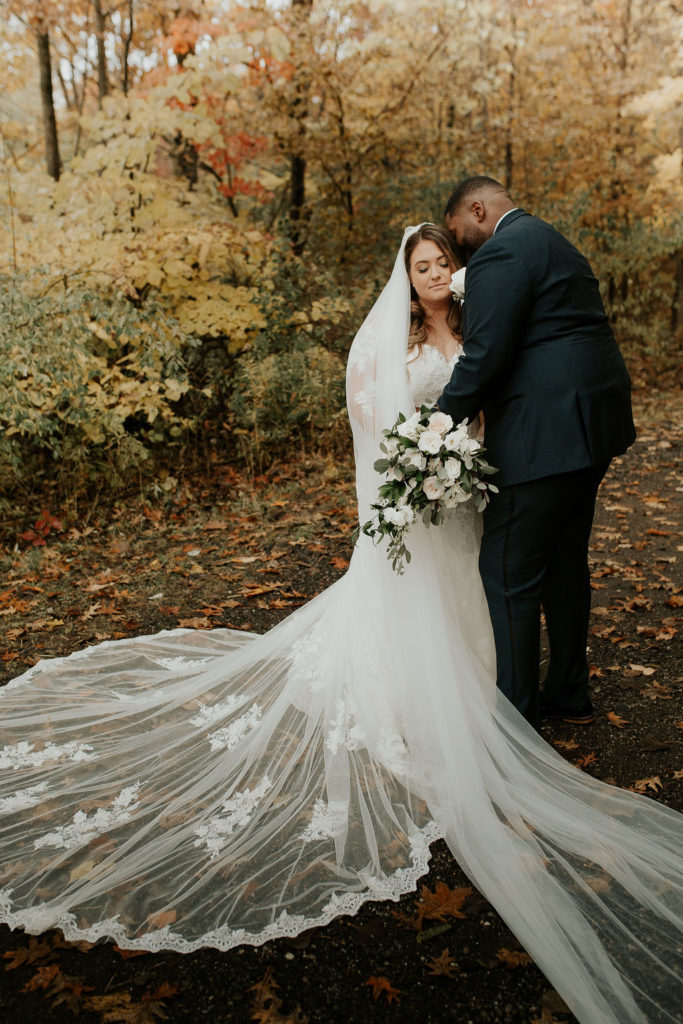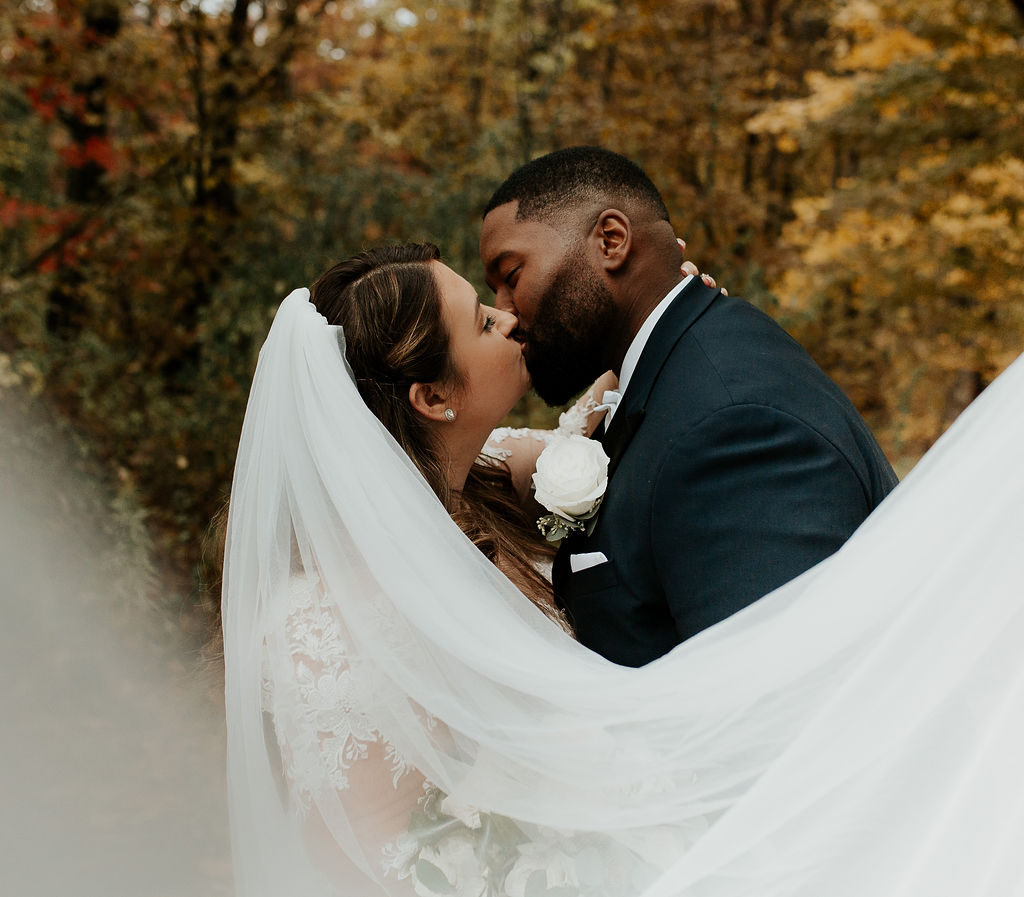 Congrats to the newlyweds – we're IN LOVE with their photos!
If you love Rachel's long sleeve mermaid wedding dress, it's currently available in our Los Angeles area and Phoenix area bridal stores. Looking to save on your wedding dress? New arrivals will be 10% off in September – book your appointment now!